This site isn't about who should win, who will win, who I'd be friends with, or who is cute. It's about watching hamsters: which ones are doing what and why. Which are fun and which are dull. If they aren't entertaining, get rid of 'em! More to come, bookmark & come back!

.. that dingo
Linkage
Daily feed recaps & opinion ratings navigation tool for this often-biased site
HamsterWatch Big Brother 8 here we go again
HamsterWatch Big Brother 7 Hamster all-stars in the house
HamsterWatch Big Brother 6 time to do it all over again
CBS Big Brother 5 the official site
Housecalls live web show with Marcellas, also archived shows
TV Updates feed updates, screencaps, and fun boards - easy to use and functional!
bb5fan's 30 second refresh screencaps if you don't have feeds (great at work!)
Hollyisms and Cowboyisms and Lisa-isms from me, that dingo person
Sir LinksALot Big Brother 5 all the links
Reality TV Links emphasis on individual hamsters' sites
Aldav has all of the edgier stuff & the best mini-recaps in town (alternate url)

Bonus must-click special: Voting history handy reference from the official site
Extra must-click special: A look at Drew by HistoryDetective at Reality TV World





9/10/04 - Day 71, part 2

>> to the future >> dwell in the past >> latest
<< retro style - back to part 1



Hot or not, continued



The guys sit down to wait for the first outfits.. Drew's already got his new Metrosexual shirt on, and Cowboy's thrilled with his new hat.. Diane loves her pink sweater until..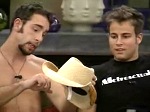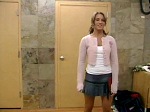 Cowboy: Big Brother, can we have our bubbles back on the screen?
Drew: Nominations all day
Cowboy: I kinda like the bubbles
Cowboy: I like this hat
....
Diane: This sweater is hot, it's pimp daddy
Nik: I'm sorry Diane, but that's something Holly would wear
Diane: I'm cuter than Holly

It's a flurry of fabrics and labels in the clouds.. Nik settles early on a Ramones t-shirt and jeans.. Diane tries on her new jeans that she loves.. but has difficulty






Diane: I don't really have any outfits here, just tops and skirts and a bunch of other shit.. I'm just gonna put a buncha shit on.. don't make too much fun of me ok?
Diane: My $150 jeans, they would have fit when I got in here.. damn my ass
Diane: I don't like the bottoms of these jeans
(meanwhile back in the living room the guys are wondering what the holdup is)
Cowboy: Women, ya can't live without 'em, and ya can't shoot 'em

The guys are tired of waiting and start trying on their clothes in the HOH.. Diane goes through one outfit after another, finding something wrong with everything..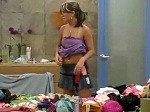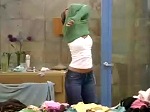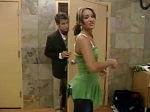 Quads view gives you an idea.. it's mayhem in there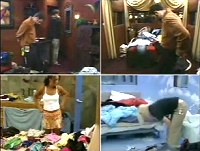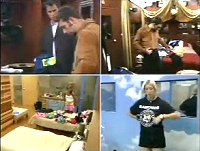 Diane worries about her ass, she worries about her boobs.. nothing's right.. hey that one looks ok! Oops.. maybe not like that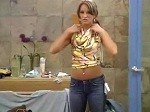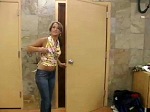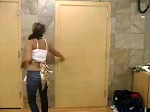 Diane: It's completely backless.. I don't have any boobs
Nik: You could get some pasties
Diane: I don't know where to buy those

She tries a see-through blouse.. discovers it's see-through.. and then discovers it needs a zipper






Diane: It's cute I guess.. it's weird..

Everyone's waiting on Diane, whose good mood is long gone.. she says she'll just watch the guys model their stuff.. she tries one last dress & rushes off to see if Drew likes it






Diane: This reminds me of an old renaissance dress
Nik: I'm going anti-fashion.. I've been ready for the past 20 minutes
Diane: Oh I'm ready
Drew: She's not ready

Drew likes it.. Diane doesn't - it's too loose in the top and it's weird.. Nik's just fed up.. Diane adds a finishing touch and trots off to check the mirror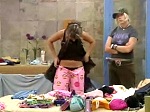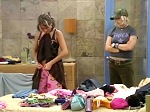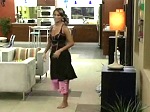 Diane: What are those boys waiting for? I'll give them a hot or not myself

Finally.. Lights! Cameras! Bubbles! They both look nice in their new duds.. Drew turns out to be quite the pose-striker, even giving us a Jase-worthy mirror face.. Cowboy is looking fly - he even takes a pass in his boots with the stirrups.. err.. spurs..
Diane ditches her pink monkey pants and critiques.. Nakomis is half asleep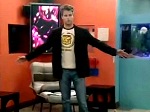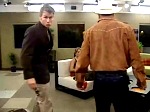 Diane: Drew, those are the wrong pants
Nik: I don't really understand this
Diane: What?
Nik: Fashion
Diane: Fashion is whatever you're comfortable in
Nik: That's what I do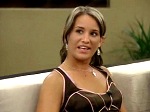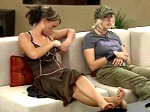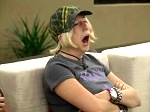 Diane: Man, if it was one solid color, it'd be hot
Diane: That one's just hot, or you're hot, one of the two
Diane (to Nik): He hates it when I tell him that
Diane: I'd take you home and bang you in that shirt.. that's so what my guy friends wear at home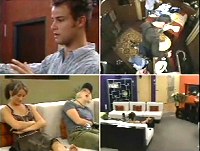 Hmm those boys are taking
a long time between changes..

A quick quad scan shows
something's up in there..

Backstage, Drew asks Cowboy what he & Nakomis had talked about..
then Cowboy asks Drew about what he found out today about Six Fingers
(I asked Drew the same thing at the time.. it's when they made me start steering
away from the fun stuff here and reporting more of the game.. damn them.. note Cowboy had this same Q&A session with Drew way back then, and Drew lied then too)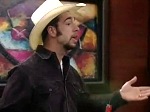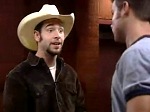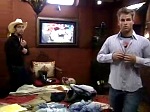 Cowboy: I asked you when it was coming down about Jase.. so you lied to me about that
Drew: Here's the deal, one thing I thought of that week.. I wanted you to have like a natural reaction out of it.. if I would have told you, you would have..
Cowboy: Respected you?
....
Cowboy: I don't understand why you told me, you sat there and told me that you wasn't gonna use the veto, when you knew you was
Drew: I'll tell ya.. you saw my face that night in the bathroom.. if I told you..
Cowboy: The thing is, I wanna know what kinda deal you made with them to get one of our own out of the game
Drew: They thought - that's my fault, I should've told you.. that week they told me some things to get me emotionally charged.. things Jase told them about me that really pissed me off.. that made me want him out of the game
Cowboy: I told you that night to tell me the truth, I would have respected you.. if you'd told me straight up, I would have understood ten times more
Drew: Dude, I would never do that.. I want you to know how everybody else in the house was telling me not to tell you, too: 'Ok we're gonna use you, make this whole thing up, but you can't tell Cowboy'
Cowboy: I knew they let you win that veto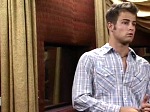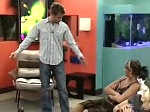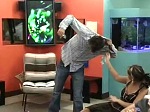 Cowboy: Just tell me the truth.. we'll be friends out of the house, but just tell me the truth
Drew: And I want you to know, I apologize.. those are the people out there right now that told me to do that
Drew: The thing is, I felt like a total ass that week, I felt like everybody in this house was using me
(Cowboy goes out to model.. Drew spews under his breath before following him)
Drew: Those bitches!!
....
Diane: It took you a half an hour to put that on?? What brand is that one??

It goes on between costume changes.. and on.. and on..





Drew: Screw that..Nakomis looks kinda tired
Cowboy: Hey we're cool, final two - and I mean it
Cowboy: Diane's really gonna fight for that veto
Drew: That's the funniest part
Drew (angry): They told me Jase said 'Who the hell does that 22-year-old think he is?'!!
Drew: They found out today that I hadn't talked to you about that, right?
Cowboy: I think it slipped
....
Drew: That's the only time I ever tried to tell a lie
Cowboy: Well. you suck at it
....
(Drew says he feels sick, his glands are swollen)
Nik: Mine aren't.. I'm tired


Somebody shut them up please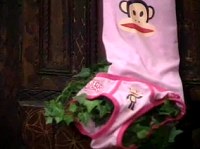 Nakomis goes to sleep.. Diane rejoins her prince in the palace room.. Cowboy sets up the monkey jammies on Drew's new fake plant before leaving.. Drew adjusts the crotch to get it just so..

Cowboy comes and goes repeatedly - remember this

Drew & Diane talk about the veto comp - Diane says she'll throw it to Drew or Cowboy if she can - she repeats her famous 'two promises in this game, one to Drew and one to the girls' a few times..

During one of Cowboy's visits they all decide Nakomis will be ok with getting kicked out

Diane: Freaking lock that door for 5 seconds!
Drew: You got something you wanna tell me?
Diane: Nothing bad..
(Cowboy comes and goes again)
Diane: You gotta understand that, out there on the couch, she looked at me and said 'I know what needs to happen, you or me need to win this thing.. you know what? Even if Drew wins it we're good'
Diane: She thinks if you win veto you'll take me off
Drew: Then why would I put you up??
Diane: I don't know, but if I win this veto I feel obligated to go to final three with her
Drew: Is that what you were talking about yesterday when I walked out there?
Diane: No, yesterday was about Karen.. you're acting like you don't believe me again, there's that look! I can't help but laugh when I see that look
....
Cowboy: These really turn me on.. April would look good in monkey apparel
Diane: Nakomis shouldn't see the three of us in here

Diary Room keeps calling them all in - Drew doesn't want to go in the too-tight green shirt, or at all - he's clearly agitated from what's happened and a bit rattled..
When Cowboy finally stops coming in, Drew & Diane settle down to a tense kissing session.. the convo is antagonistic on both sides.. the kisses are less intense than ever.. they finally turn away from each other and sleep

Cowboyism of the day: Sometimes I think it's good to have a little spunk in a girl


Super bonus ups for the Big Brother shopping team! They know these kids well, and got them each individualized items that fit their personal style and personality, made them all look good, and for awhile anyway, made them all <gasp> happy.



Does he realize he'd win if he went up against Diane at the end? And maybe Drew too, if the jury can compare enough notes in paradise. Bonus ups for calling out Drew on his big lie, but it's neutralized by Cowboy's selective memory, and his blind loyalty getting in the way of his self-driven motivation. He truly appreciated his new wardrobe, and didn't look half bad in most of it.



I still can't bring myself to give her ups for her emotional rollercoaster and fragile ego providing excellent tv.. but I'm sure I'll come around again. She was over the moon with her new wardrobe, but as each piece didn't fit, made her feel fat, and accentuated her small bust, she got more sad and pouty, til she wouldn't even try them on anymore. She was down with all her new accessories though, but she was more impressed by everyone's brand names and price tags than with the items themselves.



He's a little more sadistic every day (and not in a good way) and a lot more arrogant. Watching him sweat when Cowboy called him out for being in on Six Fingers was a surprise bonus to the day, and it took some of the cock out of his well-practiced runway walk. Pulling out his standby excuse 'I wanted your natural reaction' again was just sickening - but it worked on Diane and it looks like Cowboy's buying it too. He's letting a few clues slip now about his background (and you know I'm keeping track of them): mom married at 19, divorced and remarried dad, who was emotionally distant to the boys and still works too hard.. and even at college-age, Drew felt he & Ben were seen as one in their fraternity. He's the only one who got generic clothes without any flair or individual style (which fits him to a tee) and he liked them. The 'metrosexual' t-shirt was a nice addition, as was the too-tight green shirt that made him look gayer than he has since Jase & Scott left. I despise this guy for making me despise him so much - and now I care who wins: anyone but him.



She's sleeping through the end-game when she has an easy shot of winning it all. She's too eager to get away from 'the brother from hell' to consider talking game with him: if she would, they could figure it all out and finish one-two, giving the jury something to think about at least - and giving CBS a DNA 'told ya so' opportunity.. (I'm surprised Diary isn't nudging her that direction.) She says she's anti-fashion but was thrilled receiving every item Hot Topic carries.. (psst Nik, real weirdos don't shop at the mall, and real punks don't buy off the rack.)



Thursday's show was surprisingly good, largely cuz of Karen's exit interview and her parting shot at Diane, which will have repercussions for days. Again, a good job compressing these bozos into a cohesive hour, but writers had to dance fast to come up with the dramatic line 'Diane joined forces with the boys' since they've underplayed the Drew & Diane thing so much on tv - she's been on that force for weeks! The music for Karen's farewells was way too sappy - especially since we already know Diane's 'apology' was phony (see Wednesday's HamsterWatch episode) but at least we got to see them. Great seeing Marvin again of course, and Will is finally living up to the drama queen role they hired him for - way to go Will! The HOH comp seemed skewed for Cowboy to win (but so was Drew's promise to give it to him.) Yet another ancient drunken shenanigans segment showed up to illustrate the immaturity in the house - again with no reference to the drunken part - hide 'n seek the other day was just as goofy, if not more. I was wrong (again) about the 'Psycho' lunch prep and moon shot showing up, but hey, I can admit it.





First out for playing well, but chameleon strategy is better defense than offense. Elevated the game with empathy, Oscar-caliber acting, and right-on-target rants. Most photogenic by far.





Funniest hamster ever. Provided joy, nicknames, dinners, trivia, laughs, insect tributes, golf commentary, and bowling lessons: he's cool & the gang.





Set off the end-game with 'How long you been dating?' Both pulled off Twingate brilliantly, but A's better as a solo act.





They should have kept switching - that house isn't big enough for both of them.





Not quite gay enough for the token gig. I'd like him in real life - but this isn't.





Hamster watching doesn't get better than this guy. Bath buddies forever!





The goon is gone - long live the goon :)





Unique, fun, annoying, ditzy, and oddly vulnerable. Bless her pointy lil head.





This year's Lisa, but without her luck.





Smart or not, he was first out: 'nuff said. Fold your arms and go home.


I need a job. If you like what you see here, please let me know if you've got one for me, thanks.