This site isn't about who should win, who will win, who I'd be friends with, or who is cute. It's about watching hamsters: which ones are doing what and why. Which are fun and which are dull. If they aren't entertaining, get rid of 'em! More to come, bookmark & come back!

.. that dingo
Linkage


Daily feed recaps & opinion ratings navigation tool for this often-biased site
HamsterWatch Big Brother 8 here we go again
HamsterWatch Big Brother 7 Hamster all-stars in the house
HamsterWatch Big Brother 6 time to do it all over again
CBS Big Brother 5 the official site
Housecalls live web show with Marcellas, also archived shows
TV Updates feed updates, screencaps, and fun boards - easy to use and functional!
bb5fan's 30 second refresh screencaps if you don't have feeds (great at work!)
Hollyisms and Cowboyisms and Lisa-isms from me, that dingo person
Sir LinksALot Big Brother 5 all the links
Reality TV Links emphasis on individual hamsters' sites
Aldav has all of the edgier stuff & the best mini-recaps in town (alternate url)
Today's must-click special: Grin's BB5 Park: Day 42 - Jase Eviction
Bonus must-click one-time rerun special: Jase modeling competition video






8/12/04 - Day 42, part 1

>> to the future >> dwell in the past >> latest
>> screw this, go on to part 2



"Nothing personal"



Well, the "Pussy Power" brain trusts did it again: for the third week in a row, they got rid of someone that any one of them could have easily beaten in the final two. Hmm.. $500,000 for spending a few weeks with a distasteful roommate? Most would jump on that, but not these girls.. they openly evict those they dislike and make no secret about it. But hey, it's "nothing personal".. uh huh, sure.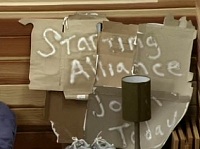 Sadly though - for us - they have also evicted almost everyone who is fun to watch. Say what you like about Jase - and wow things have been said! - he was fun. He played up every character in his loony arsenal to the hilt, and convinced most inside as well as outside that he can be an ass of the worst kind. But I like to think that the Jase we saw in the DR and the exit interview, and yes, in quiet conversations in the house, is the real Jase. Like he said the other day, "Underneath it all, I'm a pretty good guy." I'd like to think that.

Brash, uninhibited, arrogant, asinine, shrewd, irritating, silly, confident, lively, unique, ridiculous, dramatic, sincere, goofy, intelligent, narcissistic, rude and crude.. and the all-time most entertaining hamster







I don't know what will happen with Jase & Holly, but he did fall for her in there, and that was cool to watch. Had he gotten over her? Was he sorry to see her there? I think he was just surprised, and touched. And a little embarrassed.. this is likely the one moment he didn't want to do on tv. He'd just lost half a million bucks because of her - and he'd just pointed that out - and he's been thinking for a week that she might be twins. But she came - she wasn't with Johnny Creepy. Love 'em or hate 'em, you can't deny that they're a perfect match for each other.







Good night mirror-face, you'll be missed







Just keep telling yourself that, Drew.. it gets a little easier every time





Cowboy: So you're telling me you did not make a deal with them?
Drew: I made my decision based on what I thought people might do. I made that decision on that, so..
Cowboy: You do what you gotta do.. I went on honor, that's what I went on
Drew: Everything happens for a reason.. and I think he's where he's supposed to be
Cowboy: What I don't get, is that you felt like this for awhile.. but you didn't tell me that
Drew: I didn't know what I was gonna do for sure. He kept saying 'vote me out.'
Cowboy: No, he sat right here and said 'at least I have yours & Cowboy's vote'
Drew: I get back to what I think is right, what I think should happen.. this is something I felt like.. the house needed.. a lot of things he did I didn't agree with.. but I was never the one.. dude, like the things he did, the way he did it, that's not the right way to play this game..
....
Drew still: It's almost like doing the right thing.. when Julie asked me I was torn between my friendship with Jase & my loyalty with him, and the way he plays this game.. It came down to decision time, I thought about it a lot, that's what I did.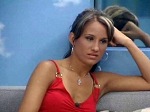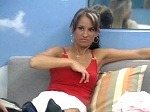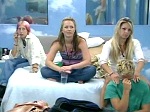 Cowboy: So I wonder when my twin is coming in
Diane: Bring my damn twin in, she'll be the first evicted
(others): Why?
Diane: Cuz she's an emotional basketcase, and a bitch
(awkward silence)
Diane: I can't wait to bust up that Hello Kitty, on national tv

That horrible Marvin then "groped" and "harassed" Diane again.. everyone was in the room but she didn't ask for help or protection, or move away, or even say "quit it".. she enjoyed it! But I bet she'll bring up this up in a day or two, and how frightening it was






(think she wore the white tablecloth outfit in hopes of repeating
her HOH win last time she wore it?)



Hmm that's odd.. she put her protection pillow in place later - when Drew came over - complaining that he wasn't feeling well.. (that's the feeling of your conscience vacating the premises, Drew..) Meanwhile Karen and Will continued to keep their secret alliance secret.. and the one good thing of Jase's eviction: Marv is staying, again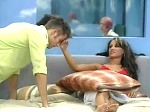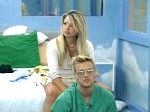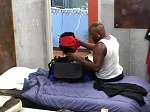 Karen asks our advice about something.. Nik pinches her belly as she walks her salsa petri dish around.. and Drew & Nik discover a trap door in the backyard.. with dirt! Nik asks "Is it movie dirt?"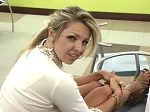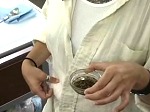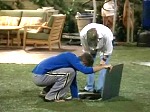 This was an odd sight to click in on.. what the hell is Karen doing? And why don't Cowboy or the other passers-thru think it's peculiar?







Aahhh, she's washing sheets.. ok yea, it all makes sense now.. <blink>






Yep, Karen is our surprise wacko of the summer.. hooray Karen!




There's more to come from this day in the house (much more!) so click on to part 2

I figure Jase prolly deserves his own page here anyway.. or most of a page..
like, later dude


I should have put all my marbles on her puck, but how was I to know dumb luck was going to take the day off? She's already holding court in HOH, and looks like she's going to hold out for the best offer.. and provide some adult entertainment in there too.



He may be one fry short of a happy meal, and the new look isn't all that.. but the dude knows the meaning of friendship and loyalty. He's a stand-up guy.. and then he has to go and prove it with the hat trick.



The more she gets what she wants, the more bitter and vindictive she gets. Fun times ahead.. fasten your seat belt.



Two for two. He might as well set up Cowboy now to walk the plank to Julie's boudoir too - at least he won't have to face him afterwards.



Curiouser and curiouser. And bitchier when they aren't looking. She's in the Marv category now: better every day!



He avoids eviction for two weeks running, calls Diane by her pet name on live tv, and has a cool mom too! This guy can do no wrong.



Jase should have gotten to know her cuz she came up with the Plan? Sorry Nik, but CBS, Shapiro, and friends came up with the plan.. and it only took you six weeks to figure it out. With help. Awesome possum.



Sitting pretty this week, accepts a lap dance graciously, and we'll finally know which is which (sometimes) - should be a good week.



I called it right that he'd throw the HOH comp, but I didn't think he'd end up dancing nekkid for the hamsters. He's mostly dull, but pulls out the stops often enough to give him an upgrade to neutral.



Definitely good tv, but only because of the players. Julie's Thursday script is getting tedious, and she definitely looks like she's hiding a budding pregnancy under those cards. Cheap shot of the night: asking Nik again how it feels to find out her dad had another life and/or abandoned a family? She hasn't even been able to talk to him about it yet.. lighten up on her already!





Hamster watching doesn't get better than this guy. Bath buddies forever!





The goon is gone - long live the goon :)





Unique, fun, annoying, ditzy, and oddly vulnerable. Bless her pointy lil head.





This year's Lisa, but without her luck.





Smart or not, he was first out: 'nuff said. Fold your arms and go home.