This site is about the Big Brother 24 feeds and contains spoilers! It isn't necessarily thorough: it's what I catch and/or what interests me. It's about watching hamsters: who's doing what and why. Thanks for encouraging my behavior.
Your pal, dingo





Donations via Paypal are gratefully accepted!



BB24 DRINKING GAME

Take a swig whenever a new rumor makes the rounds out here





@FEEDS_BOT MONITOR


Refresh page to update





QUICK LINKS & BOOKMARKS

-SIGN UP FOR FEEDS

-WATCH THE FEEDS
after signing up - disable ad blockers

Official site and socials:
-BB24 official CBS site
-Twitter
-TikTok
-Instagram
-YouTube
-Facebook

-Live show tickets are back

-Donate via Paypal - thank you!

-My Twitter - my screencaps

-Amazon Canada portal

-Dick at Night with @EvelDick

-BB Viewer Chrome or Firefox Extension by @liquid8d
-Requires Paramount Plus account

-BB24 Wiki

-Hamster Twitters
BB USA: chron - members
BB Canada: chron - members
BB USA Celebs: chron - members

-Advice for cast friends/family

-VPN to protect your online privacy





EAST COAST AIR SHOWS

East coast air show live streams:
- 1 - 2

USE THESE LINKS AT YOUR OWN RISK
I can only vouch for #1
-NO DOWNLOADS OR SIGN-INS NEEDED
-BEWARE OF CLICKING POPUP ADS OR WARNINGS




Get Paramount Plus
to watch Big Brother
all seasons
Plus tons more CBS and Viacom content




Big Brother 24 SEASON FAQ
-Pre-season July 5: Cast reveal
-Day 1 July 6: CBS premiere
-Kyle was first to enter
-Day 82 Sept 25: 2 hour finale

Feeds are streamed by Paramount Plus, with Flashback included, with a Paramount Plus subscription. Call 888-274-5343 for account help, including cancellation.

BB24 finalist prizes are $750k for the winner, $75k for 2nd place, $10k for 3rd place.
All except finalists probably receive $1k stipend per week again, including pre-season sequester.

The habitat has 94 HD cameras (no change) and 113 microphones (no change).

The recorded in-house announcements are the voice of producer Don Wollman. He and Julie Chen are the only senior staffers who have been there since Big Brother 1.





BIG BROTHER LIVE FEEDS EXCLUSIVELY ON PARAMOUNT PLUS
All Big Brother USA seasons plus most CBS/BET/Comedy Central/MTV/Nickelodeon shows
past or present are included, plus originals!
GET A FREE TRIAL
COMPUTER - MOBILE - ROKU - CHROMECAST - APPLE TV - ANDROID TV - FIRE TV - XBOX 1/360


>> >> >>

>> >> >> >> >> >>

>>

Power Status





BIG BROCHELLA inside group

Head of Household: Michael
Brittany, Jasmine, Monte, Taylor
Original noms: Jasmine, Monte
Veto winner/outcome: Brittany/TBA
Final noms: TBA
Evicted: TBA



DYRE FEST outside group

Head of Household: Terrance
Alyssa, Joseph, Kyle, Turner
Original noms: Joseph, Turner
Veto winner/outcome: Terrance/TBA
Final noms: TBA
Evicted: TBA



Alliance charts by @89razorskate20

Alliance maps by @Dolffica

Diary segment tallies by @clamperls4

Ratings Watch
Thursday's live show won the first hour with 0.7 rating and 3.341 million viewers, ahead of Generation Gap on ABC with 0.4/3.124, Law & Order SVU rerun on NBC with 0.3/2.540, and Welcome to Flatch on FOX with 0.2/05.73. It also won the second hour with 0.6 rating and 3.073 million viewers, ahead of The Con on ABC with 0.3/2.151, and Law & Order Organized Crime rerun on NBC with 0.2/1.902.

Wednesday's show won the hour with 0.8 rating and 3.886 million viewers, ahead of America's Got Talent on NBC with 0.6/5.366, MasterChef on FOX with 0.4/1.894, and two Abbott Elementary reruns on ABC with 0.3/1.950 and 0.3/1.436.

Overnight rating: adults 18-49, percent of all TV households



Upcoming Events
CBS shows are Sundays 8pm, Wednesdays 8pm, Thursdays 9pm

Thursday, August 25 will be double eviction
Sunday, August 28 show starts 8.30pm
Thursday, September 8 will be two hours 9-11pm
Sunday, September 11 show starts 8.30pm
Sunday, September 18 show starts 8.30pm
Sunday, September 25 finale will be two hours 8-10pm

Usual feeds schedule, times are Pacific
Mondays noonish: Veto meeting*
Tuesdays: COVID tests
Wednesdays midnight: Have-nots end
Thursdays: Eviction run-thru afternoon*, live eviction show 6pm*, HOH room late evening
Fridays: Nominations late afternoon*
Saturdays morning: Veto player draw*
Saturdays afternoon/evening: Veto comp*
*Feeds blocked - adoptable anipals on feeds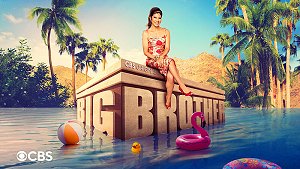 GET THE FEEDS to see the real show!

Paramount Plus plans are as follows:
-$4.99/month or $49.99/year includes feeds, does not have live local CBS, does have commercials for shows/movies
-$9.99/month or $99.99/year includes feeds, does have live local CBS, does not have commercials for shows/movies
-If you get the $4.99 'Essential' plan and want to dump the ads, you can upgrade to $9.99 'Premium' plan at any time
-$5.99/month plan is no longer available for new subscribers, but former All Access accounts will stay as they were, including feeds and live local CBS



Daily Feeds Recaps
Day 47 - Sunday - August 21, 2022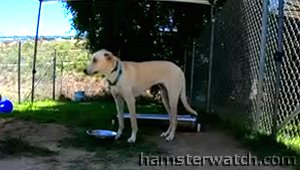 Feeds never came back last night and remained down this morning, with no announcement or info that I'm aware of. We might as well be watching BB Canada. I added a downtime monitor on the left sidebar the other day for times like this, courtesy of @Feeds_Bot.

A very lot has happened since the house was split. I've recapped most of it below and previously but in short: Before noms, Kyle told Terrance everything and blamed Joseph for orchestrating it; Joseph said he'll tell Terrance everything in hopes of Alyssa going up as renom, and said he'll protect Turner when he does; Kyle also told all that to Terrance; Turner pitched a foursome plan to Alyssa and Kyle to include Terrance, to counter the insiders foursome; the insiders foursome know they can't trust Kyle if neither he nor Alyssa are evicted; Monte wants to target Michael when they're at final five, and Taylor reported that to Brittany. Jasmine is on track to be the insiders' evictee; outsiders will probably evict Joseph unless he gets through to Terrance.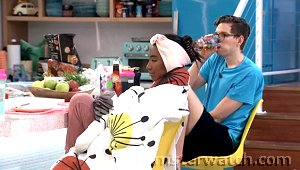 Feeds finally came back at 10.15am, but inside only. They were getting up, gathering clothes and towels for their laundry service, and chit-chatting. It sounded like they got a 30-second message from Rihanna last night, and they joked they'd tell the outsiders she was there in person. Monte and Taylor were still waiting for and expecting something special because Julie "specifically said VIP luxury style" for the Brochellas (lol newbies). Brittany then wondered if outsiders were providing more content because they'd "been hearing the music they've been playing nonstop." So that explained why no outside feeds: constant music to drown out potential wall yellers, rather than some huge drama or quits or ejections that many speculated about, due to all the subterfuge going on out there.

The afternoon was dreadfully quiet, with no outside feeds and insiders either sleeping or playing word games, with some lengthy WBRB blocks for them as well. But then the insiders found a party in the pantry with beer, margarita fixings, taco fixings, guacamole, churros, streamers, and new party hats.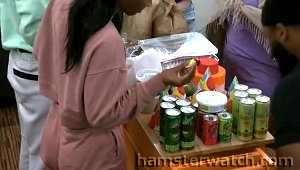 They got into it all right away, and took a selfie hollering "VIP!" They sat around the table and congratulated themselves on being VIPs and wondering what the others were doing (so were we), and they hollered "PARTY! VIP!" They said how fun it would be if the door was raised just long enough for the outsiders to see what they got, and Taylor joked that's what VIPs do: show off. It's possible such a hefty booze delivery was a concession to us, giving us drunken hamsters since we were missing feeds for half the house. Or maybe not. They mostly just chatted, and did a lot of going-around-the-table questions and convos. Brittany went to bed during that and the others followed soon after, except Taylor who puttered around talking to herself and us.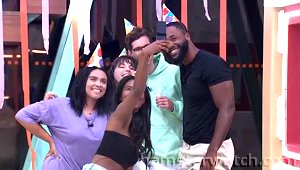 They said they could hear the backyard music (as could we, ever so slightly when someone was near the door), and they made it sound like it hadn't been blasting all day so that's something I guess. Backyard feeds didn't show up all day.

IF YOU MISSED what came before, check my previous episode, always linked up top or from my season index, and get the feeds to catch anything you missed with Flashback!

A big thank you for continuing to visit Hamsterwatch.com! And big ups to everyone who has or will get their feeds through me, and/or has or will make donations! I couldn't do this without you guys ♥



Day 46 - Saturday - August 20, 2022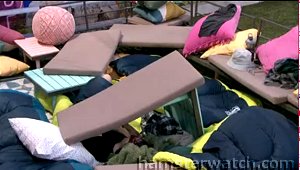 Most of the outsiders made a cushion fort to sleep under, since the morning sun angled into their canopy area and woke them up a lot earlier yesterday than they liked (or had gotten used to these past weeks). Otherwise they seemed to be adapting fairly well to their campground.

This is just a random weird shot making Terrance's arm look like a leg at first glance. That's the kind of stuff I started this site about: the fun, funny, kooky, weird stuff on BB feeds. But most take it all a lot more seriously than I do, so I've adapted to include more of that as well.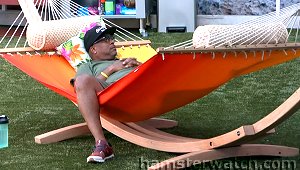 On that score, Brittany/Michael/Monte/Taylor decided last night that Kyle was a problem and a hindrance, and they'd dispatch him as soon as the two sides merged back into one. Kyle meanwhile pushed his latest crackpot scheme which was to blame Joseph for outing Leftovers to Alyssa and Terrance. Alyssa and Terrance had a check-in this morning about finding out they'd both been left out of all the loops, and they talked like they'd band together going forward, but I think each was just shmoozing the other, each thinking they were Kyle's actual number one.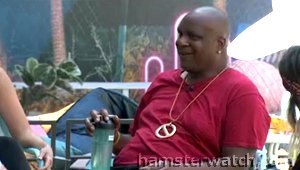 Feeds went to adoptable anipals around 10.40am for the Dyre outsiders to do their veto comp. They came back around 2pm and Terrance won. I never heard a peep about what the comp actually was or if they had an alum host like the insiders did. Obviously Terrance was pleased, and Alyssa, Kyle, Turner gathered around to congratulate him as Joseph sat quietly off to the side. Later Joseph told Kyle he had an idea "but it'll take all three of us." That plan was to tell Terrance that Alyssa had outed Old Skool, in hopes of getting her on the block. Kyle said he'd be afraid of going up as renom instead. Kyle already told Alyssa and Terrance everything, except he said Ameerah had outed Old Skool to Joseph. So if this Alyssa/Old Skool plan happens, it could shake things up somewhat, especially with Alyssa. It seems certain now that Joseph really doesn't know Kyle ratted out Leftovers. Inside they'd napped and cleaned, and prepped and ate food. They were expecting a party or movie or something tonight because Coachella has events every day. And it came out they'll all have laundry service this week, not just HOH Michael.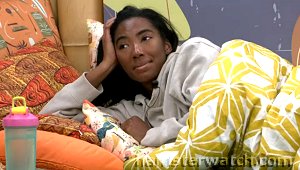 Jasmine campaigned to Michael, who let her know it seemed doubtful Brittany would use veto, which Jasmine had already heard from Brittany last night. Monte and Taylor had a long gametalk speculating about who Terrance might have nominated, who won the outside veto, what would happen with that, and they ran various scenarios about different combos. They talked about Michael and Brittany, and how good Michael's been especially in the comps. Monte said Michael folded every round in their veto comp but his guesses would have won every round even if he'd stayed. And they agreed Michael would take Brittany to finals above anyone else and vice versa. Monte said he's rarely talked game with Joseph. And later with Brittany, they wondered if Kyle would lie about outsiders' noms and veto to throw them off for the late season comps. (Kyle has already planned to lie about things to cover himself, but BB wouldn't ask any season event questions everyone wasn't exposed to, unless maybe Julie fills in both sides about the highlights on Thursday.)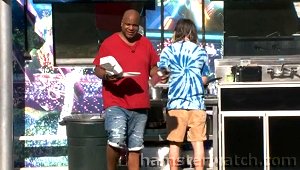 The backyard group dipped into their kitchenette again for fruit and sandwiches, and several dipped into the pool and shower now and then to cool off. I said yesterday I figured outsiders probably had paper or plastic plates but no, they have styroam boxes for plates in another nod to Fyre Festival authenticity. Insiders talked about dinner options, which they had a lot more of, and they did a group workout led by Monte. Joseph asked for outsiders to work out with but got no takers, so he did his alone.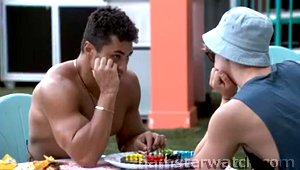 Brittany had a long chat with us, repeating most everything she tells Michael frequently, and repeating a lot about her hypnosis career and self-hypnosis in there. She said she visualizes herself every night winning the season with the confetti flying, or finishing second to Michael. And she said he's watched since she was ten years old, "it's my life!" Bold statement to make to feedsters. Joseph whispered to Kyle over Chinese checkers that he plans to tell Terrance there's a big alliance he doesn't know about, but it doesn't include Turner, to get Terrance to replace Turner with Alyssa. And he added "it's the only shot we have." Kyle just listened, probably already formulating his own plan to counteract this one so he'll be ready when the time comes. Brittany and Taylor had a long whisper, with Brittany saying it's good that Monte's ready to gun for Kyle, but he'll probably gun for Michael after that. And she said she thought there was a stronger inner alliance within Leftovers (correct), but she thought the three of them with Michael have as good or better chances of getting to the end together. And she suggested they'd likely go farther if they appeared weak.

The outsiders got cornhole so they had something else to do, and *thwunk* *thwunk* was added to the backyard sounds of planes and occasional snoring. It was a generic cornhole board with no decoration at all, not even a BB logo. Insiders sat down to salmon dinner, and then a flurry of activity erupted outside.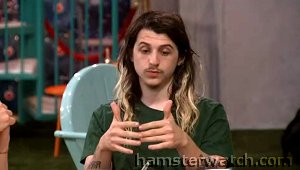 Turner told Alyssa and Kyle he didn't think he was Terrance's target and didn't think Terrance would't use his veto so the three of them should be good going forward. He added he was trusting them to keep him. He and Kyle agreed "the four in there" (Brittany/Michael/Monte/Taylor) were probably going to be tightly bonded after this, and Turner suggested they talk with Terrance to pitch a foursome going forward when they re-merge with the others. Kyle then went to Terrance and ratted out his earlier convo with Joseph about what Joseph was planning to tell Terrance, and he pitched the foursome idea, and he told Terrance the name of the seven was Leftovers, and said that was the last bit and Terrance now had everything. Turner and Joseph then checked in. Joseph still thought Alyssa could go up and out, and he said he'll tell Terrance about Brittany/Michael/Taylor having an F3 deal, and Girls Girls alliance, and all the rest of it except telling him about Leftovers. And he said if he goes home, he'll make sure Kyle and Turner are safe.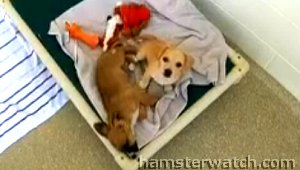 Feeds went to adoptable anipals at 8.15pm and were still down at 11.30pm when I gave up waiting. After impressive uptime the first half of the season, these last three days have been some Canada style feeds. Someone claimed they'd wall-yelled "Kyle's a liar" but their video wasn't great, or clear, and their supposed fellow yeller(s) said they didn't tape it. And anyway Kyle hasn't been lying about most of it, he's just betrayed (and gotten to Terrance faster than Joseph). And it's doubtful Terrance would give something like that much attention. He and the others would probably be more surprised to be acknowledged by the outside world. But if true and there were yellers, maybe feeds were down due to that - remember BB22 when feeds would be cut for hours after wall yellers were long, long gone. Or maybe the outsiders did their comp Diaries, which probably requires insiders to be locked in HOH while outsiders wait in Jetsons room for all of them to be cycled through. Or maybe insiders got the movie or party they were expecting (as if). We'll find out eventually, or not.

IF YOU MISSED what came before, check my previous episode, always linked up top or from my season index, and get the feeds to catch anything you missed with Flashback!

A big thank you for continuing to visit Hamsterwatch.com! And big ups to everyone who has or will get their feeds through me, and/or has or will make donations! I couldn't do this without you guys ♥



Ratings - Deep Thoughts edition
Ratings are Saturday's, based on their possible thoughts and entertainment value



Noms count: original/renom






Thursday's two hour show was not the best. They spent the entire first hour and a quarter of the next one on recaps and fluff, when they could/should have sent Indy on her way in the first half, then spent the second setting up the split. The HOH/s comp could have been better if played blind rather than knock-out style, and the sides should have been blind or randomized in some way, not playground picks. What's the point of 'shaking up the house' or 'turning it upside down' or whatever dramatic phrase the narrator will use if they don't actually shake it up? It's actually a brand new twist (gasp!) but they went about it the same old way. Let's not even talk about why it took 5.5 hours for feeds to show up after the show wrapped.

That said, I think it's still a good twist in principle (or could have been). I don't know but I suspect these things are set up well in advance before they even know how the game will play out as far as allies, duos, etc. Granted, Leftovers are a popular alliance, especially for a big alliance steamrolling their way through several weeks, and a lot of feedsters are upset they could be broken up by this twist rather than organically. But if it was an unpopular big alliance, people would be all for it. That's just this fanbase being typically fickle and hypocritical. The blind 'my team rules, your team sucks' logic that's used for BB as often as it is for sports.

Edit-wise, they did include some of Kyle's campaign against the hamsters of color but they glossed over it, omitting things like him calling his ideal team of white hamsters the 'silent majority' and continually saying and hinting that the others were threatening in some way, when that's completely false. And they included the sloppy showmance but they went easy on Kyle again by omitting the '10 seconds' confessions. That's comedy gold, and you can't say it would be cruel or accusatory because Kyle said it himself! Twice! About two different times! You also can't say it's too risque for BB. Again, they were still recapping in the 10pm hour and anyway, the 8.30pm comedy show leading into Thursday night's BB made a joke near the end of the episode (when I tune in) about a personal massager. Twice.

I think we were all hoping and expecting a little more for the outsiders setup (remember Ian's doghouse? OTT Scott's golf course?) but it was a takeoff on Fyre Festival, so we'll let that slide for authenticity's sake. I know many were excited about an audience in the studio again but I don't much care about that either way.

All in all, it would be a resounding neutral but they had the audacity and extremely poor taste to tweet a poll during the episode asking 'Pick your poison' with choices of Skid or Fancy. Once again, the characters were obviously based on Sid [Vicious] and Nancy [Spungen], and Taylor and Joseph were told that. As a couple, Sid and Nancy were known for being completely strung out on heroin and other drugs until Nancy was stabbed and bled to death at age 20. Sid was charged but died from an overdose at age 21, before trial. Not a feelgood story that Taylor and Joseph will be pleased to learn they were parodying, not characters to base a gag around, and definitely not a basis for a 'fun' poll using the word poison.





Won: $5,000; Week 1 Backstage Pass

HOH 0 - Veto 0 - Noms 1/0
Have-not 1



I really like it here. I'm having a wonderful summer. I wish I could write things down about it. I don't cry very often here but sometimes I do. I like Kyle. He's cute. Except when he gets mad at me. Is he mad now? I'll make it so he's not mad at me. I know how to do that. He's cute. Everybody talks about their game this, their game that. This game was hard once but mostly it's fun. Wait, it was hard twice. Anyway, people need to just CHILL and have a good summer. Where's Kyle?





Won: Week 1 Backstage Pass; Week 1 viewer safety vote; Week 5 immunity (HOH Bestie)

HOH 0 - Veto 1 - Co-veto 1 - Noms 1/0
Have-not 0



I really love this game. Well I didn't always love it when I was being left out of every alliance I was in, but now I love it again. And I'm second for most comp wins, right behind Michael! I wish they hadn't closed my office room though. I like going in there to relax and cry and hypnotize myself. There's a weird smell in there sometimes, but it doesn't last long.





Won: Week 3 immunity (HOH Bestie); London trip

HOH 1 - Veto 0 - Noms 1/0
Have-not 1



Well hey y'all! You're looking better than a chicken wing drowned in ranch salsa! I'm a little nervous about being on the block but it just shows what a really good sport I am! I'm not worried though, they aren't going to let me go anywhere - I'm the star! Didn't y'all see my birthday party? IT WAS ON TV! Your birthday party wasn't on TV. It's still my birthday month so if y'all didn't send me something yet, y'all can send me some Doritos, and maybe some pickles and Koolaid and spaghetti with ranch salsa. And some wings! Don't forget my wings!





Won: Week 4 immunity (HOH Bestie); 48 hr Skid tied to Taylor

HOH 0 - Veto 0 - Noms 2/0
Have-not 1



I think we can save this week. I have a plan. Just hear me out, it won't take more than two, maybe three hours. It's a little complicated but I know it'll work. They didn't think I'd get away with 'borrowing' my dad's safe so I could go to that party either, but I did and there's proof. Lots and lots of proof. Sorry, Dad.





Won: TBA

HOH 0 - Veto 1 - Co-veto 1 - Noms 0/1
Have-not 1



Oh my gosh this game is crazy but I'm so good at it I'm going to win and get more TikTok followers to watch me and my mom. I was in every alliance except the girls one because duh I'm a boy, and the old people one because duh I'm a boy. Then I went rogue and told all the alliances about all about the other alliances because I'm a genius! I guess that would make me a rat if everybody didn't love me and want me to win. HA HA rogue rat get it? That's what I'll call my new alliance of me. And then there's Alyssa. I call her Ahhlyssa because I say ahh whenever I think about her. I like thinking about her. Just thinking about her makes soooo hor‑‑ oh shit there I go again.





Won: TBA

HOH 2 - Veto 3 - Co-veto 1 - Noms 2/0
Have-not 1



It's not easy playing dumb when you're not. And it's not easy losing comps when you could win them all. I had to slow down my win streak because they were starting to notice, so I let Brittany have this veto so they don't think I'm a comp beast threat.





Won: TBA

HOH 1 - Veto 0 - Noms 2/0
Have-not 1



It's not easy for a guy of my size and presence to keep a low profile but that's how good I am. I'm here for the long haul and after I win this, I'll launch my fitness empire.
PS Please don't tell anyone Alyssa's and Terrance's backs were wrecked after their workout with me. That was their backs' fault, not mine.





Won: Week 5 surviving Bestie pick; 48 hr Fancy tied to Joseph

HOH 1 - Veto 0 - Noms 1/2
Have-not 0



Paloma, check. Ameerah, check. Nicole, check. Daniel, check. Indy, check. Jasmine next, check. Karma doesn't always work out in such a tangible or timely way, but sometimes it does.
(This probably isn't actually Taylor's thought process though: she's been very gracious to and about all those named.)





Won: Week 4 surviving Bestie pick; Week 4 immunity (HOH Bestie);

1 week

4.5 days Ink 182 temp tats

HOH 1 - Veto 1 - Noms 3/1
Have-not 1



Oh hell no, you don't really think you tricked me, do you? I knew what was going on, I just didn't say so. And if I did say so, I'd do it in my DJ voice. Showtime616. Follow me. I won HOH because I know everyone's been out to get me and putting me on the block every week. Now it's my time. You go on the block and you go on the block. Wait, what's that, Kyle? Oh I knew all that all along. Okay YOU and YOU go on the block. That's what I was going to do anyway. And now I've won the veto so nobody can put me on the block again this week.





Won: TBA

HOH 1 - Veto 0 - Noms 1/0
Have-not 1



This week isn't fire or festive. Facts. I miss Megan.





Won: Punkaroo 1 week concerts

HOH 0 - Veto 0 - Noms 2/0
Have-not 1

1st juror - 5th evicted - Day 44



Obit to follow





Won: Nothing

HOH 1 - Veto 0 - Co-veto 1 - Noms 0/1
Have-not 1

4th evicted - Day 37



Day 18 to Taylor: 'Don't speak to me until finale. The thing you did to Paloma you're trying to do to [Nicole], you can fuck right off. You don't think America's watching all that? You don't think so? From here on out do not speak to me. I will never forget what you did to Paloma. You think she didn't spiral because of you? You didn't add to that? And now you're trying to do it to Nicole, mind game. Do not speak to Nicole like that ever again.'
Don't get it twisted. First, mental illness doesn't work that way. Second, Terrance first suggested all that, Nicole planted it in Daniel's head, and he's the one who ran rabid with it, with her urging and blessing. They were peas from the same rotten pod and each fed off the other's vileness. I hope I never hear about either of these Toxic Twins again.





Won: Nothing

HOH 0 - Veto 0 - Noms 0/1
Have-not 1

3rd evicted - Day 30



Arrogant, aggressive, entitled, overbearing, self-serving and self-centered. She took over the Taylor hate train when Paloma left and ran it off the rails. She had no redeemable watchable qualities, least of all being entertaining in the slightest. I thought about doing Ozark ratings some week but I lost my Wendy Byrde with her exit. Verbatim quote from this 'superfan': 'They've done something that no other alliance has ever done in this game, in Big Brother history, they created a pact of people to make you think you're safe and say I got your back, and then this [betrayal] happens.' Hello? Welcome to BB.





Won: Nothing

HOH 0 - Veto 0 - Noms 0/1
Have-not 0

2nd evicted - Day 23



She was one of the Taylor haters under Paloma's direction, but she kept it up after Paloma's exit, even after Turner referred to it in his noms speech. That was one reason she went on the block as backdoor target and eventual exit, along with Michael and Kyle stressing her general smarts. She pushed for Pooch to go after he volunteered himself, and then she was blindsided when it was her own turn to meet Julie.





Won: Week 1 Backstage Boss/immunity

HOH 0 - Veto 0 - Noms 1/0
Have-not 1

1st evicted - Day 16



Volunteering to go on the block is always dicey, but especially as early as he did before any real trust is formed. And now he knows why. He's lucky Julie was COVID-distanced or she might have whacked him. He put all his eggs in a broken Oasis basket, and he irritated a lot of them with his antics and touchy-feely. When Joseph tried to help and warn him about that, he just got mad at Joseph. Like Paloma, he talked constantly and very, very fast. He seems like he's got a good heart so good luck to him from here.





Won: Week 1 Backstage Pass

HOH 0 - Veto 0 - Noms 0/0
Have-not 0

Left the game - Day 8



She drove the game at the start, and she ignited and fueled the unjustified Taylor hate which continued to thrive even after she left. When she started to spiral, her conspiracy theories and delusions would have been comical if they weren't indicative of something more serious going on. It was probably best for her to go when she did, and for me - her nonstop superfast talking was stressing me out.





Won: Nothing

HOH 0 - Veto 0 - Noms 0/0
Have-not 0



He was replaced pre-season by Joseph, but you can catch him on America's Got Talent and The Circle.






Lines and Links of the Day

Tally Items

Season Stats
HOHs in order: Daniel; Jasmine; Turner; Monte; Michael; Taylor; Michael + Terrance

Veto winners in order: Michael; Michael; Brittany/Michael; Daniel/Kyle; Michael; Kyle; Brittany + Terrance

Evictions in order: [Paloma left]; [Nobody]; Pooch 12-0; Ameerah 7-4; Nicole 9-1; Daniel 8-1; Indy 7-1

Cast Twitters: @poochie_maneee; @DowntownDurston

Cast Instagrams: @paloma.angeliki; @poochie_maneee; @ameerous; @thebutchergoddess11; @danieldurston







Linking to any page here is fine. Please don't repost content from this site (or any other) without permission, and don't repost or hotlink images.







988 CRISIS LINE 988



The national mental health hotline has launched nationwide. Call or text 988 if you or a loved one is in crisis - help is out there.



THE REAL SHOW IS THE FEEDS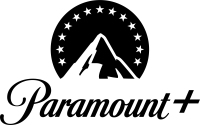 CBS All Access is now
Paramount Plus

Live air shows with ad-free plan
(live TV will have some commercial breaks)
BB1 thru BB24 plus Celebs and OTT, and loads of other shows from CBS, BET, Comedy Central, Nickelodeon, MTV, Smithsonian, plus originals




VIEWER VOTES

Who should get Week 1 Backstage safety?
> Brittany but it didn't play out as anything





GAME TWISTS

Week 7 BB FEST SPLIT HOUSE
-Five inside Big Brochella and five outside Dyre Fest
-Each side plays week as usual with HOH, noms, veto, eviction
-The sides play separately, no contact with each other
-Winner & runner-up of starting HOH comp determined HOHs, who were Michael (Big Brochella) and Terrance (Dyre Fest)
-HOHs picked their teams playground style

Weeks 4-5 FESTIE BESTIES
-Surviving nominee chose another set of Besties to join
-Same rules applied as before for trios

Week 3 FESTIE BESTIES
-Everyone was paired with another
-Besties nominated and compete as duos
-Have-nots are also in pairs
-HOH determines noms but their pair has safety
-One duo to play veto with HOH duo and nominated duo
-Anyone on veto winning team can choose to use it
-Both nominees come off if veto used

Week 1 BACKSTAGE PASS
-Pooch picked Backstage Boss card at move-in
-He had Week 1 immunity, couldn't compete or vote
-He picked Alyssa, Brittany, Paloma for Backstage
-They couldn't compete, be nominated, or vote
-They weren't guaranteed safety
-Twist was cancelled when Paloma left, with no repercussions



HAMSTERWATCH SWAG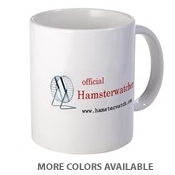 Mugs, shirts, more
Visit my Cafe Press shop

PROTECT YOUR ONLINE PRIVACY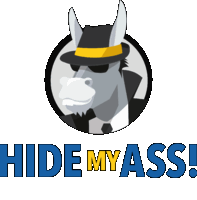 Anonymously secure your internet connection with HMA! Pro VPN - connect to our VPN service to anonymously encrypt your internet activity from prying eyes