This site is about the Big Brother 24 feeds and contains spoilers! It isn't necessarily thorough: it's what I catch and/or what interests me. It's about watching hamsters: who's doing what and why. Thanks for encouraging my behavior.
Your pal, dingo





Donations via Paypal are gratefully accepted!



BB24 DRINKING GAME

Take a swig whenever Kyle says 'Alyssa'





VIEWER VOTES

Who should get Week 1 Backstage safety?
> Brittany but it didn't play out as anything





QUICK LINKS & BOOKMARKS

-SIGN UP FOR FEEDS

-WATCH THE FEEDS
after signing up - disable ad blockers

Official site and socials:
-BB24 official CBS site
-Twitter
-TikTok
-Instagram
-YouTube
-Facebook

-Live show tickets if/when audiences return

-Donate via Paypal - thank you!

-My Twitter - my screencaps

-Amazon Canada portal

-Dick at Night with @EvelDick

-BB Viewer Chrome or Firefox Extension by @liquid8d
-Requires Paramount Plus account

-BB24 Wiki

-Hamster Twitters
BB USA: chron - members
BB Canada: chron - members
BB USA Celebs: chron - members

-Advice for cast friends/family

-VPN to protect your online privacy





EAST COAST AIR SHOWS

East coast air show live streams:
- 1 - 2

USE THESE LINKS AT YOUR OWN RISK
I can only vouch for #1
-NO DOWNLOADS OR SIGN-INS NEEDED
-BEWARE OF CLICKING POPUP ADS OR WARNINGS




Get Paramount Plus
to watch Big Brother
all seasons
Plus tons more CBS and Viacom content




Big Brother 24 SEASON FAQ
-Pre-season July 5: Cast reveal
-Day 1 July 6: CBS premiere
-Kyle was first to enter
-Day 82 Sept 25: 2 hour finale

Feeds are streamed by Paramount Plus, with Flashback included, with a Paramount Plus subscription. Call 888-274-5343 for account help, including cancellation.

BB24 finalist prizes are $750k for the winner, $75k for 2nd place, $10k for 3rd place.
All except finalists probably receive $1k stipend per week again, including pre-season sequester.

The habitat has 94 HD cameras (no change) and 113 microphones (no change).

The recorded in-house announcements are the voice of producer Don Wollman. He and Julie Chen are the only senior staffers who have been there since Big Brother 1.





BIG BROTHER LIVE FEEDS EXCLUSIVELY ON PARAMOUNT PLUS
All Big Brother USA seasons plus most CBS/BET/Comedy Central/MTV/Nickelodeon shows
past or present are included, plus originals!
GET A FREE TRIAL
COMPUTER - MOBILE - ROKU - CHROMECAST - APPLE TV - ANDROID TV - FIRE TV - XBOX 1/360


>> >> >>

>> >> >> >> >> >>

>>

Power Status
Festie Besties:
Alyssa/Indy/Taylor - Brittany/Michael
Daniel/Kyle - Jasmine/Turner - Joseph/Monte/Terrance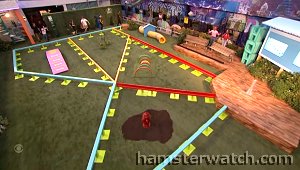 Head of Household: Michael (Brittany immunity)
Have-nots: Nobody
Original noms: Monte/Joseph/Terrance
Veto winner-outcome: Michael - TBA
Final noms: TBA
Evicted: TBA


Alliance charts by @89razorskate20

Alliance maps by @Dolffica

Diary segment tallies by @clamperls4

Ratings Watch
Thursday's live show placed second with 0.7 rating and 3.363 million viewers, behind NFL Football on NBC with 1.10/4.719, and ahead of Generation Gap on ABC with 0.4/3.158, and two Welcome to Flatch reruns on FOX with 0.1/0.496 and 0.1/0.491.


Overnight rating: adults 18-49, percent of all TV households



Upcoming Events
CBS shows are Sundays 8pm, Wednesdays 8pm, Thursdays 9pm

Thursday, September 8 will be two hours 9-11pm
Sunday, September 25 finale will be two hours 8-10pm

Usual feeds schedule, times are Pacific
Mondays noonish: Veto meeting*
Tuesdays: COVID tests
Wednesdays midnight: Have-nots end
Thursdays: Eviction run-thru afternoon*, live eviction show 5pm*, HOH room late evening
Fridays: Nominations late afternoon*
Saturdays morning: Veto player draw*
Saturdays afternoon/evening: Veto comp*
*Feeds blocked - adoptable anipals on feeds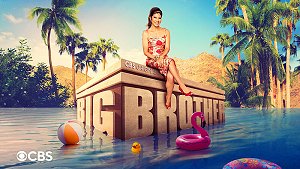 GET THE FEEDS to see the real show!

Paramount Plus plans are as follows:
-$4.99/month or $49.99/year includes feeds, does not have live local CBS, does have commercials for shows/movies
-$9.99/month or $99.99/year includes feeds, does have live local CBS, does not have commercials for shows/movies
-If you get the $4.99 'Essential' plan and want to dump the ads, you can upgrade to $9.99 'Premium' plan at any time
-$5.99/month plan is no longer available for new subscribers, but former All Access accounts will stay as they were, including feeds and live local CBS



Daily Feeds Recaps
Day 33 - Sunday - August 7, 2022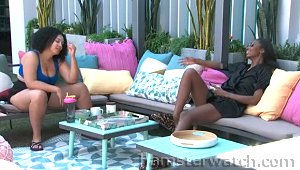 Last night Taylor admitted to Brittany she has a crush on Joseph, so there's that. Daniel made a morning save-me pitch to Taylor, which she later told Michael was a very bad pitch, offering nothing. Jasmine made a boot-Monte pitch to Taylor, who feigned ignorance about the veto being used of course. She said she wouldn't commit to a decision yet but it sounded appealing, and she said keeping Daniel would give her the chance to take him out later. Referring to Daniel, Jasmine said she hates it when people are judged and ostracized. Yep, she said that. To Taylor. Team Ants participated in their chat. Terrance and Daniel pitched at each other, including some Taylor bashing, both pleased and confident the veto won't be used and Monte would go. Terrance will be very disappointed when he doesn't stay on the block, which is a twist I didn't see coming.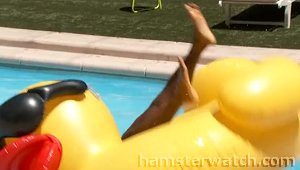 Terrance shmoozed Joseph about keeping noms the same to send Monte home, but Joseph shmoozed back harder and better, and Terrance happily reported to Daniel "Joseph's on board." Terrance also told him the Monte/Indy showmance was stronger than Alyssa/Kyle, as another Reason why Monte had to go. Monte attempted to mount the giant pool duckie a few times, failing twice before finally sticking the landing. Indy laughed with each dump, hollering "it's called karma and it's pronounced HA HA HA!" Joseph shared stories about hiding crows and lizards in his closet when he was a kid, and Taylor said she could never live in Florida after he talked about finding baby alligators and a snake that was as tall as him. Monte got the selfie camera in Diary and was asked to film the day's workout. He said he'll do it later when it cools off. So, more requested/staged activities for the show's socials, yay.


Terrance reported to Jasmine how successful he'd been in spreading the idea to keep him, Joseph, Monte on the block. She'd been talking the same last night, so maybe we'll end up with a power struggle between those two for leadership of the non-Leftovers side. Except it'll be more like a comedy skit since what they both want and think they pushed to happen isn't going to happen. Alyssa was distancing herself a bit from Kyle for much of the day, but they did spend a little time together, on all four feeds of course. I don't know what their issue of the day was, or if there even was one. Brittany was given antibiotics so her knee cut doesn't get infected. Most of the afternoon was relaxed chit-chat around the pool. Jasmine asked Alyssa to fetch her Chapstick and refill her water, which she did. Jasmine said she wanted cooler water so Alyssa fetched that, and said "here princess" when she delivered it. Taylor and Joseph wondered if there's a ship name for them yet. (Most are going with Jaylor.)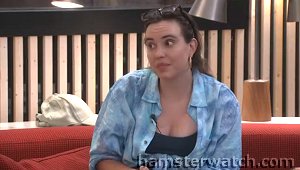 They got the selfie camera so they posed and mugged for that, including some alliance group shots that weren't noticed by the non-allied. Michael, Brittany, Joseph had a lengthy meeting and info exchange. After Joseph left, Michael said they've got two big house targets in Daniel and Monte, but he'll stick with the integrity of Leftovers for now, and use his veto to put up Daniel and Kyle. And they laughed about Jasmine acting like she's been in charge when actually she's had zero power, either explicit or indirect. Brittany talked rapidly and nonstop for awhile, getting catty about Jasmine, and she told Michael about Taylor's confession about crushing on Joseph. Michael said he wasn't surprised, he'd seen signs. Alyssa and Kyle went back to cuddling and kissing, and Kyle went back to covering up with pillows when he remembered he's surrounded by cameras. Monte kicked off a loud intro to the workout session BB requested and provided the video camera for.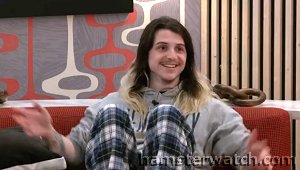 They got a booze delivery which Joseph, Kyle, Turner found, followed by Monte. Joseph suggested they drink it all without telling the others, but they brought it out to share with everyone. Turner suggested they all shotgun the beers and got no response. He then retold a Terrance convo to Michael, in his usual animated way, saying Terrance was excited and pleased noms would stay the same. Michael said he was thinking about telling them tonight to see if anyone on the other side would start scrambling and spilling. That would ruin our blindside but could also have some fun consequences. Turner asked Brittany how her knee was doing and she said it wasn't really bothering her, so that's good. Terrance had sat out the staged workout hour saying he had a "weird" chest pain. He seemed to think it was muscular and sore from yesterday's OTEV comp. Joseph had issues with his ears, which could have been from comp goop - that's a standard summer complaint. OTEV came for blood this year, and scored a high injury toll.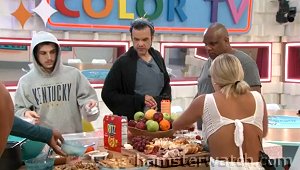 They got a booze delivery but they put off drinking it for awhile. Daniel (and Kyle) made a pitch to Michael (and Brittany) offering safety til Besties are over. Brittany asked what if they end this week, and Daniel offered two weeks, plus he'll vote however Michael wants this week. Brittany and Daniel talked at each in the pantry for quite awhile afterwards. Indy, Joseph, Monte, Taylor made up a big spread of charcuterie for everyone, but Indy only thanked Joseph and Monte for the help. They finally cracked open the booze around 11.30pm, three hours after it arrived. Taylor said she and Joseph would/should/are called Jaylor, something she wondered about but didn't know earlier today. Most of them got loud and may be on the way to sloppy. If there are any overnight sippy shenanigans, I'll catch them up tomorrow.

As of now, we're set for another blindside veto meeting tomorrow, since half of them think Joseph/Monte/Terrance will stay on the block, unless Michael changes his mind and ends up not using his veto, a possibility he mentioned. If it is Daniel and Kyle on the block, the eviction target could shift from Daniel to Kyle before Thursday, but those talks will come later if so.

IF YOU MISSED what came before, check my previous episode, always linked up top or from my season index, and get the feeds to catch anything you missed with Flashback!

A big thank you for continuing to visit Hamsterwatch.com! And big ups to everyone who has or will get their feeds through me, and/or has or will make donations! I couldn't do this without you guys ♥



Day 32 - Saturday - August 6, 2022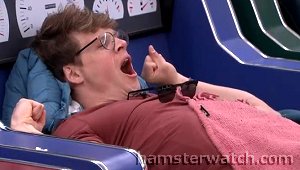 Jasmine/Turner were picked to play veto with Michael/Brittany and Joseph/Monte/Terrance, and Taylor will host. Daniel's new meek and quiet behavior continued since he'd be the expected boot, but remember Michael, Brittany, Taylor discussed various other options last night since Daniel's threat level had dropped so much, but they agreed to wait to see who wins before deciding. Kyle griped to Monte about his ongoing and increasing sleep deprivation, and how BB wasn't cutting him any slack for trying to nap this morning. Monte asked if he's "all riled up" when he tries to sleep at night, due to Alyssa, and Kyle said yes, obviously. He said he might move to Have-not room to escape Terrance snoring (that might not help his Alyssa problem though.) He also said Alyssa has a problem with the word "breath" so Monte said he'll tease her with that. Jasmine told Alyssa if she wins veto and doesn't use it, it would mess up her game, and she wondered if she should throw it but said that would make Turner mad at her.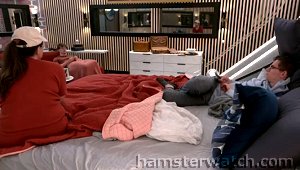 Later Kyle gave a lengthy talk to us about alliances (hoping for him, Alyssa, Michael, Brittany, Turner and maybe Daniel), and his sleep dep, and Alyssa. His agenda came out again when he talked with Brittany and Michael about veto scenarios, and going forward in general. He said "Monte and Ameerah from Day 1 had a Final Two and his reasoning was she's a strong African-American woman that's extremely intelligent that he wanted to help and represent the season. And so hearing that and hearing his reasons why he wanted to partner with someone like that, that's where my head is like - okay, he might view a Terrance Final Two, a Jasmine Final Two, an Indy Final Two, a Taylor Final Two, a Joseph Final Two. That's where my concern kind of stems from is his reasoning why he partnered with Ameerah in the first place." Brittany told them she'd love to do the F3 memories meal with them, but after Kyle left she asked Michael "why would anyone want to go to Final Three with you and me [obvious duo], like what in the hell?" Terrance said Taylor was "working this like a ho on a stroll." Jasmine agreed, adding "like a mule to a carrot."


Feeds were down from 3pm til 6.30pm for the veto comp, which was OTEV (so Taylor didn't get to host). This year's OTEV was a roach. Michael won, and it sounded like they competed indvidually? Which goes against the descriptions/directions for the whole Besties thing but whatever. Competitors were wet and messy with costumes that were apparently roaches. It sounded like they had to find bottles in a country theme with barbecued ribs and corn - Jasmine loved it. Michael thought he was the only one to fall on the ramp and he laughed/squirmed about being that one. Brittany had a badly cut knee and the medic was coming to see to her, possibly for stitches; Turner also hurt his knee, possibly dislocated? but popped back, and most of them had scrapes and cuts on their hands.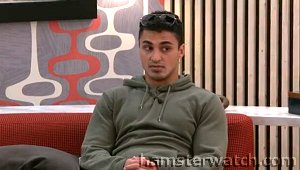 Michael told Joseph and Monte that Terrance told him during the comp "you have to win this, we'll talk later, are you ready to play?" They all agreed Terrance wanted to start some tension between Michael and Joseph and/or Michael and Monte, in order to send one of them home. Brittany joined later and reported that Alyssa told Kyle that Brittany told her Joseph and Monte were working with Jasmine and Indy. Brittany was annoyed about people again saying things she hadn't, and Joseph and Monte said Indy and Jasmine keep proposing alliances to them but they keep saying wait and see what happens. They agreed the other side may be united and hoping Michael doesn't use the veto in order to get Monte out. Michael said he'll act like he'll keep noms the same during his talks in order to gather info. Terrance fed a lot of I-don't-know-what to Taylor, with a lot of cussing, and she played along but was clearly not going along with any of it. Kyle and Daniel had a long talk about what to say to Michael so they don't go up as renoms, and Daniel went up to make his pitch of promises to Michael.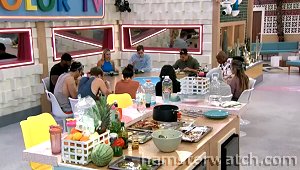 Indy made dinner and all 12 sat down to eat together. Jasmine spelled out HBD POO POO in M&Ms to wish her husband a happy birthday. Joseph and Taylor had a mini flirt session, with him saying if they showmance it would have to be sealed with a kiss, and then they'd get put on the block together. Brittany talked at Kyle for awhile, questioning the tales told about what she'd supposedly told Alyssa when actually it proved Kyle does talk game with Alyssa, which he always denies. Jasmine visited Michael and pushed hard for Monte to go. Brittany joined and Jasmine said she was sure the five votes needed would be there with her, Brittany, Indy, Alyssa, Daniel. When she left, Michael and Brittany said "we knew it!" meaning the other side were aligned, and against Monte (and Joseph), and it also destroyed Kyle's Cookout 2 theory. It sounded like Michael will use his veto to take the trio of guys off the block, keeping Monte on hand as a common target, and Daniel/Kyle will go up as renoms. As of now anyway - keep it in pencil. Meanwhile Terrance also pushed to Michael and Brittany for Monte to go, and Jasmine reported to Alyssa and Indy that she put in work and Monte was going.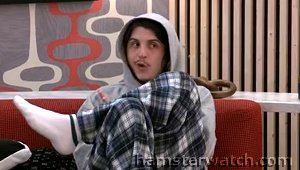 Turner joined Michael and Brittany in HOH and was delighted to hear all the news, especially Jasmine's part. Brittany added to that by saying when she sat down after gashing her leg, Jasmine wouldn't move over for her as she had to keep her foot propped. Taylor joined them and reported the Monte bashing that Terrance had told her earlier. They all agreed it was dumb for the other side to act like they wanted to bring in comp beast Michael and Brittany, because they'd be the first to be cut. Turner did not mention that Leftovers was formed when Michael, Brittany, Taylor were brought in after the inner Pound of four guys had already formed. One thing Michael mentioned to each of them was that he thought Daniel slipped up to him, by saying he and Nicole "just wanted to get--" and he caught himself. Michael thought that meant the two of them getting [whichever] alliance further, but Daniel had been going to tell Michael he just wanted to get to jury. Kyle told him not to say that, and instead to stress that he'd be loyal to Michael all the way. I think that's probably what Daniel almost said, and it's not a big deal either way, but interesting that Michael got stuck on that one point. Kyle joined HOH and Michael told him about the Jasmine and Terrance pitches. The others went back to being chit-chatty with a lot of "mm-hmm" replies. Kyle said he'd be okay going on the block in order to boot Daniel.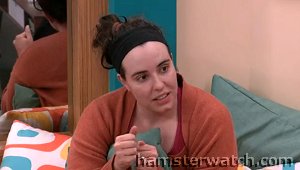 Indy met with Michael and said she was okay with anyone leaving except Alyssa, Jasmine, Joseph. Alyssa met with Michael next and pushed Monte. Kyle followed Alyssa and found out she'd spilled some gametalk she'd had with him, after he'd been forever saying he doesn't talk game with her. Brittany was finally seen by the doc and got six stitches in her knee. She said she'll have them for ten days, it doesn't hurt a lot, and she can compete in whatever. Taylor made cookies and Indy was annoyed she didn't make enough. Taylor said she didn't want there to be any extras and Indy said there are never leftover cookies in there. Taylor made some more.

IF YOU MISSED what came before, check my previous episode, always linked up top or from my season index, and get the feeds to catch anything you missed with Flashback!

A big thank you for continuing to visit Hamsterwatch.com! And big ups to everyone who has or will get their feeds through me, and/or has or will make donations! I couldn't do this without you guys ♥



Ratings - Bad Haiku special edition
Ratings are based on a traditional Japanese poetry format, and entertainment value



Noms count: original/renom






Staged activities
Showmance edits, sound effects
Feeds uptime still good





Won: Week 1 Backstage Pass

HOH 0 - Veto 0 - Noms 1/0
Have-not 1



Kyle's so cute (giggle)
He's so cute and he kissed me
Finally (giggle)





Won: Week 1 Backstage Pass; Week 1 viewer safety vote; Week 5 immunity (HOH Bestie)

HOH 0 - Co-veto 1 - Noms 1/0
Have-not 0



Wants to be weakest
Jasmine, Terrance, Alyssa
She wants them all gone





Won: TBA

HOH 1 - Veto 0 - Co-veto 1 - Noms 0/0
Have-not 1



Attack dog alone
Abandoned by his trainer
Docile hound dog now





Won: TBA

HOH 0 - Veto 0 - Noms 1/0
Have-not 1



Summer house it's not
Loud shoutouts, she hates Taylor
What else has she brought?





Won: Week 3 immunity (HOH Bestie)

HOH 1 - Veto 0 - Noms 0/0
Have-not 1



Diary accents
Muffin outrage, hobbling boot
She's pure comedy





Won: Week 4 immunity (HOH Bestie)

HOH 0 - Veto 0 - Noms 1/0
Have-not 1



Eats and sleeps a lot
Misses meetings and strat talks
Stays on top of things





Won: TBA

HOH 0 - Veto 0 - Co-veto 1 - Noms 0/0
Have-not 1



Ignorance deluxe
Twelve in twenty-nine body
Hanks did it better





Won: TBA

HOH 1 - Veto 3 - Co-veto 1 - Noms 2/0
Have-not 1



Lots of comps won now
Plotting out the future weeks
Bubble bath and chill





Won: TBA

HOH 1 - Veto 0 - Noms 1/0
Have-not 1



Making more small talk
Transparent attempts to shmooze
Is it working? No





Won: Week 5 surviving Bestie pick

HOH 0 - Veto 0 - Noms 1/2
Have-not 0



Safe for now, and she's
Outlived three of her haters
Just a few to go





Won: Week 4 surviving Bestie pick; Week 4 immunity (HOH Bestie)

HOH 0 - Veto 0 - Noms 2/1
Have-not 1



Lies to everyone
Most believe him, there and here
He just sits and talks





Won: TBA

HOH 1 - Veto 0 - Noms 0/0
Have-not 1



Muffin sabotage
Lives under his Bestie's skin
Pranking with an edge





Won: Nothing

HOH 0 - Veto 0 - Noms 0/1
Have-not 1

3rd evicted - Day 30



Arrogant, aggressive, entitled, overbearing, self-serving and self-centered. She took over the Taylor hate train when Paloma left and ran it off the rails. She had no redeemable watchable qualities, least of all being entertaining in the slightest. I thought about doing Ozark ratings some week but I lost my Wendy Byrde with her exit.





Won: Nothing

HOH 0 - Veto 0 - Noms 0/1
Have-not 0

2nd evicted - Day 23



She was one of the Taylor haters under Paloma's direction, but she kept it up after Paloma's exit, even after Turner referred to it in his noms speech. That was one reason she went on the block as backdoor target and eventual exit, along with Michael and Kyle stressing her general smarts. She pushed for Pooch to go after he volunteered himself, and then she was blindsided when it was her own turn to meet Julie.





Won: Week 1 Backstage Boss/immunity

HOH 0 - Veto 0 - Noms 1/0
Have-not 1

1st evicted - Day 16



Volunteering to go on the block is always dicey, but especially as early as he did before any real trust is formed. And now he knows why. He's lucky Julie was COVID-distanced or she might have whacked him. He put all his eggs in a broken Oasis basket, and he irritated a lot of them with his antics and touchy-feely. When Joseph tried to help and warn him about that, he just got mad at Joseph. Like Paloma, he talked constantly and very, very fast. He seems like he's got a good heart so good luck to him from here.





Won: Week 1 Backstage Pass

HOH 0 - Veto 0 - Noms 0/0
Have-not 0

Left the game - Day 8



She drove the game at the start, and she ignited and fueled the unjustified Taylor hate which continued to thrive even after she left. When she started to spiral, her conspiracy theories and delusions would have been comical if they weren't indicative of something more serious going on. It was probably best for her to go when she did, and for me - her nonstop superfast talking was stressing me out.





Won: Nothing

HOH 0 - Veto 0 - Noms 0/0
Have-not 0



He was replaced pre-season by Joseph, but you can catch him on America's Got Talent and The Circle.






Lines and Links of the Day

Tally Items

Season Stats
HOHs in order: Daniel; Jasmine; Turner; Monte; Michael

Veto winners in order: Michael; Michael; Brittany/Michael; Daniel/Kyle; Michael

Evictions in order: [Paloma left]; [Nobody]; Pooch 12-0; Ameerah 7-4; Nicole 9-1

Cast Twitters: @poochie_maneee

Cast Instagrams: @paloma.angeliki; @poochie_maneee; @ameerous







Linking to any page here is fine. Please don't repost content from this site (or any other) without permission, and don't repost or hotlink images.







988 CRISIS LINE 988



The national mental health hotline has launched nationwide. Call or text 988 if you or a loved one is in crisis - help is out there.



THE REAL SHOW IS THE FEEDS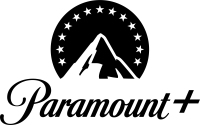 CBS All Access is now
Paramount Plus

Live air shows with ad-free plan
(live TV will have some commercial breaks)
BB1 thru BB24 plus Celebs and OTT, and loads of other shows from CBS, BET, Comedy Central, Nickelodeon, MTV, Smithsonian, plus originals




GAME TWISTS

Weeks 4-5 FESTIE BESTIES
-Surviving nominee chose another set of Besties to join
-Same rules applied as before for trios

Week 3 FESTIE BESTIES
-Everyone was paired with another
-Besties nominated and compete as duos
-Have-nots are also in pairs
-HOH determines noms but their pair has safety
-One duo to play veto with HOH duo and nominated duo
-Anyone on veto winning team can choose to use it
-Both nominees come off if veto used

Week 1 BACKSTAGE PASS
-Pooch picked Backstage Boss card at move-in
-He had Week 1 immunity, couldn't compete or vote
-He picked Alyssa, Brittany, Paloma for Backstage
-They couldn't compete, be nominated, or vote
-They weren't guaranteed safety
-Twist was cancelled when Paloma left, with no repercussions



HAMSTERWATCH SWAG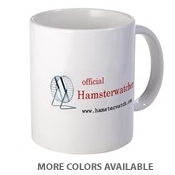 Mugs, shirts, more
Visit my Cafe Press shop

PROTECT YOUR ONLINE PRIVACY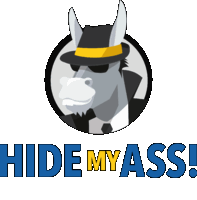 Anonymously secure your internet connection with HMA! Pro VPN - connect to our VPN service to anonymously encrypt your internet activity from prying eyes