This site is about the Big Brother 24 feeds and contains spoilers! It isn't necessarily thorough: it's what I catch and/or what interests me. It's about watching hamsters: who's doing what and why. Thanks for encouraging my behavior.
Your pal, dingo





Donations via Paypal are gratefully accepted!



BB24 DRINKING GAME

Drinkers: take a swig when someone bashes Taylor
Non-drinkers: take a swig when Taylor bashes someone





VIEWER VOTES

Who should get Week 1 Backstage safety?
> Brittany but it didn't play out as anything





QUICK LINKS & BOOKMARKS

-SIGN UP FOR FEEDS

-WATCH THE FEEDS
after signing up - disable ad blockers

Official site and socials:
-BB24 official CBS site
-Twitter
-TikTok
-Instagram
-YouTube
-Facebook

-Live show tickets if/when audiences return

-Donate via Paypal - thank you!

-My Twitter - my screencaps

-Amazon Canada portal

-Dick at Night with @EvelDick

-BB Viewer Chrome or Firefox Extension by @liquid8d
-Requires Paramount Plus account

-BB24 Wiki

-Hamster Twitters
BB USA: chron - members
BB Canada: chron - members
BB USA Celebs: chron - members

-Advice for cast friends/family

-VPN to protect your online privacy





EAST COAST AIR SHOWS

East coast air show live streams:
- 1 - 2

USE THESE LINKS AT YOUR OWN RISK
I can only vouch for #1
-NO DOWNLOADS OR SIGN-INS NEEDED
-BEWARE OF CLICKING POPUP ADS OR WARNINGS




Get Paramount Plus
to watch Big Brother
all seasons
Plus tons more CBS and Viacom content




Big Brother 24 SEASON FAQ
-Pre-season July 5: Cast reveal
-Day 1 July 6: CBS premiere
-Kyle was first to enter
-Day 82 Sept 25: 2 hour finale

Feeds are streamed by Paramount Plus, with Flashback included, with a Paramount Plus subscription. Call 888-274-5343 for account help, including cancellation.

BB24 finalist prizes are $750k for the winner. The rest of these items will be updated if different: $75k for 2nd place. 3rd place gets $10k bonus, 4th place gets $7.5k, 5th place gets $5k. All except finalists receive $1k stipend per week, including pre-season sequester.

The habitat has 94 HD cameras (no change) and 113 microphones (no change).

The recorded in-house announcements are the voice of producer Don Wollman. He and Julie Chen are the only senior staffers who have been there since Big Brother 1.





BIG BROTHER LIVE FEEDS EXCLUSIVELY ON PARAMOUNT PLUS
All Big Brother USA seasons plus most CBS/BET/Comedy Central/MTV/Nickelodeon shows
past or present are included, plus originals!
GET A FREE TRIAL
COMPUTER - MOBILE - ROKU - CHROMECAST - APPLE TV - ANDROID TV - FIRE TV - XBOX 1/360


>> >> >>

>> >> >> >> >> >>

>>

Power Status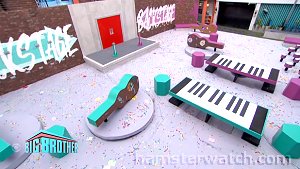 Head of Household: Jasmine
Have-nots: Daniel, Nicole, Pooch, Terrance (completed)
Original noms: Pooch, Taylor
Veto winner/outcome: Michael/did not use
Final noms: Pooch, Taylor
Evicted: TBA


Alliance charts by @89razorskate20

Alliance maps by @Dolffica

Diary segment tallies by @clamperls4

Ratings Watch
Sunday's show placed first with 0.6 rating and 3.312 viewers, ahead of Celebrity Family Feud on ABC with 0.5/3.884, America's Got Talent rerun on NBC with 0.2/1.960, and The Simpsons and Great North reruns on FOX with 0.2/0.609 and 0.1/0.526.


Overnight rating: adults 18-49, percent of all TV households



Upcoming Events
This week's eviction show will air Sunday at 8pm, two hours, due to January 6 Committee primetime hearing on Thursday

FEEDS WILL BE BACK THURSDAY NIGHT as usual - feeds schedule for noms and veto comp will be the same as usual

CBS shows are Sundays 8pm, Wednesdays 8pm, Thursdays 9pm

Usual feeds schedule, times are Pacific
Mondays noonish: Veto meeting*
Tuesdays: COVID tests
Wednesdays midnight: Have-nots end
Thursdays: Eviction run-thru afternoon*, live eviction show 5pm*, HOH room late evening
Fridays: Nominations late afternoon*
Saturdays morning: Veto player draw*
Saturdays afternoon/evening: Veto comp*
*Feeds blocked - adoptable anipals on feeds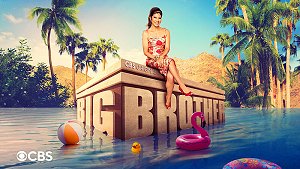 GET THE FEEDS to see the real show!

Paramount Plus plans are as follows:
-$4.99/month or $49.99/year includes feeds, does not have live local CBS, does have commercials for shows/movies
-$9.99/month or $99.99/year includes feeds, does have live local CBS, does not have commercials for shows/movies
-If you get the $4.99 'Essential' plan and want to dump the ads, you can upgrade to $9.99 'Premium' plan at any time
-$5.99/month plan is no longer available for new subscribers, but former All Access accounts will stay as they were, including feeds and live local CBS



Daily Feeds Recaps
Day 15 - Wednesday - July 20, 2022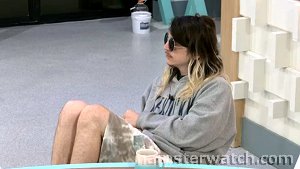 Having gotten wet yesterday, Turner went back to his usual stagehand demeanor this morning. Last night Ameerah told Taylor, with Joseph, Michael, Turner present, viewers were probably rooting for Taylor and hating the rest of them for last week, "from the Cookout to this bullshit" and "they put up the gay man and the black woman and replaced the black woman with the black man, I know that's the tweet out there." Also last night, Nicole, Daniel, Terrance christened themselves the Night Shift, and Monte finally gave up his campaign to save Pooch, telling Kyle that Pooch was unstable and a nimrod. (Actually I think Monte just realized it was a losing battle. It wasn't about Pooch anyway in my opinion, it was about Monte's dread of the girls outnumbering the guys.) That doesn't mean Monte won't rev up a one-man Waffle Wednesday to try again today.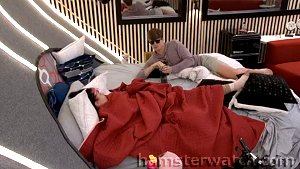 Jasmine continued holding meetings from her bed as well as placing breakfast order. She and Kyle debated whether to give Joseph and Turner a heads up about Pooch's fate, and Jasmine said she didn't want them to come for her if they're blindsided. (Welcome to Big Brother.) And she told Daniel she didn't want to have to pick Have-nots, but he said he thought volunteers were already lined up. Nicole delivered Jasmine's breakfast order and stayed to join Jasmine, Daniel, Ameerah in bashing Indy and Brittany for awhile.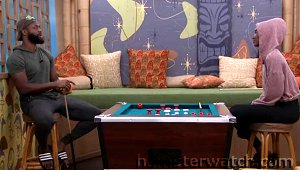 Monte and Taylor had a very lengthy chat, starting with life experiences, backgrounds, and various Real Topics. Monte participated in all those topics but his body language didn't change. When they eventually got around to gametalking 40 minutes later, he said if she were to stay and win HOH it would "re-establish trust" with him if she didn't target him. Taylor said he doesn't have to say but wondered if he might be voting to keep her, and he said "it's a potential." (Reminder, he campaigned against her all day yesterday but finally conceded last night.) Daniel told Monte and Terrance he wants to give Turner a heads up about Pooch going, either alone or with them, because he's boys with Turner and didn't want any backlash there. Asian James says hi.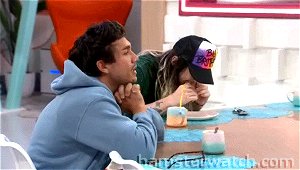 Turner's sandwich exploded when he bit into it, sending egg yolk into his coffee and his hair, but he didn't re-shower (he already took one yesterday). That will likely end up as a fluff segment on the show, maybe incorporated into a Turner doesn't shower segment, and the sandwich splooch will likely land the "gotcha" spot of the recap on the following show. Pooch said he looked up Dr Will after hearing what a great player he was, "but he plays more of a dickhead approach and it just worked, that's obviously not me." He probably just saw the iconic BB7 "I hate you all" speech. Alyssa, Ameerah, Daniel, Jasmine, Nicole, Terrance formed and named themselves Old Skool alliance.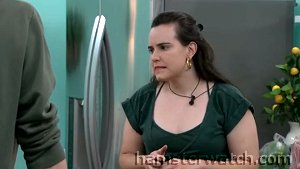 There was some noise while the show was on about the vote, probably typical Wednesday Waffle stuff, but it seems Daniel might have been trying to wangle a tie so Jasmine would have to break it and be the one to declare Pooch's demise. Brittany, who's already got the girls ready to evict her from the girls alliance for gametalking with guys, had an intense talk (featuring many expressions) with Michael to say she thought Ameerah was the one spreading suspicions about her. She ended by saying she was voting out Pooch "no matter what." From there she met with Joseph who said "just make sure you and Michael vote for Pooch" [to stay]. I love that Brittany keeps trying get into the game but it would be in her very best interest to just sit back and stop scurrying around, as she's not doing herself any favors. That was proven immeditately after I typed it when Nicole told Ameerah that Brittany had sold out the girls by telling Daniel she thought they can get the numbers to keep Pooch. What really happened was Brittany told Daniel she was afraid she'd be on the wrong side of the vote because she'd fallen out with the girls. She didn't say she was trying to save Pooch.

Also while the show was on, Jasmine rose from her bed and went downstairs.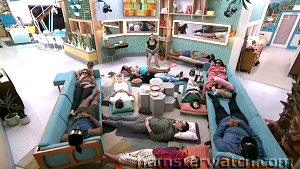 One thing Brittany does do well is leading guided meditation/hypotization sessions, which she did after all that frenzy. She told them before starting if anyone falls asleep and starts to snore that's fine, and to just nudge the snorer/s if they're bothering anyone. Snoring commenced immediately from someone.. I don't know if they got a nudge or not. The session was once again lovely and relaxing, and as soon as it was over Nicole told Ameerah "clap you [Brittany] back into reality and tell you you're a big fat liar, how about that!"

Tonight's potential agenda also includes guys meeting to discuss and finalize the vote, and Have-nots eating at midnight. It's probably a safe bet Nicole will rev up her anti-Brittany crusade again, either directly or letting Daniel/Ameerah/Jasmine spread angry little seed bombs around the habitat.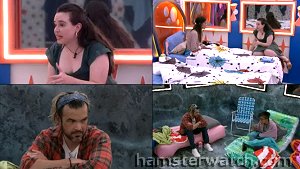 The lovely relaxation didn't last long at all. Ameerah confronted Brittany about hearing she'd been working against the girls to save Pooch (no), and that she'd told Pooch Ameerah had dropped his name (yes). They rehashed their respective sides, Brittany cried and denied, said she'd been misquoted and misconstrued, they hugged and agreed if they hear sketchy things in future they'd go to each other directly to get to the bottom of them. Alyssa joined, and Indy, and more tears and more hugs ensued. Brittany put her face in her hands after they left, once again seeming to kick herself for doing too much and getting caught. At the same time all that was underway, Nicole bashed Brittany to Daniel some more, repeating her mantra about how there's always one girl who betrays BB girls alliances. (She's that one: Brittany's game is sloppy but Nicole's is finely tuned and aimed.) Nicole later psst-psst'd to Turner about Brittany, likely because he'll be a free agent in 24 hours and available to snap up as a backup ally.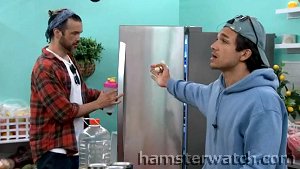 Apparently Alyssa dropped the Oasis name casually while talking to Pooch. I say casually, it seems she may have said either the alliance or the name was stupid. Pooch went ballistic, claiming he was livid that someone ratted out "his" alliance. Reminder, Monte told Ameerah about it at one point, Daniel told Michael about it on Monday, and Daniel told Jasmine, Ameerah, Terrance about it earlier today. Pooch went on the warpath trying to figure out who spilled, telling Kyle it had to be Joseph because he knew it wouldn't be Turner or Kyle or Daniel. Daniel entered the pantry as he said that, and of course played innocent. Pooch later ranted it all to Monte, and repeated that he couldn't go off on Joseph about it now. He told himself/us "I just need to survive this week and be good to go." Oops. He's going all right - going home.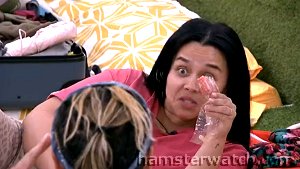 On and on it raged. Ameerah told Pooch it probably wasn't Joseph who ratted out Oasis as he'd been rallying for Pooch. Pooch reported the Oasis fiasco to Turner, and both agreed it had to be Joseph. Jasmine moved downstairs and said she'd let Have-nots Daniel and Nicole sleep in HOH. Brittany told Taylor to be careful in there, particularly with Daniel, especially flirting with him, saying she didn't want Taylor to get hurt. Pooch continued to panic and spiral, pitching an alliance deal to Jasmine that would include Kyle, even though Kyle didn't know about it, and he walked in on that talk. Jasmine reported back to Ameerah and Daniel, who cycled it around to bashing Brittany, like he does. Have-nots did the traditional countdown to midnight, and then they feasted, enjoying every bite. Kyle and Alyssa had a check-in afterwards, and she told him about Old Skool alliance - that one's just a few hours old.

** Feeds will return Thursday night ** as usual after the eviction show is taped - get them to keep up!

IF YOU MISSED what came before, check my previous episode, always linked up top or from my season index, and get the feeds to catch anything you missed with Flashback!

Huge thanks for continuing to visit Hamsterwatch.com! And big ups to everyone who has or will get their feeds through me, and/or has or will make donations!



Day 14 - Tuesday - July 19, 2022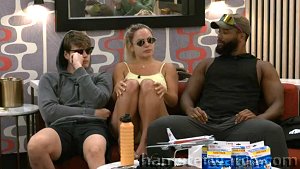 The big news is Thursday's eviction show, which was originally postponed to air Friday due to January 6 Committee hearing on Thursday, was further postponed. This week's eviction is now sheduled to air Sunday 7/24 at 8pm, two hours, meaning it'll include eviction, HOH comp, Have-nots (if they bother to include that), and nominations. And remember Julie's introducing a new twist this week, likely "BB Besties". It's not yet confirmed but feeds will likely be down Thursday afternoon til after the Sunday show airs, meaning we'd miss ALL of that plus veto comp. That's effectively the entire week game-wise. I don't know what the twist will be but I'd like to see Besties pairs tethered together - but if so, it'd likely be for 24 or 48 hours and we'd miss that too.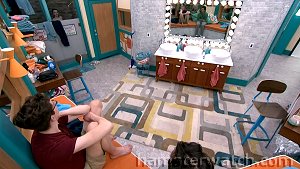 The big news on feeds today was Turner showered. I know he's hard to see in this screencap but he's in there, and with witnesses. Monte had another Taylor bashing session with Terrance, and Terrance took some of that to Ameerah, saying he was going to "check her ass" (Taylor's). Monte then joined a huge and lengthy kumbaya/life discussion in HOH, shmoozing his brains out. Well, I guess I should objectively say he was an enthusiastic participant in that group chat, praising Indy's immigration story and experience, and everyone's stories, and he even sniffled a bit talking about his own parents and again about his hopes to be a motivational podcaster. (But yeah, in my opinion, Monte was shmoozing hard in hopes of becoming more popular in there and thus more influential with everyone in his quest to get Taylor gone, and to further himself in the game. Am I being cynical? Probably, but I've seen a very lot of shmoozing hamsters over the years, I know the signs.) Ameerah told Alyssa that Kyle really likes her, but apparently she forgot to add that Kyle also told her he couldn't showmance right now.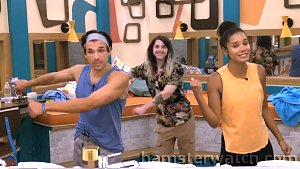 That HOH group chat ended up with all of them in there I think, and eventually broke up into others elsewhere that were all mostly general conversation. Monte kept up his anti-Taylor/anti-girls alliance crusade of course, whenever he could pull aside a male hamster to tell it to. Pooch doesn't know BB enough to realize all this relaxation and general topics group chats, with very few whispery convos, indicate the vote is set, and he initiated a few attempts with various bros to talk about next week's plans. Freshly-washed Turner gave a dance lesson to Pooch and Ameerah, Joseph continued eating apples, and Jasmine remained upstairs in her jammies, mostly horizontal.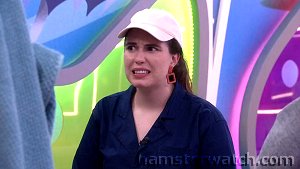 The newly formed Outsiders (Brittany, Kyle, Michael) had a check-in. Kyle said he didn't understand why the HOH girls are "so cliquey up in that room" and said "these girls are dangerous," citing the core group as Alyssa, Ameerah, Indy, Jasmine. Brittany acknowledged was at the bottom of the girls' hierarchy. Kyle also said Pooch will likely go but if there were to be a movement to boot Taylor that would be fine, adding Pooch is so bad at BB it could be good to keep him around. They agreed it was probably best to lay low and let the two sides fight it out, and they figured the sides were led by those four girls versus Monte and Joseph, and they agreed Daniel was playing the middle. Joseph joined and took over the meeting, pushing for Taylor to go rather than Pooch, acknowledging Pooch was a clown but Taylor was intimidating, game-wise. And he suggested Kyle and Brittany should each approach Pooch to pitch a deal. Brittany cycled through her various expressions and when they broke up, it seemed like she teleported to HOH, she got up there so fast. And after that she chatted with Monte, though I don't think there was any gametalk in either of those convos. Give her time.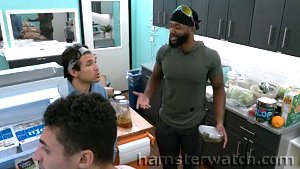 Monte and Joseph gave Pooch a bit of hope, but told him to tone down his joking, touching, and freaking out, as it was annoying people. Indy joined for a bit, and then reported to Ameerah and Nicole. Nicole said Brittany had been staring at someone through a window, and told them there's always one who turns on a girls' alliance and that's why they don't work. Nicole also said Brittany hadn't felt accepted until Jasmine won HOH, and they wondered if Brittany was even going to vote with them to evict Pooch. Nicole continued fueling the building anti-Brittany sentiment. Meanwhile, a pageant/fashion show had been proposed for tonight, possibly by Taylor? But the guys didn't want to do it, so instead a bumper pool tournament was talked about.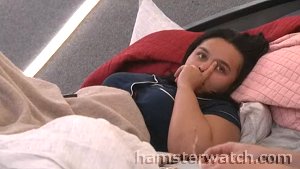 I guess all that getalong earlier was too much for them as they shifted to small group griping and bitching all over town. Pooch was angry about Joseph telling him to tone it down (even though Joseph said that to help him); HOH crew decided not to talk game with Brittany anymore; Daniel ran amok with the new anti-Brittany campaign, saying she's "an official fucking Eeyore floating around the fucking house, just wooo what a sad day, shut the fuck up, get the fuck out"; Jasmine griped to Terrance "you know what really pisses me off about Monte, I understand we're not doing the whole Black thing but just don't go against us, we don't have to work together but don't work against us" and Terrance said Monte's been doing that since Day 1. Later Nicole, Ameerah, Alyssa also griped about Monte, annoyed that he'd asked for names.

Indy asked Alyssa not to let guys sit on her bed if she's not there, "especially Turner, he doesn't shower" (did she miss this morning's bulletin?). Later she and Nicole told Daniel that request when he sat on it to put on his hoodie. Brittany joined Jasmine and Indy in HOH after nearly bursting into tears while working out, missing her hubby and the stress of being in there, saying she didn't want to break down in front of Joseph. Daniel, Jasmine, Nicole, Terrance griped about Indy - she cooks too much, she's working with the guys, she flirts too much. Daniel said "she flirts with me all day" - didn't we just do that with him about Taylor? Change the record at least. Elsewhere, Taylor told Alyssa and Ameerah they had a rocky start and she thanked them for keeping her this week and said she appreciates them. Alyssa said she felt the same way, and they all just have to keep doing what they're doing.

IF YOU MISSED what came before, check my previous episode, always linked up top or from my season index, and get the feeds to catch anything you missed with Flashback!

Huge thanks for continuing to visit Hamsterwatch.com! And big ups to everyone who has or will get their feeds through me, and/or has or will make donations!



Day 13 - Monday - July 18, 2022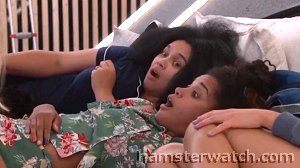 They cracked open the booze last night and partied in HOH to celebrate Indy's first year anniversary of being a US citizen. Indy talked about coming to America, and later Taylor admitted to the girls she does indeed like Daniel. Well, she clarified she doesn't like-like him, but she'd like to make out with him, and he'd told her he brought magnum condoms. Later Taylor and Daniel kind of bantered in the bathroom. I don't know that I'd call it flirting per se, but Daniel was definitely participating. Taylor apologized to Daniel this morning, and he said it was fine, and thanked her for the apology.

Earlier last night the girls had talked about maybe throwing HOH to Taylor so she'd take out another guy for them before they get rid of her. This morning, before veto meeting, Daniel told Michael about the guys' Oasis alliance, and suggested they keep Taylor this week to even out the guys versus girls numbers.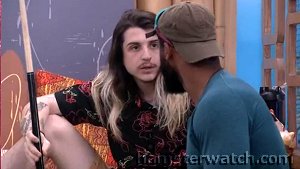 Michael did not use his veto, so Pooch and Taylor remained on the block with Pooch the likely evictee, as of now. Turner whispered to Monte that he can't tell anyone, but Brittany told him Taylor had been hoping to be pulled off so one of the big guys, Monte or Kyle, would go up instead. Pooch joined and Turner repeated, and Pooch's response was "petty girls, man." Later Monte and Kyle had a check-in with Monte saying he didn't think Ameerah and Nicole were too concerned about Taylor anymore, but he was. They further compared alliance suspicions, with Kyle stressing observations he's made about girls working together (reminder, Alyssa told him last night they are). Kyle added "I think we're in a bad spot right now." Joseph joined and suggested they try to work with Indy going forward.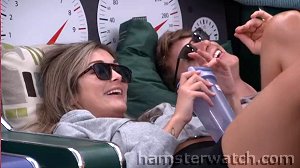 Monte, Kyle, Joseph were whispering in the car room about suspicions the girls were all working together. Monte said he thought they wanted to "do something historic" adding that he'd seen six seasons and said there hasn't been a strong women's alliance that went far. (BB6 and OTT say hi.) Kyle opened the door to find Brittany there and while feedmasters often show us eavesdroppers, all feeds had been on that room as Diaries were underway, so no telling if she'd been actively listening and/or heard anything or not. The guys agreed the women weren't being very stealth about it. A huge group gradually joined the car room for general chat. Kyle and Alyssa, who last night talked about not wanting to be seen as a showmance, held their own chat together in the middle of that. Later Brittany pulled Joseph aside to tell him Pooch had thrown his name "under the bus". Terrance told Taylor she's safe this week, but to act like she doesn't know that so Pooch doesn't find out and spiral.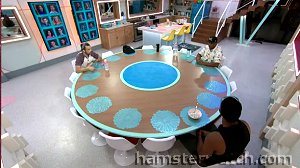 Monte later brought his [correct] girls alliance theory to Daniel and Terrance. I suspect he's thinking he can sway enough votes to boot Taylor, but it'll take seven to avoid a tie. I doubt they could get Michael: he already knows he didn't get an invite to the original guys' group, and Daniel's said multiple times to Nicole (indicating it's true) he doesn't want to work with/go deep into the game with the bro-jocks. The three guys held this convo at the dining table while a big crowd was hanging out in HOH. I'm not sure but i think they had the spyscreen on. Monte's stealth needs work, as does the HOH crew's observation skills.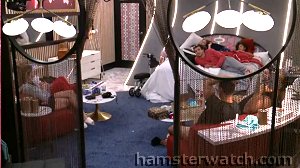 Monte continued his anti-girls alliance crusade; Jasmine spent most of the day horizontal with rotating visitors to HOH; Brittany said she was in the audience for the first BB20 eviction (Steve) and had a great time; Michael retold the iconic Angie Bowie/Tiffany Pollard "David's dead" incident from UK Celebs; Taylor and Michael agreed to "have each other's backs" and so did Taylor and Brittany; Brittany, Kyle, Michael agreed to work together as The Outsiders and talked about bringing in Taylor; Brittany said Pooch said he got advice from last year's first out Travis; Brittany continued having one-on-one game whispers that served no useful purpose; and Taylor and Daniel had a relaxed convo where she again thanked him for being chill about last night - he responded "oh no, it was good." Hopefully he'll stop saying she's stalking him now. All in all a relatively quiet evening.

IF YOU MISSED what came before, check my previous episode, always linked up top or from my season index, and get the feeds to catch anything you missed with Flashback!

Huge thanks for continuing to visit Hamsterwatch.com! And big ups to everyone who has or will get their feeds through me, and/or has or will make donations!



Ratings - We Like Mess, But.. edition
Ratings are Monday's, based on entertainment value



Noms count: original/renom/twist






Now that we've gotten to know the cast a bit, I think we all have questions.

There's no point in what-iffing BB because there are so very many variables, but it's weird they majorly hyped up a twist that kept four people from competing or being nominated Week 1, which theoretically could have affected the entire season, and then they just scrapped it all with Paloma's exit. It seems they could have played it out and just had Alyssa compete against one of the nominees? But it kept Taylor on the show rather than going out first based on lies and unfounded hate, so it worked out okay.

I'm not a fan of gross food eating comps, including faces-in-pies, but I guess some people like that kind of thing or it wouldn't keep happening.

Feeds uptime has been pretty great overall, so that nudged them back up to neutral. I have a feeling we'll be blocked Thursday afternoon thru

Friday

Sunday night but we'll find out when we get there.





Won: Week 1 Backstage Pass

HOH 0 - Veto 0 - Noms 0/0/0 - HN 0



I think she and Paloma were the first F2 but Alyssa saw the red flags there and began to distance herself before it was too late. She's well established alliance-wise, she's well liked in there, laying low, not making waves, and nobody seems to be wanting to target her anytime soon. She often sounds a lot like Friends' Phoebe, and she often says things Phoebe might say.





Won: TBA

HOH 0 - Veto 0 - Noms 0/0/0 - HN 0



She was instrumental in the flip this week to cash in on Pooch's 'pawn me' offer, and she seems pretty much aware of everything going on but she doesn't crow about it like some. I'm hoping she'll move past the unwarranted Taylor hate and drag the rest of them with her on that.





Won: Week 1 Backstage Pass; Week 1 viewer safety vote

HOH 0 - Veto 0 - Noms 0/0/0 - HN 0



She could lay low and go very far but instead she keeps telling people things she shouldn't and for no reason. Maybe she thinks they won't be repeated or attributed to her, but she knows Dr Will coined the word showmance so she should certainly know loose lips sink hamsters faster than that iceberg sunk the Titanic. She too reminds me of someone voice-wise but I can't figure out who.





Won: TBA

HOH 1 - Veto 0 - Noms 0/0/0 - HN 1



Whether Taylor's sippy confession was real or game, the result is the same because male egos are usually predictable like that. *IF* he does back off his Taylor hate a bit, it would be highly appreciated, but it won't excuse or undo the horrible things he spewed about her for 12 days.





Won: TBA

HOH 0 - Veto 0 - Noms 0/0/0 - HN 0



She's the breath of fresh air we always need, and even more so with this group. She has the kinds of stories we haven't heard before, she'll tell it like it is, and she's often funny. She's a keeper!




Won: TBA

HOH 1 - Veto 0 - Noms 0/0/0 - HN 0



How many accents does she have, and why does she use them all to complain? She has no idea her HOH was hijacked by her besties and probably thinks saving Taylor to boot Pooch was her idea. I'm not comparing her to Raven (yet?) but #JasmineStories is off to an astonishing start. All of her stories could be true, or some, or none, but they're adding up and most of them sound like Lifetime movie plots.





Won: TBA

HOH 0 - Veto 0 - Noms 0/0/0 - HN 1



He's more wholesome than Mayberry on a summer day. Or Kyle. I don't even know what to say.





Won: TBA

HOH 0 - Veto 0 - Noms 0/0/0 - HN 1



He's showing signs of being a good player, and he told Alyssa it's a 'red flag' that people are wondering if they're a showmance, adding 'I can't have that.' That would normally be ups-worthy but he's still mostly bland to me, so he stays stuck in neutral.





Won: TBA

HOH 0 - Veto 2 - Noms 1/0/0 - HN 1



He's won two vetos in a row, he's getting around more, both socially and strategically, and he's settling in to a more comfortable position all around. And he's not been hateful about anyone. Easy ups.





Won: TBA

HOH 0 - Veto 0 - Noms 0/0/0 - HN 1



He seems like a very manipulative kind of player but the key for successful hamster manipulation is subtlety, which he lacks. This will be the second week running he's worked to get Taylor gone, and everything's on course for him to fail at that agenda again. Yet another one who should wake up and realize joining forces with her could benefit him in future, but he's shown no signs of going there.





Won: TBA

HOH 0 - Veto 0 - Noms 0/0/0 - HN 1



She's getting kind of bossy game-wise and house-wise, which usually creates resentment among those being bossed, which could mean eventual popcorn for us. She's not as militant in her anti-Taylor or other stances as her BB BFF Daniel, which could eventually work in her favor.





Won: Week 1 Backstage Boss/immunity

HOH 0 - Veto 0 - Noms 1/0/0 - HN 1



It's rarely a good idea to pawn oneself in this game but to do it in Week 2 before any real trust has been established is lunacy, and they're going to take advantage of it to screw the Pooch. He's worn out his welcome in there and out here, he's often inappropriate, often annoying, but he's still not as bad as some of them. I still can't unhear Alaskan Bush Person Bear when he speaks.





Won: TBA

HOH 0 - Veto 0 - Noms 1/1/0 - HN 0



See this week's drinking game (left sidebar). This woman has done nothing to them but they continued to bash and trash behind her back, while reacting politely to her friendship attempts to her face. It's one thing if there was a basis for all that, but there wasn't. Her sippy confession about crushing on Daniel was doubly surprising since he was leading the bash train since Paloma left. It's an interesting twist.





Won: TBA

HOH 0 - Veto 0 - Noms 1/0/0 - HN 1



Residual downs for telling Daniel and Nicole on Friday that Taylor was [at least partially] responsible for Paloma's decline. Daniel ran wild with that, which may have been Terrance's goal, but I don't know if he's that cagey or calculated.





Won: TBA

HOH 0 - Veto 0 - Noms 0/0/0 - HN 0



He still seems like a stagehand who just hung around and ended up in the show, but he's interacting with more of them now that his broship with Pooch is about to be broken up. His questionable personal hygiene is an early theme/side game of the season but I grade on a curve, and that's enough to keep him in neutral.





Won: Week 1 Backstage Pass

HOH 0 - Veto 0 - Noms 0/0/0 - HN 0

Left the game - Day 8



She drove the game at the start, and she ignited and fueled the unjustified Taylor hate which continued to thrive even after she left. When she started to spiral, her conspiracy theories and delusions would have been comical if they weren't indicative of something more serious going on. It was probably best for her to go when she did, and for me - her nonstop superfast talking was stressing me out.





Won: Nothing

HOH 0 - Veto 0 - Noms 0/0/0 - HN 0



He was replaced pre-season by Joseph, but you can catch him on America's Got Talent and The Circle.






Lines and Links of the Day
Lines

Wednesday
Jasmine: Last night Joseph came in here - which I hope was not a dream, I'm pretty sure he did come in here

Jasmine: My hair would have been long but I cut it

Kyle: Have you gotten in any car wrecks before?
Alyssa: Yeah, five, they were all my fault

Nicole: Ameerah and I are going on Amazing Race
Daniel: Ameerah and I are going on a date, we're gonna kiss - no, she's not my type, she's my BB crush

After Have-nots feasted
Daniel: I've had sex before, but..
Terrance: This is fucking

Tuesday
Alyssa: I don't have ankle bones

Monte: I was waiting for the DR, bastards never called me

Monday
Pooch: Look at me, I look homeless

Nicole: Does somebody have a shitty t-shirt I can use to cook in?
Alyssa: I have the Backstage shirt
Pooch: Dude, I GIFTED that to you!

Brittany to Taylor: We've been handed what player we are but over time, we can change that



Links

GET YOUR FEEDS includes a free trial

Tropical fishies cam if you're missing them, from Aquarium of the Pacific

Big Brother 9 fights compilation back when open hostilities were the norm

Welcome to Big Brother supercut by @kylondoll

Use my link for any Amazon Canada shopping, anytime, at no extra cost - just start your shopping trip by clicking Amazon Canada



Tally Items

Season Stats
HOHs in order: Daniel; Jasmine

Veto winners in order: Michael; Michael

Evictions in order: [Nobody]

Cast Twitters: TBA







Linking to any page here is fine. Please don't repost content from this site (or any other) without permission, and don't repost or hotlink images.



THE REAL SHOW IS THE FEEDS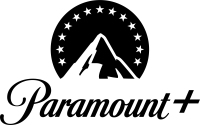 CBS All Access is now
Paramount Plus

Live air shows with ad-free plan
(live TV will have some commercial breaks)
BB1 thru BB24 plus Celebs and OTT, and loads of other shows from CBS, BET, Comedy Central, Nickelodeon, MTV, Smithsonian, plus originals




GAME TWISTS

Week 1 BACKSTAGE PASS
-Pooch picked Backstage Boss card at move-in
-He had Week 1 immunity, couldn't compete or vote
-He picked Alyssa, Brittany, Paloma for Backstage
-They couldn't compete, be nominated, or vote
-They weren't guaranteed safety
-Twist was cancelled when Paloma left, with no repercussions



HAMSTERWATCH SWAG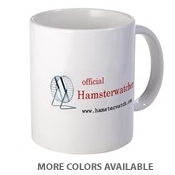 Mugs, shirts, more
Visit my Cafe Press shop

PROTECT YOUR ONLINE PRIVACY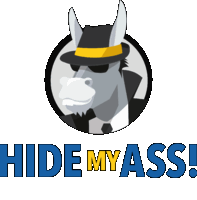 Anonymously secure your internet connection with HMA! Pro VPN - connect to our VPN service to anonymously encrypt your internet activity from prying eyes