This site is about the Big Brother 24 feeds and contains spoilers! It isn't necessarily thorough: it's what I catch and/or what interests me. It's about watching hamsters: who's doing what and why. Thanks for encouraging my behavior.
Your pal, dingo





Donations via Paypal are gratefully accepted!



BB24 DRINKING GAME

Take a big swig because it's all very complicated already





VIEWER VOTES

Who should get Week 1 Safety?
-Alyssa, Brittany, Paloma
-Vote at CBS site
-Voting closes Thursday 7/14 9am PT/noon ET





QUICK LINKS & BOOKMARKS

-SIGN UP FOR FEEDS

-WATCH THE FEEDS
after signing up - disable ad blockers

Official site and socials:
-BB24 official CBS site
-Twitter
-TikTok
-Instagram
-YouTube
-Facebook

-Live show tickets if/when audiences return

-Donate via Paypal - thank you!

-My Twitter - my screencaps

-Amazon Canada portal

-Dick at Night with @EvelDick

-BB Viewer Chrome or Firefox Extension by @liquid8d
-Requires Paramount Plus account

-BB24 Wiki

-Hamster Twitters
BB USA: chron - members
BB Canada: chron - members
BB USA Celebs: chron - members

-Advice for cast friends/family

-VPN to protect your online privacy





EAST COAST AIR SHOWS

East coast air show live streams:
- 1 - 2

USE THESE LINKS AT YOUR OWN RISK
I can only vouch for #1
-NO DOWNLOADS OR SIGN-INS NEEDED
-BEWARE OF CLICKING POPUP ADS OR WARNINGS




Get Paramount Plus
to watch Big Brother
all seasons
Plus tons more CBS and Viacom content




Big Brother 24 SEASON FAQ
-Pre-season July 5: Cast reveal
-Day 1 July 6: CBS premiere
-Kyle was first to enter
-Day 82 Sept 25: 2 hour finale

Feeds are streamed by Paramount Plus, with Flashback included, with a Paramount Plus subscription. Call 888-274-5343 for account help, including cancellation.

BB24 finalist prizes are $750k for the winner. The rest of these items will be updated if different: $75k for 2nd place. 3rd place gets $10k bonus, 4th place gets $7.5k, 5th place gets $5k. All except finalists receive $1k stipend per week, including pre-season sequester.

The habitat has 94 HD cameras (no change) and 113 microphones (no change).

The recorded in-house announcements are the voice of producer Don Wollman. He and Julie Chen are the only senior staffers who have been there since Big Brother 1.





BIG BROTHER LIVE FEEDS EXCLUSIVELY ON PARAMOUNT PLUS
All Big Brother USA seasons plus most CBS/BET/Comedy Central/MTV/Nickelodeon shows
past or present are included, plus originals!
GET A FREE TRIAL
COMPUTER - MOBILE - ROKU - CHROMECAST - APPLE TV - ANDROID TV - FIRE TV - XBOX 1/360


>> >> >>

>> >> >> >> >> >>

>>

Power Status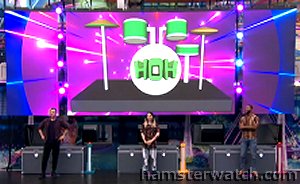 Head of Household: Daniel
Backstage Boss: Pooch (no comps, no vote, immunity)
Backstage Pass: Alyssa, Brittany, Paloma (no comps, no vote)
Backstage Pass Safety: TBA (immunity)
Have-nots: Joseph, Kyle, Michael, Monte
Original noms: Michael, Terrance
Veto winner/outcome: Michael/TBA
Final noms: TBA
Evicted: TBA

Alliance charts by @89razorskate20

Alliance maps by @Dolffica

Diary segment tallies by @clamperls4

Ratings Watch
Wednesday's premiere placed first with 0.8 rating and 3.846 million viewers for the first hour, ahead of Chicago Med rerun on NBC with 0.3/3.023, The Conners and The Goldbergs reruns on ABC with 0.3/2.009 and 0.2/1.303, and MasterChef rerun on FOX with 0.2/1.341. It also won the additional half hour with 0.7/3.393, ahead of Chicago Fire rerun on NBC with 0.3/2.917, Abbot Elementary rerun on ABC with 0.2/1.104, and So You Think You Can Dance rerun on FOX with 0.2/1.017.

Overnight rating: adults 18-49, percent of all TV households



Upcoming Events
CBS shows are Sundays 8pm, Wednesdays 8pm, Thursdays 9pm

Usual feeds schedule, times are Pacific
Mondays noonish: Veto meeting*
Tuesdays: COVID tests
Wednesdays midnight: Have-nots end
Thursdays: Eviction run-thru afternoon*, live eviction show 5pm*, HOH room late evening
Fridays: Nominations late afternoon*
Saturdays morning: Veto player draw*
Saturdays afternoon/evening: Veto comp*
*Feeds blocked, adoptable anipals on feeds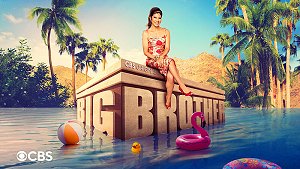 GET THE FEEDS to see the real show!

Paramount Plus plans are as follows:
-$4.99/month or $49.99/year includes feeds, does not have live local CBS, does have commercials for shows/movies
-$9.99/month or $99.99/year includes feeds, does have live local CBS, does not have commercials for shows/movies
-If you get the $4.99 'Essential' plan and want to dump the ads, you can upgrade to $9.99 'Premium' plan at any time
-$5.99/month plan is no longer available for new subscribers, but former All Access accounts will stay as they were, including feeds and live local CBS



Daily Feeds Recaps
Day 5 - Sunday, July 10, 2022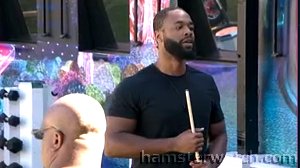 Trying to piece together last night's drama, it seems Taylor wrapped up a gametalk with Monte Friday morning by saying by the way, Paloma's telling everyone she wants to target the guys, including Monte and Kyle. (Paloma did tell Alyssa late Thursday night that she'd backdoor Monte if he showmanced Taylor - Flashback 7/8 12.47am BB/Pacific. Also that night, Paloma told Taylor the Have-not guys needed to be broken up, especially Kyle and Monte - Flashback 7/8 1.47am Pacific.) Monte held on to all this through Friday and Saturday, then told Paloma late last night that Taylor told him Paloma said she's targeting Monte and the guys. Paloma went ballistic and between her and Monte, they told pretty much everyone that version, and now nearly the entire house is against Taylor instead of just the three girls, with Monte referring to the whole episode as "an egregious lie" by Taylor. Taylor may have overheard one of those convos last night and that's why she was suddenly crying or she may have just figured it out from attitudes. The timing was entirely too coincidental for her to have had a general pressure release breakdown just at that time, in my opinion.

They were woken up late this morning so they realized - correctly - veto meeting probably isn't today. Instead the whispers and retells started up again, and all this probably won't just go away quietly. Nicole and Daniel decided it would be a good idea for everyone to have assigned household chores - good luck with that.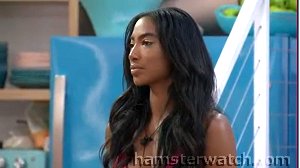 They did their swimsuit photo shoot, off feeds. Once again the photographer didn't go in the habitat so chances are it'll just be group shots and not individual ones, as it has been since COVID protocols came along. Taylor continued being the convo topic much of the time including last night's frenzy and wondering how she'll react to being nominated. Ameerah told her she doesn't know who will go up, and Taylor said she didn't think Daniel had decided yet, but she also thought it might be her. Joseph said he wanted to change the show's image so people don't think of it as people fighting all the time.. too late.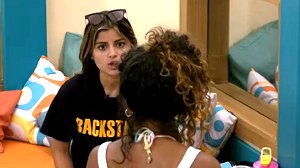 Several of them went on goodwill tours, possibly having picked up cues from Diary that they were leaning into problematic territory. Paloma led that charge too, talking about how people are cruel, this game is cruel, "but I'm trying to change that." She also announced she's already won the game, and she said she'll invest in everyone else's businesses when she gets the check. (Maybe not Taylor's styling biz, though she didn't specify that.) She also said to herself/us that "it's not about race but I get why they're saying that," and she wants to target Terrance next week with Indy as second choice.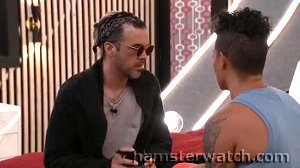 Daniel said he was conscious of the fact that having two Black people on the block Thursday will look bad, but he said Monte reassured him it isn't about race, and that made him feel better. However, he talked to Monte about it again, breaking down in tears, and said maybe he'll let someone else get rid of Taylor so he doesn't come out looking like a racist ass. Monte said he'd talk to the other POC about it, which he did, and Daniel talked it through again with Nicole.

Taylor bashing continued throughout the day and evening of course, behind her back of course, and I don't think they plan to warn her she'll be the renom tomorrow or the evictee Thursday - in their minds anyway. Backstage twist could change everything, if we're lucky.

IF YOU MISSED what came before, check my previous episode, always linked up top or from my season index, and get the feeds to catch anything you missed with Flashback!

Huge thanks for continuing to visit Hamsterwatch.com! And big ups to everyone who has or will get their feeds through me, and/or has or will make donations!



Day 4 - Saturday, July 9, 2022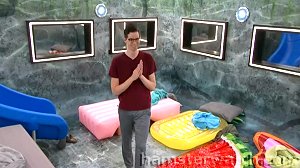 Ameerah, Indy, Turner were picked to play for veto along with Daniel, Michael, Terrance, and Kyle to host. Michael paced in Have-not and peptalked himself, saying things like "WWJD? What would Janelle do? She'd get out there and win this veto!" And he said not being considered "one of the guys" was what he'd been afraid of going in - understandably, since BB USA is so often driven by the brojocks. Brittany joined him to commiserate about the brojock problem, and to plan, but they acknowledged there wasn't much they can do about planning with so many unknowns. Brittany also peptalked him as he said he was chanting "you can and you will" to himself, saying she'd read that doing that will really implant it into your head. Reminder, she's a hypnotherapist, but they don't know that. Later Joseph also gave Michael some encouragement.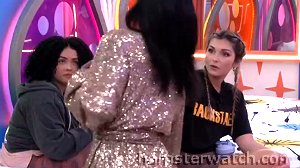 Taylor modeled some of her clothes for the other girls and said "it's open season in my closet" and she'd lend them whatever they wanted, after she wears it. That last condition might be fodder for later bashing. Joseph joined and was told Taylor was doing a fashion show, which led to encouraging her to do her pageant walk through the house. Which she did, with Joseph announcing loudly "now presenting, MISS BIG BROTHER!" That too will likely be discussed later by her detractors.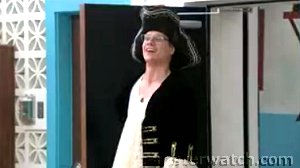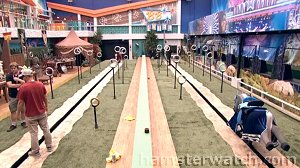 Host Kyle announced the veto meeting, with a redo to announce the veto comp, and the adoptable anipals arrived for us a little after noon. We'd had a quick peek at the setup earlier: it looked like head-to-head heats on horsies down lanes, with rings on the sides to either gather or toss something through, modeled after renaissance faire jousting maybe.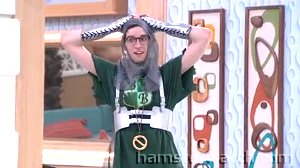 Feeds came back around 3.30pm and Michael had won the veto. He was thrilled, obviously. They were indeed in ren faire type outfits and there was a lot of chatter about it being a great comp. Scrambling for the next phase kicked off strong with animated whisper convos everywhere. Possible renom candidates as of now were Indy, Taylor, Joseph. Terrance put in work with Daniel to try to secure his own safety (which I hope he does).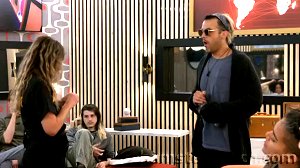 Daniel held one-on-ones to ask about renom thoughts. Highlights included Kyle suggesting Daniel tell his eventual nominee that he asked everyone and their name came up most, and Daniel sounded like that was a revelation of an idea. Daniel told Jasmine if they save Terrance, he might forget this week even happened because he's so sweet. Indy told him he has his Bible, he should pray, and he'll find his decision. When she left, Daniel told himself/us that he did bring a Bible but he's not a believer and he doesn't pray. He asked Taylor who she's tight with, if she wanted to say, and she immediately said him and she'll protect him next week and going forward. She suggested he buddy up with Michael, and she said nobody would vote out Indy, and she pitched Joshua as renom (Joseph). Paloma (who has no vote and could be at risk) said the vote has to be unanimous or they'd wonder who cast the hinky vote. By the end of everyone's loops, it seemed as if Taylor would be the renom, but they thought veto meeting is tomorrow and it's probably Monday as usual, so everything could change again.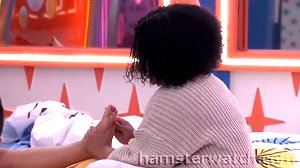 Socializing followed all that, like it does. Alyssa said Indy is like JC because he was "random" and a "floater". Daniel asked "isn't [BB20] JC from Brazil?" and wondered if they were related. Dude, Brazil and Cuba are not at all the same place, and Portugese isn't Spanish. Stop that. Kyle and Pooch celebrated in the pantry about getting rid of Taylor, but may have been a bit premature. The massaging and rubbing portion of the season kicked off, with Jasmine rubbing Indy's feet, and someone else got their hands rubbed. Daniel told Joseph he wouldn't be putting him up as renom, formalizing that, even though Joseph probably wasn't aware he'd briefly been a contender. He didn't give Taylor a heads up that she would go up but again, it probably won't happen til Monday.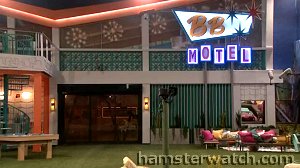 The backyard finally opened, and once again it looks great at night, and very much like a roadtrip motel. Michael and Nicole had a lengthy chat, their first, and both made it clear they were unaware of most of the Taylor bashing, and most of the gametalk and alliancing as well. Monte was irritated about Taylor but I didn't hear why until later.


Paloma, Alyssa, Indy had a rapidfire talk outside the bathroom celebrating Taylor's demise, and a few minutes later Taylor was sobbing alone in the bathroom. She muttered "fuck!", pulled herself together, and joined the backyard. Ameerah reported to Michael/Nicole that drama was afoot, Paloma joined, and she took Nicole aside to tell her the story, which was that Monte told Paloma that Taylor said she (Paloma) had been trying to get out big targets, including Monte. I have no idea where this came from or who started it, but Paloma worked herself into a frenzy about it, calling Taylor "this fuckin bitch" and saying "everyone hates her guts." Paloma also said "I have tried to be compassionate to her" which is definitely a big fat lie. Nicole said she wasn't aware of any of that, that Taylor had always shown her respect, but she didn't like hearing about all this. I don't know what's truth, what's lies, what's misconstrued or what's typical hamster vilification. This one isn't over yet though.

IF YOU MISSED what came before, check my previous episode, always linked up top or from my season index, and get the feeds to catch anything you missed with Flashback!

Huge thanks for continuing to visit Hamsterwatch.com! And big ups to everyone who has or will get their feeds through me, and/or has or will make donations!



Ratings - Second Impressions edition
Ratings are Saturday's, based on entertainment value



Noms count: original/renom/twist






I'm giving them ups for first night/week feeds, and for not many feeds blocks so far, and for coming back immediately after noms and veto comp. They usually do that but Canada's 10th season wasn't long ago and they've never done their feedsters courtesies like that so it's always refreshing to get back to how it should be. The feeds seem a bit brighter this year, but not very crisp or clear? Maybe that's my tired eyes.





Won: Week 1 Backstage Pass

HOH 0 - Veto 0 - Noms 0/0/0 - HN 0



I don't have much on her yet except she's a charter member of the Taylor Hate Train. I don't know why they hate her so much but it's just making them all look petty and immature.





Won: TBA

HOH 0 - Veto 0 - Noms 0/0/0 - HN 0



I want to like her, but I'm not sure yet if I do. She needs to step it up in the personality and/or entertainment department a bit.





Won: Week 1 Backstage Pass

HOH 0 - Veto 0 - Noms 0/0/0 - HN 0



She's getting busy game-wise and that's good for her, but whenever she gets talking her facial expressions rotate so fast, through so many variations, it's fascinating and highly entertaining, and that's good for us. #BrittanyFaces





Won: TBA

HOH 1 - Veto 0 - Noms 0/0/0 - HN 0



What is this tall guy/brojock thing about and why? He probably wants to be permabonded to them to steamroll through the game, but he could have buddied up with Michael and possibly gone farther, as the workout brojocks are likely to cut him before each other. His partnership with Nicole is legit as they share info with each other that doesn't go beyond, but they think they're being stealthy about it. They're not.





Won: TBA

HOH 0 - Veto 0 - Noms 0/0/0 - HN 0



She's a new 'type' for us and that's always welcome. She's not doing much game-wise (so far?) but she's fun, funny, and friendly, and she has the kind of stories we haven't heard before.




Won: TBA

HOH 0 - Veto 0 - Noms 0/0/0 - HN 0



See Alyssa, with the addition that some of her stories and daily adventures might not be matching up, already. I'm keeping an eye on those.





Won: TBA

HOH 0 - Veto 0 - Noms 0/0/0 - HN 1



I don't have much on him yet except he seems like a good guy, a great human, and maybe he's too nice for this game. Ups for announcing he doesn't want to walk around shirtless for fear of offending someone. I know that disappoints a lot of you, and while it's not about being offended, I am just sick of hamster brojocks walking around in their skin all summer. I'm here for unique and engaging personalities and/or stellar gameplay rather than buff bodies. And yes I realize that's a minority opinion.





Won: TBA

HOH 0 - Veto 0 - Noms 0/0/0 - HN 1



So far I find him bland and boring. Maybe he'll improve.





Won: TBA

HOH 0 - Veto 1 - Noms 1/0/0 - HN 1



He had a disastrous social start which landed him on the block, but that kick-started his game and between winning the veto when he had to and being aware that he's not a charter member of Mamba alliance, he's now in a good spot going into next week.





Won: TBA

HOH 0 - Veto 0 - Noms 0/0/0 - HN 1



I haven't seen much to go on yet for him.
Update: He kicked off the Saturday night anti-Taylor frenzy by telling Paloma that Taylor said Paloma wanted to target him and the guys. Paloma did say that to Taylor, but none of them have bothered to get her side of it. Not that they'd believe her at this point, but still.





Won: TBA

HOH 0 - Veto 0 - Noms 0/0/0 - HN 0



I like her from what I've seen so far and I hope I continue to.





Won: Week 1 Backstage Pass

HOH 0 - Veto 0 - Noms 0/0/0 - HN 0



See Alyssa re Taylor Hate Train, with the addition that she's the conductor of that train. On top of that, she's BUSY BUSY BUSY nonstop scurrying and scheming, allying and gossiping. All that's fine and can be good BB, but she talks so fast and so nonstop it stresses me out. I can't listen to her for more than a few minutes.
Update: BB hasn't had a villain of this caliber for years. But she's not a 'love to hate' type villain, she's just awful.





Won: Week 1 Backstage Boss/immunity

HOH 0 - Veto 0 - Noms 0/0/0 - HN 0



See Paloma re continual scheming and speedtalking. Once I realized his accent and way of speaking reminds me of Bear from Alaskan Bush People I can't unhear it. And I can't figure out how Staten Island sounds like Pacific Northwest.





Won: TBA

HOH 0 - Veto 0 - Noms 0/0/0 - HN 0



The girls hate her like Maggie/Ivette/April hated Janelle. Maybe more. She's surely aware of it but hasn't acknowledged it, at least not that I'm aware of. I don't know if we'll end up with open hostilities like we did back then, but it would liven up the feeds if we did.





Won: TBA

HOH 0 - Veto 0 - Noms 1/0/0 - HN 0



He's pleasant, genuine, calm on the block, and funny. What's not to like?





Won: TBA

HOH 0 - Veto 0 - Noms 0/0/0 - HN 0



Somehow a thrift store mogul/artist/alt culture type with two-tone hair ended up in the brojocks club. Go figure!





Won: Nothing

HOH 0 - Veto 0 - Noms 0/0/0 - HN 0



He was replaced pre-season by Joseph, but you can catch him on America's Got Talent and The Circle.






Lines and Links of the Day
Lines

Sunday
Terrance: These glasses are like 10 years old
Nicole: Damn, that's like half of Paloma's life

Joseph: When you think of the show you think of strangers fighting each other.. I want to kind of change that

Paloma: People are fuckin cruel, I'm sick of it, in this game people are cruel but I'm trying to change that

Daniel to self/us: Maybe I'm playing a shitty game - I'll find out in October, or next week

Saturday
Ameerah, about it being an exciting comp: "I'm sure the producers are licking their chomps right now

Joseph: I'm a snacker and an eater

Paloma about Taylor: I have tried to be compassionate to her



Links

GET YOUR FEEDS includes a free trial

Marvin's also on an upcoming The Circle

Xavier about Taylor's treatment

Use my link for any Amazon Canada shopping, anytime, at no extra cost - just start your shopping trip by clicking Amazon Canada



Tally Items

Season Stats
HOHs in order: Daniel

Veto winners in order: Michael

Evictions in order: TBA

Cast Twitters: TBA







Linking to any page here is fine. Please don't repost content from this site (or any other) without permission, and don't repost or hotlink images.



THE REAL SHOW IS THE FEEDS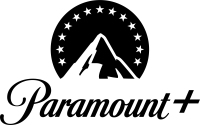 CBS All Access is now
Paramount Plus

Live air shows with ad-free plan
(live TV will have some commercial breaks)
BB1 thru BB24 plus Celebs and OTT, and loads of other shows from CBS, BET, Comedy Central, Nickelodeon, MTV, Smithsonian, plus originals




GAME TWISTS

BACKSTAGE PASS
-Week 1 Pooch picked Backstage Boss card at move-in
-He had Week 1 immunity, couldn't compete or vote
-He picked Alyssa, Brittany, Paloma for Backstage
-They couldn't compete, be nominated, or vote
-They weren't guaranteed safety



HAMSTERWATCH SWAG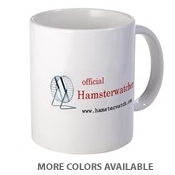 Mugs, shirts, more
Visit my Cafe Press shop

PROTECT YOUR ONLINE PRIVACY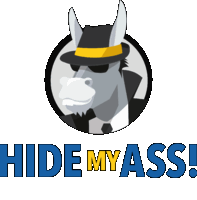 Anonymously secure your internet connection with HMA! Pro VPN - connect to our VPN service to anonymously encrypt your internet activity from prying eyes