This site is about the Big Brother 24 feeds and contains spoilers! It isn't necessarily thorough: it's what I catch and/or what interests me. It's about watching hamsters: who's doing what and why. Thanks for encouraging my behavior.
Your pal, dingo





Donations via Paypal are gratefully accepted!



BB24 DRINKING GAME

Take a swig whenever Nicole says 'integrity'





VIEWER VOTES

Who should get Week 1 Backstage safety?
> Brittany but it didn't play out as anything





QUICK LINKS & BOOKMARKS

-SIGN UP FOR FEEDS

-WATCH THE FEEDS
after signing up - disable ad blockers

Official site and socials:
-BB24 official CBS site
-Twitter
-TikTok
-Instagram
-YouTube
-Facebook

-Live show tickets if/when audiences return

-Donate via Paypal - thank you!

-My Twitter - my screencaps

-Amazon Canada portal

-Dick at Night with @EvelDick

-BB Viewer Chrome or Firefox Extension by @liquid8d
-Requires Paramount Plus account

-BB24 Wiki

-Hamster Twitters
BB USA: chron - members
BB Canada: chron - members
BB USA Celebs: chron - members

-Advice for cast friends/family

-VPN to protect your online privacy





EAST COAST AIR SHOWS

East coast air show live streams:
- 1 - 2

USE THESE LINKS AT YOUR OWN RISK
I can only vouch for #1
-NO DOWNLOADS OR SIGN-INS NEEDED
-BEWARE OF CLICKING POPUP ADS OR WARNINGS




Get Paramount Plus
to watch Big Brother
all seasons
Plus tons more CBS and Viacom content




Big Brother 24 SEASON FAQ
-Pre-season July 5: Cast reveal
-Day 1 July 6: CBS premiere
-Kyle was first to enter
-Day 82 Sept 25: 2 hour finale

Feeds are streamed by Paramount Plus, with Flashback included, with a Paramount Plus subscription. Call 888-274-5343 for account help, including cancellation.

BB24 finalist prizes are $750k for the winner, $75k for 2nd place, $10k for 3rd place.
All except finalists probably receive $1k stipend per week again, including pre-season sequester.

The habitat has 94 HD cameras (no change) and 113 microphones (no change).

The recorded in-house announcements are the voice of producer Don Wollman. He and Julie Chen are the only senior staffers who have been there since Big Brother 1.





BIG BROTHER LIVE FEEDS EXCLUSIVELY ON PARAMOUNT PLUS
All Big Brother USA seasons plus most CBS/BET/Comedy Central/MTV/Nickelodeon shows
past or present are included, plus originals!
GET A FREE TRIAL
COMPUTER - MOBILE - ROKU - CHROMECAST - APPLE TV - ANDROID TV - FIRE TV - XBOX 1/360


>> >> >>

>> >> >> >> >> >>

>>

Power Status
Festie Besties:
Alyssa/Indy - Brittany/Michael - Daniel/Kyle
Jasmine/Turner - Joseph/Monte/Terrance - Nicole/Taylor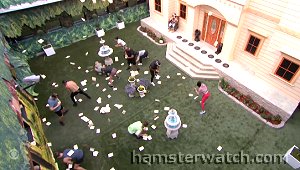 Head of Household: Monte (Joseph, Terrance immunity)
Have-nots: Jasmine/Turner
Original noms: Alyssa/Indy
Veto winner/outcome: Daniel/Kyle / TBA
Final noms: TBA
Evicted: TBA


Alliance charts by @89razorskate20

Alliance maps by @Dolffica

Diary segment tallies by @clamperls4

Ratings Watch
Thursday's live show won the hour with 0.7 rating and 3.351 million viewers, ahead of Generation Gap on ABC with 0.3/2.952, Law & Order SVU rerun on NBC with 0.3/2.481, and two Welcome to Flatch reruns on FOX with 0.1/0.564 and 0.1/0.534.


Overnight rating: adults 18-49, percent of all TV households



Upcoming Events
Monday: Michael's birthday

CBS shows are Sundays 8pm, Wednesdays 8pm, Thursdays 9pm

Thursday, September 8 will be two hours 9-11pm
Sunday, September 25 finale will be two hours 8-10pm

Usual feeds schedule, times are Pacific
Mondays noonish: Veto meeting*
Tuesdays: COVID tests
Wednesdays midnight: Have-nots end
Thursdays: Eviction run-thru afternoon*, live eviction show 5pm*, HOH room late evening
Fridays: Nominations late afternoon*
Saturdays morning: Veto player draw*
Saturdays afternoon/evening: Veto comp*
*Feeds blocked - adoptable anipals on feeds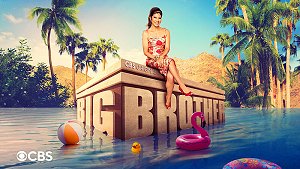 GET THE FEEDS to see the real show!

Paramount Plus plans are as follows:
-$4.99/month or $49.99/year includes feeds, does not have live local CBS, does have commercials for shows/movies
-$9.99/month or $99.99/year includes feeds, does have live local CBS, does not have commercials for shows/movies
-If you get the $4.99 'Essential' plan and want to dump the ads, you can upgrade to $9.99 'Premium' plan at any time
-$5.99/month plan is no longer available for new subscribers, but former All Access accounts will stay as they were, including feeds and live local CBS



Daily Feeds Recaps
Day 26 - Sunday - July 31, 2022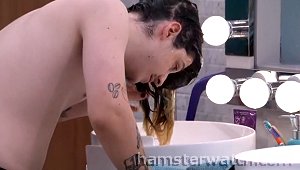 Have-not Turner washed his hair in the sink to avoid a cold shower, but he did step in to rinse out the shampoo and have a quick wash. He told Alyssa his hair had been getting greasy and Alyssa said "yeah it was." Alyssa worked on/flirted with Kyle a lot last night, but only got a forehead kiss to show for it. Have-not Jasmine told Terrance she didn't want to shower or wash her hair yet because it'll get dirty again. She also talked with Indy to plan her Tuesday night Have-not feast, and she said she'd overheard a Taylor and Nicole convo. Indy said she felt bad for Taylor but it was time for her to go. Both laughed. Nicole met with Monte to rehash and pitch. She admitted she's scared to go on the block and said she thought Taylor might have the votes to stay. She said she can "read bullshit across the fuckin room" which was ironic, since she was sitting across the room from Monte who was bullshitting her. And she said "I'm a very respectable and humble person." Okay.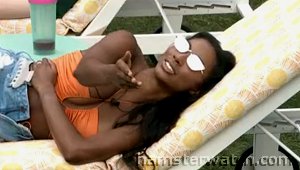 Nicole asked Turner about his van travels. He answered her questions in a flat monotone, with very few details. Understandable since it's Day 26 and she'd never shown any interest before. Taylor said she watched Celebs 3 feeds. Nicole was surprised to hear there were feeds chatrooms and asked if that's something they can go back and read? (No, but she wouldn't like what she'd see if so.) Terrance said he'd seen After Dark on Showtime a few times back in the day, and said one night he'd tuned in and caught the Chima's mic incident. Taylor told us "it's been a crazy 26 days, I hope you all have enjoyed yourselves.. I've been going through it but it's for your entertainment so I'll carry that burden." Nicole told Daniel and Terrance "if [Taylor] wants to flaunt her p**** all over the backyard go ahead, but that's not who I am," and added she isn't ashamed of anything she's said in there. She also told them she thought Michael, Brittany, Turner, Jasmine were working with the guys. Daniel said he didn't think Jasmine would be with them, but they'll see what happens this week. The backyard got a few rare rain sprinkles.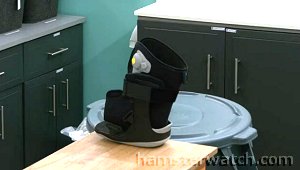 Nicole pitched to Kyle, who said he'd been told there was a backdoor plan with Nicole and Taylor going up as renom, so he and/or Daniel would probably use their veto. He didn't acknowledge the pawn was really Taylor and the target Nicole. She said "when you think of long game, I wouldn't want you or Daniel to not feel safe going forward, and that's just me being selfless." Okay. A new boot for Jasmine's ankle arrived in the pantry, and stayed there. Brittany eventually moved it to a sideboard when clearing up with Michael. Jasmine was called to upstairs Diary and slow-scooted her way up the stairs, with Monte urging her on workout-style (tongue-in-cheek, probably). Afterwards she was actually upright for a few minutes before lounge-snacking in the backyard and later in the living room.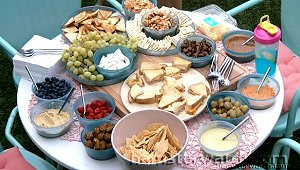 Daniel pitched a loose alliance to Alyssa made up of the two of them, Indy, Jasmine, Nicole, adding "we don't need to make this official bullshit thing" and saying he thought they could/should pull in Kyle so they'd have the numbers going forward. Indy prepared a backyard lunch feast with Alyssa and Michael's help, and most of them gathered to eat and hold a funeral for Indy's painted onion. Turner was annoyed about Indy using some of his HOH vegan food for it, when he couldn't even have any. Daniel rehashed to Kyle and pitched his alliance plan. He also said Monte and Joseph will steamroll through the game, which he'd also told Alyssa. Kyle said he thought Joseph was just a goofball but Daniel said he thought that was fake (correct). Kyle made the appropriate noises indicated he agreed with the rest, Taylor has to go, and etc but he didn't openly agree to anything, and he suggested they talk to Turner.


Check-ins continued including Nicole and Turner, and another Daniel and Kyle, which Kyle reported to Taylor. BB called them to the pantry while the air show was underway, where they found chocolate cake mix for Michael's birthday, new party hats, ice cream treats, and wine and beer. More ants were discovered in the kitchen. Brittany went at them with Windex, apologizing to them, as Taylor said "die! die!" No sooner had those soldiers been dispatched, another clump of them was discovered on a cup of leftover Gatorade in the yard. Team Ants didn't even make an appearance during those first two horrid weeks but once things turned around and fun feeds emerged, the ants showed up. Now they're everywhere, as usual during BB summers. It was a relatively calm afternoon with the usual snacking, workouts, napping, and psst-pssting.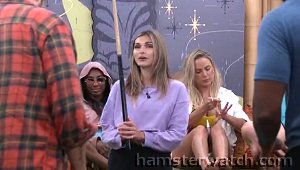 BB asked them to play bumper pool this evening. Maybe they're missing non-whispery activities for fluff segments and segues on the shows and their various socials. This group doesn't do many of those, although last night's Chinese checkers game was a lot of fun for them and for us, and they've had a couple boisterous bumper pool tourneys. Even better, those were spontaneous. But they bumper pooled, using their Diary voices and extra-loud laughter, and several competed for the commentary position with each shot. Turner directed a gameshow-style intro segment and shot the game with the selfie camera. Brittany was the one who got that in Diary and said it was for the birthday party later. Hopefully she won't get sad because Turner took it over a few hours early.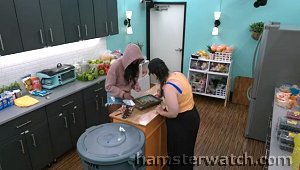 While decorating Michael's cake, Brittany said she would have left if she'd gone through what Taylor did, adding "you are a strong, strong woman." Taylor said "yeah it was really tough, but I didn't realize how severe it was til other people were willing to step up and say this is too much." Brittany said she wishes she'd stood up and that was her biggest regret. Taylor said it's okay, she always knew she had Brittany in her corner. Kyle found a june bug in his laundry, in his underpants, and he chased Alyssa around the habitat with it. She squealed. Michael found himself in the middle of a g-spot discussion, led by Indy. You could almost see the thought bubble over his head, probably having heard similar convos on feeds in the past and here he was. There was a group discussion about applicants versus recruits, and wondering how many people apply each year. They agreed it was probably a lot. Terrance said "but if they got that many applicants, why are they calling people?" --feeds cut to WBRB. Team freeze tag broke out in the backyard, with active, running, screaming hamsters, til BB told them to settle down.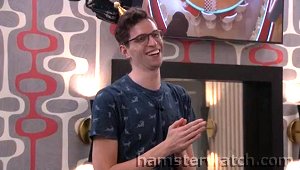 Midnight finally rolled around and Michael said he wanted to recreate Keesha's birthday since they share the same birthday, August 1. He explained it to those who weren't aware, they all sang Happy Birthday badly, then Taylor clapped her hands and said Libra's famous line, "anybody want cake?" Everyone erupted in cheers and laughter, Michael gave a speech thanking them all for making him feel welcome, and he said he loves them all. The booze was opened, and they all took happy group selfies for BB's social media pages. Keesha trended #6 USA on Twitter.

IF YOU MISSED what came before, check my previous episode, always linked up top or from my season index, and get the feeds to catch anything you missed with Flashback!

A big thank you for continuing to visit Hamsterwatch.com! And big ups to everyone who has or will get their feeds through me, and/or has or will make donations! I couldn't do this without you guys ♥



Day 25 - Saturday - July 30, 2022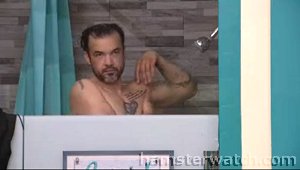 Daniel showed he's still utterly unaware of what's going on (and thus so is Nicole) when he told Alyssa he went up to HOH last night "and there were like five people there telling ghost stories." There were six: Leftovers less Brittany had been holding a meeting. They switched seamlessly and apparently effectively to ghost stories when Daniel arrived.

Daniel/Kyle were picked to play veto along with Monte/Joseph/Terrance and Alyssa/Indy. All of them in there and many out here missed Julie saying "all of you will play" for veto when she explained the surviving nominee would join another set of Besties to form a trio. I figure that means today's veto comp will be played by three teams of three, two, two.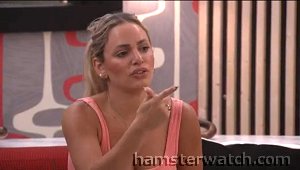 Alyssa and Indy visited Monte, separately, both expressing doubt about Nicole (thanks to her own behavior since the blindside along with well-planted Leftovers seeds), and Indy dropped a lot of intel about the girls and Nicole's future plans. Monte told both of them he doesn't want an HOH like Turner's, with a blindside and a split vote. (Extremely untrue.) Nicole then visited Monte who asked if she was happy with the veto draw, she said yes, and he agreed that it wouldn't put Nicole in jeopardy. Nicole did some Taylor bashing, like she does, but said if Monte has a different plan than booting Taylor, she'd be on board. She also said she's glad Julie calls people out for their actions and forces people to take accountability. We'll see if she feels the same if she's evicted Thursday.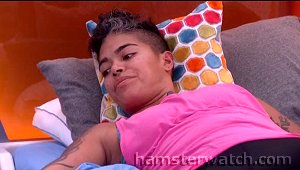 Feeds went to anipals at 11.08am, about two hours earlier than the last two weeks, and returned at 1.30pm. Daniel/Kyle won the veto in what sounded like a video details/memory comp that included communication skills between team members, along with elephants, pigs, mushrooms, tentacles, flowers, and the pool duckie. It sounded like one person watched a video with rapidly changing components and had to tell their partner/s what was in it, followed by questions about the details. Competitors were in monochrome tie-dye shirts and host Michael was in a multi-color shirt with peace symbol pants, so another hippie fest theme.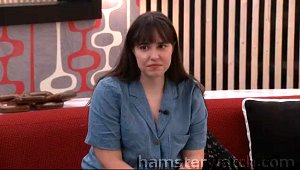 Nicole appeared defeated and complained about her possible/probable impending exit to Alyssa and Indy. Monte, Taylor, Kyle, Joseph discussed going ahead with the ruse that they're going to backdoor Taylor (really it will be Nicole if she and Taylor go on the block). Brittany started to spiral about her and Michael going up next week, worried about Jasmine reporting to Monte something about Brittany retelling Jasmine's boasting about her successful business. But Monte and Joseph talked her down and she happily joined in a convo about future weeks plans.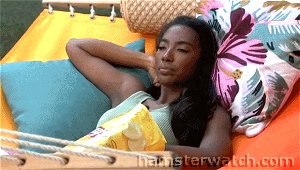 It's unlikely but possible Kyle may want to keep noms the same to get Alyssa out, so there could be some discussion about that before Monday's veto meeting. Either way, Nicole will go out due to Daniel or Alyssa will go out due to Kyle, and the popcorn keeps coming. Team Ants keeps coming too: they made it inside and invaded the kitchen. Taylor took her Lay's to the hammock and remained unbothered by all of it.

Afternoon was a lot of hanging out at and in the pool, with occasional chasing around it. Nicole sent Terrance to shmooze Taylor, but Terrance is on to Nicole so that convo didn't go the way she'd hoped, and Terrance reported it to various combos of Leftover guys later. Daniel tried to form a new alliance that includes Kyle, so he told Kyle about it. Daniel later told us he's planting seeds, and "stay tuned for tonight." I don't know what he's got planned but whatever it is, it's guaranteed to work against him. Leftovers had their usual check-ins through the afternoon and evening, comparing notes and keeping everyone up to date.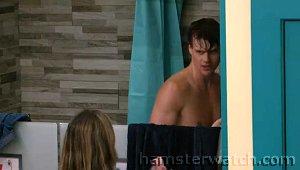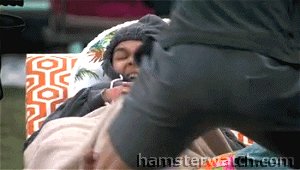 Alyssa harassed Kyle in the shower relentlessly. He eventually told her she had to leave so he could get out of the shower, adding "you have to go, I promise, I'm in a situation right now." Kyle and Joseph were doing hand coordination games and TikTok dances, and Kyle accidentally bonked Jasmine's foot. Or not. But she said he did, and that he "pushed it back," adding "its okay, it's okay, it's okay, I'm okay, I'm okay, I'm okay." Daniel told Indy he sees ghosts and had told some ghost stories last night. Indy said "I don't want to hear them." Nicole asked Brittany if she could join her and Michael if she and Taylor go on the block and she stays (she won't), and they rehashed the Ameerah vote.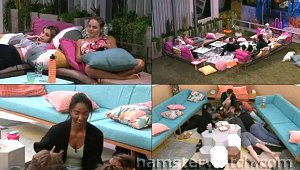 Turner told Jasmine, Daniel, Indy, Terrance that he owns the thrift/art store and doesn't just make/sell the rugs in it. Later he referenced his MrBeast background, but not by name. Jasmine said she owns a nail business and isn't just a nail tech, and Terrance said he combines his DJing with friends' cannabis biz. Nicole joined and said she is a chef but also has a secret (former cop). She said she can't talk about it on live feeds (she has), and that a couple people already know because she slipped (she volunteered it eagerly to Daniel, and to Terrance who was present). She said she'll tell them during a lockdown sometime. Wait til they find out they have two lawyers and a hypnotherapist among them. Most of the others played Chinese checkers inside, loudly.

IF YOU MISSED what came before, check my previous episode, always linked up top or from my season index, and get the feeds to catch anything you missed with Flashback!

A big thank you for continuing to visit Hamsterwatch.com! And big ups to everyone who has or will get their feeds through me, and/or has or will make donations! I couldn't do this without you guys ♥



Ratings - Camp Letters special edition
Ratings are Saturday's, based on entertainment value



Noms count: original/renom






Dear Camp Administration,
Thanks for finally addressing the elephant in the room. Thanks also for continuing to keep the feeds on almost constantly. Your sister camp to the north should take note of the new policy.
Your pal,
dingo





Won: Week 1 Backstage Pass

HOH 0 - Veto 0 - Noms 1/0
Have-not 1



Dear Alyssa,
You're a first rate summer camper, always keeping things cheerful and light. But you need a lot of reminders to hydrate because it seems you're always thirsty. And I don't think you pay much attention to the counselors because you often seem lost between activities. Too bad you got demerits for licking another camper without notice, and don't forget to sign up for that Remedial Drivers Ed course.
Your pal,
dingo





Won: Week 1 Backstage Pass; Week 1 viewer safety vote

HOH 0 - Co-veto 1 - Noms 1/0
Have-not 0



Dear Brittany,
Like Alyssa, you're a born summer camper but you pay attention a little more than she does. It's good that you found a new group of friends as that's what summer camp's all about! They're happy to include you so maybe you should stop complaining about being excluded by others, as you seem to be fueling your own sad moods.
Your pal,
dingo





Won: TBA

HOH 1 - Veto 0 - Co-veto 1 - Noms 0/0
Have-not 1



Dear Daniel,
You might have signed up for the wrong camp. This isn't an assassin training program. It also isn't attack dog training, but that's Nicole's mistake more than yours since she's the one commanding your attacks. And your thoughts. Maybe stop talking so much during camp activities and listen more. You'll just keep getting blindsided if you don't STFU and start paying attention. However, the snack shack sells extra popcorn when you pop off so that works out okay.
Your pal,
dingo





Won: TBA

HOH 0 - Veto 0 - Noms 1/0
Have-not 1



Dear Indy,
We're very pleased you're here with the international summer camp exchange program. You have a lot to contribute and it's good for your fellow campers to learn there are other camps, and other countries, besides this one. It's too bad you ended up on the activities team whose main activity is gossiping and being catty, and that you chose to go along with all that.
Your pal,
dingo





Won: Week 3 immunity (HOH Bestie)

HOH 1 - Veto 0 - Noms 0/0
Have-not 1



Dear Jasmine,
You seem to think you're a star summer camper, always entertaining everyone and being Southern. While this isn't actually sports training camp, you seem to be having a difficult time keeping up. You've been accident-prone, subject to illness and weakness, and you seem to have developed an allergy against being vertical. Instead of being the GOAT you seem to think you are, you're becoming the goat your fellow campers will want to drag to the finish line to ensure they win. Think about it.
Your pal,
dingo





Won: Week 4 immunity (HOH Bestie)

HOH 0 - Veto 0 - Noms 0/0
Have-not 1



Dear Joseph,
25 is a milestone birthday, a quarter century! And yours will be memorable for more reasons than most. You're doing great as a camp counselor trainee. You're clever, observant, and inspiring to your fellow campers. Keep up the good work.
Your pal,
dingo





Won: TBA

HOH 0 - Veto 0 - Co-veto 1 - Noms 0/0
Have-not 1



Dear Kyle,
Like Joseph, you're doing pretty good in the camp counselor trainee program. You tend to get distracted when the girls' camp does combined activities with the boys' camp so keep an eye on that. And you seem to enjoy encouraging chaos, but that's not necessarily a bad thing.
Your pal,
dingo
PS Please fill out a form if you want to submit a complaint about unexpected licking or shower hovering.





Won: TBA

HOH 0 - Veto 2 - Co-veto 1 - Noms 2/0
Have-not 1



Dear Michael,
Normally when one camper wins more than their fair share of camp games, the others will try to get them sent home. But your friendliness, openness, and observational skills have made some of your fellow campers embrace you as a usable asset rather than a liability or threat. And as a bonus, you know when to keep your mouth shut! It's a summer camp miracle. Good job.
Your pal,
dingo





Won: TBA

HOH 1 - Veto 0 - Noms 0/0
Have-not 1



Dear Monte,
You're still on probation after you participated in troublesome behavior in your first couple weeks at camp. But you've turned that around and you're doing a fine job as weekly leader, and you seem to be doing your best to treat your fellow campers fairly. Time will tell if they noticed that drastic shift or if they'll realize you could shift back again to self-serving behavior in future. But for now, you're doing great.
Your pal,
dingo





Won: TBA

HOH 0 - Veto 0 - Noms 0/0
Have-not 1



Dear Nicole,
See Daniel's letter. This isn't attack dog training school. And it isn't your personal camp that exists only for the sole purpose of being profitable for you to the tune of $750,000 (before taxes). You can reflect on these things when you're sent home.
Your pal,
dingo





Won: TBA

HOH 0 - Veto 0 - Noms 1/1
Have-not 0



Dear Taylor,
When most of your fellow campers wouldn't play with you, you didn't stoop to their level or lash out at them. You waited it out, and you are now part of the team - one of the teams anyway. The poise and patience you displayed getting to this point has been an inspiration. Most campers would have stomped or screamed or worse. Now you're one of several star campers in acting class, and the snack shack is always happy to see you enjoying your Lay's chips.
Your pal,
dingo





Won: Week 4 surviving Bestie pick; Week 4 immunity (HOH Bestie)

HOH 0 - Veto 0 - Noms 1/1
Have-not 1



Dear Terrance,
You're also on probation after participating in the early group shun but you've shown some progress in doing better. You were almost sent home from camp last week and while you haven't shown the initiative Monte has, you've been given another chance to stick around and play nice. Make it count.
Your pal,
dingo





Won: TBA

HOH 1 - Veto 0 - Noms 0/0
Have-not 1



Dear Turner,
You were correct: as the youngest camper (currently), it wasn't your job to stand up and make your fellow campers acknowledge the dogpile and do something about it. Same with the camp administrators, though they do want to have a word with you about the upcoming robotics activity. You've shown yourself to be a good sport when getting yourself pool cue/Cheez It/styrofoam tiki man-piled so kudos for that. Any chance you'd like to give an arts 'n crafts seminar? Campers are getting bored and boring, and apparently you have some experience in that area. Maybe BB20 Sam left some windchime parts laying around.
Your pal,
dingo





Won: TBA

HOH 0 - Veto 0 - Noms 0/1
Have-not 0

2nd evicted - Day 23



Dear Ameerah,
Too bad you were kicked out of camp and sent home just when summer session was getting started. Take some time to reflect on your words and actions, and maybe learn to be kinder to others in future, especially if you have no reason to be unkind to or about them. Summer camp is about getting along (or at least pretending to get along at this particular camp).
Your pal,
dingo
PS Thanks for your contribution to the BB lexicon. 'Licking their chomps' is a phrase we've already adopted here at Chez Hamsterwatch.





Won: Week 1 Backstage Boss/immunity

HOH 0 - Veto 0 - Noms 1/0
Have-not 1

1st evicted - Day 16



Volunteering to go on the block is always dicey, but especially as early as he did before any real trust is formed. And now he knows why. He's lucky Julie was COVID-distanced or she might have whacked him. He put all his eggs in a broken Oasis basket, and he irritated a lot of them with his antics and touchy-feely. When Joseph tried to help and warn him about that, he just got mad at Joseph. Like Paloma, he talked constantly and very, very fast. He seems like he's got a good heart so good luck to him from here.





Won: Week 1 Backstage Pass

HOH 0 - Veto 0 - Noms 0/0
Have-not 0

Left the game - Day 8



She drove the game at the start, and she ignited and fueled the unjustified Taylor hate which continued to thrive even after she left. When she started to spiral, her conspiracy theories and delusions would have been comical if they weren't indicative of something more serious going on. It was probably best for her to go when she did, and for me - her nonstop superfast talking was stressing me out.





Won: Nothing

HOH 0 - Veto 0 - Noms 0/0
Have-not 0



He was replaced pre-season by Joseph, but you can catch him on America's Got Talent and The Circle.






Lines and Links of the Day
Lines

Sunday
Nicole to Monte: I'm also the person who can read bullshit across the fuckin room

Joseph: Ants made it into the snack drawer

Terrance: If they got that many applicants, why are they calling people?

Saturday
Nicole to Monte: If the plan is to go with somebody else [than Taylor], I'm on board for whatever plan you have

Daniel: I have to pee but I'm sick of doing that

Taylor: I wish we had a grill here
Monte: They used to have one I think

Nicole: Today was actually the first time Brittany and I have ever spoken to each other



Links

GET YOUR FEEDS includes a free trial

Week 3 summed up superhero style, by @bigbrotherbarbz

Turner fancam by @aaaugustaaa

Rancho Coastal Humane Society temporary home of our feeds anipals, including adoption updates - visit them or your local shelter to find your new best friend

Tropical fishies cam if you're missing them, from Aquarium of the Pacific

Use my link for any Amazon Canada shopping, anytime, at no extra cost - just start your shopping trip by clicking Amazon Canada



Tally Items

Season Stats
HOHs in order: Daniel; Jasmine; Turner; Monte

Veto winners in order: Michael; Michael; Brittany/Michael; Daniel/Kyle

Evictions in order: [Paloma left]; [Nobody]; Pooch 12-0; Ameerah 7-4

Cast Twitters: @poochie_maneee

Cast Instagrams: @paloma.angeliki; @poochie_maneee; @ameerous







Linking to any page here is fine. Please don't repost content from this site (or any other) without permission, and don't repost or hotlink images.







988 CRISIS LINE 988



The national mental health hotline has launched nationwide. Call or text 988 if you or a loved one is in crisis - help is out there.



THE REAL SHOW IS THE FEEDS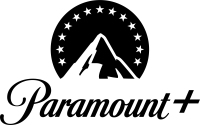 CBS All Access is now
Paramount Plus

Live air shows with ad-free plan
(live TV will have some commercial breaks)
BB1 thru BB24 plus Celebs and OTT, and loads of other shows from CBS, BET, Comedy Central, Nickelodeon, MTV, Smithsonian, plus originals




GAME TWISTS

Week 4 FESTIE BESTIES
-Surviving nominee chose another set of Besties to join
-Same rules applied as before for trios

Week 3 FESTIE BESTIES
-Everyone was paired with another
-Besties nominated and compete as duos
-Have-nots are also in pairs
-HOH determines noms but their pair has safety
-One duo to play veto with HOH duo and nominated duo
-Anyone on veto winning team can choose to use it
-Both nominees come off if veto used

Week 1 BACKSTAGE PASS
-Pooch picked Backstage Boss card at move-in
-He had Week 1 immunity, couldn't compete or vote
-He picked Alyssa, Brittany, Paloma for Backstage
-They couldn't compete, be nominated, or vote
-They weren't guaranteed safety
-Twist was cancelled when Paloma left, with no repercussions



HAMSTERWATCH SWAG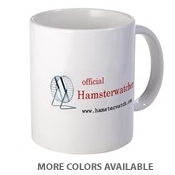 Mugs, shirts, more
Visit my Cafe Press shop

PROTECT YOUR ONLINE PRIVACY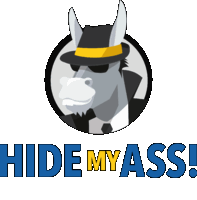 Anonymously secure your internet connection with HMA! Pro VPN - connect to our VPN service to anonymously encrypt your internet activity from prying eyes