This site is about the Big Brother 22 feeds and contains spoilers! It isn't necessarily thorough: it's what I catch and/or what interests me. It's about watching hamsters: who's doing what and why. Thanks for encouraging my behavior.
Your pal, dingo





BB22 DRINKING GAME

Take a swig whenever one of them is wrong about what's going on - maybe a sip instead, for safety reasons





SAFETY SUITE 1st 3 weeks

Optional pre-noms comp for safety, one time each, +1 guest gets safety plus one week punishment, current HOH ineligible

Week 1 Don't Miss a Beat
Competed: Janelle, Kaysar
Winner: Kaysar
Guest: Janelle/star suit

Week 2 Getting Tipsy
Competed: Bayleigh, Christmas, Cody, David, Da'Vonne, Ian, Kevin
Winner: Christmas
Guest: Ian/'BB All Star Wars' scenes





QUICK LINKS & BOOKMARKS

-SIGN UP for feeds
-WATCH the feeds after signing up - disable ad blockers

-Feeds updates by @UGotBronx

Official site and socials:
-BB22 official CBS site
-Twitter
-TikTok
-Instagram
-YouTube
-Facebook

-Live show tickets - never mind, no audiences

-My Twitter - my screencaps

-Amazon Canada portal

-Dick at Night with @EvelDick

-BB Viewer Chrome Extension by @liquid8d
-Info/FAQ
-Requires All Access account

-BB22 Wiki

-Hamster Twitters
BB USA: chron - members
BB Canada: chron - members
BB USA Celebs: chron - members

-Advice for cast friends/family

-VPN to protect your online privacy





EAST COAST AIR SHOWS

East coast air show live streams:
- 1 - 2 - 3 - 4 - 5 - 6 - 7 - 8
USE THESE LINKS AT YOUR OWN RISK
I can only vouch for #1
NO DOWNLOADS OR SIGN-INS NEEDED - BEWARE OF CLICKING POPUP ADS OR WARNINGS




Donations via Paypal are gratefully accepted!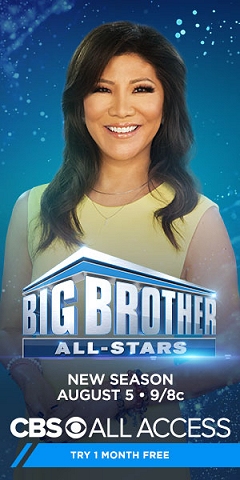 Watch Big Brother
Seasons 1 thru 22
Plus tons more CBS and Viacom content




BIG BROTHER 22 FEEDS EXCLUSIVELY ON CBS ALL ACCESS
FEEDS ARE THE REAL SHOW
All Big Brother USA seasons + most CBS shows past or present are included
$5.99 PER MONTH INCLUDING 1 WEEK FREE TRIAL or $9.99 AD FREE
COMPUTER - MOBILE - ROKU - CHROMECAST - APPLE TV - ANDROID TV - FIRE TV - XBOX 1/360


>> >> >>

>> >> >> >> >> >>

>>

Power Status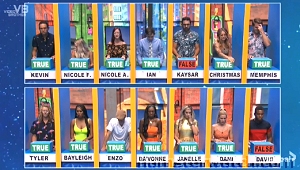 Head of Household: Memphis
Safety Suite #2: Christmas
Safety Suit #2: Ian/Space opera scenes
Original noms: David, Nicole A
Veto winner/outcome: Memphis/did not use
Final noms: David, Nicole A
Have-nots: Christmas, David, Kaysar, Nicole F (over)
Evicted: TBA

Latest alliance chart by @89razorskate20

Latest Diary segment tally by @clamperls4

Ratings Watch Wednesday's show won the hour with 1.0 rating, 6 share, 3.928 million viewers, ahead of America's Got Talent on NBC, United We Fall and The Goldbergs rerun on ABC, and MasterChef rerun on FOX.

Overnight rating & share: adults 18-49; Rating: % of all TV households; Share: % of households watching TV



Upcoming Events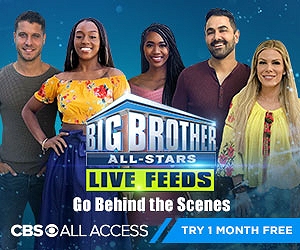 GET THE FEEDS to see the real show!

Feeds are underway - get them here!

Thursday: Dani's birthday
Thursday night: HOH room and letter
Friday: Final Safety Suite comp, nominations
Saturday: Veto comp

CBS schedule
Sundays 8pm - Wednesdays 8pm - live Thursdays 8pm
No show Wednesday 9/16 - that veto show will air Tuesday 9/15 8pm



Daily Feeds Recaps
Day 13 - Monday - August 17, 2020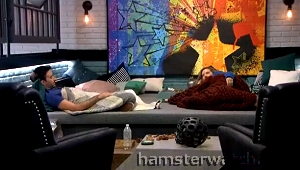 Catching up last night, Nicole A had a total breakdown, complete with hiccupy sobs and talk about quitting and she didn't deserve to be there, and once again it was Da'Vonne to the rescue. She talked Nicole off the ledge, and urged her to put her game/life priorities in order, and to talk it out. Nicole didn't say a lot, and didn't want to talk in Diary. Later she talked to David, who let her know he'd likely be staying because he didn't want her blindsided. He in turn felt bad about that and told Da'Vonne how Nicole was good to him last year during all that mess. Da'Vonne (again) reminded him of his current priorities, and that he hadn't done anything to feel guilty about. Janelle met with Ian to pitch a pairs plan she and Kaysar came up with, that she/Kaysar, Bayleigh/Da'Vonne, and Ian/Christmas team up. But it came out that Ian's #1 is Nicole F, so that meeting went splat. When Janelle reported back to Kaysar he said "okay so Ian's out" and "why do we always find ourselves in this position?" Dani, Christmas, Nicole F, Kevin later blamed Janelle for Nicole A's nomination and her current fragile state.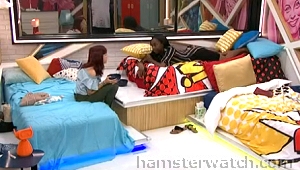 They had Ian do his scenes every two hours overnight, several times in each bedroom, and he did a few more this morning. Memphis did not use his veto, so the weekly waffling kicked off, even though it's almost a certainty Nicole A will go. It sounded like Nicole A gave an impassioned speech and while she wasn't a wreck about staying on the block, she said she felt bad about sitting there with David. Once again, Da'Vonne counseled her about that, telling her again she won't vote against David, and she gave her campaign suggestions and stressed that she trusts Kaysar.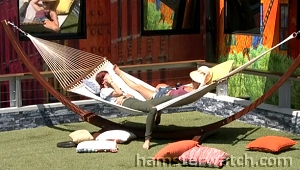 Nicole A said yesterday she'd wanted to hold a house meeting after veto meeting to call out Janelle, but that didn't happen. Instead Nicole F told Nicole A she'd heard Nicole A and Janelle had been talking about her, and that Janelle tried to get her (Nicole F) backdoored last week. Nicole A said that was true, and she has "actual receipts" and "I'll blow her up." Nicole F asked if Janelle was going to campaign for Nicole A, who said "I don't know, she said she wants me to stay but I don't trust her." Nicole A refuses to believe Janelle and Kaysar are sincere about wanting to keep her, and she keeps causing a lot of facepalms out here for turning her back on teaming up with two BB legends, especially two who are known for loyalty. And ditto for Kevin.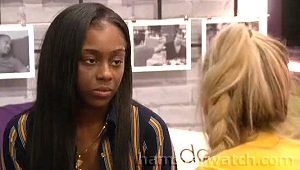 Dani told Da'Vonne a lot of rapid-fire retells about Cody, Tyler, Janelle, and said she's "not playing a game of freaking telephone" (she was), and that the two of them need to keep their communication open even if others (Cody) don't like it. Da'Vonne didn't look like she was buying what Dani was selling, and afterwards she asked BB if she could have a nap since she wasn't feeling well, adding "I gave you some footage." Dani asked David what his gameplan was and when he didn't answer, she told him he better get one.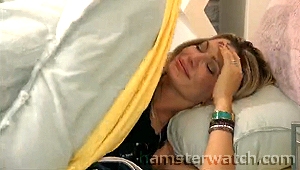 Janelle, who's only known for crying once before in three seasons, cried again today. She told Kaysar she felt so bad about Nicole A being on the block and likely going home after they'd tried to save her. Kaysar said he also felt bad, and remarked he'd never seen Janelle cry before. Janelle was only choked up for a few minutes but Diary called her in to ensure they caught the moment. Later Janelle had a pantry check-in with David, which included a verrrrry long and comical pause at one point. Janelle told him she wasn't going after him and he wasn't her target. And in a Janelle/Bayleigh check-in, Bayleigh told her that Dani and Christmas are besties, so now Janelle is finally aware that Christmas isn't going to side with her and Kaysar. Bayleigh also told her she thought Da'Vonne felt she'd had to choose between Janelle and Dani, and Bayleigh thought she'd chosen Dani, wrongly. Memphis told Christmas he "can't wait to tell TMZ to go fuck themselves" because he's now proven them wrong about a post-BB10 article called Memphis: Destined for Brokeness (but he pronounced it 'brokenness'). Seems he brought a lot of past grudges in with him this year. Ian and Kaysar talked about helping get each other to the second half, and each said they'd wanted to work together when they saw the other was in the cast.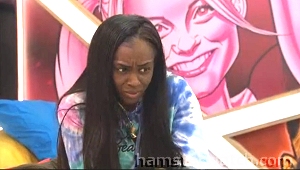 Memphis found smoked salmon, scallops, and beer in his HOH fridge that he didn't know was there. It sounded like Dani was warned not to say Ian's using autism as strategy, and Ian and/or Janelle were warned not to talk about BB14 Danielle Murphree. Kevin and Nicole A discussed Da'Vonne saying she couldn't vote out David because of the history of racism on the show and how rare it is to have three African-Americans in there. Kevin said that was a weird reason for a vote, and Nicole A said "that's essentially voting me out because I'm not [African-American]." Later Dani tried to give Nicole A campaign tips, and David talked with Da'Vonne. He told her he was in a guys alliance (no), but he wouldn't say who was in it (just Tyler), and that she's good with one of them, but he wouldn't say which. Da'Vonne was shocked, and David said he was but wasn't really in that alliance. Da'Vonne talked all that over with Bayleigh, and David talked it over with Tyler. Cody subtly encouraged Nicole A to go through with her house meeting plan. Kaysar excitedly told Da'Vonne he wanted to formalize their alliance with Bayleigh, and that he didn't come back to be an outcast. Christmas entered the room but he continued. Da'Vonne had a check-in with Kevin, who told her there's an alliance of Janelle, Kaysar, Memphis, Cody, Tyler, David (no). It's only Monday.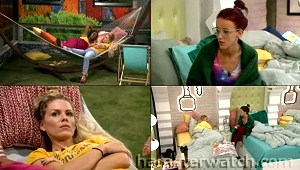 Kaysar sent smoke billowing throughout the habitat by over-frying his slop. Kevin wound things up yet again by telling Dani he thought the vote would be split, Dani asked why Janelle was trying to split the house, and Bayleigh arrived to break up that convo. Bayleigh then told Dani that one of the guys told Kaysar there was a guys alliance, but she didn't spill the vote split plan. Janelle told Nicole A she has her, Kaysar, Bayleigh, Da'Vonne, Christmas, and maybe Ian votes as of now, and said "we got together, we did like an alliance, you're in it." Nicole A got stuck on why they formed it without her and Janelle said "you were outside." Janelle also told her David's faulty pitch: that he's after Memphis and Janelle's guilty by association there, but he'd give her a one week pass for being a legend. Nicole A approached Da'Vonne to "fact check" Janelle's story. Da'Vonne said yes the alliance was pitched but she hadn't committed yet (Janelle said they all had), and she told Nicole A that yes Janelle was absolutely advocating for her to stay. Nicole A still didn't seem convinced, and she fact-checked with Bayleigh as well, with a promise to report back to Da'Vonne. Christmas ratted out the info she'd overheard (and was part of by being present) to Tyler and Nicole F. Tyler and Enzo promised to save each other if one of them wins the final Safety comp next week.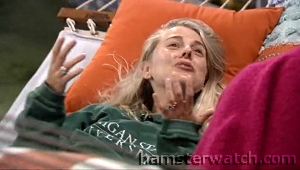 Bayleigh, Cody, Dani, Da'Vonne, Enzo, Tyler solidified "Slick Six" with a six-way pinkyswear, a first for the tally. I don't know how much Nicole A told Nicole F later, but I did hear her tell her Janelle's trying to split the house, and she wants a 7-5 or 6-6 vote. Nicole F said she doesn't understand, she invited Janelle to her wedding, and etc, and Nicole A said if she wins HOH Nicole F's safe, she'll take Nicole F's Have-not, and etc. That led to yet another Janelle bashing session, of course. It's Maggie/Ivette/April all over again but with the added WTF factor of Janelle putting in so much work in to keep Nicole A. All of this just barely scratches the surface of everything going on: it's an utter mess in there.

Reminder, if you missed what came before, check my previous episode, always linked up top or from my season index, and/or the detailed feeds updates by @UgotBronx, and get the feeds to catch anything you missed with Flashback!



Day 14 - Tuesday - August 18, 2020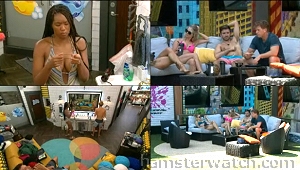 This season is a mess. Every night I feel I've sort of got things tidied up - or at least I've got most of the hamsters/alliances/agreements shoved into drawers and under rugs, and everything looks fairly presentable. And each morning I open up to find everything strewn around like the aftermath of a find-the-veto comp.

A morning highlight today was Kaysar making a crack about Christmas always talking about herself. And Ian said they gave him a scene cue in Diary, while he was describing his scene cues, so expect that on the Wednesday or Thursday show. They likely have all the footage they need of that now, so his scenes will be tapering off. Whispery convos and check-ins raged on, everywhere. Memphis day-drank the HOH beers he found, offering one to Tyler if he'd fetch another for Memphis, but said he couldn't save it for later.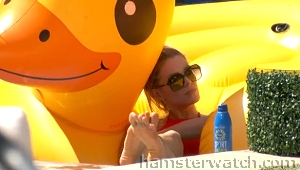 Janelle had a check-in with Nicole A, who then told Kevin everything she's been told not to tell him, including that she was told not to tell him. She then told Da'Vonne she has six votes, and while she does want Janelle/Kaysar votes she doesn't like that she's being associated with them. She continued threatening a "Nicole's Truth and Janelle's Lies" house meeting, but unfortunately for us, it's remained just a threat thus far. Janelle bashing continued all over, with most everyone participating and especially Nicole F. Meanwhile Janelle and Kaysar remained mostly unaware and totally unbothered, as they laughed about everyone thinking/knowing they're a final two. Tyler more or less encouraged Nicole A to call her house meeting, and even suggested she change the name to "Nicole's Funeral." But Dani told her it was a terrible idea and she should instead offer up what she could do for voters: Safety comp, future safety, etc. (A house meeting would be very bad for Dani at this point.)

Reminder, if you missed what came before, check my previous episode, always linked up top or from my season index, and/or the detailed feeds updates by @UgotBronx, and get the feeds to catch anything you missed with Flashback!



Day 15 - Wednesday - August 19, 2020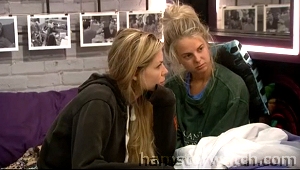 Morning brought a Deathrace 2020 convention starring Dani and Nicole F, also featuring Tyler's man bun plus the usual anti-Janelle sentiments. Christmas talked to Bayleigh about trying to get David to confirm having offered Janelle a free one-week legend pass, and said "he takes so long to answer and I'm like come on boy, talk." She said those delays of his are red flags indicating he's trying to think of what to say. But her wording was also a red flag, especially after the noms speech debate if Memphis said "boy" or "buddy" and the ensuing debacle out here.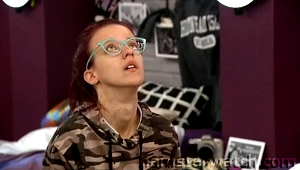 Nicole A ran an early angst session to Kevin, wondering if she should do her house meeting or not, saying if she gets emotional she'd be "hung out to dry on social media." That ship's already sailed, and then she told him she was worried about Da'Vonne's vote, and "am I not getting it because I'm white?" and that would made her feel bad if so. Kevin said he'd talk to Da'Vonne, adding "there is such a thing as reverse discrimination." Nicole said she stands with the [BLM] cause, but "if you keep someone solely because they're Black, that's not right either." Nicole ran her Janelle loops to Dani, adding if vote hesitation is about Safety comp, she wouldn't play in it, and she followed up next with Bayleigh. Kevin talked to Da'Vonne, who said she's having an interal battle with her morals and BB's history regarding POC, versus the game she's currently playing. Kevin said keeping David was probably better for Da'Vonne's game, and he was only voting to keep Nicole for personal reasons.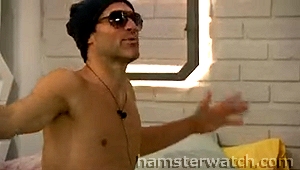 Today will be a waiting game for us, and a question whether we get ongoing waffles as usual on a Wednesday, or popcorn if Nicole A finally calls her house meeting. Maybe both. They got a short practice session for tomorrow's HOH comp, which was not on feeds. Tyler told David he heard Da'Vonne was working to flip the vote to evict David because she heard there's a guys alliance. David said he didn't think that was right, but "if I can't connect with people I identify with, with how this goes historically, it is what it is." Nicole A campaigned to Enzo, who's probably in the best position right now for the long game. He said he doesn't have any problem with keeping her, but reminded her sometimes everyone agrees on voting one way and then Julie announces they're unanimous the other. Enzo met with David, and Nicole A met with Da'Vonne.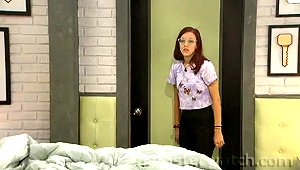 Nicole A finally approached Janelle, asking why Memphis talks to Her (Janelle) and not to her. Janelle said "Memphis is weird, you know that." Nicole began to get agitated, saying "you guys shared a frickin bottle of wine for two hours!" Janelle replied, truthfully, that she'd been trying to keep Nicole off the block, adding "I tried." After a long pause, Nicole said "not hard enough." They went back and forth a few more times about who said what to whom, and Nicole said "do you care? do you not care? bunch of horseshit" and walked out. She told Tyler and Kevin "she better not follow me out here" but of course she didn't: Janelle went off to do her hair, unbothered. It's mind-boggling to most everyone watching to see Janelle and Kaysar, BB legends both and for good reason, try so hard to help Nicole A, only to have her bitch about them all week to everyone. But the combination of Nicole A still being as naive as last year, plus eating up all of Kevin's idiocy and Nicole F's poison as gospel truth, is a deadly one. Kaysar had a long and supportive chat with Nicole A, and later on she cried some more, alone.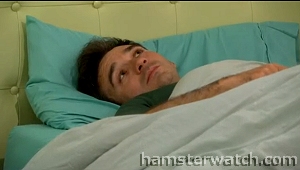 Nicole A moped a long time but eventually revved up her campaign again. She asked Memphis if he'd vote her way if it's a tie because she's not a comp threat. He kind of grunted, and that meeting was over. She told Da'Vonne she needed hers, Bayleigh's, Christmas's vote to force that tie but Da'Vonne was also non-committal. Later Kevin told Nicole A one of those three was saying they wouldn't vote in her favor. Da'Vonne and Kevin agreed the Cody/Tyler/Dani/Nicole F group was going to end up with the numbers and good competitors, and they'd have to do something or they'd be doomed. Nicole A told Ian she thought it might be a tie, which surprised him. He said he'd been learning to voting David to stay but a tie would "throw things for a loop." Ian asked who the six votes were but she wouldn't say names (maybe because if she had six, he'd be one of them.) Cody said he plans to strong-arm Kevin into voting out David by saying "you know what you have to do. If you don't, it's gonna make you associated with them; if you do, you're gonna fly under the radar." Ian told Janelle he was still up in the air about his vote, but if he voted Nicole A out, would she (and Kaysar) still want to work with him going forward? She said it would make her sad but yes, they definitely would still want to work with him.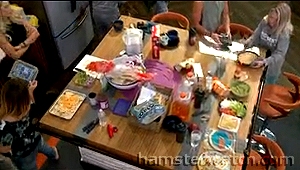 A massive cooking frenzy started around 11.30pm for the Have-nots and Dani's birthday. They sang Happy Birthday at midnight to her, with shoutouts to her little girl Tennessee as it's also her birthday. That sent Dani over the edge and she went to her room to cry. Most of the others enjoyed the food, especially the Have-nots, and this week they left the feeds on for their feast. Ian got a signal to run his scenes over cake, likely one the last ones unless they have him do it on tomorrow's show. He did it from atop the table with everyone participating. They realized they hadn't a fun night all together (sans Memphis who slept through it all) like this yet, though all had on their prior seasons. And we had human-run cameras from behind the walls with closeups, pans, and much more clarity than the usual wall-mounted remote cams which are mostly being used this season.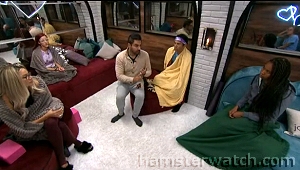 Afterwards, Bayleigh complained to Enzo, and to Da'Vonne and Kevin that Janelle had been telling people she had her vote, and (publicly) said she wanted to be slop partners with her. Bayleigh said she'd wanted to go off on her but held herself back. A bit later she did tell Janelle why she was upset, and she did so calmly. Janelle said she hadn't brought her name up, and said she was sorry people were making those assumptions. Kaysar, Janelle, Nicole A, Bayleigh, Da'Vonne, Bayleigh, Christmas gathered in the lounge and Kaysar gave a calm, logical speech about how the other side will steamroll all of them and the season unless they keep Nicole A tomorrow. She offered herself up as a pawn in future if needed, and she seems to have finally realized the many errors of her ways, but it might be too little, too late. Kaysar said he'd try to get Memphis to confirm which way he'd break a tie, should it happen, as that was a sticking point. Janelle and Kaysar left, Bayleigh said she didn't appreciate being cornered, Kevin said none of this repairs Janelle and Kaysar having campaigned against him last week, and Nicole A apologized for having them be her Hail Mary pitch. Bayleigh reported the meeting to Cody, Tyler, Dani, Enzo, and she and Da'Vonne were not on board.

So as of now, it's looking like Nicole A will probably still be going, though some of the votes are still fluid. Tomorrow's show will be taped a couple hours early again.

Reminder, if you missed what came before, check my previous episode, always linked up top or from my season index, and/or the detailed feeds updates by @UgotBronx, and get the feeds to catch anything you missed with Flashback!



Ratings - Mad World edition
Ratings are based on entertainment value
See full bios in cast folder at
Hamsterwatch Forum


Most of the hamsters and most of the viewers agree this is a peculiar season. Hopefully it'll pick up but the first couple weeks have been less than stellar. But it's early, and we still have some (formerly) volatile personalities and feuds brewing. While I'm forever grateful we had first week feeds (thanks BB!) it doesn't make sense that they're blocking fluff-but-milestone moments like costumes, Safety comp one-hour ticket window, Have-not feasts.
Permanent gripe/comment until slop is done: They need to do away with slop in general, but especially during pandemic plague season when good nutrition should be a major priority on their highly-touted list of safety concerns.





Won: TBA
HOH 0 - Veto 0 - Noms 0 - HN 0

She's in a good spot, generally fun, and not distracted by showmance or complications this time. I'm glad she's back.





Won: $5,000; Safety Suite #2
HOH 0 - Veto 0 - Noms 0 - HN 1

Her foot, her son, Iraq, NASCAR, her fitness, Josh, Paul. Rewind, repeat.





Won: TBA
HOH 1 - Veto 0 - Noms 0 - HN 0

He doesn't have Derrick to steer his game or to rein him in, and it shows. I'm just glad we didn't get the brother.





Won: TBA
HOH 0 - Veto 0 - Noms 0 - HN 0

She and Cody are double-dipping more than most, which is fine, but it's likely to bite her later when she betrays or is betrayed, as is bound to happen.





Won: TBA
HOH 0 - Veto 0 - Noms 1 - HN 1

I'm glad he got a second shot after last year's debacle, but his BB-ignorance act is wearing thin. I'm hoping he starts to ditch that, and get in there and play.





Won: TBA
HOH 0 - Veto 0 - Noms 0 - HN 0

Her social game is superb. She's usually the one comforting whoever needs it, and she's thorough with her gametalk rounds. Plus she has the best read on everything, and she's funny. A definite keeper.





Won: TBA
HOH 0 - Veto 1 - Noms 0 - HN 0

Did someone say funny? His humor isn't for everyone but his one-liners keep coming and when he gets on a roll, the laughter is contagious. He's one of the few coming through for Team Fun Feeds this year.





Won: Safety Suit #2 (Christmas's win)/1 week space skits
HOH 0 - Veto 0 - Noms 0 - HN 1

He's the breath of fresh air we needed and it's good to see him back. Most of them love him but Memphis hates him. (Memphis finally admitted several times on 8/16 show Diaries it's because Dan beat him and Ian beat Dan.) Ian's making the most of his acting task and it's great to see him enjoying himself in there.





Won: Safety Suit #1 (Kaysar's win)/1 week star
HOH 0 - Veto 0 - Noms 0 - HN 0

I'm glad we got BB6/7 Janelle rather than the BB14 version. It's great to see her and Kaysar chats on our feeds again. Neither's in strong shape game-wise as of now, but those things are often as fluid as the pre-season cast rumors were. It's hilarious to see how pressed her roomies are about her very existence. Again.





Won: Safety Suite #1
HOH 0 - Veto 0 - Noms 0 - HN 1

See Janelle, with the addition he's the ultimate BB voice of reason for most things game, and all things life. Plus he's an ongoing thirst trap for many, which will embarrass the hell out of him when he finds out. Again.





Won: TBA
HOH 0 - Veto 0 - Noms 1 - HN 1

His first week as a Have-not on the block was not good, and turning away from an open spot on the Janelle/Kaysar team will likely prove fatal since he isn't valued by the other side.
UPDATE He continues to spread faulty info all over town, sending them all spinning into chaos over and over.





Won: TBA
HOH 1 - Veto 1 - Noms 0 - HN 1

Early to bed and early to rise makes a hamster one I don't see much of. Throw in a severe case of HOH-itis, plus his occasionally highly flared temper, and it could lead to popcorn-worthy moments sooner or later.





Won: TBA
HOH 0 - Veto 0 - Noms 1 - HN 1

She's in way over her head this time. Like Kevin, she too ratted out Janelle and Kaysar, and that could prove fatal for her game also*. Like last year, she spends more time and energy analyzing what she thinks is going on than she does acting on it.
*UPDATE She continues to rat out Janelle, but Janelle continues to try to save her, and cried when she thought she couldn't.





Won: TBA
HOH 0 - Veto 0 - Noms 0 - HN 1

She doesn't seem to have much self-confidence this time around, and her resentment of Janelle is bound to bring fireworks sooner or later. (Spoiler: if that battle happens, she won't win it.)





Won: TBA
HOH 0 - Veto 0 - Noms 0 - HN 0

He's playing the same over-allied game he did last time, and it almost worked out for him then. Maybe he'll do better this time without the showmance distraction, especially if he studied up on jury management.





Won: Nothing
HOH 0 - Veto 0 - Noms 1 - HN 0

1st evicted, Day 9

She was feisty her first time around but like all of them, she's older and more mature now, and her birthday happened before they moved in, so we didn't get any new memorable Keesha scenes. But it was good to see her again and she got a nice check for two weeks isolation and one week of summer camp.



Lines and Links of the Day
Lines

Monday
Enzo: I'm trying to do anything so motherfuckers don't gametalk yo, I'm trying to break shit up, wash shit

Nicole A to Kevin: Why would history repeat itself? Am I just easily manipulated?

Tuesday
Christmas: How could you forget Christmas?
Kaysar: Are you still talking about yourself?

Nicole A to self/us: I'm either right or I'm so, so wrong

Kevin: We haven't had a luxury comp yet

Wednesday
Ian: I'd rather bring issues to a head and risk coming in 14th than just die a slow painful death where I come in 3rd, because they pay the same
Janelle: Me too



Links

GET YOUR FEEDS includes a free one-week trial

Use my link for any Amazon Canada shopping, anytime, at no extra cost - just start your shopping trip by clicking Amazon Canada

Live tropical reef webcam if you're missing the fishies

BB By the Week, Week 2 by @aubramariebb



Tally Items

Season Stats
HOHs in order: Cody; Memphis

Veto winners in order: Enzo; Memphis

Evictions in order: Keesha 13-0

Cast Twitters: @BayleighDaily; @christmasabbott; @Cody_Calafiore; @danidONAT0; @davjalex; @DayDaVonne_; (Enzo deleted @the_Meow_Meow_); @TulaneTerry; @JanellePierzina; @KaysarRidha; @KeeshaSmith0801; @kcampbellicious; @MemphisGarrett; @Strongislandni2; @nicole_franzel; @TylerCrispen2







Linking to any page here is fine. Please don't repost content from this site (or any other) without permission, and don't repost or hotlink images.



THE REAL SHOW IS THE FEEDS

Live air shows in many areas
BB1 thru BB21 plus Celebs and OTT, and many other CBS shows

PROTECT YOUR ONLINE PRIVACY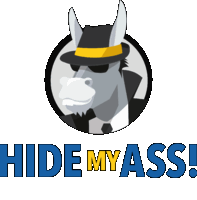 Anonymously secure your internet connection with HMA! Pro VPN - connect to our VPN service to anonymously encrypt your internet activity from prying eyes



HAMSTERWATCH SWAG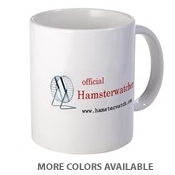 Mugs, shirts, more
Visit my Cafe Press shop





Big Brother 22 SEASON FAQ


Day 1 move-in and CBS premiere is August 5
Day 85 Finale is October 28

Feeds are streamed by CBS, and Flashback is accessible via All Access subscription. Call 888-274-5343 for account help, including cancellation.

The CBS app (by CBS Interactive) plays BB air shows and other CBS shows, as well as feeds, or you can use your browser to watch feeds on mobile devices. The same All Access link used to subscribe will lead to the feeds viewing page if you're already signed up.

BB22 finalist prizes are the same: $500k for the winner and (presumably) $50k for 2nd place. Rumors say the others get $40k for showing up.

The habitat has 94 HD cameras (no change) and 113 microphones (no change).

The recorded in-house announcements are the voice of producer Don Wollman. He and Julie Chen are the only staffers who have been there since Big Brother 1.