This site is about the Big Brother 22 feeds and contains spoilers! It isn't necessarily thorough: it's what I catch and/or what interests me. It's about watching hamsters: who's doing what and why. Thanks for encouraging my behavior.
Your pal, dingo





BB22 DRINKING GAME

Take a swig when they bash BB fans. Take two when they promote their 'brand', products, shows, Cameos, etc.





SAFETY SUITE 1st 3 weeks

Optional pre-noms comp for safety, one time each, +1 guest gets safety plus one week punishment, current HOH ineligible

Week 1 Don't Miss a Beat
Competed: Janelle, Kaysar
Winner: Kaysar
Guest: Janelle/star suit

Week 2 Getting Tipsy
Competed: Bayleigh, Christmas, Cody, David, Da'Vonne, Ian, Kevin
Winner: Christmas
Guest: Ian/'BB All Star Wars' scenes





QUICK LINKS & BOOKMARKS

-SIGN UP for feeds
-WATCH the feeds after signing up - disable ad blockers

-Feeds updates by @UGotBronx

Official site and socials:
-BB22 official CBS site
-Twitter
-TikTok
-Instagram
-YouTube
-Facebook

-Live show tickets - never mind, no audiences

-My Twitter - my screencaps

-Amazon Canada portal

-Dick at Night with @EvelDick

-BB Viewer Chrome Extension by @liquid8d
-Info/FAQ
-Requires All Access account

-BB22 Wiki

-Hamster Twitters
BB USA: chron - members
BB Canada: chron - members
BB USA Celebs: chron - members

-Advice for cast friends/family

-VPN to protect your online privacy





EAST COAST AIR SHOWS

East coast air show live streams:
- 1 - 2 - 3 - 4 - 5 - 6 - 7 - 8
USE THESE LINKS AT YOUR OWN RISK
I can only vouch for #1
NO DOWNLOADS OR SIGN-INS NEEDED - BEWARE OF CLICKING POPUP ADS OR WARNINGS




Donations via Paypal are gratefully accepted!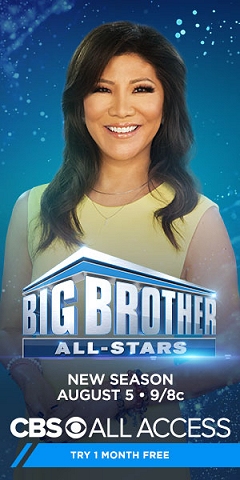 Watch Big Brother
Seasons 1 thru 22
Plus tons more CBS and Viacom content




BIG BROTHER 22 FEEDS EXCLUSIVELY ON CBS ALL ACCESS
USE PROMO CODE 'PLAY' BEFORE AUGUST 16 FOR A FREE MONTH
All Big Brother USA seasons + most CBS shows past or present are included
$5.99 PER MONTH INCLUDING 1 WEEK FREE TRIAL or $9.99 AD FREE
COMPUTER - MOBILE - ROKU - CHROMECAST - APPLE TV - ANDROID TV - FIRE TV - XBOX 1/360


>> >> >>

>> >> >> >> >> >>

>>

Power Status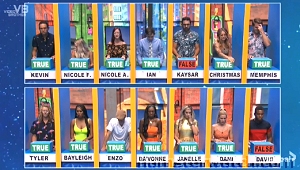 Head of Household: Memphis
Safety Suite #2: Christmas
Safety Suit #2: Ian/Space opera scenes
Original noms: David, Nicole A
Veto winner/outcome: Memphis/TBA
Final noms: TBA
Have-nots: Christmas, David, Kaysar, Nicole F
Evicted: TBA

Latest alliance chart by @89razorskate20

Latest Diary segment tally by @clamperls4

Ratings Watch Thursday's eviction show won the hour with 1.0 rating, 5 share, 2.582 million viewers, ahead of Holey Moley on ABC, Coronavirus and The Classroom special on NBC, and baseball on FOX.

Overnight rating & share: adults 18-49; Rating: % of all TV households; Share: % of households watching TV



Upcoming Events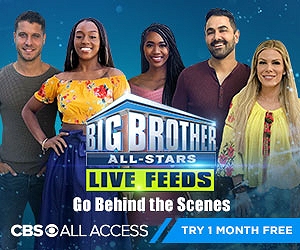 GET THE FEEDS to see the real show!

Feeds are underway - get them here!
Use promo code PLAY before August 16 for a free month

Monday: Veto meeting
Tuesday: Virus testing

CBS schedule
Sundays 8pm - Wednesdays 8pm - live Thursdays 8pm
No show Wednesday 9/16 - that veto show will air Tuesday 9/15 8pm



Daily Feeds Recaps
Day 11 - Saturday - August 15, 2020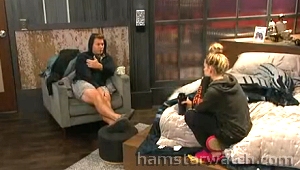 Dani met with Memphis to hear about his wine chat with Janelle, and pitch that he put up her or Kaysar as renom if either nominee comes off the block. He said to wait for the veto, and one or the other needs to go soon but not yet. Christmas talked about what sounded like anger management therapy, and said it was a great and positive experience. (She didn't say make any reference as to whether it was court-ordered or not.) Dani, Nicole F, Christmas held an anti-Janelle (and Kaysar) meeting. Tyler joined and they discussed possible names for their group, and later Dani and Nicole F held an anti-Memphis meeting. Nicole A met with Memphis to explain her reaction to her nomination, and Bayleigh, Kaysar, Janelle whispered while working out about ways to target the other side. Janelle asked Nicole A if Kevin's talked bad about her and Nicole lied, saying no - Janelle knows he has.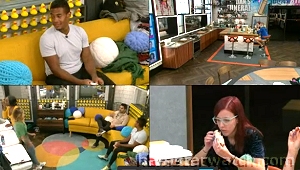 Janelle told Memphis that Cody, Dani, Nicole F, Tyler offered her an alliance pitch. What did happen was Dani approached Janelle last night to pitch Kaysar, Nicole F, and "two more people, maybe Tyler, maybe Cody." Then Dani apparently told Nicole A that they might want to [fake] team up with Janelle, Kaysar, Nicole F? I'm not sure, I didn't hear that convo. Dani and Janelle later agreed to continue pretending they hate each other and said they'd report things to each other, and then Dani reported that convo to Nicole F. Several of them used the long wait between picking veto players and the comp to clean the habitat, along with the usual whispering, gossiping, gametalking, and joking.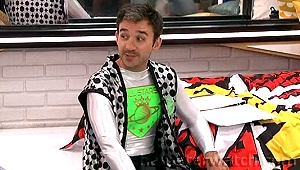 Veto players were picked around 1pm: Memphis, David, Nicole A plus Ian, Nicole F, Tyler, and Enzo hosting.

Nicole F had issues from not getting her special potassium juice as a Have-not. Ian got his Space Suit(e) task a little before 4pm but they blocked the first round from feeds (why do they keep blocking noteworthy events this year?) We did see the next one a little before 9pm. When he gets a signal, he has to act out one of four scenes from BB All Star Wars, a corny space opera script, in whichever room BB specifies, in costume(s) from a clothing rack in the pantry. For this first one (that we saw) he dressed in a metallic silver bodysuit and had to portray Queen Andromeda as well as The Robot, for which he donned a chest plate, helmet, and tubular arms. He was highly animated and having fun with it, and his gathered audience loved it.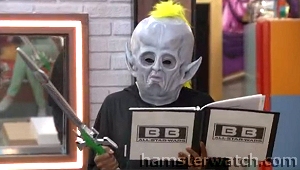 Around 9.30pm he got another signal and performed The Robot Died scene, enthusiastically, and then he did a dramatic scene with Da'Vonne's help. She played Baron Odious in a Yoda-type helmet mask. Bayleigh and Da'Vonne discussed how to proceed from here, and suggested Bayleigh work with Janelle and Da'Vonne with Kaysar, and to split their votes this week so neither side would think they're not with them. Ian did another scene with Nicole A co-starring, and only Kevin and Da'Vonne as audience, and another later in a headdress and cape. Bayleigh snapped at Dani when she moved some of Bay's things to sit down. Enzo told Tyler he doesn't trust Dani, and said Bayleigh and Da'Vonne don't like her. All of them grew weary and frustrated about the very late veto comp, but feeds finally went to anipals at 12.20am. I'll catch up the results later.

Reminder, if you missed what came before, check my previous episode, always linked up top or from my season index, and/or the detailed feeds updates by @UgotBronx, and get the feeds to catch anything you missed with Flashback! Use promo code PLAY before August 16 for a free month.



Day 12 - Sunday - August 16, 2020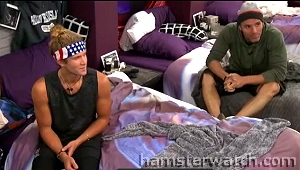 Feeds came back a little after 3am and Memphis had won the veto. All agreed the comp was skewed towards males as it involved forearm and shoulder strength, and grip. Da'Vonne told Bayleigh Tyler threw it so he wouldn't have to declare sides (accurate). It took most of them a couple hours to unwind and get to bed, then Ian got another call to perform around 6.30am, with Da'Vonne and a sleepy Bayleigh in attendance.

Once they wake up, today could bring angst today from both Nicoles - Anthony afraid she'll go home, and Franzel afraid she'll go up, tension between Dani and various others, irritation from Memphis, behind-the-scenes work by Da'Vonne, and doing-too-much work by Cody and Kaysar.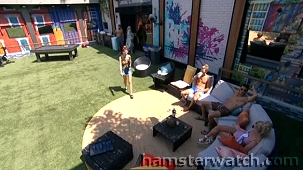 BB let them sleep til 11am, other than Memphis who rattled around his room and the kitchen for his morning rituals by himself, and the backyard was open which pleased them. David met with Memphis, who said "hey, I'm not an asshole, or at least I try not to be" and added if anyone says he's targeting David, they're lying. Yet more alliance pitches were made, including one by Nicole F to Da'Vonne to include Cody, Dani, Ian. Janelle told Kaysar again that Nicole F has to go, and Kaysar said again their one job this week is to save Nicole A. Meanwhile Nicole A told Kevin she'd put Janelle and Kaysar on the block if she stays and wins HOH. Ian ran his scenes a few more times when he got his signal.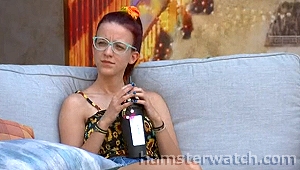 Kaysar set about his task and had a lengthy talk with Nicole A. He told her to only trust him, Janelle, Da'Vonne, Bayleigh, Christmas with info, and nobody else. She said "yep" but didn't seem convinced. I don't know if she told anyone else about that, whether on or off that list. She and David held a block party later, talking about the game and life and the likelihood one of them would be going home. Nicole said one of her first priorities when she does get home would be to find a therapist. Christmas led a workout in the backyard, saying ironically at one point "don't let your ego drive this workout." Bayleigh led a yoga class after that. Cody started to tell Dani about some of the pre-season phone-tag fiasco between him, Nicole F, Derrick but feeds cut away quickly from that.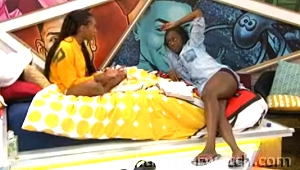 Check-ins carried on, including a lengthy fishing expedition by Dani with Kevin, and a long Janelle and Da'Vonne convo, which Da'Vonne retold later to Bayleigh. Da'Vonne told Janelle she'd be willing to vote to keep Nicole A if Janelle/Kaysar/Nicole A can get enough votes, but otherwise she didn't want to blow her good standing with the other side. Da'Vonne reported that convo to Bayleigh later, and said she didn't feel she could vote to evict David. They agreed they weren't comfortable with Cody for the long haul, and they thought Kaysar and Janelle would be more loyal going forward.

I have to check out early so that's it for me today. All indications are that Memphis won't use his veto.. we'll find out tomorrow.

Reminder, if you missed what came before, check my previous episode, always linked up top or from my season index, and/or the detailed feeds updates by @UgotBronx, and get the feeds to catch anything you missed with Flashback! LAST DAY to use promo code PLAY for a free month!



Ratings - Mad World edition
Ratings are based on entertainment value
See full bios in cast folder at
Hamsterwatch Forum


Most of the hamsters and most of the viewers agree this is a peculiar season. Hopefully it'll pick up but the first couple weeks have been less than stellar. But it's early, and we still have some (formerly) volatile personalities and feuds brewing. While I'm forever grateful we had first week feeds (thanks BB!) it doesn't make sense that they're blocking fluff-but-milestone moments like costumes, Safety comp one-hour ticket window, Have-not feasts.
Permanent gripe/comment until slop is done: They need to do away with slop in general, but especially during pandemic plague season when good nutrition should be a major priority on their highly-touted list of safety concerns.





Won: TBA
HOH 0 - Veto 0 - Noms 0 - HN 0

She's in a good spot, generally fun, and not distracted by showmance or complications this time. I'm glad she's back.





Won: $5,000; Safety Suite #2
HOH 0 - Veto 0 - Noms 0 - HN 1

Her foot, her son, Iraq, NASCAR, her fitness, Josh, Paul. Rewind, repeat.





Won: TBA
HOH 1 - Veto 0 - Noms 0 - HN 0

He doesn't have Derrick to steer his game or to rein him in, and it shows. I'm just glad we didn't get the brother.





Won: TBA
HOH 0 - Veto 0 - Noms 0 - HN 0

She and Cody are double-dipping more than most, which is fine, but it's likely to bite her later when she betrays or is betrayed, as is bound to happen.





Won: TBA
HOH 0 - Veto 0 - Noms 1 - HN 1

I'm glad he got a second shot after last year's debacle, but his BB-ignorance act is wearing thin. I'm hoping he starts to ditch that, and get in there and play.





Won: TBA
HOH 0 - Veto 0 - Noms 0 - HN 0

Her social game is superb. She's usually the one comforting whoever needs it, and she's thorough with her gametalk rounds. Plus she has the best read on everything, and she's funny. A definite keeper.





Won: TBA
HOH 0 - Veto 1 - Noms 0 - HN 0

Did someone say funny? His humor isn't for everyone but his one-liners keep coming and when he gets on a roll, the laughter is contagious. He's one of the few coming through for Team Fun Feeds this year.





Won: Safety Suit #2 (Christmas's win)/1 week space skits
HOH 0 - Veto 0 - Noms 0 - HN 1

He's the breath of fresh air we needed and it's good to see him back. Most of them love him but Memphis hates him. (Memphis finally admitted several times on 8/16 show Diaries it's because Dan beat him and Ian beat Dan.) Ian's making the most of his acting task and it's great to see him enjoying himself in there.





Won: Safety Suit #1 (Kaysar's win)/1 week star
HOH 0 - Veto 0 - Noms 0 - HN 0

I'm glad we got BB6/7 Janelle rather than the BB14 version. It's great to see her and Kaysar chats on our feeds again. Neither's in strong shape game-wise as of now, but those things are often as fluid as the pre-season cast rumors were. It's hilarious to see how pressed her roomies are about her very existence. Again.





Won: Safety Suite #1
HOH 0 - Veto 0 - Noms 0 - HN 1

See Janelle, with the addition he's the ultimate BB voice of reason for most things game, and all things life. Plus he's an ongoing thirst trap for many, which will embarrass the hell out of him when he finds out. Again.





Won: TBA
HOH 0 - Veto 0 - Noms 1 - HN 1

His first week as a Have-not on the block was not good, and turning away from an open spot on the Janelle/Kaysar team will likely prove fatal since he isn't valued by the other side.





Won: TBA
HOH 1 - Veto 1 - Noms 0 - HN 1

Early to bed and early to rise makes a hamster one I don't see much of. Throw in a severe case of HOH-itis, plus his occasionally highly flared temper, and it could lead to popcorn-worthy moments sooner or later.





Won: TBA
HOH 0 - Veto 0 - Noms 1 - HN 1

She's in way over her head this time. Like Kevin, she too ratted out Janelle and Kaysar, and that could prove fatal for her game also. Like last year, she spends more time and energy analyzing what she thinks is going on than she does acting on it.





Won: TBA
HOH 0 - Veto 0 - Noms 0 - HN 1

She doesn't seem to have much self-confidence this time around, and her resentment of Janelle is bound to bring fireworks sooner or later. (Spoiler: if that battle happens, she won't win it.)





Won: TBA
HOH 0 - Veto 0 - Noms 0 - HN 0

He's playing the same over-allied game he did last time, and it almost worked out for him then. Maybe he'll do better this time without the showmance distraction, especially if he studied up on jury management.





Won: Nothing
HOH 0 - Veto 0 - Noms 1 - HN 0

1st evicted, Day 9

She was feisty her first time around but like all of them, she's older and more mature now, and her birthday happened before they moved in, so we didn't get any new memorable Keesha scenes. But it was good to see her again and she got a nice check for two weeks isolation and one week of summer camp.



Lines and Links of the Day
Lines

Saturday
Kaysar: Why are you so tired?
Janelle: I'm 40

about Memphis's aggro:
Janelle: He can't control himself
Kaysar: This is how he normally plays?
Janelle: He's never won power before! Ever!

Tyler to Nicole A, about Memphis: Everyone is too afraid to even ask to use his bathroom

Dani: This house is boring, everyone's boring

Kaysar: You know what BB, you have only yourselves to blame for this being the worst, most boring season

Sunday
Nicole A: I'm a Long Island iced tea - I'm sweet and good, but I'll fuck you up

Cody: Twitter's faster than the internet



Links

GET YOUR FEEDS includes a free one-week trial

Use my link for any Amazon Canada shopping, anytime, at no extra cost - just start your shopping trip by clicking Amazon Canada

Live tropical reef webcam if you're missing the fishies

BB By the Week, Week 2 by @aubramariebb



Tally Items

Season Stats
HOHs in order: Cody; Memphis

Veto winners in order: Enzo; Memphis

Evictions in order: Keesha 13-0

Cast Twitters: @BayleighDaily; @christmasabbott; @Cody_Calafiore; @danidONAT0; @davjalex; @DayDaVonne_; (Enzo deleted @the_Meow_Meow_); @TulaneTerry; @JanellePierzina; @KaysarRidha; @KeeshaSmith0801; @kcampbellicious; @MemphisGarrett; @Strongislandni2; @nicole_franzel; @TylerCrispen2







Linking to any page here is fine. Please don't repost content from this site (or any other) without permission, and don't repost or hotlink images.



THE REAL SHOW IS THE FEEDS

Live air shows in many areas
BB1 thru BB21 plus Celebs and OTT, and many other CBS shows

PROTECT YOUR ONLINE PRIVACY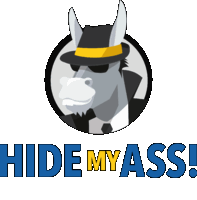 Anonymously secure your internet connection with HMA! Pro VPN - connect to our VPN service to anonymously encrypt your internet activity from prying eyes



HAMSTERWATCH SWAG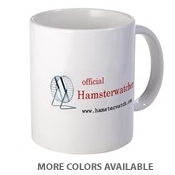 Mugs, shirts, more
Visit my Cafe Press shop





Big Brother 22 SEASON FAQ


Day 1 move-in and CBS premiere is August 5
Day 85 Finale is October 28

Feeds are streamed by CBS, and Flashback is accessible via All Access subscription. Call 888-274-5343 for account help, including cancellation.

The CBS app (by CBS Interactive) plays BB air shows and other CBS shows, as well as feeds, or you can use your browser to watch feeds on mobile devices. The same All Access link used to subscribe will lead to the feeds viewing page if you're already signed up.

BB22 finalist prizes are the same: $500k for the winner and (presumably) $50k for 2nd place. Rumors say the others get $40k for showing up.

The habitat has 94 HD cameras (no change) and 113 microphones (no change).

The recorded in-house announcements are the voice of producer Don Wollman. He and Julie Chen are the only staffers who have been there since Big Brother 1.