March 4, 2008 - Day 26 (or 27)





>>

Joshuah & Sharon are Heads of Household - Ryan & Allison and Adam & Sheila are nominated

<<



What's that, Matt?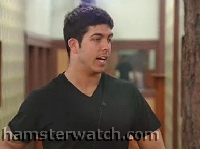 Matt: Amanda started a rumor that Natalie gave me a blow job

Sheila: I would have known that - I sleep next to you guys

Matt agreed she would have known, and went on to say he wishes he'd gotten some BJ action in there.. oooookay

Unfortunately, Big Brother put an end to them running & jumping in the pool and since these guys are all rules followers, there will be no more splashy action sequences like yesterday's

The digicam came out again for the cutesy posed pics that make them look like a big happy family, but apparently Big Brother doesn't recharge it for them between Tuesdays, and it ran out of battery power.. Allison was all perky and vied to be star of the photo shoot, suggesting they take one of Joshuah pointing out her tarantula eyes - after all, everyone knows she doesn't care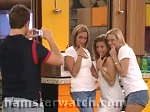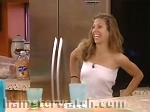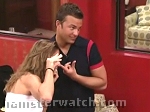 Chelsia reiterated that it's Day 26.. she & James had a spat earlier but got over it.. he gave her a spin that made her squeal.. Sheila & Natalie posed over the eviction bed, exorcising it with a Bible.. we got a rare quick glimpse of Sharon & Joshuah doing their blog which will include: "As you all know, there's always [something] brewing"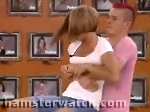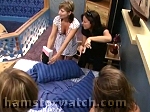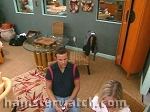 Bible class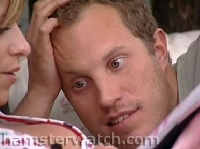 Natalie was describing to Adam what seems to be becoming her gameplan of using Bible quotes, plus her Theory of 8s

He seemed to be paying attention to some of it, but he got distracted a few times

Sheila, Allison & Matt started packing, while Chelsia tried on clothes.. Allison started trying different outfits too.. a few oops's ensued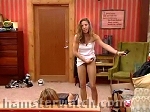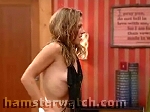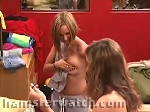 James joined the Questionable Wardrobe game.. Chelsia modeled a swimsuit that looks like it was based on BB8 Jen's catsuit arrangement - is she designing swimwear now?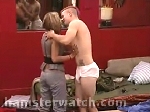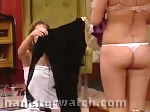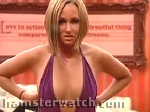 Joshuah's time ticks away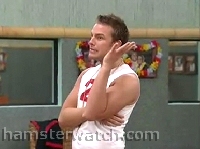 He seems to have suddenly realized that his week at the top is about to end, and he's not happy about it

He was also rattled by Diary stirring them up about the air raid siren, and what it means.. Allison's convinced it means she's not leaving (and she may not be: see the new ad wordage in FAQ), which didn't help Joshuah's mood much



Joshuah: I'm about to get my period for the first time, I feel it. This is going to make me secrete blood out my asshole. I'm going to have to have a tampon to stick up there 'cause I'm hemorrhaging. I'm having a nervous fucking breakdown! I don't want to have hives and all the acne tomorrow morning, and I cannot see Julie like this!



Matt & Natalie did a little boxing practice - symbolism was in place, especially after tonight's show starring their odd relationship.. later he pounced Chelsia, and she did another moon - this one was accidental I think: she was changing again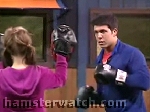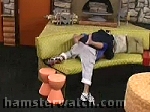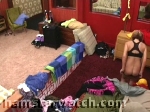 Oddly, the nominees spent much of their evening talking to each other rather than campaigning, but it would probably be futile anyway.. Natalie made another nail polish project - this time it was a study aid.. it contributed to Joshuah's hysteria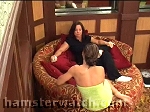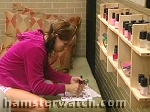 The sound of breaking glass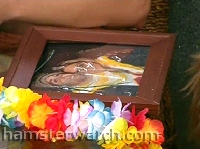 More symbolism as Sharon dropped the picture of her & Jacob.. its glass broke

Everyone has been saying it's a great pic of them both but she poo-poo'd that, saying it was very old.. she did question why it was in her HOH room though: it surprised and shocked her to find it there.. she also brought up the possibility that it could mean Jacob's coming back

We'll find out what happens tomorrow, but it's beyond suspicious that not a peep has been heard from or about any of the evictees, and it's beyond weird that one couple was kicked out before the feeds & the premiere: Sharon came back but that was unplanned.. if they aren't going to have a revival option for all, what was the point of having 14 hamsters in the first place?

You have to feel for Jacob if he's been sitting alone in a hotel room all this time

More later if the air raid goes off.. otherwise that's it for today



Daily videos






James tells Chelsia he only masturbates with her when she's awake; Joshuah freaking out; and Natalie explaining her study aid to Matt are posted in the forum, linked top & bottom of every page



Daily ratings - Is it Wednesday yet? 2nd edition






Ratings are based on entertainment value



They changed the air raid announcement for the air show: 'follow the instructions given' became 'wait for an important announcement' upon gathering in the living room. It sounds nitpicky so I wonder why the change? Maybe it'll go off during the live show and Julie will spill the beans to them & us together. The 'soulmates' thing is dead but they keep trying to squeeze a little more mileage out of it with Matt & Natalie go-rounds - although some of that footage was days old, way back to margarita night - along with still more lesbian reruns. All they advertise is racy sexy stuff but they still haven't acknowledged that Natalie's been fulfilling that hype. The veto comp was fun and would have been even without the silly togas and angel wings (anyway, didn't BB7 have the Good versus Evil theme?) Adam & Sheila bickering plus Allison's screeching lent a nice touch. Seeing Matt's first pounce on Sharon again was as sad & funny as the first time around, complete with romance music turning to Twilight Zone, and it was fun to hear them both admit in Diary that they're playing each other with that stuff.. I'm truly surprised CBS didn't try to portray that as a love match.




NOMINATED
Paired with Sheila

When he's not groping himself, he's picking his nose. He could be buying a vote from James with cigs, but he's handing them out freely instead. Maybe that'll help him later, or maybe they'll all just run out of cigs sooner. He seems glad to be one of Natalie's new study partners - it gives him lay down time with her and also close-up boobage.



NOMINATED
Paired with Ryan

She's convinced now that the air raid will save her and she convinced Joshuah of same, giving us some high hysterics upstairs. She told a long story today about her 'semester at sea' and world travels, which might not help get any votes for those in the 'doesn't need the money' camp, but last night she offered cosmetics discounts to all and encouraged them to send her their lists, which might. She also told a story about wearing blackface to school in second grade, done with tar - I'm not sure why - but she was shocked to hear about Ted Danson's blackface episode, and that he'd dated Whoopi Goldberg.. maybe she was away at sea at the time.





Paired with James

She's showing her rear a lot which I'm sure earns her ups from many viewers, but I'd rather see the fight come out in her and it's not. She just threatens lately but nothing much comes of it. I'm also getting tired of seeing her let James keep rubbing on her when she keeps saying he's not her type.





Paired with Chelsia

A major pot meets kettle moment happened today when he said about Natalie: 'She's 28 and works at a bikini coffee shop and paints mermaids - that says a lot about someone.' He's becoming a Night Prowler some nights.. last night he was up alone for a long time, sitting in the sauna and eating crackers, but unfortunately he was silent throughout.. where's BB8 Dick and his solo monologues when we need him?





Co-HEAD OF HOUSEHOLD
Paired with

Neil

Sharon

Big ups for his major hysterics and hissy fits from a combination of BB taking away the spycam tv remote, Natalie drawing with nail polish, and Allison convincing him she'll be safe when the air raid siren goes off. His tirade, part of which is quoted above, easily wins the Line of the Day award. He peppered it with things like saying they have to wear their 'gang colors' and 'battle gear'.





Paired with Natalie

I have to give him credit for bringing up the BJs again and denying same, for boxing with Natalie, studying with her later and arranging another study date tomorrow, and overall shmoozing of everyone. He's a pig, but he's growing on me.





Paired with Matt

She's got the studying down to a science, complete with visual aids that Diary approved and let her keep. But I have to wonder if Matt's aware of how much info she's sharing and with how many of them; and if not, I hope I'm around when he finds out.





NOMINATED
Jen's boyfriend/Paired with Allison

I didn't see much of him today but I did catch him sitting outside and yawning hugely for about 10 minutes. It would make a great video loop to cure insomnia.





Co-HEAD OF HOUSEHOLD
Paired with

Jacob (her ex)

Joshuah

I'm glad her reign is coming to an end so she'll stop holing up in HOH all the time and (hopefully) stop having so much to laugh about.





NOMINATED
Paired with Adam

She tried to calm down Joshuah after his 2nd or 3rd eruption, telling him to play his Britney CD and to look forward to a Madonna wakeup in the morning. You know it's bad when a nominee has to calm and soothe the HOH the night before eviction.





Paired with Amanda

He started out looking like he was on board with Matt's showmance plan and CBS picked up that angle, but then we got to know a bright, charismatic, and goofy guy who had everything going for him in there except his partner. His diplomacy was remarkable and he might have gone the distance, but he went out as another casualty of 'Til Death Do You Part'.





Paired with Alex

She began with hysterics & drama and was at the center of the biggest BB fight ever, but she went out with more of a whimper than a bang. Her moods dropped as fast as her blood sugar but to her credit, she rebounded just as fast. She & Allison had dual 911 events, but Amanda's collapse brought unexpected (and uniformed) guests into the habitat and onto the air.





Won: $5k
Ryan's girlfriend/Paired with Parker

She & Ryan could have gone far if she hadn't opened her mouth in the first days. She made loads of enemies in a short time and took Parker down with her. She'll be remembered for super-quickie sex in the bathroom and a rash on her backside.. hmm, coincidence?





Won: $5k
Paired with Jen

He was good watching at first til he gave up and went on strike. He bounced back a bit at the end but his doom came early when partner Jen couldn't keep her trap shut about her & Ryan. She had to go, and he was just the innocent bystander casualty. 'I'm sick of people's dumbass assinine ass comments' might be Line of the Season.





Paired with Joshuah

He left suddenly and mysteriously but wrote on his MySpace that he didn't leave for health reasons and that he won't be back. He seems like a good guy and I wish him well.. he's probably lucky he got out when he did, unscathed.





Paired with Sharon (his ex)

Gone before the feeds kicked in: he didn't even make an appearance. All that potential for rehashing their breakup and/or a jealous rage up in smoke. To make it worse, he & Sharon didn't even get an exit interview in Julie's boudoir - how rude!



Please do not repost any content from this site (or any other) without permission, and do not repost or hotlink to any images
!! THIS MEANS YOU !!

BEST FEEDS EVER, SO FAR
TWO WEEK FREE TRIAL

This year for the first time, you can sign up for monthly renewal
or save with a three month subscription
- both come with a 14 day free trial



LATEST TWITTER


posted :
""

Get free Hamsterwatch updates to your cell phone! Text 'follow hamsterwatch' to 40404 to sign up (21212 in Canada). Click for more info






UPCOMING EVENTS


They're to gather in the living room when they hear the air raid siren






POWER STATUS


Joshuah/Sharon are HOH
Ryan/Allison and Adam/Sheila are nominated






FAQ


New BB ad: 'Two more houseguests will be evicted but what they don't know is Big Brother may not let them leave'

Per Julie: Wednesday 'the evicted couple will get a surprise that no one will see coming, and a new chapter will begin for this season of Big Brother'

Nobody's on slop - they have no bread

HOH comp consequences:
No washing machine for 2 weeks -
ends Wednesday
No hot water for 72 hours - done
Margarita party - done
Females wear bikinis 24 hours - done
No drinking cups 1 week - done
Females cook dinner 1 week - done

Finale is April 29 but 'subject to change' - Joshuah said March 25 but he may have been speculating

None of the evictees have done 'Housecalls' or 'Early Show'.. they are likely sequestered to rotate back in later

Nobody knows when or if they'll play solo at some point, but CBS has announced it will be a full season

First place earns $500k, second gets $50k. The others earn $750 a week, including jury sequester weeks for those that go there






RATINGS WATCH


Tuesday's show was third for the timeslot with a 4.3 rating and 7 share, behind 'New Amsterdam' on Fox with 8.3/12 and 'The Biggest Loser' on NBC with 6.5/10.







NEXT SHOW


Wednesday, March 5 at 8pm: Live eviction, HOH comp, the 'surprise no one saw coming', assorted dramas






EXTRACURRICULAR TALLY


Sex: 3 (Jen/Ryan)
Oral: 2 (Natalie/Matt)
Self-service: 3 (James, Adam, Matt)
Makeout session pairings: 4
(Jen/Ryan, James/Chelsia,
Alex/Sharon, Matt/Sharon)
Nekkid makeout pool orgy: 1
Nekkid party favor: 3
(Natalie, James, Chelsia)
Nekkid party trick: 2 (James, Natalie)
Ambulance rides: 2 (Amanda, Allison)
Major fights: too many to count

See it all with a monthly
or quarterly
feeds subscription. Both include a two week free trial with no obligation to buy.









LINKAGE


Click to see my full list of BB9 links. These are some of my favorites.

24/7 feeds - 14 day free trial
see everything that happens before it gets edited into something else for tv

No time-out feed links including set-up how-to, plus Real contact info

Hamsterwatch Chatroom

Hamsterwatch Forum

BB9 adult/explicit links

CBS Big Brother 9 the official site

DogDave BB9 by any name, still the first to find big news, all the edgy stuff & the best mini-recaps in town

Attw x's houseguest tributes all seasons fun & reference by BB's number one fan

BuddyTV - Big Brother 9 TV supersite with news, articles, discussions

Sir LinksALot Big Brother 9 all the links
Sir LinksALot Big Brother 10 all the links, once again

Reality TV Links - Big Brother 9 emphasis on individual hamsters' sites










THANKS FOR VISITING


Donations are gratefully accepted through Paypal using the button below or direct by email. Please support other BB9 sites that you like, too. Many thanks!




This site isn't necessarily thorough: it's what I catch and/or what interests me. It also isn't necessarily about who should win, who will win, who I'd be friends with or who is cute. It's about watching hamsters: which ones are doing what and why, which are fun and which are dull. If they aren't entertaining, get rid of 'em! Thanks for encouraging my behavior.