March 3, 2008 - Day 25 (or 26)





>>

Joshuah & Sharon are Heads of Household - Ryan & Allison and Adam & Sheila are nominated

<<



Waiting game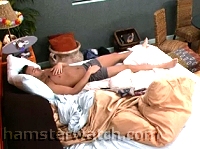 It's a long time til they vote, and a lot of waiting for them and for us.. they're waiting for an air raid and we're waiting for Julie's "surprise"

Joshuah & Allison had another go-round, and he returned to his ivory tower to lay around.. Sheila & Allison had another go-round, but they returned to each other to talk talk talk

The newly-heated pool's been getting some use, and Ryan provided us with an action sequence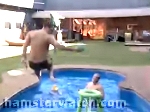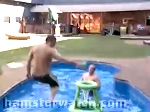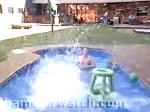 I'm still laughing at the overnight events surrounding Allison's shorts - I hope but doubt they'll be able to top that today

The hammock's getting a bit more action as "soulmates" attempt to strategize about the inevitable.. James keeps puppy-dogging Chelsia everywhere she goes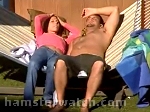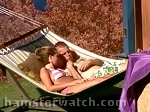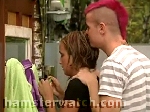 Almost a fight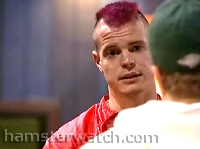 James confronted Matt about having promised his vote to both of their mutual buddies, with both buddies present

I think it was the first guy-on-guy confrontation we've had: all the fireworks til now were brought by the girls, and Joshuah

Matt countered by saying James is being tight-lipped about his team's vote, adding to the habitat's paranoia, and that James had promised him safety before and then nominated him

Chelsia joined in - she got feisty but pulled back.. Natalie joined in too, but not very effectively.. Ryan & Adam pretty much just watched - Adam laughed for some of it.. it wasn't a great fight as fights go in there - especially this season - but it gave me hope for more & better on Tuesday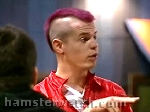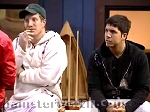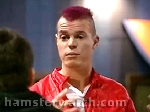 Filet o' kissyface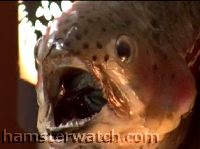 Matt & Sharon were having another of their mutual working on each other sessions, when he pounced on her again for some spit swapping.. like the last time, it was (far) less than romantic and they separated soon after, but both played along, like they do

Blessings to the feedmasters who flashed onto this fish face for a second, for a perfect wordless description of the umm.. "chemistry" between these two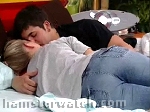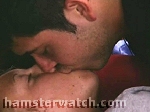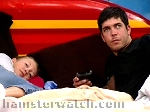 Daily videos



James confronts Matt; and all join in are posted in the forum, linked top & bottom of every page



Daily ratings - Is it Wednesday yet? edition






Ratings are based on entertainment value



Anyone notice they've been using the same crescent moon for almost a month now? Sunday's show was another installment of their fictional alternate to the feeds and reality, 'Big Brother: Lesbian House'. They did include Joshuah versus Allison and her subsequent meltdown(s) but they left out the best bit, the five foot restraining order. Still, it was a good fight as was the Ryan versus Allison follow-up, and deserving of first ups of the season. They wasted valuable Diary time with tiara comments and omitted the BJ heard round the world, but we all know what went on before the aired Matt/Natalie footage. Asparagus comp was another excuse to put the girls in catsuits (although James had the most fun wearing one) but I ask again how are they defining carbs? They've not had bread for breakfast but otherwise they've all been chowing down on crackers, pizza, cookies and popcorn since the comp. Natalie got Diary, drawing, and 'damn skippy' time but she's still pretty much AWOL from CBS. I don't know how they're overlooking her: nobody else can. Finally, why did the show end 7 minutes early, and does anyone care?




NOMINATED
Paired with Sheila

I ask once more what is this guy doing in there?



NOMINATED
Paired with Ryan

I heard she put on another good show this morning but alas, I missed it. The rest of her day was just biding her time and droning on with whoever would pretend to listen. She almost earned ups for acting like she'd won BB9 after she finally beat Ryan at chess, and for saying about Sharon's laugh: 'It's so out there.'





Paired with James

She had a small eruption but it fizzled out and didn't go anywhere near where her & Amanda's fight went. Word on the street is her daddy lowered the boom on the feedmasters after stripper/makeout night but if true, he doesn't seem to know his little girl all that well. Today she joined in the anal discussion by saying she wasn't a virgin 'that way'.





Paired with Chelsia

His fight today felt a wee bit staged to me, and nobody was much threatened by it. I'm not sure I put much cred in his arguing about integrity when he's mooching all his cigs and making a point of being cagey about his & Chelsia's vote. For someone who hops eagerly into every sex chat, he was noticeably silent when conversation turned to 'If a guy's with another guy, does that make him gay?' Chelsia said she thinks it's hot when two guys make out, so maybe he'll 'fess up to her.





Co-HEAD OF HOUSEHOLD
Paired with

Neil

Sharon

I don't think I've ever seen anyone use a lint roller on their undies before, not even on the BB feeds - and we've seen everything on feeds. Other than that, he's walking around in the HOH bathrobe, imitating Natalie, obsessing about Allison, and discussing anal activities in way too much detail.





Paired with Natalie

He was headed for ups for his nonplussed rebound to James's attack, but then he did that icky flop 'n smack attack on Sharon again. For a guy who thinks he's God's gift to women, you'd think he would have generated a bit of style by now.





Paired with Matt

It's not good when the life of the party has no life in her except when Sheila, Allison or Sharon get hold of her. What happened to our fun girl? She's been studying the habitat and has come up with a theory of 8s and she might be on to something: Julie's "surprise" will be sprung when there are 8 of them left.





NOMINATED
Jen's boyfriend/Paired with Allison

Neither he nor Adam are bitching about being nominated, and whatever they're doing about it is quiet, short, and non-offensive.. well, at least in Ryan's case.





Co-HEAD OF HOUSEHOLD
Paired with

Jacob (her ex)

Joshuah

Okay, the screechy laugh is almost preferable to watching her smack with Matt, but everlasting ups to the feedmasters for the fish face when they did. Once again, she was AWOL for the big confrontation du jour.





NOMINATED
Paired with Adam

She's starting to sound like Charlie Brown's teacher: writing a book wah wah wahh, single mom wah wah wahh, older than everyone else wah wah wah wahh. Rewind, repeat.





Paired with Amanda

He started out looking like he was on board with Matt's showmance plan and CBS picked up that angle, but then we got to know a bright, charismatic, and goofy guy who had everything going for him in there except his partner. His diplomacy was remarkable and he might have gone the distance, but he went out as another casualty of 'Til Death Do You Part'.





Paired with Alex

She began with hysterics & drama and was at the center of the biggest BB fight ever, but she went out with more of a whimper than a bang. Her moods dropped as fast as her blood sugar but to her credit, she rebounded just as fast. She & Allison had dual 911 events, but Amanda's collapse brought unexpected (and uniformed) guests into the habitat and onto the air.





Won: $5k
Ryan's girlfriend/Paired with Parker

She & Ryan could have gone far if she hadn't opened her mouth in the first days. She made loads of enemies in a short time and took Parker down with her. She'll be remembered for super-quickie sex in the bathroom and a rash on her backside.. hmm, coincidence?





Won: $5k
Paired with Jen

He was good watching at first til he gave up and went on strike. He bounced back a bit at the end but his doom came early when partner Jen couldn't keep her trap shut about her & Ryan. She had to go, and he was just the innocent bystander casualty. 'I'm sick of people's dumbass assinine ass comments' might be Line of the Season.





Paired with Joshuah

He left suddenly and mysteriously but wrote on his MySpace that he didn't leave for health reasons and that he won't be back. He seems like a good guy and I wish him well.. he's probably lucky he got out when he did, unscathed.





Paired with Sharon (his ex)

Gone before the feeds kicked in: he didn't even make an appearance. All that potential for rehashing their breakup and/or a jealous rage up in smoke. To make it worse, he & Sharon didn't even get an exit interview in Julie's boudoir - how rude!



Please do not repost any content from this site (or any other) without permission, and do not repost or hotlink to any images
!! THIS MEANS YOU !!

BEST FEEDS EVER, SO FAR
TWO WEEK FREE TRIAL

This year for the first time, you can sign up for monthly renewal
or save with a three month subscription
- both come with a 14 day free trial



LATEST TWITTER


posted :
""

Get free Hamsterwatch updates to your cell phone! Text 'follow hamsterwatch' to 40404 to sign up (21212 in Canada). Click for more info






UPCOMING EVENTS


They're to gather in the living room when they hear the air raid siren






POWER STATUS


Joshuah/Sharon are HOH
Ryan/Allison and Adam/Sheila are nominated






FAQ


Per Julie: Wednesday 'the evicted couple will get a surprise that no one will see coming, and a new chapter will begin for this season of Big Brother'

Nobody's on slop - they have no bread

HOH comp consequences:
No washing machine for 2 weeks
No hot water for 72 hours - done
Margarita party - done
Females wear bikinis 24 hours - done
No drinking cups 1 week - done
Females cook dinner 1 week - done

Finale is April 29 but 'subject to change' - Joshuah said March 25 but he may have been speculating

None of the evictees have done 'Housecalls' or 'Early Show'.. they are likely sequestered to rotate back in later

Nobody knows when or if they'll play solo at some point, but CBS has announced it will be a full season

First place earns $500k, second gets $50k. The others earn $750 a week, including jury sequester weeks for those that go there






RATINGS WATCH


Sunday's show dropped back to fourth place with a 3.9 rating and 6 share, behind 'Extreme Makeover: Home Edition' on ABC with 8.4/13, NASCAR/'The Simpsons' on Fox with 6.1/9, and 'Dateline' on NBC with 5.9/9.







NEXT SHOW


Tuesday, March 4 at 9pm: veto comp, veto meeting, assorted dramas






EXTRACURRICULAR TALLY


Sex: 3 (Jen/Ryan)
Oral: 2 (Natalie/Matt)
Self-service: 3 (James, Adam, Matt)
Makeout session pairings: 4
(Jen/Ryan, James/Chelsia,
Alex/Sharon, Matt/Sharon)
Nekkid makeout pool orgy: 1
Nekkid party favor: 3
(Natalie, James, Chelsia)
Nekkid party trick: 2 (James, Natalie)
Ambulance rides: 2 (Amanda, Allison)
Major fights: too many to count

See it all with a monthly
or quarterly
feeds subscription. Both include a two week free trial with no obligation to buy.









LINKAGE


Click to see my full list of BB9 links. These are some of my favorites.

24/7 feeds - 14 day free trial
see everything that happens before it gets edited into something else for tv

No time-out feed links including set-up how-to, plus Real contact info

Hamsterwatch Chatroom

Hamsterwatch Forum

BB9 adult/explicit links

CBS Big Brother 9 the official site

DogDave BB9 by any name, still the first to find big news, all the edgy stuff & the best mini-recaps in town

Attw x's houseguest tributes all seasons fun & reference by BB's number one fan

BuddyTV - Big Brother 9 TV supersite with news, articles, discussions

Sir LinksALot Big Brother 9 all the links
Sir LinksALot Big Brother 10 all the links, once again

Reality TV Links - Big Brother 9 emphasis on individual hamsters' sites










THANKS FOR VISITING


Donations are gratefully accepted through Paypal using the button below or direct by email. Please support other BB9 sites that you like, too. Many thanks!




This site isn't necessarily thorough: it's what I catch and/or what interests me. It also isn't necessarily about who should win, who will win, who I'd be friends with or who is cute. It's about watching hamsters: which ones are doing what and why, which are fun and which are dull. If they aren't entertaining, get rid of 'em! Thanks for encouraging my behavior.