February 19, 2008 - Day 12





>>

Amanda & Alex are Heads of Household - Allison/Ryan and Jen/Parker are nominated

<<



The first vote approaches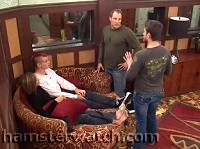 The phony lesbian alliance story is making the rounds fast.. Joshuah talked it over with James, Chelsia & Adam.. Joshuah also suggested a "sympathy vote" for Jen/Parker

In the next 24 hours the realization that they're making a tv show will set in, and their perception that it's all a life & death situation should begin too.. the first week of BB9 feeds have been more fun and action-packed than any prior season, and it can only pick up after the first eviction

Sheila came back in tears after recording her farewells, seemingly upset at having to vote out her student/mentee Allison due to an early promise to Parker.. this set off Allison to tell others that Sheila's a "loose cannon".. later Sheila told Allison she was faking/exaggerating the tears, and Allison replied "Do you realize we could get into acting from this??".. umm yea, we've all heard that before, Allison - every season

The camera came out so their cheesy posed pics can get plastered around the CBS site.. James dressed up for the event in his undies, displaying his wares - the other guys wanted him to put some clothes on.. as usual, they spent as much time looking at themselves as they did posing & snapping - see caps and more caps in the forum.. Chelsia, Allison & Matt paused at one point for a quick threesome skit in the bathroom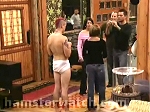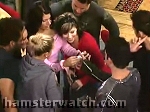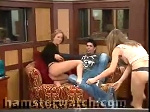 Amanda shmoozed Joshuah with explanations and promises, and tried to convince him to keep Jen & Parker.. they mentioned some of their earlier headbutts and Joshuah apologized to her for his cracks the other night.. she went on to lay out various combos of final four & final two votes.. they agreed not to tell anyone about this convo, then went off to tell others about it



More fights, kinda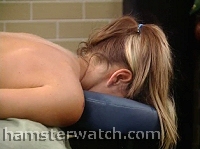 Feedmasters stooped lower than usual when they zoomed into an up-skirt.. err.. up-towel shot of Jen while Ryan was giving her what looked like a very thorough massage

They got boxing gloves and had a few rounds that were loud and fun.. Matt & Natalie had a pretty good bout and Sharon, Adam, and a few others joined in, but the main event (in my opinion) was Jen versus Amanda.. Amanda won on a technicality when Jen slugged her in the face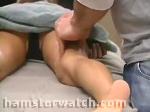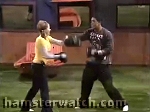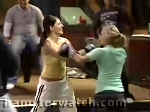 Family dinner was an everlasting and sickening lovefest with all of them proclaiming their feelings of love and devotion to each other, one by one.. it sounded like Jonestown

Later there was a phony fight between Amanda & Joshuah that ended with him going in the pool.. it wasn't very convincing but Amanda said later she deserved an Oscar

I guess they'll be voting live tomorrow, which sounds kind of chancey for their first live show but if something goes wrong, it'll be that much better for us.. I can't call it: the other day it was unanimous Jen/Parker, then it was tied, now they're all whispering and waffling like the best of them so it's a big "we'll see".. I might put a nickel on Ryan & Allison going, but no more than that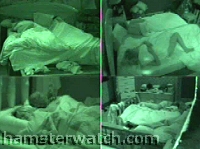 Jen announced that Diary told her she & Ryan can sleep together tonight, so the rules of the twist are already out the window in favor of steamy feeds and CBS edits.. going up against "American Idol" twice a week is killing this show - they're desperate

Expect excessive flames and/or trivia Wednesday for camera setups & rehearsals between marathon primping.. feeds should be hopping after the show though as it all starts over with a new HOH team



Daily videos






Allison & Matt about Sheila's vote; Allison replays her farewells before flames cut her off; boxing with Matt/Natalie and Jen/Amanda; Joshuah/Amanda fake fight; and Alex/Amanda pestery bedtime are posted in the forum and at Veoh, linked top & bottom of every page



Daily ratings - Campaign edition






Ratings are based on entertainment value and there wasn't a lot today: waffling days are like that



This new air schedule makes it tricky to watch the shows as they're so far behind the live action. They had tons of setup for future storylines to unfold, most of which are bogus and a waste of time, while they overlook the real stuff that's going on, as usual. The phony lesbian alliance and Alex/Amanda 'soulmate' jealousy is old news and manufactured at that, so why waste the air time on it? They should be looking at Matt working his way thru the girls, Allison working everything to her advantage, James falling for Chelsia, and Natalie being Natalie. That said, I'm sure Jen & Ryan's families are proud of them tonight but why did they play that with the 'I Dream of Jeannie' song?




Paired with Sheila

Once again, he almost had a starring moment or two but he can't hold up long with the rest of these primadonnas hogging the spotlight all the time. I still want to call him Steve and might start doing so.



Co-HEAD OF HOUSEHOLD
Paired with Amanda

I didn't see much of him today but I have a feeling he'll be the star of the next few shows since they set up for a jealous 'soulmate' love affair on tonight's show. They couldn't overlook 'he touched me here' and the ensuing Amanda chaos over that, could they? Kudos to him for being a citizen during this first overlong HOH and not holing up upstairs.





NOMINATED
Paired with Ryan

Her head's blowing up like South Park's Mr. Mackey lately. She spent most of her day talking herself up and everyone else down, as usual, but she's getting more elaborate about it. Today she modeled eyeshadow for the group; alternately cried and gloated about her mentor/hero Sheila; she repeatedly trashed Jen to her boyfriend Ryan; bragged that she 'just played the card of how my best friend turned against me'; and said decisively 'Matty will never put me on the block' (ha!). She is most definitely good tv.





Co-HEAD OF HOUSEHOLD
Paired with Alex

She can create drama out of thin air and that's usually a good thing, but a little goes a very long way. It was fun hearing her report on her convo with Joshuah seconds after they agreed they'd keep it between themselves though. See Alex as far as not hibernating upstairs these first two weeks, but I think that was probably Alex's idea.





Paired with James

She's lots of fun and seems to be the one most likely to do the unexpected. James seems smitten with her and I don't know if it's mutual or not.. I tend to think not, but I was wrong about Jessica last year so I'm not going to call it. She went into the sauna in her sweats today, and said Diary 'drilled' her about something. She's a keeper!





Paired with Chelsia

He likes Chelsia and he likes wine enemas, and today I found out he's done boy on boy porn as well as the solo effort I saw.. world bike ride, my ass.





NOMINATED
Won: $5k
Ryan's girlfriend/Paired with Parker

Solid ups for punching Amanda in the face today! Even though it was in fun and in boxing gloves, it was a classic moment and I bet it felt great. Some of them are talking about keeping her til the end since anyone could beat her, and since she announced on CBS that she can't go two weeks without sex, it might get interesting if she does stick.





Paired with

Neil

Sharon

He was in the middle of a lot of convos today including his first with Amanda since calling her f'ing whore and worse, and they both talked like they're best friends forever, but later he laughed about it and her gullibility. His part in the phony fight with Amanda wasn't much better acting-wise than hers was, but at least he went into the pool.





Paired with Natalie

His plan to work his way through all the girls seems to have stalled a bit but he doesn't really need to do anything on that score til tomorrow night. As a plan, it makes me kind of queasy anyway but at least it makes for interesting watching when he's working them.





Paired with Matt

She is aware of the game and a lot of what's going on, but she doesn't dwell on it like some. She seems perpetually cheerful and upbeat, and that's never a bad thing.





NOMINATED
Won: $5k
Paired with Jen

He's working hard to stay but I don't know if he's got a hope in hell at this point unless the plan to keep Jen around as a permapawn takes hold. I would like to see him stick around til they swap partners or go solo: the poor guy really did get the rawest of all the pairing-up raw deals.





NOMINATED
Jen's boyfriend/Paired with Allison

Nice guy, but way too dull for this gig. Send him home!





Paired with

Jacob (her ex)

Joshuah

Since I'm not following all the campaigns or waffling details closely, I'm not listening to her a lot. That stuff seems to be her strong suit and I think she's quite good at it, but I'm not getting in too deep til there are fewer hamsters and fewer lies to keep track of.





Paired with Adam

I wish I knew if she was playing Allison or if all this motherlove is genuine, and I'd also like to know if she's more BB savvy than she lets on. Allison compared her today to Dr. Will game-wise and I hope that's true but I'm just not sure yet. I wish we had some Diaries about what they're all really about rather than all the manufactured storylines CBS spends their time on. Ups and Line of the Day award for 'Why do we need to take MORE pictures?' during camera hour.





Paired with Joshuah

He left suddenly and mysteriously but wrote on his MySpace that he didn't leave for health reasons and that he won't be back. He seems like a good guy and I wish him well.. he's probably lucky he got out when he did, unscathed.





Paired with Sharon (his ex)

Gone before the feeds kicked in: he didn't even make an appearance. All that potential for rehashing their breakup and/or a jealous rage up in smoke. To make it worse, he & Sharon didn't even get an exit interview in Julie's boudoir - how rude!



Please do not repost any content from this site (or any other) without permission, and do not repost or hotlink to any images
!! THIS MEANS YOU !!

THE FEEDS ARE ON!
TWO WEEK FREE TRIAL

This year for the first time, you can sign up for monthly renewal
or save with a three month subscription
- and both come with a 14 day free trial!



LATEST TWITTER


posted :
""

Get free Hamsterwatch updates to your cell phone! Text 'follow hamsterwatch' to 40404 to sign up (21212 in Canada). Click for more info






A NEW HAMSTERWATCHER


Big ups and congrats to Cherryred and hubby on their new arrival!






UPCOMING COMPS


HOH comp will be live on Wednesday's show, and it will be another couples HOH. Food comp will happen eventually. Sometimes they put food comps on the feeds, sometimes not.






POWER STATUS


Alex & Amanda are HOH
Allison & Ryan and Jen & Parker are nominated






RATINGS WATCH


Tuesday's show remained in third position with a 3.5 rating and 5 share, well behind 'American Idol' on Fox at 17.3/25. 'The Biggest Loser' on NBC was second at 5.7/8.







NEXT SHOW


Wednesday, February 20 at 8pm: live eviction (first double eviction ever), HOH comp, assorted dramas






EXTRACURRICULAR TALLY


Sex: 3 (Jen/Ryan)
Oral: 2 (Natalie/Matt)
Self-service: 1 (James)
Nekkid party favor: 1 (Natalie)
Nekkid party trick: 1 (James)
Major fights: already too many to count

You can see it all with a monthly
or quarterly
feeds subscription. Both include a two week free trial with no obligation to buy.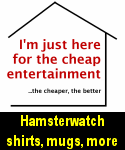 LINKAGE


Click to see my full list of BB9 links. These are some of my favorites.

24/7 feeds - 14 day free trial
see everything that happens before it gets edited into something else for tv

No time-out feed links including set-up how-to, plus Real contact info

Hamsterwatch Chatroom

Hamsterwatch Forum

BB9 adult/explicit links

CBS Big Brother 9 the official site

DogDave BB9 by any name, still the first to find big news, all the edgy stuff & the best mini-recaps in town

Attw x's houseguest tributes all seasons fun & reference by BB's number one fan

BuddyTV - Big Brother 9 TV supersite with news, articles, discussions

Sir LinksALot Big Brother 9 all the links

Reality TV Links - Big Brother 9 emphasis on individual hamsters' sites










THANKS FOR VISITING


Donations are gratefully accepted through Paypal using the button below or direct by email. Please support other BB9 sites that you like, too. Many thanks!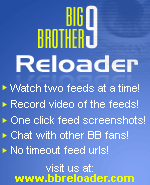 This site isn't necessarily thorough: it's what I catch and/or what interests me. It also isn't necessarily about who should win, who will win, who I'd be friends with or who is cute. It's about watching hamsters: which ones are doing what and why, which are fun and which are dull. If they aren't entertaining, get rid of 'em! Thanks for encouraging my behavior.