February 18, 2008 - Day 11





>>

Amanda & Alex are Heads of Household - Allison/Ryan and Jen/Parker are nominated

<<



The usual T & A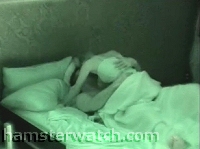 Morning found Jen & Ryan engaged in some heavy foreplay - well technically it was early afternoon, but morning for them and me.. she wanted to keep going but he put her off saying they should finish off-cam, which they did, either in the shower or the WC

Jen's been complaining of a rash on her butt today

Last night's heroine Chelsia is an early Line of the Day frontrunner with "I don't want to be some sick perv's wallpaper" while deftly changing her bottoms in a covert way that impressed James.. chances are she already is wallpaper on a few monitors, not to mention the fact that she said it to James who almost certainly is too (but not from off the feeds.. yet)

Jen took careful care to make sure her bra peeked out of her top, and Amanda chose to make a fashion statement with pistols today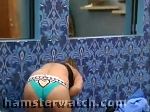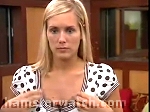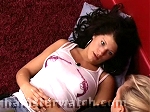 Joshuah made a Drama Free Zone sign with nail polish - as if that'll help.. Parker's on strike: he's given up, and Sheila & Allison are busy spreading dirt about him in hopes of ensuring his demise.. most everyone's spreading dirt about Jen again

Amanda's busy on damage control after last night.. she's working on them one by one, starting her spiel to Allison by saying how horrible it was that various hamsters approached her one by one after last night's fireworks.. Allison's almost cockier than Matt today, full of gasps and "I know!"s and "That was disgusting!"s about all and sundry

Neil surfaced on his MySpace, implying that he left due to a family crisis - not health reasons - and confirmed that he won't be back



Horn if you're honky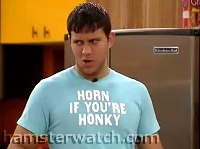 The Powers That Be seem to think we'll all believe it's summer if they give them watermelon & ice cream and keep the heat up so they'll walk around half nekkid

I guess that's understandable, since they apparently didn't think past Valentine's Day for their twist themes but really, they don't have to go this far.. a sweater here or there wouldn't hurt anything, and February in SoCal is nice anyway - I'm sure BB9 looks very summery to those still in a deep freeze even without the thermometer subterfuge

Alex's shirt led to a few jokes of the honky/whitey/cracker variety, and I don't know if this was calculated for Ryan's benefit (paranoia) or not, but if so it was brilliantly subtle and probably effective.. I'm dreading that whole topic hitting the CBS show - and we know it will

The faux lesbian alliance showed up again after its revival on last night's show.. Allison was back to telling people she & Sheila are married, they have a son, etc.. Sheila made it sound like Diary's encouraging them to return to this charade.. if so, it's likely either for titillating CBS content or to get Allison out for lying so they can keep Parker on the show - maybe both

At least Sheila's smart enough to realize such a "joke" could get her in trouble with gay groups if she's not careful about it.. Allison didn't say much to that - I ass-ume she understood what Sheila meant, but you never know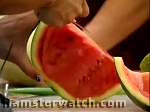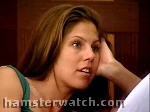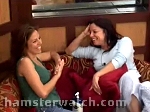 For all her motor-mouthing with everyone else, Allison is pretty quiet when she's with Sheila, almost reverently so.. I think we may have a case of serious hero worship going on here, which has great potential for future fun & fallout

Joshuah told Sharon all about the lesbian alliance, and they had quite a laugh over it.. Sheila had told Allison they'd be sure to tell Joshuah the truth ASAP and while it might ordinarily be too late to come clean on such things after today's story reinforcement, I have a feeling Sheila will come out of this one okay - at least as far as Joshuah's concerned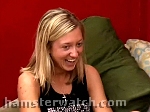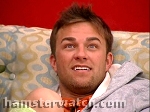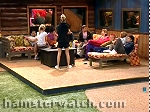 They didn't put on much of a show for Showtime tonight - unless you count 100 whispery trashtalk sessions - but a few gathered to share embarrassing moment stories in the backyard.. a helicopter buzzed over low and beeped at them when they waved.. they had fun with backyard sexchat for awhile til Amanda joined and all convo became Amanda-centric, like it does

In other unsurprising news, the timer on the dryer is still broken from last summer - maybe the summer before too? I forget



Jen hears a who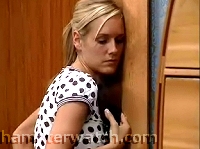 Ryan & Allison were talking about not a lot but Jen decided to listen in anyway

Obviously she & Ryan have a very healthy relationship, solidly built on trust

Well, I suppose it's possible he might forget to report back to her whatever convos he has on his own, right? This way, she'll be sure to remember to remind him to tell her, and she'll be able to verify accuracy

Some of them actually had some fun tonight.. Alex's Talk Show is pretty funny and even Parker laughed for the first time in a few days.. later the feedmasters found Adam looking kinda creepy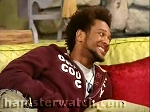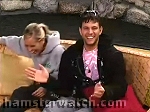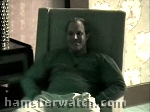 Daily videos



Jen & Ryan's good morning is posted in the forum, and Natalie's story with helicopter buzz is at the forum and at Veoh, linked top & bottom of every page



Daily ratings - Back to face value edition






Ratings are based on entertainment value



Sunday's show was pretty dull, which is sad considering it's the first one that hasn't gone up against 'Idol'. Most everything they covered was from before the feeds came on and we already knew the outcomes, but I can't see it as being a very interesting show for non-feedsters. Adam provided the comic relief (I told you he'd be the new Cowboy).. I wonder if the 'uncut' word & theme was a first for primetime network tv? It was obvious who'd be nominated just gauging by the amounts of airtime alone, but I have to wonder why Ryan was the star of this episode: he's the dullest one in there. I guess they want to squeeze the last bit of life out of that lame twist so they're pimping it up big while they still can. Sheila's time was a rerun of her gripes about Adam (past history), and Chelsia, Joshuah, James, and even Natalie were barely acknowledged. Neil was noticeably absent: his exit should be covered on Tuesday - he left a few hours after noms.

Game-wise, while the whole 'soulmates' and 'matchmaker' slop turns my stomach, the forced pairings have turned into a good thing, creating lots of unnecessary chaos and drama, wheee! This is what Big Brother is supposed to be. The namesake and original Endemol concept aren't about a romp at a well-stocked summer camp, no. By definition, Big Brother is supposed to mess with their heads and their game, and we've finally got that going on.




Paired with Sheila

He told a few stories today before getting cut off by the many attention sluts, and in the wee hours last night/this morning he whispered to James for a good 15 minutes with a piece of cracker stuck to his chin. I keep wanting to call him Steve.



Co-HEAD OF HOUSEHOLD
Paired with Amanda

He's turning out to be pretty funny when he gets going and so far he's the only one who's shown he can have us laughing with him instead of at him. He also seems like he's one of the brighter bulbs in there, but if so he's too subtle about it to know for sure.





NOMINATED
Paired with Ryan

She's my favorite one to listen to lately since she's so consistently full of it. If she's not talking about how good looking she is, she's talking about how awful looking the others are and/or she's being enchanted by Sheila or dazzled by Matt.. I hope she doesn't leave before she has a showdown with Natalie over him. Her voice sounds like BB6 Maggie's.





Co-HEAD OF HOUSEHOLD
Paired with Alex

She was busy today attempting to mend bridges that are blown to microbits and turning conversations that were about anything else into conversations about her. She has a bit of a Janelle look about her along with the slight Minnesota accent, but that's where the similarity ends.





Paired with James

She seems to have come out unscathed after setting off WW3 last night, and she had a good time telling the worldly & naive mix of hamsters that she's a lil kinky and likes it rough. James seems to be smitten with her.





Paired with Chelsia

He still seems mostly lost but maybe he's soaking up more than he lets on. He did have some expertise to share about how porn sites make money, which is something he seems familiar with (not surprisingly). On the surface he seems most like BB5/7 Nakomis but underneath he's more like John Holmes.





NOMINATED
Won: $5k
Ryan's girlfriend/Paired with Parker

She's back to being controlling of Ryan and bitchy to most everyone else, making her very watchable, and her talk about her butt rash adds just the right amount of comic relief. She has a strong resemblance to every evil witch of every soap opera ever made.





Paired with

Neil

Sharon

He's just not doing it for me. Like Ryan and James, he seems to just be along for the ride and while he's in on a lot of game talk, it's usually Sharon or Chelsia doing the talking. It's early yet, but both his catty remarks and his overall appearance remind me of an older, pudgier BB8 Dustin.





Paired with Natalie

Yep, he's a pig. He's kind of fun though: tonight he gave out his phone number and his email. Don't bother calling him though: his voicemail box is full.





Paired with Matt

Reality gold in every way. She acts like a flower child of the free love 60s and she looks like gymnast Olga Korbut or the forgotten older sister of the Olson Twins.





NOMINATED
Won: $5k
Paired with Jen

You gotta feel for this guy. All signs point to him walking the plank on Wednesday with ditzy Jen who'll be the one who landed him there, and he really wants to stay and play this thing. If you aren't watching, you'd swear Tim Meadows is on the feeds.





NOMINATED
Jen's boyfriend/Paired with Allison

Yawn again, but sympathy upgrade in advance to neutral because CBS is never going to let all the 'Ryan's racist' stuff go by unaired. He reminds me of an ordinary guy from the Midwest who has a bitchy girlfriend.





Paired with

Jacob (her ex)

Joshuah

This girl's got solid game and if she can win comps, she's got a good chance to go far in this mess. I'm hesitant to give ups since I have a feeling she might think God is rooting for her here but I'll neutralize her for that later if it gets confirmed, as I'm pretty sure God has other things to worry about. Going by looks alone, she reminds me of BB4/7 Alison.





Paired with Adam

She's real smart and I don't know if her professed ignorance of BBs past is accurate or game, but even if she doesn't know much about the show she seems to have enough street smarts to deal with it. She says she's been told she looks like Jodie Foster which sounds about right but in essense, not looks, she reminds me a bit of BB5 Karen. I'm liking how she's become Allison's higher power, spewing wisdom & knowledge from atop her pedestal along with theories of how 'Two Girls, One Cup' was made.





Paired with Joshuah

He left suddenly and mysteriously. He surfaced on his MySpace and confirms he won't be back, but that he didn't leave for health reasons.





Paired with Sharon (his ex)

Gone before the feeds kicked in: he didn't even make an appearance. All that potential for rehashing their breakup and/or a jealous rage up in smoke. To make it worse, he & Sharon didn't even get an exit interview in Julie's boudoir - how rude!



Please do not repost any content from this site (or any other) without permission, and do not repost or hotlink to any images
!! THIS MEANS YOU !!

THE FEEDS ARE ON!
TWO WEEK FREE TRIAL

This year for the first time, you can sign up for monthly renewal
or save with a three month subscription
- and both come with a 14 day free trial!



LATEST TWITTER


posted :
""

Get free Hamsterwatch updates to your cell phone! Text 'follow hamsterwatch' to 40404 to sign up (21212 in Canada). Click for more info






UPCOMING COMPS


Food comp will happen eventually. Sometimes they put food comps on the feeds, sometimes not. HOH comp will probably be live on Wednesday's show.






POWER STATUS


Alex & Amanda are HOH
Allison & Ryan and Jen & Parker are nominated






RATINGS WATCH


Sunday's show tied for the #3 position with 'The Simpsons' and 'King of the Hill' on Fox with a 4.1 rating and 6 share, behind 'Extreme Makeover: Home' on ABC with 7.3/11 and 'American Gladiators' on NBC with 4.3/7.







NEXT SHOW


Tuesday, February 19 at 9pm: veto comp, Neil/Sharon swap, and assorted dramas






EXTRACURRICULAR TALLY


Sex: 2 (Jen/Ryan)
Oral: 2 (Natalie/Matt)
Self-service: 1 (James)
Nekkid party favor: 1 (Natalie)
Nekkid party trick: 1 (James)
Major fights: already too many to count

You can see it all with a monthly
or quarterly
feeds subscription. Both include a two week free trial with no obligation to buy.









LINKAGE


Click to see my full list of BB9 links. These are some of my favorites.

24/7 feeds - 14 day free trial
see everything that happens before it gets edited into something else for tv

No time-out feed links including set-up how-to, plus Real contact info

Hamsterwatch Chatroom

Hamsterwatch Forum

BB9 adult/explicit links

CBS Big Brother 9 the official site

DogDave BB9 by any name, still the first to find big news, all the edgy stuff & the best mini-recaps in town

Attw x's houseguest tributes all seasons fun & reference by BB's number one fan

BuddyTV - Big Brother 9 TV supersite with news, articles, discussions

Sir LinksALot Big Brother 9 all the links

Reality TV Links - Big Brother 9 emphasis on individual hamsters' sites










THANKS FOR VISITING


Donations are gratefully accepted through Paypal using the button below or direct by email. Please support other BB9 sites that you like, too. Many thanks!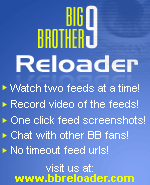 This site isn't necessarily thorough: it's what I catch and/or what interests me. It also isn't necessarily about who should win, who will win, who I'd be friends with or who is cute. It's about watching hamsters: which ones are doing what and why, which are fun and which are dull. If they aren't entertaining, get rid of 'em! Thanks for encouraging my behavior.