February 17, 2008 - Day 10





>>

Amanda & Alex are Heads of Household - Allison/Ryan and Jen/Parker are nominated

<<

>>

Matt & Natalie did not use veto

<<



No veto for you




The flames went away and we came in on Jen telling Parker "It's finally settled in - one of us is going to leave" - meaning her or Ryan

Now comes the harsh reality of reality tv and the bitterness that goes along with it.. now the show really begins

After last night's wild shenanigans, I sure hope they take it easy today & tonight: I need a rest

I've started Caption This for BB9 on my MySpace - click on over and contribute your best! You'll also note a new tally on the sidebar here to keep track of their extracurricular activities

After her selfish crack to Parker, Jen went off to commisserate with Ryan.. Natalie re-pink'd James' hair after steaming awhile.. Chelsia added a pink streak too so they could be the Pinkies team, but hers barely showed up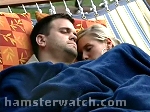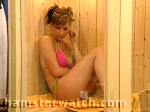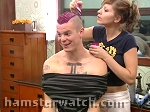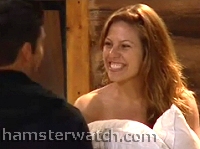 Matt put in his requisite 30 daytime seconds with Natalie, then went off to work on Allison.. his charms (?) seem to be working on her - well, it is attention

Afterwards he told Alex & Adam how he plans to woo all the girls to get their votes

He also gave them a warning about Natalie with this whopper: "Every night she tries to touch me and I have to say nope"



Fight night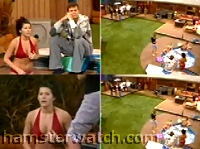 They sat around talking dirty for Showtime, and then all the shit that Amanda's been stirring hit the fan

I'm not even sure how it started.. I think Chelsia got wind that Amanda had been talking about who needs evicting - which included her & James - and she stormed out to the backyard and ripped into Amanda, to everyone's amazement (and feedsters' delight)

The two of them went at each other for a few minutes.. Joshuah joined in with all kinds of nasty personal stuff toward Amanda, and it wasn't long til all the "Alex touched me" stuff came out

Fights this big rarely happen with so many involved and so many still in the house, and it was a good time for feedsters - see ABT's caps.. it ended with Chelsia saying Amanda should just go hang herself and Joshuah adding "like your dad".. Chelsia later apologized for that - Joshuah didn't

That was enough to send Amanda into hysterics as she retold it with great gulping sobs.. she disappeared to Diary for more than an hour while everyone else rehashed in small groups, then all 13 rejoined to relive it again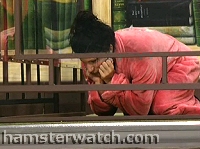 When Amanda finally returned, she passed through and said good night.. Joshuah said "fuck you" and she was off again.. her pity party went on more than an hour in her HOH bubble bath, with a few rotating guests in attendance

Parker finally told her she should stop bringing up her dad and learn to move past it

When he'd had enough and left, she cried alone for a little while before the feedmasters left her in peace, but she couldn't stay away.. she crept out to the balcony to eavesdrop, then apparently not hearing her name, she came back downstairs to rehash some more



Daily videos






Matt sweettalks Allison, the boys talk about the girls, Chelsia/Amanda/Joshuah/Alex/et al huge fight; Amanda returns from Diary; and 2am Jen/Ryan fight with follow-up Sheila/Jen fight are posted in the forum and at Veoh, linked top & bottom of every page



Daily ratings - Maximum drama edition






Ratings are based on entertainment value



Sunday's show was pretty dull, which is sad considering it's the first one that hasn't gone up against 'Idol'. Most everything they covered was from before the feeds came on and we already knew the outcomes, but I can't see it as being a very interesting show for non-feedsters. Adam provided the comic relief (I told you he'd be the new Cowboy).. I wonder if the 'uncut' word & theme was a first for primetime network tv? It was obvious who'd be nominated just gauging by the amounts of airtime alone, but I have to wonder why Ryan was the star of this episode: he's the dullest one in there. I guess they want to squeeze the last bit of life out of that lame twist so they're pimping it up big while they still can. Sheila's time was a rerun of her gripes about Adam (past history), and Chelsia, Joshuah, James, and even Natalie were barely acknowledged. Neil was noticeably absent: his exit should be covered on Tuesday - he left a few hours after noms.

Game-wise, while the whole 'soulmates' and 'matchmaker' slop turns my stomach, the forced pairings have turned into a good thing, creating lots of unnecessary chaos and drama, wheee! This is what Big Brother is supposed to be. The namesake and original Endemol concept aren't about a romp at a well-stocked summer camp, no. By definition, Big Brother is supposed to mess with their heads and their game, and we've finally got that going on.




Paired with Sheila

He was present for da boyz talk and for Chelsia versus Amanda and its many rehashes, and he almost got started on one of his speed raps a few times but alas, too many others were able and more than willing to take center stage. He's funny when he gets going, but he doesn't get going enough. Last minute upgrade to neutral for his lost look getting caught in yet another fight, this time between Jen & Ryan, and his syllablesquashingrapidmumbling about all the drama going on.



Co-HEAD OF HOUSEHOLD
Paired with Amanda

If this was the first time he'd heard about Amanda's accusations, he handled it all extremely well - especially since the 'rape' word was used. He didn't get upset; he barely even acknowledged the accusations. Instead he turned it all around and became the peacemaker, deflecting everything away from him, and later he said and did everything right when Amanda came back for more. This guy's a born diplomat, and even though he's saddled with the nutcase of BB9 as a partner, he's smart enough to proclaim that he's not going to sleep in the same bed with her anymore, nor spend any more time alone with her than required by law.





NOMINATED
Paired with Ryan

She got a second wind today, largely due to Matt's flattery I think. She worked her way thru the troops and tried to ally herself with most, but she made a few faux pas along the way. She's funny to listen to: she can't seem to communicate a complete thought without going off onto mumbly tangents, and she uses logic that not only defies all logic but is mindboggling to try to follow.





Co-HEAD OF HOUSEHOLD
Paired with Alex

Everything that happened tonight was her doing, but she ended up playing the victim anyway. She seems to justify whatever she does and says so nothing's ever her fault. She's got the stir-it-up qualities of BB5 Diane and the pity party talents of BB6 April wrapped into an attention slut package of epic proportions. That all adds up to reality gold and while I feel for her situation about her dad, I also think she shouldn't be here if she has to bring it up every hour. Not to mention the fact that CBS is going to be merciless about it. Her grand finale was going around telling anyone who'd listen that Parker's jealous of her & Alex.. (I think they've both put in requests for 10 foot poles.)





Paired with James

Wow! Who would have guessed she'd be the one to start all that?! She did great, she made good points without getting flustered, she dropped trou randomly, and she didn't back down. She also apologized to Amanda for the comment she shouldn't have made. Ups all the way for this spitfire for starting off such a fun night, and kudos to her for making sure nobody will attempt to walk all over her from here on out.





Paired with Chelsia

He was in the middle of everything and his name came up a few times, but he pretty much let his partner do the fighting for his team. I'm a little stunned though, having seen his porn video.. this guy doesn't need to be pretending to do a world bike ride or dressing up for Big Brother: he should be making a sequel to 'Boogie Nights'. At least now I know why the macho boys haven't tried to push him around.





NOMINATED
Won: $5k
Ryan's girlfriend/Paired with Parker

Her entertainment stock has really dropped, and her self-centeredness keeps climbing. After the veto wasn't used, she cried to Parker how she & Ryan are going to be split up, and she whined for awhile to Allison about the same thing. Apparently she hasn't yet grasped the fact that both Parker and Allison are nominated too, and one of them is going. In spite of the multitude of great lines tonight, she wins Line of the Day award easily with 'She's part of my final four, isn't she?' BTW, she's hoping/expecting Ryan's going to propose to her at the finale. He picked a 2am fight with her that picked things up again, and she defended with rapidfire excuses about what she did or didn't say to Sheila about him being racist. Like Amanda, nothing is ever Jen's fault.





Paired with

Neil

Sharon

Cautious ups for the drama he helped to supply, but I'm going to be careful here because his stuff was so nasty and so personal, while the others pretty much kept it on game and events. We already know he can be cattier than the girls, and I'm wondering if we could have another Dustin in the making here.. most everybody in there and out here liked him early on, too.





Paired with Natalie

There's no doubt he's a pig. His tactics with the girls are bad, especially the way he trashes Natalie by day but lets her service him at night, but it's kinda funny to watch him set his sloppy traps and see the girls just keep walking into them. It'll probably all get real ugly before long, but if they're falling for that stuff, they deserve what they get. Maybe falling for such blatant crap will land one of them in second place, just like BB7 Erika.





Paired with Matt

I just don't know what to say about her. She seems fairly oblivious to the game, but that's not why she was cast. She seems to be either an incredibly well-adjusted free spirit with no hangups (as advertised), or she's got the kind of emotional damage that BB should never have let through the door. I hope it's the former but.. well.. time will tell. She does spice it up though, and I can't get enough of her variety of facial expressions.





NOMINATED
Won: $5k
Paired with Jen

He's trying to mind his Ps and Qs since vote talk is serious now, but he's just about had it. During the big fight tonight he stayed mostly offside even though his name kept coming up, and later he said he was going on strike and wouldn't answer Diary questions anymore. You can't blame the guy: he was paired with a ditz who couldn't keep a secret more than a day, and he's likely to go out the door with her through not much fault of his own. I kind of hope he stays: he's got loads of fun potential, and he's the one who had the nerve tonight to tell Amanda to stop using her dad as an excuse.





NOMINATED
Jen's boyfriend/Paired with Allison

Yawn. As amusing as Allison can be, this guy is a lump and has to go.

Overnight update: he confronted Jen about having heard that she'd said something bad about him, but even in a couples fight he's not much fun.





Paired with

Jacob (her ex)

Joshuah

I like her style. She sat back during the fight but got busy afterward in all the right small groups. She knows how to play this thing but unfortunately for her, her partner has a mouth that's just a little too big and a little too nasty for this game, and that will end up costing them both in noms and/or votes if they stay teamed up.





Paired with Adam

See Sharon, with the exception that her partner is just a doofus. Doofuses tend to do pretty well in this game.





Paired with Joshuah

He left suddenly and mysteriously. Details to follow as/if they become known.





Paired with Sharon (his ex)

Gone before the feeds kicked in: he didn't even make an appearance. All that potential for rehashing their breakup and/or a jealous rage up in smoke. To make it worse, he & Sharon didn't even get an exit interview in Julie's boudoir - how rude!



Please do not repost any content from this site (or any other) without permission, and do not repost or hotlink to any images
!! THIS MEANS YOU !!

THE FEEDS ARE ON!
TWO WEEK FREE TRIAL

This year for the first time, you can sign up for monthly renewal
or save with a three month subscription
- and both come with a 14 day free trial!



LATEST TWITTER


posted :
""

Get free Hamsterwatch updates to your cell phone! Text 'follow hamsterwatch' to 40404 to sign up (21212 in Canada). Click for more info






UPCOMING COMPS


Food comp will happen eventually. Sometimes they put food comps on the feeds, sometimes not. HOH comp will probably be live on Wednesday's show.






POWER STATUS


Alex & Amanda are HOH
Allison & Ryan and Jen & Parker are nominated






RATINGS WATCH


Sunday's show tied for the #3 position with 'The Simpsons' and 'King of the Hill' on Fox with a 4.1 rating and 6 share, behind 'Extreme Makeover: Home' on ABC with 7.3/11 and 'American Gladiators' on NBC with 4.3/7.







NEXT SHOW


Tuesday, February 19 at 9pm: veto comp, Neil/Sharon swap, and assorted dramas






EXTRACURRICULAR TALLY


Sex: 2 (Jen/Ryan)
Oral: 2 (Natalie/Matt)
Self-service: 1 (James)
Nekkid party favor: 1 (Natalie)
Nekkid party trick: 1 (James)
Major fights: already too many to count

You can see it all with a monthly
or quarterly
feeds subscription. Both include a two week free trial with no obligation to buy.









LINKAGE


Click to see my full list of BB9 links. These are some of my favorites.

24/7 feeds - 14 day free trial
see everything that happens before it gets edited into something else for tv

No time-out feed links including set-up how-to, plus Real contact info

Hamsterwatch Chatroom

Hamsterwatch Forum

BB9 adult/explicit links

CBS Big Brother 9 the official site

DogDave BB9 by any name, still the first to find big news, all the edgy stuff & the best mini-recaps in town

Attw x's houseguest tributes all seasons fun & reference by BB's number one fan

BuddyTV - Big Brother 9 TV supersite with news, articles, discussions

Sir LinksALot Big Brother 9 all the links

Reality TV Links - Big Brother 9 emphasis on individual hamsters' sites










THANKS FOR VISITING


Donations are gratefully accepted through Paypal using the button below or direct by email. Please support other BB9 sites that you like, too. Many thanks!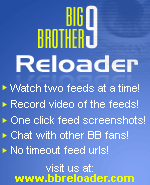 This site isn't necessarily thorough: it's what I catch and/or what interests me. It also isn't necessarily about who should win, who will win, who I'd be friends with or who is cute. It's about watching hamsters: which ones are doing what and why, which are fun and which are dull. If they aren't entertaining, get rid of 'em! Thanks for encouraging my behavior.