August 20, 2006 - Day 49



>> BB7 Park by TD
>> to the future >> to the past >> daily index
>> latest HamsterWatch episode >> linkage

>>

Boogie is Head of Household - James & Janelle are nominated

<<
>>

Janelle won veto

<<



It's Random Day






If this were an interactive site, this would be the Create A Caption contest.. but I'm woefully behind on the day's events and life intervening on top of a most hectic weekend makes me insist that you do not send me caption ideas for them.. but please to enjoy:



Random Day works like this: I'm starting extra-late and there's not much rhyme or reason to what's about to unfold on this page (and may not be unfolded for awhile) but there were a few key events today and more than a few tweaky caps that must be shared

Although quieter, James is still rampaging when I first see him and most everyone agrees it's time to wrap it up.. post-event to bedtime is the allotment for emotional trauma this week and he's going over the limit.. Will tries to deliver a GREAT BIG hint by falling over after kicking himself playing house-soccer and having the longest, loudest, whiniest hissy fit seen yet.. it's good stuff


It doesn't really "take" though and James starts up again: he's not going to wear his mic, he's not going to adjust his mic, he's not going to go to Diary til he can see the shrink & his contract, he hasn't spoken to Janelle yet and won't, etc etc

He gets a little creative with it after awhile anyway.. Danielle coddles him and George pitches in and the experienced parents are effective, eventually.. Boogie checks out from it all and George sports his Aruba Scuba shirt from his HOH stash


James: I'm not gonna play nerf basketball so they can get extra footage of me looking like an idiot
James: You cannot restore my faith in the game by throwing me a deck of cards
James: 'Your house is on fire, here's a water bottle' 'Oh thanks'
....
George: Jamesy, you don't want to quit
George [after much harangue]: Jamesy, there's one thing I'll agree with you on
....
James: It's a television show George, it's not a reality show
....
James [later]: No more half real/half acting shows for me

Will takes a later shift too and talks about the (most excellent) VH1 series "Gene Simmons' Rock School" and how Gene picked the horrid obnoxious loud kid who can't sing (The Emperor) to be lead singer because he had the proper rock 'n roll attitude, but the other kids all complained and said "Not him, no way - we quit!".. the analogy's there if you saw the show, trust me.. I don't think James got it either



Random decor




Future show filler spoiler alert

Call him a crackpot, call him a coot, but there's a lot more to George than he's let on so far this season, as BB1 (free) feedsters know well

He's finished redecorating the red room (redrum) and it's got some amazing stuff in there now



After dedicated closeups of the mini-masterpieces we have some flames, followed by George coming in from where he'd been, standing at the door and giving the place a loving lookover.. I guarantee this is a setup for an upcoming show filler segment, time allowing.. (maybe all this colorful juju will change the big big eviction bed's evil spell)


By the way, food comps may be over for the season.. Janelle explained one night that she'd been told last year that her PBJ pass was never redeemable since they had too much material to put in the show after that and didn't need the food comps for filler.. we're likely to have far more to pack into the remaining fewer eps, so I'm guessing that's the end of that and George is just outta luck unless he gets another HOH

Later George headbangs alone to Jay-Z, surprising a few more feedsters.. James doesn't change much til later but he quiets down.. I rarely see Erika anymore but she's just a mess lately.. hamsters that do better when nominated than not are a rare breed



Will says he's never played chess before so he sits down with Janelle to learn.. the BB/chess symbolic crossover starts up anew - it's funny & eerie: they move out the pawns first one game, then the knights & queens another.. Will takes her king in one game and they argue/banter over him not saying "check" versus her not explaining properly that he had to, etc


Janelle [explaining the pieces]: This is the king, this is the queen
Will: I'll name this one Will and this one Janelle
Janelle [indicating the queen]: This one's the most powerful
....
Will [indicating the queen, early in a game]: Can I move the princess there?
Janelle: You don't want to do that
[he moves his queen out and she takes it a couple moves later]
Will: Your queen's the most valuable player isn't it? I just realized that
....
[later]
Will: Janelle, I'm super bored and you haven't been flirting with me today
George: Uh oh, the doctor's gotta have his ego rubbed today



I'm skeptical that Will's never tried chess but it could be true.. I also remember Janelle explaining to Diary last year how she figures out how people think by the way they play



Later still they run yard laps then walk umpteen more, chatting about all kinds of things and inciting all kinds of rumors.. they do some lunge 'n stretches after that


Danielle also does some lunges and plays some games but it's not the same.. she does however finally have James toned down and looking at all of it with perspective, and maybe acceptance.. she does some jedi-style studying with Erika at the hot tub.. later she ends up looking like a shopping cart lady and she apologizes to us for that


Maybe inevitably Will & Janelle end up taking tandem showers, surprising everyone and no one.. it's Bath Buddies made new again, and that's also the topic of this week's Pay To Play trivia game.. everyone beds down early but Janelle's back up again.. she sits in the bathroom with her Bible for a long long time



Game-wise nothing much changed today.. The Plan is going along per plan: Willboogie worked out next week's tentative moves and gave Janelle her assignments, and she challenged them some.. she cozied up a bit extra to George so she may yet fly solo.. of course they might bail on her again too, this is always a given possibility.. Danielle & Erika know they're in trouble but aren't entirely sure why.. James should go quietly now when he goes, but there's always a possibility he won't.. George was asked/warned about going up as a pond/pawn - he agreed, tentatively (not much else he could do about it)

Videos are few today.. I have a litany of excuses why but I'll spare you the details

Willboogie discuss plans for next week: part 1 - part 2
Willboogie discuss above plans with Janelle: next week - finals
Danielle & Erika discuss/argue voting James vs George



Gnomes & trolls




There's another eviction show today too

I gave Howie a nice send-off but I've got a complete collection of their visits to Julie's boudoir so far and hope I get them all, so here we go again

We'd heard so much about Howie's surprise nom & eviction, it isn't surprising that the buildup made it sound worse than it apparently was, but you know I always take editing into account - we can never be completely sure of anything we didn't see happen.. it wasn't the classiest exit by far, but Howie's never been accused of being the classiest hamster either.. all things considered (and there are a lot to consider on this one), I think he went out pretty well, and in true Howie fashion.. no comment on his fashion choice for the evening though

He hugged all but Willboogie and gave encouragement with the hugs.. two of them were particularly meaningful.. I'm not a bit surprised he popped off to Willboogie - he was the first BB7 Chilltown casualty who knew what hit him.. I'm glad he got into Boogie's face and scared him, and I'm not at all surprised he didn't do anything worse than mouth off and toss a hat


Boogie's "class act" crack was so much whack as he chucked Howie's key down the hall in almost the same breath.. Howie was composed quickly and did well with Julie - again with all the many things considered, he did damn well


I'm also glad he outed that The Power was out, and I have to ask once again WTF is Julie's agenda this year? Having a script handy is one thing but if she can't handle an exit interview based on what her subject is saying, maybe it's time they put the whole live show concept to bed once and for all

Come to think of it, this wasn't even a live show so why on earth did she ask (and why did they keep) her asking how Howie now feels about George, when he'd just told her (accurately) that Chilltown was the reason he was sitting there and that Boogie had threatened Georgie to make it so? Julie & friends flunk again

I have absolutely nothing to say about what followed

Linkage

Today's must-click specials:
Janelle & Howie and Janelle by BBsovFan06 (1st & 2nd efforts at these, believe it or not)


Daily linkage just highlights unique sites now - check the new links page for more

Aldav first to find big news, all the edgy stuff & the best mini-recaps in town (adult content)
Screencaps refresh site is back from bbfan
Houseguest Tributes videos, quotes, pics from all seasons by BB's number one fan Attw x
Househappenings in-depth Big Brother analysis by IA aka It's Aawwn
Photochops by C=Venus - also try Destroy a Hamster by Johnbb
Big Brother Keyhole peruse various BB sites in the same window, feeds too

Reality TV Links - Big Brother 7 emphasis on individual hamsters' sites
Sir LinksALot Big Brother 7 All Stars all the links
Patrick's Place One-man BB show, 20+ streaming cams including his car
Another 2 cents quasi-intellectual sleaze & radical gumbo aka blog - off for the summer
RealOne SuperPass 14 Day Free Trial
Using this link helps support Hamsterwatch, thanks

CBS Big Brother 7 the official site, plus Housecalls live weekdays 10am BB/1pm ET
CBS Innertube same-day Housecalls and next-day air show replays

Hamsterwatch Big Brother 7 Navigation tool for that dingo's daily recaps on this site
Hamsterwatch MySpace
Hamsterwatch on YouTube BB6 & BB7 videos off the feeds
BB7 Park by TD South Park-inspired versions of the goings on
No time-out feeds links Easy how-to plus Real phone numbers

Big Brother Top 100 all seasons, many countries - Hamsterwatch is #1 wow!!
Big Brother 7 All-Stars Top 50 Hamsterwatch is #2 wow! thanks for the clicks



Please read before linking to pics, 'borrowing' or stealing any content from this site - this means you


Click for no time-out feeds links
and Real phone numbers

Additional bandwidth graciously donated by


Site problems should be clearing up - huge thanks to MacroShell!






RATINGS WATCH


Sunday's show won the time slot. Next show is Tuesday at 9pm. Finale is Sept. 12

All-stars still aren't top Googles



Click to watch Howie & Janelle talk about Reality Chicks gear
Official Howie merchandise and more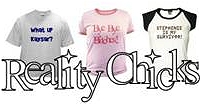 Random Day edition
Ratings are just what they are - no more, no less
High-speed double eviction week #1 is a wrap and we're back to our regular schedule, for now. I figure we need two more double evictions to finish in time.





I don't think Julie's said anything about Janelle's won & lost 'HOH comp advantage'. Beyond (whatever) she didn't receive, this one's almost serious, Hamsterwatchers: it involves cash. If you spent 50¢ to text 1 to 15 votes for Janelle you should call your cell provider and demand a refund, citing 'wasted/unused text vote for CBS Big Brother America's Vote', particularly if you only voted to give Janelle a boost. You can also call your local CBS station or CBS headquarters in New York at 212-975-4321 - ask for Legal Department and lodge a complaint. 50¢ isn't much but I'm sure those vote fees added up nicely for them, and they didn't provide what was promised or a reasonable alternative. If you voted for someone else, you just gotta suck it up. Yes, maybe I'm going overboard on this but money's money.. I'll call it off if they or anyone offer me a writing/editing/creative dream job. (crikey, how many years do I have to beg? The season's almost over, meaning I'm almost back to slop.)

Sunday's 'special edition' episode comments, in random order: They've made it seem like it's been a full moon there for more than a whole month now. They're shifting the edit now to be a bit more anti-James and pro-Janelle, so their storyline will make sense again if they continue to present something at least similar to what's going on. (It looks like they aren't sure what to do with Erika either.) I often wonder who gets sent out to the grocery store or drive-thru for them, but even more now after seeing the high-quality bondage cuffs they used at the HOH comp.. those are pricey. Howie's Busto II wasn't as bad as advertised - maybe we & he should thank editing for that one, and it now seems to me that Boogie's coup was conveniently forfeited at this opportune time since Howie outed him on air as saying 'we have it' in the infamous redrum meeting between the quickie evictions.. they could have easily edited that out but maybe they kept it for extra proof that Boogie spilled his beans? I dunno, it was weird to hear it on air since it's moot no matter how you slice it. Gnome comp #1 was downright Boo-licious between cuteness & skill but Gnome comp #2 was abysmal and downright rude.. thankfully they kept that down to about 3 minutes of air time. All in all a good ep with editing I'm optimistically counting as positive and much has now been made clear, kinda. BTW ups are for the show - not Tiaragate.





HEAD OF HOUSEHOLD
Lost his Coup
He says he wants to win for the street cred but if it happens, that probably won't be the result. He's doing the true dirty work for Will this time - voluntarily - but he won't come out smelling as sweet due to some general creepiness and let's face it: that drinky, messy 'gonna kill that whore' business probably isn't going to go over so well in the biz circles he runs in; and the Hot Pimp'n crowd he thinks he runs in will laugh him outta the 'hood for later teaming up with her. Howie didn't go out quietly but the edits show Boogie was the one who over-reacted, and he also looked genuinely scared for a minute when Tropical Storm Howie got in his face, not to mention relieved that he had to leave right away to walk the plank for an appointment with Julie.





Props for doing the mom thing and doing it well in helping to bring James back to earth. It's irrelevant that she's only a few years older than him - mom/kid behaviors can happen at any age. She's in a tough spot now game-wise: James going ballistic leaves her no ground to argue to keep him, she isn't pleased with George but has an open free pass still promised to him, and she doesn't want to risk losing her sole remaining minion Erika either. Just like Week 1, she overplayed these last couple of weeks and unless she or Erika can pull a Coup for the next HOH & veto, it looks like she'll be off like a prom dress very soon. More ups for her late night shopping cart lady look and subsequent apology to us for it. She doesn't know how to stop when she's ahead, but talking to herself/us about maybe having to join up with Janelle to survive would be fun to see, and her tagline 'may the best bitch win' is easily the line of the day.





She looked like death warmed over today but I'm not sure if she had specific complaints or is just being overshadowed by everyone now, even George. Sorry Erika, but Amber Alert players are only allocated a choice of two headaches, one vomit/fall combo or one broken rib per season.. you've exceeded your limit.





My head's still spinning from all this and I'm still unclear exactly how his whole HOH stint unfolded, let alone how it came across to the tv-only folks. He's a good guy though, he made a major game move along with amazing redrum decor pieces, and he seems to be in good stead with the new power alliance(s). P.S. George isn't sulking cuz he didn't get to play Gnome Pie and so doesn't have a matching fairyland pic here.. he's listening to James.





NOMINATED
It took a day too long but he came around tonight and seems not only back to normal, but even better: he seems to be back to something closer to what he's probably like outside of this mess of a game. I never thought he was a truly horrible person but I despise what he becomes in there and I hope he'll relax for the next couple of days and go out as graciously as he can. He was being funny tonight along with calm, reflective, reasonable and nearly objective (at least til Danielle wound him up again once it was safe). If they give him some origami paper he could even become Tuesday's or Wednesday's star of the day for positive reasons - I'd really like to send him out like that.





NOMINATED
HOLDS VETO
Rumors are swirling like waffle batter about she & Dr. McDreamy being and/or becoming a real thing and I have to wonder why so many can't accept Janelle having fun & flirty friendships with the Howies, Kaysars & Wills of her world? On the other hand, they sure do seem to have some sparkly chemistry. I love the fact that The Plan's working so well that despite she & Willboogie each proclaiming they have to oust the other, she & Will keep hanging around together and that's gotta be parannoying the rest of them something wicked. She threw a wrench into The Plan though by telling Willboogie that she'd promised never to vote against James and that speaks volumes for her character. She may end up doing it and even without considering anything else that would be tit-for-tat just for him nullifying her Kaysar vote, but it will still eat at her. Another reason many of Janelle's fans are fans: she seems to believe that how she plays the game is more important than whether she wins or loses. If I'm naive or foolish in thinking that, I'm glad - all this cynicism takes a lot of energy and I'm plum out of that.





He's working overtime now to get his devil duckies in a row before all the current suspicions really come out in the open and the next week or two should be interesting however they unfold. His many attempts to calm James down were amusing as hell even if many or most went <whoosh> over their target's head. See also Boogie and Janelle.






Love him or hate him, nobody can deny he's an individual. Two years running he's stayed truer to his partners than anyone while staying on good terms with everyone on all sides, in spite of behavior that would get most arrested. His act gets old and he drops trou a lot, but he's almost always upbeat and his heart is solid gold. We'd all be lucky to have a friend as loyal as Howie.






He had early alliances galore but blew them all off to mope & complain instead. Editing was far from kind and didn't even give us his best but it's his own doing (like most of his problems are). Hamsterwatch Most Photogenic award winner, especially since he started posing for renaissance paintings.








He said his heart wasn't in it this year and that he was saving his big moves for later: both fatal in the BB house, and not kicking out Will when he could was pivotal to the season. But he shaved his head for the game and stopped twisting his hair too. Good to see him again and overnighters especially will miss him.








Sadly, she didn't stand a chance this year. She came in defeated & involved in a feud, and lost all her partners. Mrs. Smith didn't give us the fireworks she's capable of but she's always an all-star in my book and I wish her well.








His alliances and behavior were all over the map this time and both got him kicked out. He went out the back door again but it wasn't intentional this time. So long, mirror-face.








Not the most charismatic and she didn't start playing in time, but each side kicked her out so the other couldn't have her. Kudos to her for having the guts to return.








She worked out and hid in a vase but the potential for catfights & dramatics left with her. She didn't live up to her skanky rep: good for her, bad for us.



Purchases made through sponsor links and free trials will help me keep this site going. Paypal donations by email are also hugely appreciated. Please support other BB7 fan sites that you like, too. Many thanks!





This site isn't necessarily about who should win, who will win, who I'd be friends with, or who is cute. It's about watching hamsters: which ones are doing what and why, which are fun and which are dull. If they aren't entertaining, get rid of 'em! Thanks for encouraging my behavior..

that dingo