August 5, 2006 - Day 34



>> BB7 Park by TD
>> to the future >> to the past >> daily index
>> latest HamsterWatch episode >> linkage

>>

Danielle is Head of Household - Janelle & James are nominated

<<
>>

Janelle won veto

<<

Hamsterwatch.com is sick - the page may load slowly and graphics extra-slowly
Please be patient and don't hit refresh repeatedly.. thanks



She did it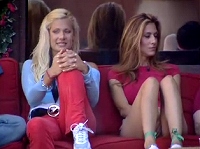 The flames and WAY TOO LOUD music go away and true to form, Janelle's wearing the veto - watch the video

I'm not discounting anything I said yesterday.. I fully expect the rest of the day & evening to be rants of Maggie-April-Ivette proportions from several of them, and I don't want to spend the rest of the summer documenting hate speech again.. we'll see what happens

The comp was a graveyard with swirling fog.. something about lying in hot sand, in the graves maybe.. Will says it was probably designed to be a night-time comp.. it was long enough that they had a porta-potty out there

It sounds like they gambled points and they aren't even sure yet who got what.. unconfirmed prizes/penalties included 4 days of slop for some (Kaysar, Howie, Erika and Dani, plus George I think but his pass cancels it), 24 hour solitary confinement (Danielle, in the gym), a margarita party for the house (James), a phone call (James again), $5,000, a trip to Aruba (Will), a plasma tv, sleeping on cots/no hot water for a week (all), a no slop pass for the season (Marcellas), and losing the opportunity to play for next week's veto (Will, I think)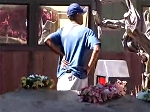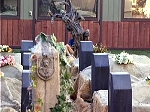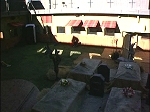 I think Marcellas & Willboogie played along with Danielle & her two nominees.. Erika hosted, kinda - a Michael Sullivan (producer or PA?) asked the actual questions - Erika says she'll be edited in later pretending she's asking them live

Who got what is confusing since Willboogie are saying Marcellas got stuff he may not have.. Willboogie are already hard at work planning their next moves, before they're even released back inside.. Will says he's going to start playing now.. some of them are predictably not happy.. some don't seem to care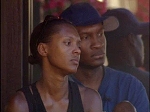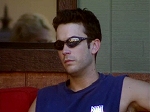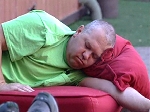 James [to Willboogie]: Keeping this bitch in the house is driving me up the wall
James [to Janelle]: The competitions aren't fun anymore.. slop isn't fair to the men
James [to Janelle]: The competitions aren't about individuals anymore, it's about how bad you can fuck the other houseguests

They wait a long time when it's over and eat pizza.. most of them get to work, talking up new strategies, deals, etc.. I'm not keeping up with all the details of every convo anymore - it's all transitory anyway.. the real deals will become clear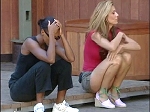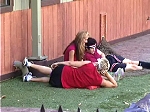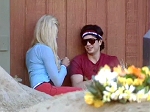 We find out with them what took so long: all the beds are gone and replaced with cots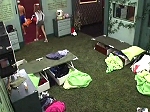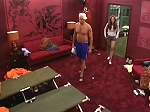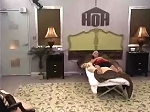 James is especially not happy with this - watch the video.. he won a phone call and margarita party (tonight I think), but BB says the new sloppers can't join the party which doesn't please anyone.. Boogie moves into HOH

Howie takes out his bag of Kaysar's hair that he says he'll sell on Ebay.. James keeps complaining about Janelle and how she screwed the house, saying they'd all agreed not to.. she comes in still wearing the veto and has a fun moment with a scorpion and being scary, and chats a bit with the BB6 guys about the comp and how it worked - watch the video.. then goes off to nap first on the balcony, then back to bugs & platitudes where George is sleeping & farting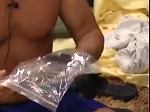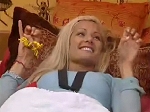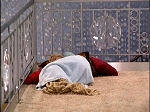 Solitary confinement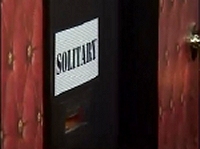 Danielle moves in to her new home

I think she goes straight from Diary to the former gym.. George & Erika escort her to the door without fanfare - most of them don't even know she's gone yet.. she looks over the accommodations and lays down in a corner - watch the video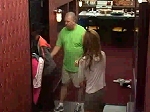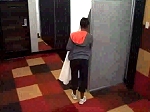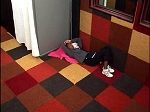 Big mean Dani of the last few days looks very small in there.. she takes out her Bible but within a few minutes she's crying.. it's kinda sad - watch the video.. then she remembers we're watching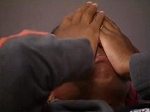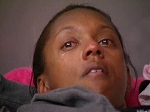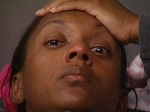 Danielle: Stupid idiots, just idiots
Danielle: I wanna go home.. I'm tired of this stupid game and these stupid people

Will & Kaysar have a kind of high-fiving, giggling/whispering moment as they pass each other.. Will says "They don't even know!" - watch the video

Cold water and no beds for a week, plus slop for some.. Erika's crying to Kaysar.. she says she can't go two weeks on slop "one maybe, then skip one, then I could do another but not two in a row".. they say it's wrong that Danielle's in there like a caged animal.. Will comes along and gives them advice about what to say in Diary - watch the video - it's funny stuff (strong language)

Boogie comes along.. Will talks about going on strike: the sloppers should go outside and join the party, they should all take their mics off, they should stop speaking, etc - watch the video.. George doesn't mention anything about the BB1 walkout he almost organized after they ran out of toilet paper and BB wouldn't give them more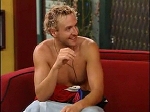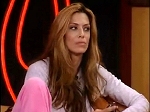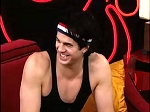 Will: Howie did nothing today, but now he can't eat, he can't sleep, he can't shower.. that's all he does in here



After inciting the others to near-strike, Will figures out the kitchen still has hot water and proceeds to wash his hair.. Howie & Erika each help - watch the video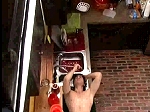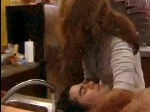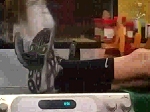 That works out well so he takes a kitchen shower too - watch the video

James is complaining again/still while Kaysar deep-cocoons.. this time James complains that Marcellas took all the big prizes in the veto comp (mostly because Will's spreading that around).. the BB6ers say they have to win the next HOH, like they do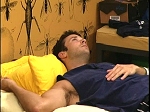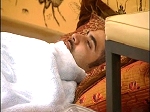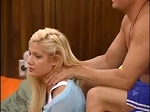 Howie: It's gonna be a crapshoot next Thursday.. I'll finally get my first HOH



Janelle leaves & Willboogie arrive.. Will tells James & Howie that Marcellas put them on slop (Janelle did).. James thinks Janelle got the no-veto prize/penalty but is lying, that she doesn't want them to know she can't play veto next week (Will got it but isn't saying so)

Will convinces them that Marcellas got all the good prizes and put them on slop.. he says they should give Danielle a free week because of solitary, and send Marcellas home - watch the video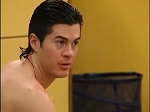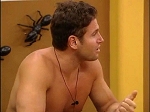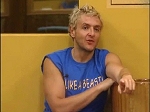 Howie then tells Janelle who says no, Marcellas didn't put them on slop - she did



Tequila sundown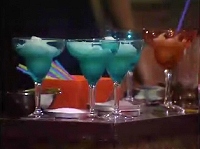 They're all upset that the sloppers can't go to the margarita party

They argue that the party came up in the comp before the slop, and it said "for the house" but it doesn't seem like Big Brother will budge

Some of the party-goers do their primps.. George says Janelle looks extra nice, and she says "Why thank you, Mr. Fart".. James doesn't dress up and neither does Marcellas, but they don sombreros outside.. Diary calls in Howie, Erika & Kaysar, together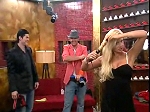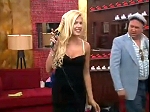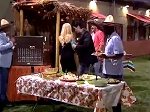 It's not the greatest celebration ever - watch the video - but they start having a good time.. they have a margarita machine and more Baja Fresh food.. Boogie keeps getting brain-freeze headaches

Janelle & Will chat as they sip, first it's kinda flirty, then leads into game chat of course.. they talk about the house-on-slop "prize" - Janelle confirms that she won it and Will suggests she keep that quiet.. he also talks about a two-week alliance: he & Boogie and Janelle plus one of her choosing.. he says she should make a deal with Danielle to keep her safe next week and get Marcellas, and then send George off to jury the following week "where he can have all the margaritas he wants"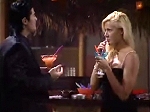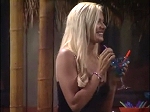 James reminds us that last year's tequila piñata party was not his favorite night either.. Danielle paces her cell while sloppers slop on quad video

Apparently BB relents and Howie, Erika & Kaysar get to come out but they don't get to eat or drink.. Danielle continues to pace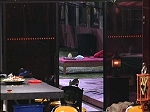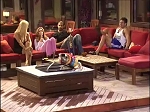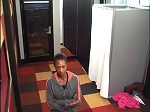 Kaysar & Erika have a very long, very depressing chat.. both say they didn't bargain for this, it's inhumane, etc etc.. she cries and says she wants to go home, she's going to ask Danielle to put her up.. she also says she was upset by someone celebrating Danielle's incarceration, but she won't say who.. I can't tell if Kaysar's working her or what, especially in light of his secret squirrel moment with Will earlier.. his words are right but his manner seems too controlled, too composed.. he sounds as glum as she is but he's intently focused on her and not looking down like he has been with this stuff.. almost like he's encouraging her to feel lousy and volunteer to go home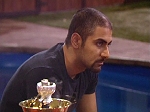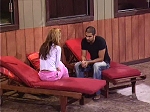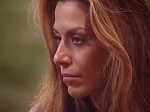 Watch the videos: part 1 - part 2 - part 3 .. these are just pieces of the full convo

Danielle reads the directions for her porta-potty - watch the video - it's pretty sad.. Will whispers a status report to her but she can't hear him.. he says he feels bad that she's in there.. Kaysar joins him and she pulls the toilet out to show them - watch the video.. Kaysar says it looks like a kitty litter box, and it does.. BB tells them to leave her alone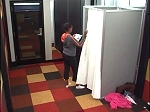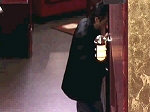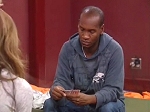 Erika & Marcellas play cards.. he complains about everything like he does, and says he has a crush on James.. I guess Erika was playing Kaysar too as she says he's too nice to be there - they have to get Danielle to put him up and send him home

Quick check-ins keep happening.. Willboogie whisper in the bathroom about Janelle & Erika.. Will says "Janelle's not lying", and they talk about Erika's ass-umptions about the prizes and that she asked Danielle to put her up.. they also say "don't say a word to Erika" but I can't hear what about - watch the video.. Will follows up with Janelle about Marcellas & the prizes, and tells her Marcellas is playing Danielle, that he's "a cancer in the house" and they've got to get rid of him before jury - watch the video

The margarita 'n sombrero crowd has a good time at the hot tub (most of them anyway).. George is having a terrific night.. Howie does a goony dance in his undies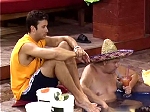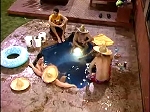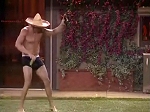 Boogie keeps refilling his glass and gets a little sippy, but nothing ugly happens this time.. later he talks to Howie about Marcellas and says he'd be bad in the jury, tainting everyone and complaining all the time



Hot & cold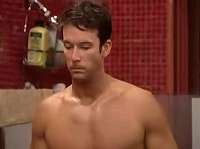 James takes a cold shower and really, really doesn't like it.. watch the video

It isn't so bad in there when he & Danielle aren't around hating and complaining and spreading bad vibes everywhere

Will goes for another hot kitchen shower but unscheduled fun breaks out when he gives one to Janelle instead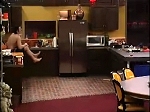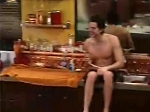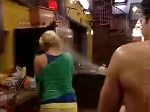 She gets drenched.. the whole kitchen gets drenched.. it's a fun time - watch the video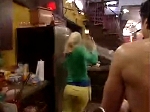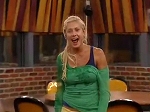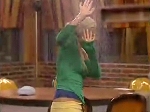 She stomps off but comes back.. they both clean up their mess like good kids do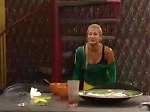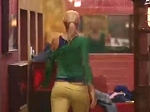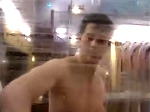 The sombrero señors find their way inside.. Kaysar's grinny again.. Howie not so much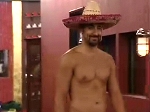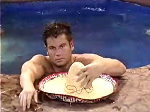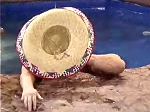 Boogie picks his butt as he goes.. George's good night rounds are sippier than usual but as friendly as always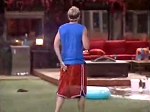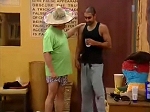 "It's not reality, everything's scripted"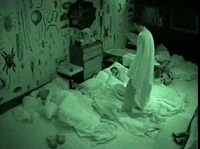 James said it this time - not me

He's complaining again/still, this time to Kaysar.. he's interrupted by flames and WAY TOO LOUD music often, but this much slips through:

James: Are you still depressed Kaysar? Cuz if you're not, you're the only one

James: I just don't see how this makes good tv having everyone miserable
James: I don't know, I never watched the show [Big Brother]
Kaysar: Well, it's reality television
James: But it's not reality, everything's scripted
[Flames and WAY TOO LOUD music]

They prepare their nests & cocoons on the floor and on the cots.. Will entertains the BB6ers and beds down with them

Erika & Boogie pillowtalk for awhile in HOH.. it's partly game and partly flirty, kinda.. she tells him Janelle was the one celebrating Danielle's solitary - maybe so, or maybe it's another Weak Story in the making.. there's been some talk today that Boogie & Erika may have had a one night stand awhile back, and Will's been talking up a showmance in their direction all day.. overnight greenlight watchers watch the covers but she's still teary & complaining through most of it, and there's not a lot to see: this lunge is in fun and nothing comes of it.. Erika goes down to her cot in the red room (redrum) afterward.. Marcellas sleeps on the same sofa in there he always has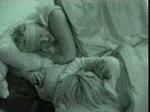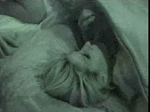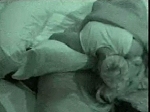 The lights in Danielle's cell stay on all night, but she sleeps soundly

So the day didn't turn out as bad as I was expecting, luckily.. Danielle will be set free around 5pm Sunday.. it'll be interesting to see what happens now that most everyone's on board to get rid of Marcellas - I have a feeling she won't like that

Dingo prediction du jour: Will's never obvious about what he wants, so I'm guessing he's got everyone riled up to evict Marcellas while Danielle can't do anything about it.. when she comes out it'll be a done deal that she won't accept, since she's partnering with Marcellas (my theory).. Will can get her to put up Marcellas to keep the house (and all her other partners) happy, then flip the vote to evict James by outing some of his two-timing escapades

So far Will's gotten what he wanted every week, and if he is indeed pre-allianced with Kaysar, getting rid of James would be a good move for all (and for most of us).. it would also time in with Danielle's impending cutting James loose in favor of Kaysar for her own use, and would be a good move to solidify Will going forward with both Danielle and with the rest of BB6

Just my opinion, based on my own crackpot theories of what's going on.. others in there might have fallen for the idea to evict Marcellas before jury because he'd be insufferable to live with in sequester, but Will wouldn't use that reason in a million years.. Marcellas is just a handy pawn, and accusing Marcellas of hiding prizes (that Will won) sets him up for future mistrust in there.. it would also put a chink in Danielle's trust in Marcellas, and get him even more pissed off at Willboogie than he is now - a tricky spot since everybody else is in bed with them

That's what I'd do anyway



Linkage




Today's must-click specials:
Janelle's HOH blog includes a hello to me! and also to Zack who runs her official site


Daily linkage just highlights unique sites now - check the new links page for more

Aldav first to find big news, all the edgy stuff & the best mini-recaps in town (adult content)
Screencaps refresh site is back from bbfan
Houseguest Tributes videos, quotes, pics from all seasons by BB's number one fan Attw x
Househappenings in-depth Big Brother analysis by IA aka It's Aawwn
Photochops by C=Venus - also try Destroy a Hamster by Johnbb
Big Brother Keyhole peruse various BB sites in the same window, feeds too

Reality TV Links - Big Brother 7 emphasis on individual hamsters' sites
Sir LinksALot Big Brother 7 All Stars all the links
Patrick's Place One-man BB show, 20+ streaming cams including his car
Another 2 cents quasi-intellectual sleaze & radical gumbo aka blog - off for the summer
RealOne SuperPass 14 Day Free Trial
Using this link helps support Hamsterwatch, thanks

CBS Big Brother 7 the official site, plus Housecalls live weekdays 10am BB/1pm ET
CBS Innertube same-day Housecalls and next-day air show replays

Hamsterwatch Big Brother 7 Navigation tool for that dingo's daily recaps on this site
Hamsterwatch MySpace
Hamsterwatch on YouTube BB6 & BB7 videos off the feeds
BB7 Park by TD South Park-inspired versions of the goings on
No time-out feeds links Easy how-to plus Real phone numbers

Big Brother Top 100 all seasons, many countries - Hamsterwatch is #1 wow!!
Big Brother 7 All-Stars Top 50 Hamsterwatch is #2 wow! thanks for the clicks



Please read before linking to pics, 'borrowing' or stealing any content from this site - this means you


Click for no time-out feeds links
and Real phone numbers







RATINGS WATCH


Thursday's live show won the time slot. Next show is Sunday 8pm.

All-stars still aren't top Googles




This site is dead slow so please be patient, thanks.

Yesterday's ratings can stand, with the new Will/Kaysar addition - remember the pre-season 'gay vampire' chat? And how Kaysar was the one urging floater noms rather than Chilltown early on? hmmm

Ratings are my perception of current solid alliances, and whether I think they were formed before or during the game. Arrows are my guess as to how reliable the sum of those alliances are for each hamster's future in the game.






TURN THE VOLUME DOWN ON THE FLAMES MUSIC

Amy isn't on BB7 so we didn't need 10 minutes with her when so much is going on in the house. Will's said on the feeds that he asks Diary what to say and he says it, so we can write off most of his game chat in there. Julie asking Janelle in HOH if she's falling for Will just proves Julie doesn't know what's going on - she probably gets a two paragraph recap on Thursday afternoon and hands it to an assistant.. nothing else would explain that question, and Janelle's been wondering WTF all night. They're helping Danielle, James & Marcellas villify Janelle and I just don't understand why.. they're using real people to write fiction again. You can say I support Janelle or you can say I misunderstand things, but I watch the feeds more than most people and I don't make up what I post here. As they say in the house, check the tapes. I give up.






Pre-game:
Will, Erika
In-game:
Everyone (Will's doing)






HEAD OF HOUSEHOLD
Pre-game:
Will, James, Marcellas
In-game:
Erika, George
She's ready to dump James for Kaysar






Pre-game:
Willboogie
In-game:
Danielle, Marcellas






Pre-game:
none
In-game:
Danielle






Pre-game:
Janelle, Kaysar
In-game:
none






NOMINATED
Pre-game:
Danielle
In-game:
Everyone (temporarily)






NOMINATED
HOLDS VETO
Pre-game:
Howie, Kaysar
In-game:
Willboogie






Pre-game:
Janelle, Howie, Will
In-game:
none (Danielle's working on him)






Pre-game:
Danielle
In-game:
Erika






Pre-game:
Boogie, Erika, Kaysar
In-game:
Everyone








Sadly, she didn't stand a chance this year. She came in defeated & involved in a feud, and lost all her partners. Mrs. Smith didn't give us the fireworks she's capable of but she's always an all-star in my book and I wish her well.








His alliances and behavior were all over the map this time and both got him kicked out. He went out the back door again but it wasn't intentional this time. So long, mirror-face.








Not the most charismatic and she didn't start playing in time, but each side kicked her out so the other couldn't have her. Kudos to her for having the guts to return.








She worked out and hid in a vase but the potential for catfights & dramatics left with her. She didn't live up to her skanky rep: good for her, bad for us.



Purchases made through sponsor links and free trials will help me keep this site going. Paypal donations by email are also hugely appreciated. Please support other BB7 fan sites that you like, too. Many thanks!





This site isn't necessarily about who should win, who will win, who I'd be friends with, or who is cute. It's about watching hamsters: which ones are doing what and why, which are fun and which are dull. If they aren't entertaining, get rid of 'em! Thanks for encouraging my behavior..

that dingo