July 27, 2006 - Day 25



>> BB7 Park by TD
>> to the future >> to the past >> daily index
>> latest HamsterWatch episode >> linkage

>>

Jase evicted 9-0 - Janelle is Head of Household

<<



You look mahvelous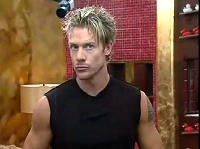 One last mirror-face as Jase prepares to walk the plank

Most of the day is flames and WAY TOO LOUD music for no discernible reason.. they usually block us out on Thursdays when they pump them up for the tv audience with music and do rehearsal run-throughs, but today is beyond excessive

We're given a couple glimpses: the plasma screen is flashing words from the platitudes rooms - LOVE HATE BETRAYAL etc - and we hear a tinny version of "The Wedding March" from the backyard.. Willboogie seem to be nervousing about how they're being perceived this time around.. otherwise it's the usual Thursday primp-a-thon

Twelve vain hamsters prepping in one bathroom is bound to be crowded - Boogie seems to be touching up his highlights.. Diane helps James pick what to wear.. Marcellas advises Janelle on her outfit and its length.. she changes a few times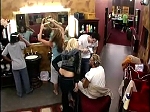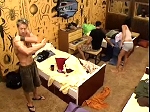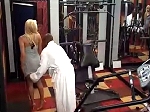 And then it's showtime! George does indeed wear his MR FART shirt along with Marcellas' wig and some biker's Fu Manchu.. we get a Dr. Jekyll & Mr. Hyde segment so they can bring in BB2 Shannon, yet another hamster has-been and Will's ex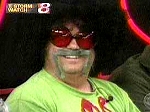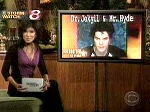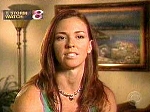 Danielle accepts Jase's offer for an escort to the door, and Julie's boudoir claims another victim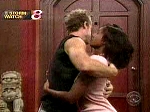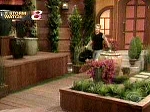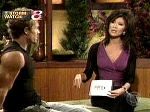 Tollbooths are gone in favor of "Jeopardy" podiums.. Danielle had studied before showtime thanks to the in-your-face clues on their plasma screen, but Janelle wins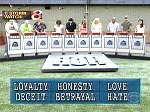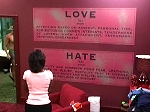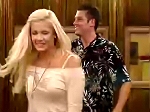 Afterwards Willboogie complain in the gym "Why do we always pick the wrong alliance?".. Danielle comes in and they ask about Jase's door escort comment - she says it's because she talked with him about his anger and was nice to him this week.. Erika wanders in wearing the 'fro but doesn't linger long

The pantry's fully stocked again plus they get P.F. Chang's delivered.. they read their (appropriate?) fortune cookie messages aloud - watch the video

Boogie goes on a long "it's not fair" whine to Erika and later Danielle - they're both making their usual Everywhere Rounds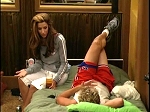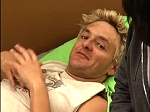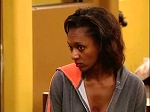 HOH room time comes and Will rolls his eyes, but we get only the audio from HOH and flames as Janelle shows her stuff.. Willboogie do go up though, and are first out after Marcellas (who'll probably be spending plenty of time there this week).. James lays around with Willboogie as the Thursday night waiting game begins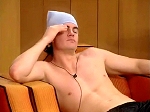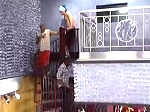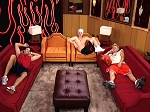 Marcellas has his hair back once again, and is rocking it once again.. they all wait their turn to pounce - including James - as Janelle, Howie & Kaysar talk about noms upstairs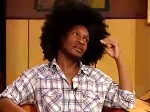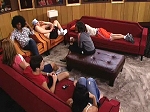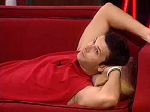 Janey's Dreamhouse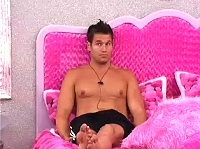 We finally get to peek inside

It's very, very, very pink

Janelle, Howie & Kaysar seem set on Diane & Boogie, but the night's young.. Erika shows up on cue.. finally James shows up and argues against Diane in favor of Marcellas.. it gets heated - watch the video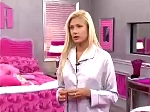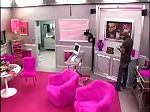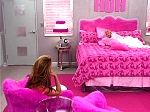 Janelle: This bed is like a princess bed
....
Erika: You look like Barbie in your pink bed
Janelle: It's so luxurious

The flames and WAY TOO LOUD music come back yet again and when they finally go away it's a sea of misery.. apparently they had a food comp and many or most lost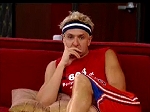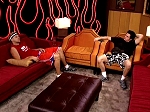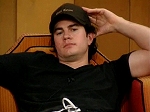 They've already forgotten their P.F. Chang feast - well, except George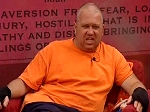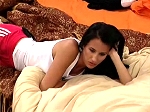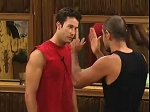 Howie: Someone in the booth upstairs said 'put Erika on slop' - me and Boogie both heard it - I guess they don't like Erika [cut to flames]
dingo: Hmmmm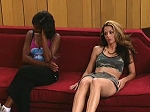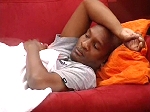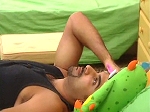 Dr. McDreamy's Duckie Puppet Theater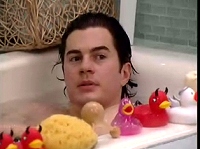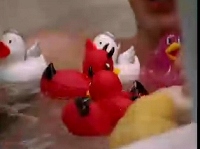 Will's taking a bath in HOH while many of the meetings are going on in the pinkness next door.. he invites Janelle, Kaysar & Boogie to watch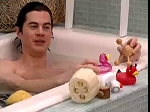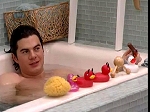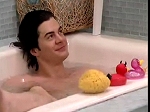 Watch the videos:
part 1 - part 2 - part 3 - part 4 - part 5 - part 6 - part 7 - part 8

Unfortunately I missed the part when he's assigning roles & placements and Janelle throws 4 or 5 into the water, saying 'here's the floaters!'

Extras: Mr. Penalty Nomination - part 1 - part 2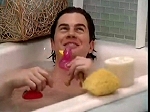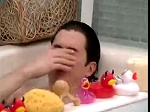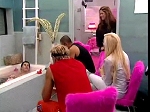 When the show winds down, Will clues in Janelle, Howie & Kaysar about James and how he's got something going with Danielle, and how Marcellas was originally in with Chilltown.. then he makes a proposition to Janelle & Howie that BB2 and BB6 should combine forces, go to the end, and split the money six ways - watch the video.. then he's left alone, another day's work done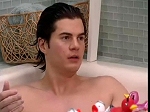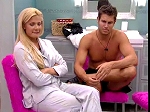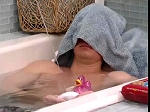 The pink audience chairs remain, surrounding the puppet theater.. downstairs Erika & Kaysar moan and complain together.. neither really appears to be listening to the other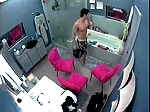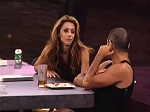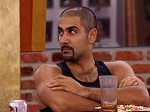 Diane visits Janelle and they smooth over some hard feelings of the past, and make a tentative deal - watch the video.. Janelle's overwhelmed with info and choices now and says she wishes she hadn't won HOH.. Kaysar takes to the floor again.. Janelle & Marcellas finally bed down and dissolve into the pink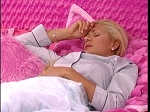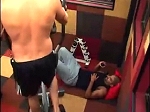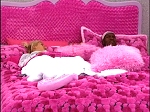 James never returns back upstairs - apparently he meant it when he told them to make their own decision, or maybe he'll start up again in the morning.. potential nominees mentioned throughout the evening include Diane, Boogie, Marcellas, Will, George, Danielle and maybe Erika, but by bedtime nothing firm has been decided



BB6 Commando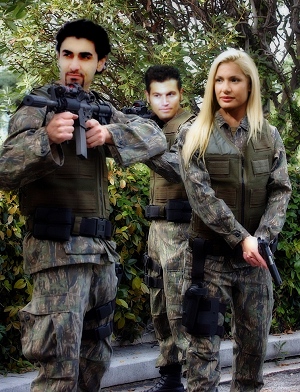 Hamsterwatcher Piper was inspired by yesterday's chops and sent this one after tonight's HOH win

Thanks to Piper, and to everyone for visiting

Sorry if the site is slowing down again for you - please be patient or try again later

Early mornings are busiest




Linkage




Daily linkage just highlights unique sites now - check the new links page for more

Aldav first to find big news, all the edgy stuff & the best mini-recaps in town (adult content)
Screencaps refresh site is back from bbfan
Houseguest Tributes videos, quotes, pics from all seasons by BB's number one fan Attw x
Househappenings in-depth Big Brother analysis by IA aka It's Aawwn
Photochops by C=Venus - also try Destroy a Hamster by Johnbb
Big Brother Keyhole peruse various BB sites in the same window, feeds too

Reality TV Links - Big Brother 7 emphasis on individual hamsters' sites
Sir LinksALot Big Brother 7 All Stars all the links
Patrick's Place One-man BB show, 20+ streaming cams including his car
Another 2 cents quasi-intellectual sleaze & radical gumbo aka blog - off for the summer
RealOne SuperPass 14 Day Free Trial
Using this link helps support Hamsterwatch, thanks

CBS Big Brother 7 the official site, plus Housecalls live weekdays 10am BB/1pm ET
CBS Innertube same-day Housecalls and next-day air show replays

Hamsterwatch Big Brother 7 Navigation tool for that dingo's daily recaps on this site
Hamsterwatch MySpace
Hamsterwatch on YouTube BB6 & BB7 videos off the feeds
BB7 Park by TD South Park-inspired versions of the goings on
No time-out feeds links Easy how-to plus Real phone numbers

Big Brother Top 100 all seasons, many countries - Hamsterwatch is #1 wow!!
Big Brother 7 All-Stars Top 50 Hamsterwatch is #2 wow! thanks for the clicks



Please read before linking to pics, 'borrowing' or stealing any content from this site - this means you


Click for no time-out feeds links
and Real phone numbers







AMERICA'S CHOICE


Text to 81818 how often you want sent-in wake-up messages played to them Friday night (before veto comp):

Text 1 for every 3 hours; 2 for every hour; 3 for every 30 minutes; 4 for every 15 minutes.. 50 cents per txt

Hamsterwatch recommends 4







'Please do not repost' meant just that


Thanks a heap to whoever did.. there goes my faith in human nature again



RATINGS WATCH


Thursday overnight ratings will be posted when available. Next show is Sunday 8pm.

All-stars still aren't top Googles



Click to watch Howie & Janelle talk about Reality Chicks gear
Official Howie merchandise and more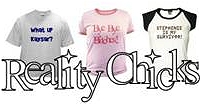 VTE = voted to evict
Special primp-it-up edition.
Individual daily ratings are based on entertainment value.






The dramatic opener 'Will let his true feelings be known' with his 'I hate you all' speech was absurd - everyone knows that was just another lark for Will. Ditto the recap of James inviting Jase to sit in the eviction chair when we all know he leapt into it, but Jase scooped Julie by giving an 'I know I'm out' speech when she wanted a plea to stay. Boogie's bath with the girls gave no indication of the booze & whip cream that came before nor the nasty rant & bottle-peeing that came after, and George's backstory came complete with tinkly piano for even more awww factor that's hardly needed at this point for George. It isn't like Julie to say 'you can't trust James' (even if true) but she did and that's a good indication Jase isn't coming back in spite of rumors in there and out here to the contrary. She's also saying 'showmance' now. The HOH comp was ridiculously easy for anyone with a basic vocabulary, let alone 10 hamsters surrounded by the platitudes and in-your-face hints of what was coming: bring on the endurance comp already! If I had a rating spot for the feeds they'd have double-downs today for the hours of flames and WAY TOO LOUD music last night and today blocking us from far too much of what we paid for.






VTE Jase
Another day, another pity party. It's gotta hurt for him to be taken out first, and by Marcellas, but that's how it goes.. suck it up, Mr. Fo-shizzle-thang, or do as Janelle suggested and win a comp yourself if you want it so bad.






VTE Jase
She's got her bases covered so well her name barely came up as a potential nominee tonight. Time for her to start working on next week. She's good but she seems to be getting a bit desperate, and a bit tiring to watch.






VTE Jase
She got some things out in the open with Janelle and that took some guts. Granted she changes her story as to who she hates from time to time, but that's Diane and her mouth. She was practically on the block up til then so kudos to her for (probably) taking herself off, and for doing it without whining. She & Janelle could take on that whole house if they teamed up and while that probably won't happen, I believe she'll stick to her deal and not nominate Janelle later if she is indeed kept off the block this week. She's lost a lot of the spunk & drama that made her Hamsterwatch Star of her season, and she's now lost all her partners too.. hopefully she'll come back in a strong way.






VTE Jase
Blah blah blah. She must be counting on somebody to keep her name out of the nomination talks cuz she only made a few passing visits to HOH tonight. Her 'broken rib' only acted up a little today.. and it was all healed again after Janelle won the comp.






VTE Jase
He's the only one giving Julie what she wants to see, even if his getups make the rest of us yawn. I'd like to know what happened to shower blastoffs, walkout plans and the other goofy stuff he got up to inside the house on BB1 - he only comes alive once a week now.






VTE Jase
He stayed mostly quiet tonight and threw in a few pearls of wisdom when needed. Willboogie still think he's a total eejit, which shows they don't pay attention to as much as they think they do.






No vote (HOH)
He was looking a bit grumpy today knowing his reign was coming to an end, shambles that it was, and then he started nervousing soon after the HOH comp, right on schedule. Not for himself - he still feels like he's safe within the BB6 Waffle Alliance, but he's got insurance policies all over town and doesn't want to cash in any of them. His teamies found out some of his dirty dealings tonight though, and his timeclock in there has started ticking.






VTE Jase
HEAD OF HOUSEHOLD
Her superpink room is a bit much for everyone else but she loves it and that's what matters. She's heading up the Waffle Alliance in top form by believing most everything she's told and changing her mind about her noms in accordance. She got an eye-opener about James though and an offer from Will for all four of them so she has a lot to think about. I think she needs to do more of her own research and listen to her instincts more than listening to everyone else, but she's only got a few hours left before she has to choose.. I hope she's aware she might have to break a tie in a week. It's just wrong that feedsters were denied yet another Janelle HOH room debut.






VTE Jase
He's been stunned into silence by learning that James isn't as 100% as he thought, and that isn't going to help him help his remaining two allies at all. Wait til he finds out about Will's Final Six/Split The Money offer, and that they held that tidbit from him for now: he'll give up completely. Will was right in suggesting they wait to tell him (even if he said so for his own interests) but not for the right reason: Kaysar isn't paranoid (that's James' job) but he does overanalyze everything til the analysis itself becomes his focus. Unfortunately Janelle could have used more of his help tonight - he should have known that and saved his betrayal moping for later. (Or had it out with James.. as if that's going to happen.)






VTE Jase
He made a reservation to bed down in the pink tonight but don't think he's fooling me. He hasn't stuck this close to Janelle since Kaysar was HOH (and he knew how much influence she had with him). Now that it's potential danger time again he's right in there and likely won't let up til noms & veto are safely past. Sure, he makes a fun girlfriend for Janelle and they'll likely stay friends after this (he's in her bed after Will outted his two-sided playing to her, after all) but I have to wonder why he only complains about Danielle still being there when it's safe to do so - he never suggests she be nominated when noms are open. Cahoots, I tell you!






No vote (nominee)
We've now begun week 4 of 'please evict me' and still no takers. His name came up a lot as an option along with his sidekick's, but Janelle wants to keep him: she knows the value of keeping some fun in that hell hole. He also made a very interesting offer to her & Howie about BB2+BB6 teaming up and going to the end - did I see this coming or what? You heard it here first - Jedi Will! He suggested they split the 1st thru 6th place prize money six ways and they would all come out ahead (except #1 of course) and it wasn't hidden by flames so it looks like the no sharing rule has been lifted this year. Yep, he's a liar but his business-based reasons were sound, and his business reputation would suffer if he renegs.. I don't think he'd take that chance. Plus he's desperate now. He also gave an extended duckie puppet show that was the best thing we've seen in there for weeks.








His alliances and behavior were all over the map this time and both got him kicked out. He went out the back door again but it wasn't intentional this time. So long, mirror-face.








Not the most charismatic and she didn't start playing in time, but each side kicked her out so the other couldn't have her. Kudos to her for having the guts to return.








She worked out and hid in a vase but the potential for catfights & dramatics left with her. She didn't live up to her skanky rep: good for her, bad for us.



Purchases made through sponsor links and free trials will help me keep this site going. Paypal donations by email are also hugely appreciated. Please support other BB7 fan sites that you like, too. Many thanks!





This site isn't necessarily about who should win, who will win, who I'd be friends with, or who is cute. It's about watching hamsters: which ones are doing what and why, which are fun and which are dull. If they aren't entertaining, get rid of 'em! Thanks for encouraging my behavior..

that dingo