July 21, 2006 - Day 19



>> BB7 Park by TD, part 1 - part 2
>> to the future >> to the past >> daily index
>> latest HamsterWatch episode >> linkage

>>

James is Head of Household - Will & George are nominated

<<



Bowling for kumquats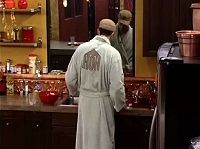 James is up early and wearing the HOH robe outside the HOH room

I think he's the first to do that this year

Boogie's the busy guy this morning, having a conference with James about nominations, and later whispering with Diane.. then they dutifully form their single-file parade and head out to the food comp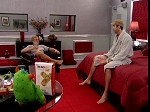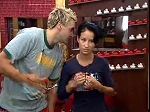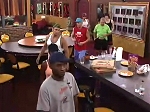 The current pricey apparatus looks impressive, but looks can be misleading.. they line up dutifully on their marks, and pair off to use a crossbar to drag a bowling ball crossbar up a ramp filled with holes to earn menu items for each day this week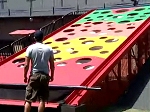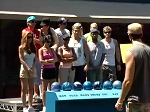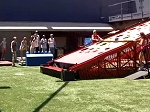 Sounds exciting huh? Not so much.. they discover it works best to go very very slowly, with one person in each pair barking directions to the other.. James emcees

James/Erika earn a catered feast for Monday.. Boogie & Diane do the same for Tuesday (Boogie's directions include a lot of "balls" and "holes").. Will/Dani drop it so Wednesday is bread & kumquats - I don't know.. Howie/Kaysar get another feast for Thursday.. Janelle/Marcellas drop it and get vegetables & beer (I think) for Friday

Jase/George team up again like they did for slop and make it to the top, but the heat and effort do George in.. Jase/Boogie each go again (for today?).. in the end it's a slopless week, with booze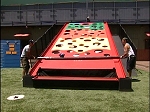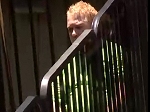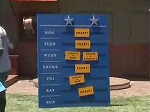 Watch the videos: Will/Danielle - also cures insomnia
Janelle/Marcellas - quad view shows how it works (note the back seat drivers for this pair - they didn't do that for anyone else)

Mirror-faces everywhere as they prep for nominations.. Janelle's back in the HOH bathroom putting on makeup with James.. Boogie & Jase get their looks just-so.. Will's sporting a tan now - Erika brought some in a bottle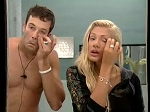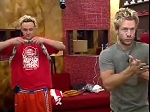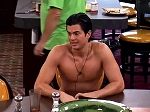 Veggies & beer today: they tuck in happily.. well, George doesn't look too happy - maybe he knows what's coming.. Janelle notices Will's sudden tan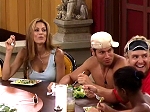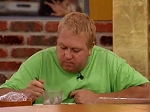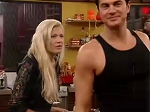 Jase shows them how to eat sweet corn Midwest-style.. Kaysar chomps an angry carrot - he's been moody & quiet since yesterday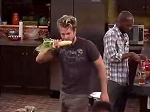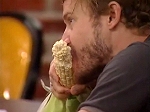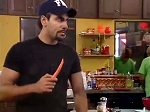 Snippets:



At one point James, James & Will all talk about obsessed feedster fans, and agree that we are all frustrated hamsters who wish we were on the show




Utterly not so in my case at least - not a chance in hell


....
Jase [about casting George]: Well with Shapiro, they said 'George, are you gonna play?' And you know he broke down some strategy for them..
[cut to flames and WAY TOO LOUD music]
....
Marcellas: Like that first night the feeds went live, and we all had to say 'and that's the rule'
....
Janelle: You're not lying as much as you used to.. makes it so much easier
James: We are essentially the nerd herd of last season
Janelle: There were six nerd herders in sequester.. we don't have more than them this year, we have less
....
[talking about how Chilltown members get the cool kid clothes, hats etc]:
Boogie: Membership dues are 500 a year
Will: 500,000 every five years
....
[talking about BB5 Marvin and why he isn't there]:
Will: Do you keep in touch with him?
Jase: Yeah
Will: Like did he talk about coming on here?
Jase: Well he would play it by the rules..
Jase: We talked in like February, and I asked 'Did you hear from them?' and he's like 'No, dog'
....
James: I was the one who told Maggie there were no internet cams in the HOH room
....
At one point Jase freely talks about Diary sessions regarding M/M Smith - watch the video

This one's clearly an intentional slip to follow up last night's leaks on the subject, since they didn't go to flames and WAY TOO LOUD music even though they were doing that frequently for singing & other topics at the time



Will on the block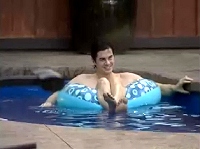 The flames and WAY TOO LOUD music come to stay a good long time

When they eventually leave, Will & George are on the block, as expected

I've never seen James this happy in there.. Marcellas & Danielle, not so much.. Diane says she's glad she's not up again.. Willboogie, James & Jase laugh about the order of the keys and the look on George's face, then shush each other when he comes out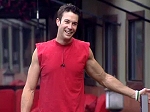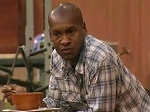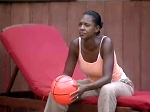 George comes out looking gloomy at first but then toasts Will, saying he's proud to be up there next to him.. Will's tan rinses off when he gets in the pool, causing a severe continuity problem for editors.. Will talks with Danielle about the BB "Yes Dear" episode and Will's missing residuals from it, plus the nominations a bit after George is called to Diary - watch the video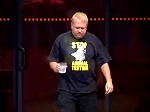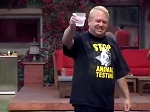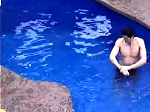 James & Howie start to discuss the nominations and realize Janelle's in the bed.. Kaysar joins.. it's their first meeting since all the others last night but it's the same ol' stuff: floaters, people under the bus, win the veto, who was the second vote for Nakomis, sequester numbers, etc etc etc - watch the video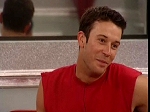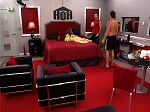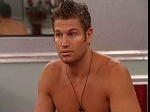 They say if Will gets veto'd off they'll put up Boogie



George rebounds fine and starts stringing beads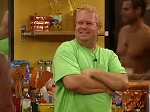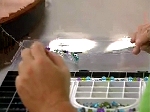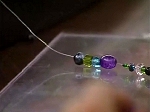 They have a huge assortment of vegetables and start preparing them umpteen different ways.. Danielle takes over George's spot at the stove through some unspoken change of kitchen command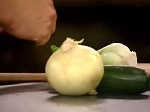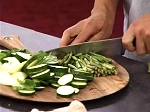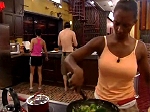 Will discovers a nifty slicer and starts sectioning potatoes & onions for deep-frying like crazy.. Diane joins him to chop.. she still seems unsure of herself, tentative - even defeated - not at all like the Diane we knew before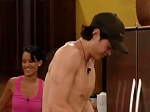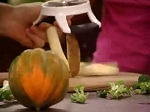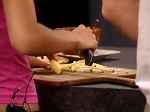 Throw us under a bus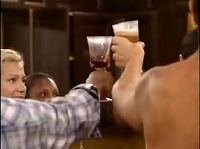 I'm already tired of the BB7 catchphrase.. they're all saying it several times an hour now

Things are looking pretty bleak for feedsters once again, when James & Danielle discover half a liquor store in the pantry.. they pack up a crateful and cart it in.. unfortunately it doesn't turn out as well as it should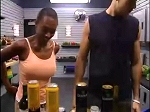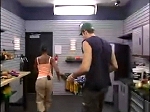 It starts off well enough: they're happy to see all the choices and mass quantities that have shown up.. they gather round and toast themselves, like they do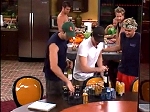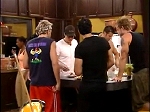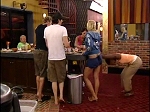 The potential for a hot time is huge as they sip & sip.. Janelle & Will kinda flirt with each other (each thinks they're playing the other so it's fun to watch).. even non-drinker Howie has a beer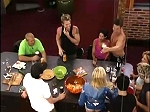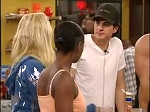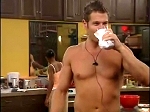 They start to strip down and congregate at the hot tub.. oh yea, things are looking up tonight and it's about time too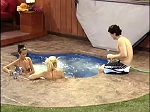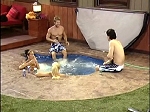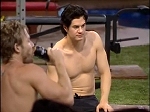 Even before they're all gathered the feedmasters play a cruel trick on us and switch all four channels to James.. we know things are heating up at the hot tub one way or another, but all that is denied us for some reason.. instead we get James pontificating to Danielle about his wisdom as HOH and etc etc etc.. it's awful and goes on for days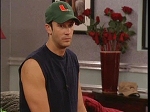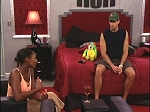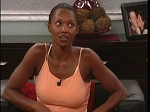 Danielle: I honestly think the producers are bored with me this time
James: Really? Why?
Danielle: Cuz I'm not being so treacherous

She finally leaves and we think we'll finally get to visit the drunk tank but instead it's Erika's shift.. she drapes herself & her black bikini around and talks about James' girlfriend BB6 Sarah.. she also lets slip that she's done casting for "Survivor" (also on CBS) before the flames and WAY TOO LOUD music try to cover up that bit of apparent (or at least possible) bit of all-stars casting favoritism - watch the video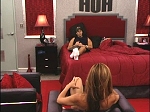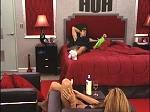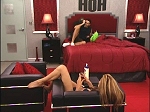 I've also heard she's done casting for 'The Amazing Race' (CBS again) but I don't have confirmation on that one.. that in turn leads to last year's never confirmed nor denied questions regarding hamster Eric Littman/Littmann and TAR's executive producer Jonathan Littman



By then the hot tub party's over and as often happens, there's suddenly too much action to follow.. it's clear we missed a lot in the last few hours though

Half of the super-sippy crowd shows up in HOH, where Janelle falls off the bed a couple times and bites Howie's arm, the girls discuss pubes removal in detail, and Howie blasts the usual mixed-company raunch limits wide open, like he does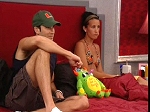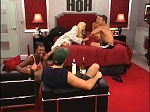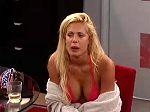 Downstairs George is asleep on the floor.. Willboogie come in to bed, trashing Janelle as they go.. Jase joins and gets a sudden burst of energy that has him first addressing us with a nasty & explicit rant about her, then he breaks into an anti-Janelle rap that has Willboogie howling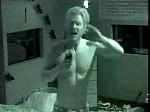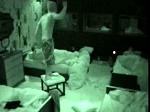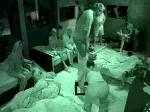 Willboogie: Chicken Snores has become Chicken Floors
Willboogie: No one could be that dumb
Willboogie: That's why she's here.. twice

Kaysar reaches his limits upstairs and joins the guys in greenlight.. they change their subject matter but carry on.. Kaysar goes back up to tell them how funny the rappers are downstairs, and the girls all trudge down to join - it's all a CBS edit just waiting to happen.. Jase's rap is followed by George, who gets in a few good digs at James, then Danielle does her thing and is followed by Boogie, whose jammie pants she drops

Watch the videos - note they have very explicit content and will offend many.. remember too that we didn't see what inspired the Janelle stuff - she likes to play up the dumb blonde as much as she does the buxom
Jase's anti-Janelle rant/rap, part 1
Jase's anti-Janelle rap, part 2
Jase's farmboy rap (after Kaysar joins)
Jase's rap about the girls (after they've joined)
George's rap about James
Danielle's not-rap, and Boogie's finale

And on it goes.. the girls move it outside with Howie, Kaysar, and hookah.. Danielle seems especially sippy and raunchy/laughy.. they tease Kaysar about his crush on the outside and grill him for info about her, which he doesn't give up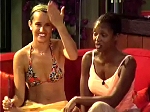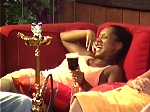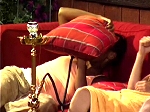 Later they all wander off except Danielle who does her late-night kitchen sparkle rounds, studies the photo wall, then paces the backyard for a long time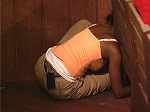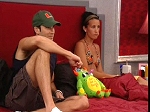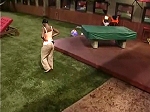 She ends up burrowed into a non-camera area for quite awhile for (whatever).. when she comes out she paces the yard some more before finally tucking in

Tomorrow they play for veto, and I think they have a lot of booze left or are scheduled for more.. let's hope we don't get ripped off again




Linkage




Today's must-click special: Aldav putting pieces together something's fishy at Radford Place


Daily linkage just highlights unique sites now - check the new links page for more

Aldav first to find big news, all the edgy stuff & the best mini-recaps in town (adult content)
Screencaps refresh site is back from bbfan
Houseguest Tributes videos, quotes, pics from all seasons by BB's number one fan Attw x
Househappenings in-depth Big Brother analysis by IA aka It's Aawwn
Photochops by C=Venus - also try Destroy a Hamster by Johnbb
Big Brother Keyhole peruse various BB sites in the same window, feeds too

Reality TV Links - Big Brother 7 emphasis on individual hamsters' sites
Sir LinksALot Big Brother 7 All Stars all the links
Patrick's Place One-man BB show, 20+ streaming cams including his car
Another 2 cents quasi-intellectual sleaze & radical gumbo aka blog - off for the summer
RealOne SuperPass 14 Day Free Trial
Using this link helps support Hamsterwatch, thanks

CBS Big Brother 7 the official site, plus Housecalls live weekdays 10am BB/1pm ET
CBS Innertube same-day Housecalls and next-day air show replays

Hamsterwatch Big Brother 7 Navigation tool for that dingo's daily recaps on this site
Hamsterwatch MySpace
Hamsterwatch on YouTube BB6 & BB7 videos off the feeds
BB7 Park by TD South Park-inspired versions of the goings on
No time-out feeds links Easy how-to plus Real phone numbers

Big Brother Top 100 all seasons, many countries - Hamsterwatch is #1 wow!!
Big Brother 7 All-Stars Top 50 Hamsterwatch is #2 wow! thanks for the clicks



Please read before linking to pics, 'borrowing' or stealing any content from this site - this means you


Click for no time-out feeds links
and Real phone numbers







RATINGS WATCH


Thursday's show won its time slot. Next show is Sunday 8pm - westies can watch live at 5pm at Patrick's Place (always in linkage)

Neither BB nor any of the individual hamsters are top Googles yet




Thursday's ratings will stand, but with additional double-downs to the feedmasters for hiding the drunks away from us.
Individual daily ratings are based on entertainment value.






The simplified version of last week's mess has now become fact thanks to CBS turning Kaysar's 'suggestion' to Willboogie into a 'deal' but I guess that's fair since half the house believes it and half the fans as well. The fabricated & homophobic Howie/Will crush storyline is well past stale although media manipulator Will knows how to take advantage of it. They were uncharacteristically kind to Nakomis & Diane by keeping their post-veto pity party to a minimum again; instead, Julie called George a "season one leftover" and asked Kaysar if his noms were "wimpy". Farewell messages were deleted in favor of Muslim education hour as CBS went PC, but they acknowledged feedsters for the first time (beyond the sales pitch) with the M/M Smith rumors. Julie got to replace one 'but first' with her other favorite phrase 'without going over'.. all in all, just another Thursday show.






He's out of favor with everyone in there but Will, and now the producers are turning on him too. His name barely came up as a possible nominee though, so I guess he'll stick another week.






Her HOH conference was the most interesting: she mentioned arrangements with James & Willboogie, and was the only one who told James that George would be a wasted eviction: all the others made him their #1 recommend. She was a little perturbed when she heard Erika was taking credit for swaying the vote from Diane to Nakomis, but she seemed cautious when Marcellas' name came up - maybe they're a team, maybe they're not.






The old Diane would have been over the top after coming so close to eviction but she was a fizzle tonight, nearly napping after Julie closed the portal. It's no coincidence that CBS introduced the M/M Smith concept a few hours before the feedmasters showed her confirming it with Jase: they'll probably dole out confirmation of all the secret alliances this way. She was almost drippy in her HOH conference with James, hemming & hawing & I-don't-know'ing - nothing like the Diane of two years ago. She practically begged not to be nominated and was assured she wouldn't be. Hopefully a week to recharge her batteries will bring her back to the feisty bitchy floorshow she should be.. I don't want to think she's lost her edge completely.






She too confirmed a partnership of sorts with James and didn't seem at all nervous about her chances for nomination. She's also pushing for George to go up. She's also still saying she's got a broken rib - or maybe she's just letting the others say that - she hasn't seemed to be in any pain since last Friday's food comp ended. I'm tempted to toss out the theory that she wasn't hurt at all, that it was just a Will plan to keep her safe from nomination last week.. caps of that day and since seem to indicate it could be so, along with his special request to Kaysar about her.






NOMINATED
His tinfoil suit might have been lame but it didn't deserve Julie's 'leftover' comment: it was her team's idea to put all these reruns in there in the first place. He's public enemy number 1 again as of tonight - all the other floaters have decided to push him to the front of that line and James seems to be buying it. Maybe they're right: the guy cooks and laughs and snores.. he must be the debil.






He ran up to congratulate James after the win even though his own team (James in particular) and even the opposition has told him not to, but that's Howie. He's had a rough couple of days between slop & gas & earache, and now he's eaten his weight in real food and suffering for it. He's ever the good natured guy though, and even acted as errand boy to deliver stuff upstairs to James. He came up with a snappy response to Julie's crush-on-Will & botox routine that Will even thanked him for later.. there's a real problem with the show this year when the best the writers can come up with is reruns of material that was lame the first time.






HEAD OF HOUSEHOLD
This is the first summer Thursday in two years that he's had a smile but he's nervousing almost as much as ever now that he's in the other chair. His meetings have been interesting in the different demeanors he's had with each, and in the way his stories subtly change from one to the next. He seems to have believed Will (which would be ironic) and seems taken in by M/M Smith also, and he seems to have arrangements with all the floaters. He told M/M Smith (Diane & Jase) they'd be safe, and instead of lowering the boom onto George his wheels seemed to start spinning when he was promised a jury vote. He made a comment about 'some of the sites said he was dull' (waving back at ya James!) but the meetings weren't the best part for me - walking around in there alone, prepping for Will, and talking to himself was. We'll see what he ends up doing tomorrow, but for now he's mostly enjoying his stay at the top (and may end up getting a bit cocky about it).







Gratuitous wet bikini shots of Janelle aren't news on the show and not surprising either - my YouTube videos featuring her are viewed more than the rest. She almost made it upstairs again but James says the BB6ers will be safe, and they even gave themselves a Final Four cheer. She's moving into the red room (redrum) tonight and maybe will find a truce with Diane: a message board feud from last year has yet to be settled.. at any rate, maybe she'll be able to sniff out that her bedmate is indeed Mrs. Smith. I'd still like to see Janelle & Diane team up but I don't think that's going to happen.. tonight's vote won't help.






He didn't get up to say good-bye to Nakomis and went into another slump after the show, but Mirror-face is back with a vengeance. He & Diane confirmed the M/M Smith story hours after Julie leaked it.. hopefully they'll stage a fight or something so we can at least play along. His meeting with James was short and sweet if a bit tense, and ended with yet another no-nom guarantee. Afterward he made a happy birthday message in nail polish for his girlfriend's daughter that was sweet to see.. awwww.






It looks like he's broken his pattern and won't get kicked out the week after his HOH, even though he was understandably startled by Julie asking about his 'wimpy' nominations. I don't know that we needed such a big segment of the show devoted to Muslim information - they act like he's the only one of them with any faith or morals in their regular lives - but it was cheesy & insulting to run the 'temptations' bit: all the guys have the bikinis & boobies in their faces and none of them are tearing their hair out or turning into rapists or whatever CBS was trying to imply it was doing to Kaysar, not even Howie. It was also ironic that one of the interviews said 'Muslims don't date' just days after Kaysar described his perfect dream date (dinner at an oceanside restaurant). If Will (or Boogie for that matter) goes on to win the game Kaysar will be the one blamed and/or credited for it.. let's just hope he doesn't let go of the endurance button if Diane cries.






He was rocking the 'fro after the show like Boogie wished he had during, but beyond that he kept a low profile tonight.. granted, I missed much of his meeting with James but it didn't sound like it was as surprising or informative as the others.






NOMINATED
He's done it again by making a surprise vote that has them all guessing, and they're all buying his 'get me outta here' routine. He keeps saying he doesn't want to go to sequester and that's very likely true.. it's not the same thing as saying he wants to be out of the house though. It looks like he or his sidekick might be going up against George, and George may be the one to go.. this guy still owns them all.








Not the most charismatic and she didn't start playing in time, but each side kicked her out so the other couldn't have her. Kudos to her for having the guts to return.








She worked out and hid in a vase but the potential for catfights & dramatics left with her. She didn't live up to her skanky rep: good for her, bad for us.



Purchases made through sponsor links and free trials will help me keep this site going. Paypal donations by email are also hugely appreciated. Please support other BB7 fan sites that you like, too. Many thanks!





This site isn't necessarily about who should win, who will win, who I'd be friends with, or who is cute. It's about watching hamsters: which ones are doing what and why, which are fun and which are dull. If they aren't entertaining, get rid of 'em! Thanks for encouraging my behavior..

that dingo