June 5 & 6, 2006 - Pre-season



>> to the future >> to the past >> daily index
>> latest HamsterWatch episode >> linkage



Things are starting to buzz






The Orange County Register says "it appears that Orange County buddies Michael Donnellan and Kaysar Ridha will be on the slate" of hamster hopefuls.. no telling if they have inside info or if they perhaps visited the CBS BB page on Monday.. just repeating what I read

Writer and BB analyst extraordinaire It's Aawwn is doing a blog this year called Househappenings that will be linked from the Real site - definitely a must-read for anyone following the goings-on going on this season!

Howie is scheduled to do a live chat at his site on Thursday, June 8 at 7pm BB time/10pm Eastern




First oops of the season and possible hamster possibles






Already?? Yep, it looks like the CBS webbies are working live - always big oops potential doing that - the official BB7 link today leads to nothing but a very, very rough draft of the ballot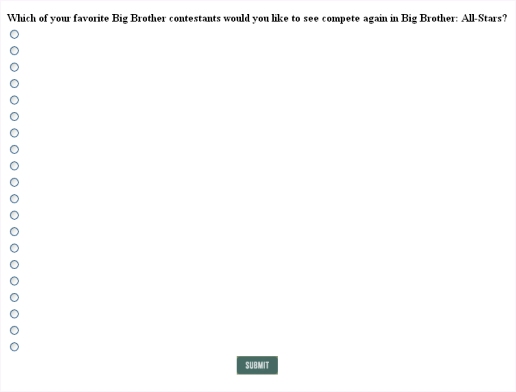 Further investigation shows that there are names plugged into the form, although they're coded to not show.. these could just be placeholders - the voting links themselves are pasted in from an "Amazing Race" poll - or they could be intentional misdirection.. some of these are among the least likely I'd expect to show up, but for what it's worth these are the names that are there - remember, you heard it here first:


Alison
Bunky
Dana
Danielle
Diane
Erika
George
Howie
Ivette
James

Janelle
Jase
Kaysar
Lisa
Marcellas
Michael
Mike
Monica
Nakomis
Will


The site went back to normal at right about the end of lunchtime.. coincidence? Did somebody come back from chowing down their BLT to find they were in big trouble, or are they all having a good laugh at us now? We'll know in a couple weeks, but for now it does look like a hoax.. later the site showed a different set of names for awhile:


Alison
Amy
Brittany
David
Diane
Drew
Erica
Jack
James
Janelle

Jason
Josh
Kaysar
Maggie
Mike
Monica
Nicole
Roddy
Shannon
Will


I have to give them points for creativity on this one



What if?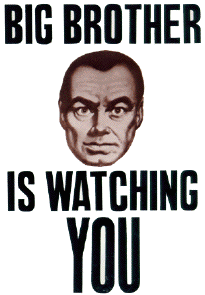 What if this whole vote-in thing is a crock, and the producers have already decided who'll be in the house this summer?

And taking that question a step further, what if the outcome of every competition, nomination, veto, and even the final jury vote is already decided, with the prize money allocated as stipends, salaries or bonuses? The way more & more reality tv has become scripted to various degrees lately has me wondering

Unlike the Endemol-produced versions that have run in 70 countries, the idea of a malevolent Big Brother making hamster life miserable hasn't been seen much in the SoCal house since Endemol ran BB1.. about the worst thing BB2 thru BB6 producers Arnold Shapiro & Allison Grodner have thrown at them is a peanut butter diet

But maybe we're the collective Winston Smiths in the scenario (read the book already!).. maybe we're the hapless victims of an unseen and unsuspected plot meant to lull us into submissive obedience (i.e. watching the show).. after all, in spite of us rabid feedsters being intrigued - ok, obsessed by what happens on the feeds, it's the Tuesday-Thursday-Saturday air programs that pay the bills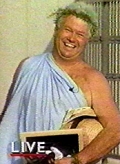 We already know what a heavy hand is often used in editing what airs - "changing history" has been a staple of the CBS version from Chicken George's planned walkout on BB1 (induced by cabin fever and toilet paper rationing, serious enough to cause days of marathon Diary/negotiation sessions but not even hinted at on CBS until days after it was avoided) through last year's Fireman Hero and Saint Maggie campaign.. there's no reason to think any of that will change for "All-Stars"

Maybe labor laws would come into play if all the hamsters were true actors 24/7 for three months (instead of just wannabe's) but maybe not - they'd still be themselves when it wasn't Game Time, under the same conditions they're already under in there.. think about it: letting various scenarios play out to their scripted outcomes has made Vince McMahon a very wealthy man

Call me crazy ("you're crazy, dingo!") or call me paranoid ("you're paranoid, dingo!") - but it's possible with a pool of folks whose confidentiality agreements have already been tested, and it sure would make life easier for the producers & editors.. As it is, they've already admitted they're going to choose six of the twelve 2006 hamsters in order to "get the right balance" and they've said they're going to include some of the more unpopular formers

Grodner also said "We're looking for a showdown.. You've got your Big Brother heroes and villains, and that's what's going to make for the best drama" (hey Allison, many if not most of us are in it for the comedy!).. Incidentally, the theme this year is "Good vs. Evil"

By the way, what's the point of having 20 show up for the Casting Special only to be whittled down to a predetermined 12 before the voting even starts? That kind of lends itself to the theme I'm wondering about

All that said, there's another definite problem with "All-Stars" and that's the fact that they already know each other.. some of them have dated and many of them socialize, make appearances together and so forth, and they're probably forming open & secret alliances and Rock Solid Deals® as we speak, so we're already missing out on potentially pivotal stuff.. not to mention the fact that those from the same seasons will tend to unite.. it's possible we'll end up with a game that's not much of a game at all, like the Real World/Road Rules Challenges have become


Meanwhile, the house is being revamped to "commemorate highlights of the first six seasons" <snore>.. oh well, there's still daily shenanigans and unbelievable behavior to look forward to and after all, that's the stuff most hamsterwatchers like best.. at least this time nobody will be able to pretend they've never seen the show before

Pugita pic from realitytvaddict.com




Linkage




On your marks, get ready special:
RealOne SuperPass 14 Day Free Trial
Use this link to help support Hamsterwatch

Super must-click special: Aldav's ballot
Bonus must-click special: Returning hamsters possibility chart and roll call from Reality BBQ


Daily linkage just highlights unique sites now - check the new links page for more

Aldav first to find big news, all the edgy stuff & the best mini-recaps in town (adult content)
Screencaps refresh site is back from bbfan
Houseguest Tributes videos, quotes, pics from all seasons by BB's number one fan Attw x
Househappenings in-depth Big Brother analysis by IA aka It's Aawwn
Photochops by C=Venus - also try Destroy a Hamster by Johnbb
Big Brother Keyhole peruse various BB sites in the same window, feeds too

Reality TV Links - Big Brother 7 emphasis on individual hamsters' sites
Sir LinksALot Big Brother 7 All Stars all the links
Patrick's Place One-man BB show, 20+ streaming cams including his car
Another 2 cents quasi-intellectual sleaze & radical gumbo aka blog - off for the summer
RealOne SuperPass 14 Day Free Trial
Using this link helps support Hamsterwatch, thanks

CBS Big Brother 7 the official site, plus Housecalls live weekdays 10am BB/1pm ET
CBS Innertube same-day Housecalls and next-day air show replays

Hamsterwatch Big Brother 7 Navigation tool for that dingo's daily recaps on this site
Hamsterwatch MySpace
Hamsterwatch on YouTube BB6 & BB7 videos off the feeds
BB7 Park by TD South Park-inspired versions of the goings on
No time-out feeds links Easy how-to plus Real phone numbers

Big Brother Top 100 all seasons, many countries - Hamsterwatch is #1 wow!!
Big Brother 7 All-Stars Top 50 Hamsterwatch is #2 wow! thanks for the clicks








Casting special airs on CBS June 21 at 8pm - online voting begins that night at 9pm BB time/midnight Eastern and will run for one week

Hamster hopefuls may use "any reasonable means" to campaign their way back into the house

Note to hamster hopefuls:
This space for rent



As of now, the wheels are empty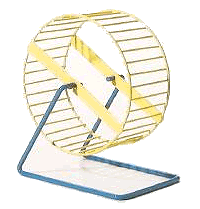 Please read before linking to pics, 'borrowing' or stealing any content from this site - this means you





I hope I can pull this off again this summer and am doing my best to make it happen but it isn't going to be easy. If you'd like to donate to the cause, please visit my sponsor links by clicking on the banners, or make a Paypal donation by email. Please support other BB7 fan sites that you like, too. Many thanks to those who have already contributed, and in advance to those who will



This site isn't necessarily about who should win, who will win, who I'd be friends with, or who is cute. It's about watching hamsters: which ones are doing what and why, which are fun and which are dull. If they aren't entertaining, get rid of 'em! Thanks for encouraging my behavior..

that dingo