This site is about the Big Brother 22 feeds and contains spoilers! It isn't necessarily thorough: it's what I catch and/or what interests me. It's about watching hamsters: who's doing what and why. Thanks for encouraging my behavior.
Your pal, dingo





BB22 DRINKING GAME

Take a swig whenever someone says 'untouchable'





BB BASEMENT Week 5

Everyone competed. Each power can be used once in Week 5, 6 or 7

Disruptor David can secretly save one nominee and force HOH to replace them. The person he designates can't be renom either.
To be used after nominations are made at noms ceremony.

Blocker Christmas can block herself or someone else from being renom.
To be used at veto meeting after veto is used, before HOH names renom.

Replay Dani can designate one outgoing HOH to play in next HOH comp.
She has to let Diary know by 10am on that Thursday.





SAFETY SUITE 1st 3 weeks

Optional pre-noms comp for safety, one time each, +1 guest got safety plus one week punishment, current HOH ineligible

Week 1 Don't Miss a Beat
Competed: Janelle, Kaysar
Winner: Kaysar
Guest: Janelle/star suit

Week 2 Getting Tipsy
Competed: Bayleigh, Christmas, Cody, David, Da'Vonne, Ian, Kevin
Winner: Christmas
Guest: Ian/'BB All Star Wars' scenes

Week 3 Stealing Safety
Competed: Dani, Enzo, Memphis, Nicole F
Winner: Enzo
Guest: Christmas/star babies care





QUICK LINKS & BOOKMARKS

-SIGN UP for feeds
-WATCH the feeds after signing up - disable ad blockers

-Feeds updates by @UGotBronx

Official site and socials:
-BB22 official CBS site
-Twitter
-TikTok
-Instagram
-YouTube
-Facebook

-Live show tickets - never mind, no audiences

-My Twitter - my screencaps

-Amazon Canada portal

-Dick at Night with @EvelDick

-BB Viewer Chrome Extension by @liquid8d
-Info/FAQ
-Requires All Access account

-BB22 Wiki

-Hamster Twitters
BB22 incl tweets from inside
BB USA: chron - members
BB Canada: chron - members
BB USA Celebs: chron - members

-Advice for cast friends/family

-VPN to protect your online privacy




Donations via Paypal are gratefully accepted!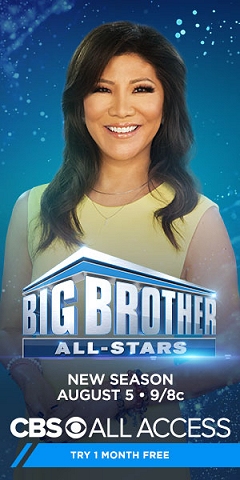 Watch Big Brother
Seasons 1 thru 22
Plus tons more CBS and Viacom content




BIG BROTHER 22 FEEDS EXCLUSIVELY ON CBS ALL ACCESS
FEEDS ARE THE REAL SHOW
All Big Brother USA seasons + most CBS shows past or present are included
$5.99 PER MONTH INCLUDING 1 WEEK FREE TRIAL or $9.99 AD FREE
COMPUTER - MOBILE - ROKU - CHROMECAST - APPLE TV - ANDROID TV - FIRE TV - XBOX 1/360


>> >> >>

>> >> >> >> >> >>

>>

Power Status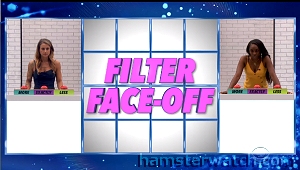 Head of Household: Christmas
Original noms: Bayleigh, Da'Vonne
Veto winner/outcome: Christmas/did not use
Final noms: Bayleigh, Da'Vonne
Have-nots: Nobody
Basement Blocker: Christmas
Basement Replay: Dani
Basement Disruptor: David
Evicted: Bayleigh

Latest alliance chart by @89razorskate20

Latest Diary segment tally by @clamperls4

Ratings Watch Wednesday's show won the hour with 1.0 rating, 6 share, 3.935 million viewers, ahead of America's Got Talent on NBC, Goldbergs and Black-ish reruns on ABC, and MasterChef rerun on FOX.

Overnight rating & share: adults 18-49; Rating: % of all TV households; Share: % of households watching TV



Upcoming Events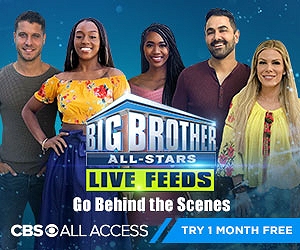 GET THE FEEDS to see the real show!

Thursday night: Probably a long HOH comp (endurance, slippy-slide, eggs & chicken wire) hopefully on feeds?
Thursday night: HOH room and letter? That's only been on feeds once
Friday: Nominations
Saturday: Veto comp

CBS schedule
Sundays 8pm - Wednesdays 8pm - live Thursdays 8pm
-No show Wednesday 9/16 - that veto show will air Tuesday 9/15 8pm
-Sunday 9/20 may be delayed by football
-Thursday 10/1 double eviction, two hours



Daily Feeds Recaps
Day 34 - Monday - Labor Day - September 7, 2020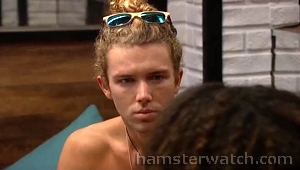 Each of them was called to Diary one by one, so if they hadn't yet figured out one of the powers pertains to veto meeting, they know now, and David finally told us he got one. Prep and primp for the veto meeting was in high gear, and Bayleigh pulled Tyler aside to say she didn't think Christmas would use her veto on him after all, as she thought it was a trap. She thanked Tyler again for his offer, and she gave him permission to vote her out if it is indeed her and Da'Vonne on the block Thursday. She said she felt it was her fault that Day was on the block at all.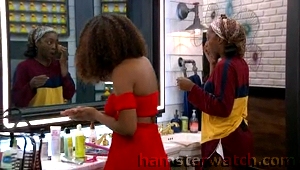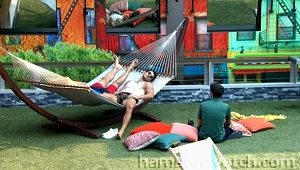 Cody and Enzo shared the hammock to chat with Ian, who had to settle for a heap of pillows on the ground. Even when they have the yard, he's not getting his hammock time. Cody and Nicole made up after some snit last night over a flirting-while-dating convo that ended with her in tears.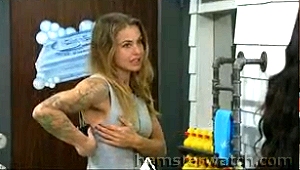 Christmas whispered to Da'Vonne "I can't tell you" if she'll go through with using her veto, but she said she "wants to see how Bayleigh reacts." So that sounds like a no with a microaggression topper. A short snippet between starfishies had Da'Vonne asking Tyler "are you sure?" He said "I won't go back on that, I did what I can without throwing in the towel. I just told them not allowed.." and she said "you're not.." -allowed to quit, perhaps. It's not prison but if they break their contracts by walking out, they don't get paid. Tyler then went back to HOH to talk to Christmas, we got starfishies, and Da'Vonne told Bayleigh she thinks it's going to happen. The ever-present starfishies plus Christmas refusing to state what she's doing made things challenging, but we did hear her imply to Tyler that she wasn't going to go through with it after all. Bayleigh checked with Tyler about her speech and should she use his name or not, and they agreed maybe not, and just say somebody sabotaged her game, and "there's a bigger target than me."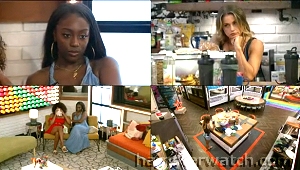 AFTER ALL THAT, Christmas did not use her veto. Feeds came back to Bayleigh and Da'Vonne still in the nominee chairs, Bayleigh in tears, saying she didn't understand and "this is literally the worst case scenario," and Da'Vonne comforting her and saying "I don't get it," with Enzo joining to comfort both. Apparently Christmas's speech was odd and included something about being "caught in the crossfire." She mentioned Bayleigh saying Da'Vonne was her "untouchable" multiple times to multiple people afterwards, and "I get frustrated when people twist things to their benefit that aren't accurate." Da'Vonne met with Christmas who repeated "crossfire" and if Bayleigh wants Tyler out she has to do it herself. The house mood was glum all around, and they have a party scheduled today.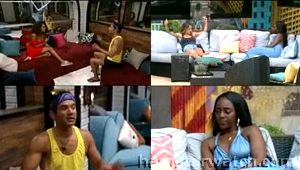 Bayleigh told Ian she wanted to show people she doesn't scream and yell all the time. He said no one thinks that and she said she'd been told that this season because of her original. He said "do you think that's based in...?" She said she does, he said "that's unfortunate," and she said "this is my life, Ian." She also told him he is the untouchable Christmas referred to in her speech. Bayleigh then told Kevin that Ian was Christmas's untouchable, and about Tyler's offer to pawn himself, which Kevin didn't believe was sincere. Christmas yapped to Da'Vonne about "big personalities" and the usual Christmasspeak. Tyler explained his side of the pawn offer to David, and pointed to Dani as being one of the roots of the current situation, and reminded him he'd forgiven David's earlier faux pas. David said "you're a hard person to trust" and Tyler swore he didn't have a power. David didn't mention his despite Tyler trying to get a confession. Kevin told Bayleigh and Da'Vonne he thought Tyler had used BLM for game, and was "near Dan level" with his tactics.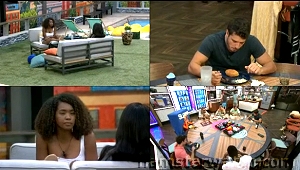 They were sent to inside lockdown and feeds went to starfishies a little after 4pm (with a brief bit of anipals, a super quick flash of feeds, then back to starfishies) for their Labor Day party. Feeds returns around 6.30pm and hamsters were loud, chatty, and sippy. They were apparently told "no strategy, no game" during the party, and they'd had booze, "58 minutes of music" and lots of food, and Memphis was grilling. There were quite a few flaming flare-ups, but no BBQ Smackdown scored match, this time. (The metal monster might feel this season isn't worth getting worked up over, or it might be biding its time to lash out later.) Most were outside when feeds returned, some were playing cornhole, some were chatting, some very loudly, and Bayleigh and Da'Vonne were talking in the kitchen. Then most of them sat down to eat inside, and Bayleigh took her food outside, where Da'Vonne joined her. After eating, Dani told Da'Vonne she can get her the votes to stay, and Ian said "oh, the Calafiore family tradition" when Cody mentioned Paulie peeing in the hot tub, and more or less said everyone does.

Dani told Da'Vonne she'd have the votes to stay, and they talked about missing their daughters. Tyler promised his vote to Da'Vonne, and Bayleigh pitched to Ian. He said right now he was leaning 60/40 "the other way" but promised he'd let her know ahead of time which way he was voting. Afterwards Bayleigh told Da'Vonne about Tyler "he's right, I did pollute the [BB20] jury against him, because he's an asshole." Both agreed he'd "used the cause" of BLM, and Da'Vonne added "that's why I'm pissed." Cody explained the renom fiasco to Enzo, saying "Tyler tried to get himself on the block to get sent home" and "Tyler got called into the DR, talked to AG [Allison Grodner] and.." -feeds switched. Cody, Enzo, Tyler had a meeting about upcoming plans, and Cody said he's nervous about David getting too close to Bayleigh, Da'Vonne, Kevin. Yep, he said that. Memphis told Tyler he thought it was odd to see Ian and David hanging out together, and he said they could manipulate Ian or Enzo to put up Da'Vonne and Kevin if they win HOH.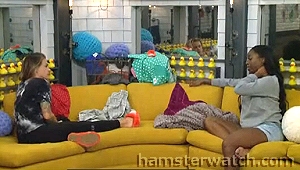 Da'Vonne and Christmas sat down to talk about Tyler's pitch, with Da'Vonne saying he was going to have a house meeting to tell everyone he wanted to go home. Christmas said Bayleigh didn't say his name in her speech, so she couldn't do anything, it put her in a "very, very bad situation," and if he wants to get out, he'll have to get himself out. Da'Vonne asked if Christmas had told Tyler he had to announce his intentions before the veto meeting, and she said she didn't know he wanted to have a house meeting, and "it's also not my responsibility to iron out the logistics of how this was going to go." Da'Vonne said "I just asked the question, okay," and she explained that Bayleigh had felt close to Christmas and that's why she felt betrayed. Christmas said Bayleigh is "absolutely entitled to all the feelings that she has, they are valid for her and her experience." Da'Vonne said "you hurt the girl's feelings" and Christmas said "she is feeling her way" and with that, Christmas began to clap her hands, get heated, and defensive.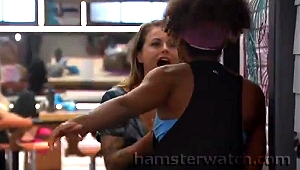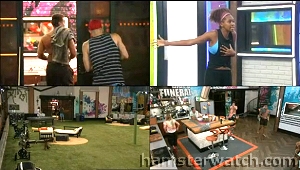 Their voices rose, everyone in the kitchen heard, and Da'Vonne walked away. Bayleigh approached Christmas who said "honestly, it's because we fuckin love you" and "that was not aggressive towards you, it's excitement" (what?) The two of them also got heated, particularly Christmas, and very loud. Retells on each side grew even more heated and led to a quick but extremely loud and nasty second round. Enzo listening in from behind the door added the comical element we absolutely needed. In one retell, Christmas yelled to Kevin "That's a fuckin bully! And you know what's fucked up about that? Is that's a bully that makes them look like they're the victim!" Said the Head of Household about the women she nominated for eviction.. okay. More retells ensued, like they do, and included Cody and Dani both taking Bay and Day's side on this one, and Dani hilariously retelling Christmas's lines. After much angry glaring and feigning nonchalance as the others went about their business, Christmas finally headed back upstairs and proceeded to cry. Ian asked around what "untouchable" was about, as if it was an alliance everyone was in but him, and Enzo went on a comedy tirade that included how funny it would be if Da'Vonne wins the next HOH and Christmas has to hand her the key.

Reminder, if you missed what came before, check my previous episode, always linked up top or from my season index, and/or the detailed feeds updates by @UgotBronx, and get the feeds to catch anything you missed with Flashback!



Day 35 Tuesday - September 8, 2020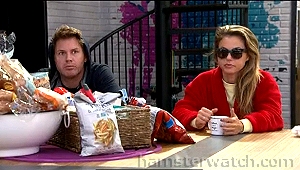 The long inside lockdown began inside overnight/early AM. Memphis slept through fight night so Christmas was able to chat about normal things with him before everyone else started rattling around (and by normal I mean herself of course - that goes without saying). Both agreed they could use a spa day with massage and botox. As the others showed up, and Bayleigh and Da'Vonne were prepping in the bathroom, Christmas took up her glare position at the end of the kitchen/bathroom hallway and put her glare back on, before heading back to HOH to cry. Da'Vonne made Dani pinkyswear she wouldn't tell anyone that Tyler had been pitting Dani against Da'Vonne/Bayleigh, and that he'd said Dani was coming after them. Dani said that was a lie (but it wasn't). They also discussed Tyler's renom pitch, and Da'Vonne said she'd like to call Christmas various other holiday names in her nominee speech. David made some rounds to try to flip votes against Da'Vonne rather than Bayleigh, and various other campaign talks and meetings took place as well, as usual. Ian asked Christmas what she meant by "untouchable" and said several people had told him she'd said he was hers.

Apparently Paulie posted that their grandfather passed away, so Cody will be notified about that by Diary at some point. That will likely temper some of the tension in there, at least temporarily. He was wearing sunglasses most of the morning and was much quieter than usual, so maybe they did tell him and he kept it to himself? See update below.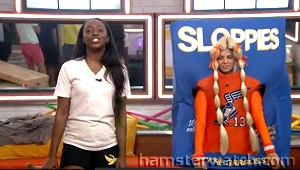 Cereal Box Nicole spent most of the morning arranging a game/show/SLOPPIES infomercial for later, neatly avoiding fight retells and campaign meetings. She'd asked Ian to emcee but later retracted that for Da'Vonne. The show kicked off around 2.30pm with Da'Vonne doing a superb hosting job. She announced the game would be played in two teams, with booze and a lifetime supply of SLOPPIES for the winners. I don't know if the booze offer was via Diary, or if someone stashed some, or if that was just hollow incentive to encourage participation. She named Bayleigh and Dani team captains, assigned the teams by even/odd countoff, and set them to tasks that included creating a jingle, wrapping someone in toilet paper, naming evictees in alpha order, face-planting in yogurt to find an olive, and bob for apples. I think Dani's team won, comprised of her, Christmas, Cody, Enzo, Tyler. Da'Vonne met with David, who told her he'd target two out of Cody/Dani/Ian/Nicole (or three if needed), and he told her he'd campaigned to Tyler to keep Bayleigh. He said that was a test to see if word of spread that around, and said he also "planted some seeds" with Christmas. Da'Vonne and Bayleigh compared notes and agreed Tyler was trying to play like Dan, and Da'Vonne said it was a case of "this is what I ordered but this is what I got."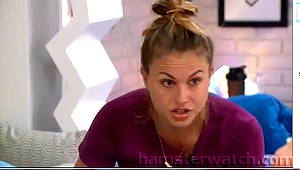 Dani commented to Nicole that Ian's rocking irritates her and she has to look somewhere else when he does it. Memphis also said similar and worse today, calling Ian "weird," mocking him, and comparing him to the REDRUM kid in The Shining. Nicole said "sometimes" it bothers her too. Dani also said she was annoyed Ian wouldn't name anyone as targets and had been throwing comps, and said "get him out of here." Nicole said she wasn't close to him anymore "ever since that thing" (the wall yeller). Christmas continued her revisionist history tour throughout the day, repeating lines like "after the experience I had to go through to nominate [Bayleigh and Da'Vonne]," and she's got to "carry Tyler's cross," and how she knows how to handle her anger so she walked away last night (she did not do either). She told Dani and Nicole she'd tried not to bring them into it because then everyone would have an opinion on what to do - never mind she's supposedly allied with them. They wondered if Tyler wanting to quit was a storyline, and how they'll edit all that. Believe me, we're wondering that too. Nicole's expressions were particularly good for all that. Christmas also told them she and Memphis had agreed on a plan that if it's a double eviction, the first nominee named would be the HOH's target. But it won't be a double this week (and likely not until October 1), so that's all moot for now.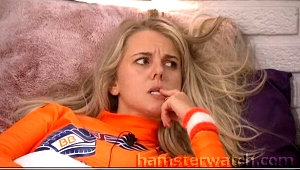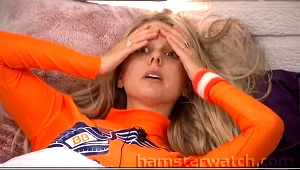 They did their weekly virus tests with Dr H, and some said it was their easiest so far and others said it was their worst. Bayleigh had a rushed chat with Cody, telling him "I've already fucked up her game" - about Da'Vonne I think, because she added "that drama with Tyler had nothing to do with her, and that drama with Christmas had nothing to do with her." Kevin told Da'Vonne and Bayleigh about meeting his husband, and coming out to his family and resulting issues due to their religion, and Cody had a long quick-whispering talk with Enzo and Dani that went back to Kaysar and Janelle, I couldn't follow it.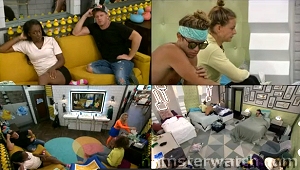 Cody came out of Diary around 9.30pm, sniffly, and went to bed. Tyler asked him what's wrong, as did Ian, and he told them his grandfather had died, adding he didn't want to talk about it right then. Tyler asked, and then told the others around the house, who paid condolence visits. Some stayed and some left, but all were mostly silent for some time, and a few told the ones who didn't know that Derrick and Frankie had both lost their grandfathers on Cody's prior season. Cody said his grandfather had cancer, and that he'd been able to see him before he left for this. I think we all send our condolences to the family. Along with a heartfelt #FuckCancer.

After an emotional night on top of last night's fights and resulting tense day, most turned in early. Dani sat quietly with Ian for awhile and he made a faux pas by asking something about the game, and she snapped at him. He apologized a few minutes after. Later he told Dani and Tyler he asked Diary if he wins HOH can he forego his letter so Cody could have one, and he said they'll let him know.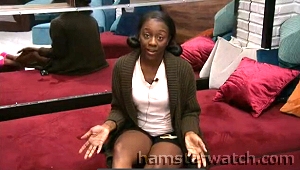 Da'Vonne sat down to talk to us, saying it had been an emotional week and night, adding "he's my friend" about Cody. She said the girls alliance the other night was fake (we knew), and it had been hard to keep her cool during the fight but she did, even with "Christmas running around saying she felt attacked." She said she hoped we saw the full extent of it all and who was really out of hand (we did), and she said it made her want to fight even harder. She also said she knows Christmas has a power, as she figured it out in the darkroom during the comp, and she wanted to get her to flush it out. She said she can "shoot at her and Tyler at the same time" if she wins HOH. She also said she'll campaign on Wednesday and say whatever they want to hear - so keep that in mind when she does. She sent love to her daughter, and her momma, and her fans, and said she was ready to play. Quite a bit later David also went into the lounge, and got emotional, talking about his mom. Dani joined and comforted him, and later Tyler peptalked him.

Reminder, if you missed what came before, check my previous episode, always linked up top or from my season index, and/or the detailed feeds updates by @UgotBronx, and get the feeds to catch anything you missed with Flashback!



Day 36 Wednesday - September 9, 2020
Morning brought Enzo decked out like it's Thursday, causing hoots and hollers as he made his way through the house. Bayleigh and Da'Vonne talked about the advantages of having the first HOH for forming alliances, tongue-in-cheek, adding "it was fake," along with pre-season phone calls. Da'Vonne said she didn't have anyone's number, and Bayleigh said "I knew they were happening because when Derrick called us, he was just like 'yeah, I'm not going but somebody I'm close with might go so I'm just trying to check around.'" It sounded like Dani and perhaps others may have gotten a heads-up/warning for griping about Ian stimming, as she said she forgets he's on the [autism] spectrum and hasn't been as understanding as she should be. Hypersensitive Skippy was on duty today so most convos were sprinkled liberally with starfishies.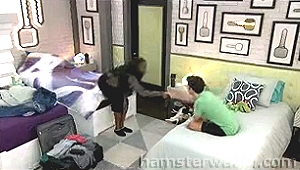 Christmas asked Da'Vonne for a moment to say "I'm upholding my promise to you" and said she has the votes if she wants to stay. And she apologized that she "didn't shut down the conversation" the other night, and had allowed herself "to elevate" and raise her voice. Da'Vonne also apologized for raising her voice. They did not hug. Christmas asked Kevin about his vote, he was non-committal and added he wanted to know what the HOH wants, and Christmas said she'd prefer Da'Vonne to stay. Bayleigh and Da'Vonne each held multiple meetings and pitches, with each campaigning positively for themselves rather than negatively against the other. Ian told Da'Vonne he was still leaning in her direction, 75% now, and he'd let her know for sure tonight or tomorrow. She said he'd be safe if she wins HOH and they shook hands on that. I think she was sincere with this, but remember as the day goes on that she told us last night she'd tell people whatever they wanted to hear. As of now, all signs indicate Da'Vonne will likely stay tomorrow, and Bayleigh will wrap up the third move-in group: she went in with Janelle, Keesha, and Nicole A.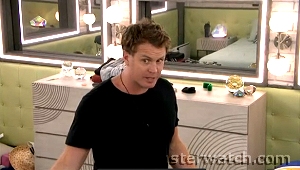 Once the campaign trail cooled down, most everything else tapered off and it was a quiet evening with a lot of chatter in various twos and threes, plus a lively group convo about poop techniques, positions, and equipment. Memphis went off on another random rant about Ian, telling Dani, Cody, Nicole that Ian was "freaking him the fuck out" because he was acting like a "totally different human being." Nicole said "he's confident now, right?" and Memphis said "yeah, it's creepy as fuck! I don't like that." Dani said "when he comes out there at 3am in his underwear" she'd have him go sit on Memphis's bed, and he replied "I will kick him in his teeth" and say "I thought he was a ghost, I thought he was from The Shining." He said he'll go creep on sleeping Ian at night instead, and he went to loom over Ian's bed. Memphis again emphasized he thought Ian was acting totally different, and questioned if he was switching twins.

Kevin told Da'Vonne that David was campaigning against her, and she told him about David's style of telling the person he's bashing he's doing so to cover his tracks, saying he's checking for leaks. Da'Vonne got annoyed and asked "WHY does he get to keep fucking with my game?! Fuck him!" Da'Vonne reported that to Bayleigh and asked advice for going forward. Bayleigh said she was aware of David's tactics, and Da'Vonne will be okay going forward since she'll be on defense and prepared for it.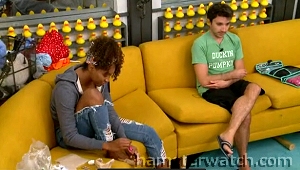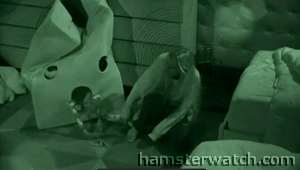 Bayleigh and Ian chatted about their lives and ordinary things for awhile, Dani and Cody scared each other a few times, Dani climbed into Nicole's cereal box with her and they both about died laughing, and most of them turned in early again. I'll be sorry to lose Bayleigh from our feeds, and I hate the way it came about (whatever the full story is) but they all have to go sometime, and she has a loving husband, a puppy, and a new Tesla waiting for her.

Reminder, if you missed what came before, check my previous episode, always linked up top or from my season index, and/or the detailed feeds updates by @UgotBronx, and get the feeds to catch anything you missed with Flashback!



Ratings - A Dirty Dozen edition
Ratings are based on entertainment value
(I know, I know - that's just my stock line for this space)
See full bios in cast folder at
Hamsterwatch Forum
Noms count: original/renom


I'm pleased to remove my (semi) permanent gripe about slop and the need for good nutrition during pandemic plague season, but I'll bring it back if they bring slop back.

However, making us Have-nots by blocking feeds four hours and nine hours after wall yellers we heard anyway, and blocking feeds for three hours after evictions now, and blocking virtually all the potentially pivotal talks about Christmas using her veto on Tyler is just not right. BB USA and BB Canada both have things they do better than the other and it's just a shame that they each continue to adopt the worst features from each other, rather than the best.
PS If they talked Tyler out of his send-me-home plan to make him and/or this season look better, well, that backfired spectacularly.





Won: 500 tricycle laps
HOH 0 - Veto 0 - Noms 1/0 - HN 1

Easy ups for her tricycle laps - not because they were easy, but because she did them with a cheery attitude that just pissed off her haters in there and out here. She's been doing her very best not to prove those haters right by going off on anyone and props for that. Many others in there have angry fights included in their BB legacies but she's the only one who has to carry and counter expectations of a repeat.
Bonus secondary ups for giving Christmas what she had coming in Monday night's fights, and coming out way ahead, and for reverting back to humor about it soon afterwards.





Won: $5,000; Safety Suite #2; Safety Suit #3 (Enzo's win)/1 week star babies; Basement Blocker power
HOH 1 - Veto 1 - Noms 0/1 - HN 1

Before nominating Bayleigh and Da'Vonne:
Christmas: I'm gonna get shot, like somebody's gonna put a fork in my face today
Nicole: No, they'll stop that
Christmas: Not if it happens fast enough
Nicole: Don't say that, it's disgusting
Christmas: I'm just saying I'm scared, and I'm not easily spooked
Bonus secondary downs for her ludicrous part in escalating the Monday night fights, and later claiming she was a victim who was being bullied. Please. Sit down, you pompous ass.





Won: Nothing yet
HOH 1 - Veto 1 - Noms 0/0 - HN 1

He talks louder than the WAY TOO LOUD starfishies music, and that's saying something. He usually isn't though.
Downs retracted in condolence for his grandfather. This is just a reality show - there are bigger priorities for all of them and for most of us.





Won: Slop pass, home gym; Basement Replay power
HOH 0 - Veto 0 - Noms 0/0 - HN 1

She knew something was up Sunday night but she had no idea what, so she decided it meant she was about to be backdoored. I'd say 'it's not always about you, Dani' and this time it definitely wasn't, but the reality is she's on way more radars now than she realizes.
Upgraded to ups for her hilarious retells/impersonations of Christmas's rants from the Monday night fights.





Won: Basement Disruptor power
HOH 0 - Veto 0 - Noms 1/0 - HN 1

It's a good thing he got a power for original noms rather than renom, or Da'Vonne might never forgive him. She still might not, though not using a power like that before veto is understandable. The fact that David didn't fess up to Tyler or anyone else about his power indicates he might not trust anyone in there, and that's a hard road to travel in BB.





Won: $5,000
HOH 0 - Veto 0 - Noms 1/0 - HN 1

She's been a champ at keeping a straight face while listening to Christmas yap on and on with her platitudes and condescending attitude all week. Day has always been fun feeds but her friendship with Bay has made her even more so, and I'm really disappointed that either will be leaving.
Bonus secondary ups for giving Christmas what she had coming in Monday night's fights, and coming out way ahead, and for having to talk it over with a giant cereal box afterwards.





Won: Safety Suite #3
HOH 1 - Veto 1 - Noms 0/0 - HN 1

He just goes along being Enzo, much like he did the last time, and that worked out pretty well for him. It could work out even better this time around.





Won: Safety Suit #2 (Christmas's win)/1 week space skits
HOH 0 - Veto 0 - Noms 0/0 - HN 1

After his talk with Kaysar and subsequent mini breakdown, and backing off from Nicole, then attempting to backtrack all that, and then sitting out the veto comp, I had a feeling he might have been the one to pawn himself to go home this week. I'm glad he didn't and that he's still here, as he's one of the only watchable ones left.
Bonus secondary ups for being in the shower ONCE AGAIN during another bathroom fight, only this time he'd forgotten his towel and he was trapped in there.





Won: Nothing yet
HOH 0 - Veto 1 - Noms 2/0 - HN 1

Without having been involved in any of the pawn/veto talks, he told Bayleigh and Da'Vonne that Tyler was 'near Dan level' with dirty tactics and using BLM for game. Whether he's right or wrong, he really shouldn't state things like that as fact when he wasn't involved. But it's not the first time he's done that this season, and it probably won't be the last.





Won: Nothing yet
HOH 1 - Veto 1 - Noms 0/0 - HN 1

Who?





Won: 1 week SLOPPIES box
HOH 0 - Veto 0 - Noms 0/0 - HN 1

She was predictably pleased to have taken the lead for BB costumes over Frank with four now, and predictably whiny about her cereal box being hot and uncomfortable, but she gets a pass for telling Christmas her pre-noms words were 'disgusting.' They were indeed.





Won: Nothing yet
HOH 1 - Veto 0 - Noms 0/0 - HN 1

I think his offer was sincere as we've known him to be sneaky (very sneaky) but not malicious, at least not that I recall. I don't think he'd chance saying 'you're standing for something greater than me and I want to see that play out' to Bayleigh and Da'Vonne if his offer to pawn himself wasn't genuine. However we're under a huge handicap because his subsequent talk with Christmas was withheld from us, and his reputation out here is now shot for many, no matter what his intentions were. We may never know if it was Tyler or Christmas or production who vetoed the veto plan, and that just isn't right. If it does come out (reliably) that Tyler indeed fabricated the whole thing, he'll get a permanent empty wheel here.





Won: Safety Suite #1
HOH 0 - Veto 0 - Noms 2/0 - HN 1

4th evicted, Day 30

His BB strategy plans have always held promise but implementing them, not so much. But no matter: he was and is a class act, and he always brings the kind of much-needed humanity our feeds are usually lacking in a big way. It's too bad things didn't work out differently this time but it was great to see him on our feeds again, both for himself and for his fun friendship with Janelle.





Won: Safety Suit #1 (Kaysar's win)/1 week star
HOH 0 - Veto 0 - Noms 1/0 - HN 1

3rd evicted, Day 23

It was great to see her on feeds again, especially her easy friendship with Kaysar. She was BB6 Janelle again but without the in-your-face name-calling that would have made things more fun for us, but props to her for not going there. It's astounding how hard she was targeted just for showing up, proof that Janellousy is still real.





Won: Nothing
HOH 0 - Veto 0 - Noms 1/0 - HN 1

2nd evicted, Day 16

Imagine going on BB and not wanting to work with Janelle and Kaysar. Having them to go bat for you, hard, and then throwing it back in their faces. It's mind-boggling. She was in way over her head this season, made one bad decision after another, and she repeatedly promised us a house meeting that she never delivered.





Won: Nothing
HOH 0 - Veto 0 - Noms 1/0 - HN 0

1st evicted, Day 9

She was feisty her first time around but like all of them, she's older and more mature now, and her birthday happened before they moved in, so we didn't get any new memorable Keesha scenes. But it was good to see her again and she got a nice check for two weeks isolation and one week of summer camp.



Lines and Links of the Day
Lines

Monday
Bayleigh to Da'Vonne: [Christmas] has to know they're going to call her racist online, she has to know that

Enzo: The only reason why I want to win HOH, not for the power, for the liquor yo, that's it yo, just for the liquor

Kevin: I think we should go in the HOH room
Christmas: No! Absolutely not! I live here too, I can go wherever the FUCK I want!
[Da'Vonne and Bayleigh walk by]
Christmas: Here we go
Da'Vonne: Shut the fuck up
Christmas: I don't have to, I live here too
Da'Vonne: Shut the fuck up, girl
Christmas: I don't have to
Bayleigh: Why are you adding fuel?
Christmas: I'm not adding fuel!

Kevin: Day's victim angle looked like she was hurt, and [Christmas's] was like 'I'm being attaaacked'
Bayleigh: Like a Karen?
Kevin: Yes
[both laugh]

Tuesday
Enzo: It's gonna be a long fuckin day today yo, it's only fuckin Tuesday

Christmas: We have 11 people right now? or 12?

David to Kevin: David: They're all different, they all have their different ways of playing it, it's all a cohesive strategy.. shoutout to Derrick.. my brother told me about Derrick, I think

Christmas: What is vegan? I'm a little confused
Memphis: What?

Christmas: I got like buckets of blood all over me.. this is one of the top ten rudest weeks in BB history

Da'Vonne: I'm tired, tomorrow Cinco De Mayo better not look my direction

Wednesday
Dani to Christmas: You're not HOH after tomorrow, let it go

Enzo to David: There's two things in this game yo that you need no matter what: you need loyalty and you need enemies yo, that's it, the loyalty you keep with you and the enemies you know who you're going after, that's it

Enzo to David: All of these fans praise the greats, and this and that - they're coming in this house with pre-alliances, they're the greats? Get the fuck outta here, I come in this house knowing nobody, nothing, fuck outta here yo

Ian about the fight: The other night looks like freakin kindergarten compared to [season] 14
David: Damn!

Enzo: This whole untouchable shit? Like what the fuck
Ian: Yeah, what is that garbage? It makes me just irritated
Enzo: Now the word is untouchable, like what the fuck
Ian: I had to ask people what's that mean? They're like 'it's like a Final 2.' I was like then why don't we just say Final 2? What are we, in second grade?

Kevin to Da'Vonne: At this point I think there's a super alliance and we ain't in it, it's everyone except us



Links

GET YOUR FEEDS includes a free one-week trial

Use my link for any Amazon Canada shopping, anytime, at no extra cost - just start your shopping trip by clicking Amazon Canada

Live tropical reef webcam if you're missing the fishies

Big Bias flashback to Day 1 by @attackLZRD/BB9 Parker

GoFundMe for BLM proceeds to go to BLM charities of Day's and Bay's choice

Janelle's 'Janelle' necklace auction all proceeds will go to Give Kids The World

BB By the Week, Week 5 by @aubramariebb



Tally Items
Extracurricular Tally

Major fights: 1
Christmas vs Da'Vonne plus Christmas vs Bayleigh
9/7 10.00pm

Minor fights: 1
Janelle vs Nicole F
8/20 (not on feeds) - 8/23 show

Nominee speech scorchers: 1
Kaysar Day 30 - 9/3

Booze deliveries: 9
(Day 1 move-in - 8/5 nothing)
Day 7 - 8/11 2 wine, 6 beer
Day 9 - 8/13 2 wine, 4 beer
Day 9 - 8/13 Memphis HOH wine, 6 beer
Day 16 - 8/20 Tyler HOH 12 Vizzy
Day 18 - 8/22 2 wine, 6 beer
Day 21 - 8/25 2 wine, 6 beer
Day 23 - 8/27 Enzo HOH 6 White Claw
Day 30 - 9/3 Christmas HOH kombucha
Day 34 - 9/7 Labor Day party
Possibly booze showed up at some veto comps as well

Pinkyswears: 7
8/7 11.58pm Ian/Nicole F
8/9 2.35am Kevin/Nicole A
8/18 12.21am Bayleigh/Cody/Dani/Da'Vonne/Enzo/Tyler
9/4 3.23pm Dani/Da'Vonne/Nicole
9/4 11.24pm Kevin/Da'Vonne
9/8 11.49am Dani/Da'Vonne
9/9 4.08pm Dani/Da'Vonne

Injuries, illnesses, etc: 30
-Cody's broken glass/cut hand washing dishes
-Ian's slop sick day
-Enzo's sore foot/leg from backyard bicycle
-Nicole A's slop sick day
-David's cut hand from a decor star
-Nicole F's low potassium levels
-Da'Vonne's low iron sick day
-Da'Vonne's banged heel getting off the bed
-Enzo's pulled muscle from laser Safety comp
-Janelle's cut finger chopping veggies
-David's burned finger from pizza
-Dani's finger blister from 8/27 rollyball HOH comp
-Cody's burned finger from making breakfast
-Tyler's slop sick day
-Bayleigh's, David's, Kevin's, Tyler's sore legs from 8/29 veto comp
-Memphis's sore back from workout+8/29 veto host
-Nicole's shoulder problem
-Nicole's low potassium again
-Dani's bonked heel from hammock frame
-Nicole's cut thumb from a razor in a drawer
-Dani, Da'Vonne, Kevin, Tyler banged up in 9/4 Basement comp
-Ian's sit-out-veto sick day
-Memphis's cut finger washing dishes
-Bayleigh's burned finger from breakfast prep

Broken habitat items: 7
-Broken awning attacked Ian
-Mirror/window light frame went out
-Another broken awning
-Broken pantry drawer
-Bayleigh's 500 lap tricycle kept breaking
-Backyard camera partially melted from excessive heat
-Sinks and showers keep backing up

Scandals outside our BB world: 2
-Tyler's BLM renom pitch
-Dani/Memphis/Nicole/Christmas griping about and mocking Ian

Bigger BB stories than BB22: 2
-The Amazing Race, BB/Survivor season 31
-BB21 leaked group text

Pre-season cockamamie rumors/events: 5
-Kaycee and Josh contracted COVID-19 partying together
-Nicole Franzel masterminded casting
-Public sour grapes from various uninvited alums
-Danielle Reyes will/won't/will/won't show up
-Nicole Anthony's potato salad recipe



Production Goofs

1 Premature All-stars merchandise in CBS Store
2 Promoted interviews didn't happen
3 TV Guide posted a cast list prematurely
4 Forgot to update winners list for BB21
5+6 Wrong 8/9 show time, wrong BB1 premiere
7 Unfinished spots in house pics
8 Julie interview that mentioned 'some' failing virus test was deleted
9 Prematurely released half the cast
10 Have-nots locked out of HN room on premiere
11 Wrong season for Janelle winning first AFH
12 Misspelled Tyler's last name
13 Feeds window has wrong show days
14 Da'Vonne misspelled in press pics
15 Cody in Diary visual leak on their monitor
16 Referenced Orwell in BB Rewind promo
17 Switched BB Rewind host's accent é è
18 Staffer left a walkie talkie in the house
19 Wrong Day count for noms on 8/12 show
20 Kevin's comp shirt backwards on 8/12 show Diary
21 Alliance name errors in Twitter poll
22 Julie said wrong Day number on 8/13 show
23 Forgot to update Julie's twitter
24 Misspelled Cody's last name in press pics
25 Forgot Kaysar was on BB6 and BB7
26 Official site still showing BBAD on Pop
27 Wrong Day count for noms on 8/19 show
28 Lockdown recording bleed in feeds block music
29 Wrong Nicole in press pics caption
30 Posted 8/26 veto show pics a day early
31 Wrong Day count for noms on 8/26 show
32 Control room views + wakeup music on feeds
33 Safety Suite sign still up a week after it ended
34 Wrong date for Dan's Funeral (by EW)
35 Air shows omitted a Christmas star baby
36 Left out a Meow
37 Staffer seen on feeds
38 BB called the wrong Nicole
39 Short Ian Diary audio leak
40 Lockdown signal, while on lockdown



Season Stats
HOHs in order: Cody; Memphis; Tyler; Enzo; Christmas

Veto winners in order: Enzo; Memphis; Cody; Kevin; Christmas

Evictions in order: Keesha 13-0; Nicole A 10-2; Janelle 9-2; Kaysar 10-0

Cast Twitters: @BayleighDaily; @christmasabbott; @Cody_Calafiore; @danidONAT0; @davjalex; @DayDaVonne_; (Enzo deleted @the_Meow_Meow_); @TulaneTerry; @JanellePierzina; @KaysarRidha; @KeeshaSmith0801; @kcampbellicious; @MemphisGarrett; @Strongislandni2; @nicole_franzel; @TylerCrispen2







Linking to any page here is fine. Please don't repost content from this site (or any other) without permission, and don't repost or hotlink images.



THE REAL SHOW IS THE FEEDS

Live air shows in many areas
BB1 thru BB21 plus Celebs and OTT, and many other CBS shows

PROTECT YOUR ONLINE PRIVACY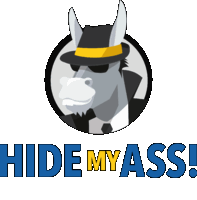 Anonymously secure your internet connection with HMA! Pro VPN - connect to our VPN service to anonymously encrypt your internet activity from prying eyes



HAMSTERWATCH SWAG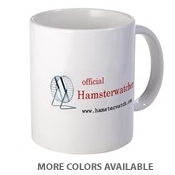 Mugs, shirts, more
Visit my Cafe Press shop





Big Brother 22 SEASON FAQ


-Day 1 move-in and CBS premiere was August 5
-Christmas was first to enter
-Day 58 2-hour double eviction is October 1
-Day 85 2-hour finale is October 28

Feeds are streamed by CBS, and Flashback is accessible via All Access subscription. Call 888-274-5343 for account help, including cancellation.

The CBS app (by CBS Interactive) plays BB air shows and other CBS shows, as well as feeds, or you can use your browser to watch feeds on mobile devices. The same All Access link used to subscribe will lead to the feeds viewing page if you're already signed up.

BB22 finalist prizes are $500k for the winner and $50k for 2nd place. 3rd place gets $10k bonus (so 4th and 5th might get $7.5k and $5k respectively, like recent seasons). All (or all but finalists) got $40k for showing up, with $12k additional bonus for making jury.

The habitat has 94 HD cameras (no change) and 113 microphones (no change).

The recorded in-house announcements are the voice of producer Don Wollman. He and Julie Chen are the only staffers who have been there since Big Brother 1.