This site is about the Big Brother 17 feeds and contains spoilers! It isn't necessarily thorough: it's what I catch and/or what interests me. It's about watching hamsters: who's doing what and why. Thanks for encouraging my behavior.
Your pal, dingo







POWER STATUS


Currently Liz is the 'active' twin

Vanessa is Head of Household
Clay used veto on himself
Becky, Jason are nominated
Clay, Shelli, Steve are Have-not
Their supplement is popcorn







UPCOMING EVENTS


Friday: Nominations, BOB comp?
Saturday: Veto comp

Next show: Thursday 9pm
Live eviction, twins 'reveal' and separation, HOH comp, assorted drama







BB17 DRINKING GAME


Take a swig whenever someone says squirrel - take two for squarrel







QUICK LINKS & BOOKMARKS



-Get/watch the feeds
-Feeds updates by @UGotBronx
-My Twitter - my screencaps
-Hamster Twitters
BB USA - BB Canada
-BB Viewer by @liquid8d
-B3V Viewer by blistering

-Hamsterwatch chatroom
-On The Block with McCrae Olson
and Spencer Clawson

-Amazon portal USA or Canada
purchases help me a bit

-Big Brother 17 official site
-Live show tickets
-Attwx.com all seasons
-Dick at Night with @EvelDick
-Latest alliance chart
by @89razorskate20
-Diary tally by @clamperls

-Feeds devices & system req
-Shop Roku or Chromecast

-East Coast air show streams
1 - 2 - 3 - 4 - 5 - 6 - 7
8 - 9 - 10 - 11 - 12 - 13
NO DOWNLOADS NEEDED




Donations via Paypal are gratefully accepted!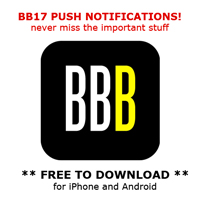 Get Big Brother Buddy app!
Get all the BB17 news plus push notifications of key events as they happen

Watch Big Brother
Seasons 1 thru 16!
Plus tons more CBS content







BIG BROTHER SEASONS



CBS All Access
Seasons 1 thru 16

Amazon DVDs BB4 - BB3

Amazon Instant Video BB16
- BB15
- BB14
- BB13
- BB12
- BB11
- BB10
- BB9
- BB8
- BB7





>> >> >>
>>
ANY AMAZON.COM PURCHASE CAN BE MADE THROUGH THESE LINKS - NO EXTRA COST TO YOU
Amazon USA
- Amazon Canada
GET THE FEEDS - NO PROMO CODE NEEDED - $5.99 PER MONTH
Day 42 - Wednesday 7/29
Go-to move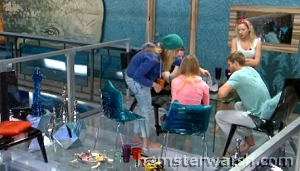 Jason said a sad farewell to the backyard before they were locked inside at dawn for building, making for a very quiet first part of the day.. Vanessa added Chess Tutor to her lengthy hamster resumé, inadvertently showing her strategy cards as she told them she has a go-to move she always uses, because it's very complicated and it lets her see how people play.. I don't know if any of the assembled company caught on to that or not.. later she told Steve something similar, adding that she's "not very good with pawns" - you gotta love chess analogies in the BB habitat

Vanessa also told Austin and Liz that no one had told her how "the house" had been going after Austin this week - ooookay.. and Vanessa asked Jackie "what if" Jason isn't really a grocery stockboy at all, but a millionaire clothing mogul - ooookay again.. meanwhile Liz promised Austin a kiss if he wins HOH tomorrow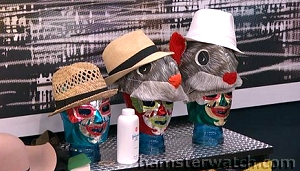 They all did some bowling which was kind of fun - Vanessa even descended the stairs to socialize for that.. Meg and Jackie ran some interference here and there, but Jason laid around and laid low all day, coming out to socialize a bit but mostly waiting for his eleventh hour pitch to Shelli and Clay.. he finally got Shelli alone and Clay joined shortly after

Jason told them that "everyone" thought they were behind his nomination, that Becky said she'll go after them when the double comes, that Jackie was very hurt when the Dark Moon final eight alliance turned out to be a short-lived sham, and that he thinks Thursday will be endurance and he'd keep them safe if he stays and wins - Flashback 7/30 1.52am.. I didn't stick around for the fallout and retells but we'll know the outcome soon enough

GET YOUR FEEDS to follow all the action! One week free trial - no promo code needed
Remember to click "previous Hamsterwatch episode" at the top of any page for what's come before, and hit the Feeds Updates tab for loads of details and screencaps



Day 41 - Tuesday 7/28
Squarrels
It was a very low key day, bringing complaints from some but relief for me and I would guess most of my fellow sites and updaters after these super chaotic first weeks.. the camera came out and Vanessa wrote another blog and tweets, and they spent most of the afternoon laying around the pool

Jason spent a lot of the day in bed, not campaigning.. he's alternately announced plans to rally for votes at the last minute and to go out quietly.. he seems defeated, and it seems like a given that he is, but I'm hoping he comes up with some kind of a fight rather than just laying down to die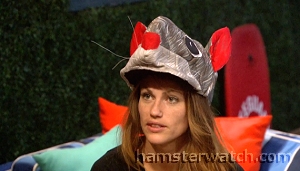 Jason and the other "outsiders" had a few discussions about everything that got them here.. some of it they have right and some of it wrong, but at least they're starting to put the puzzle pieces together.. Becky did some double-agenting along the way, but not very well from what I could tell

Austin gave Liz some wrestling lessons, and they had quite a workout and show.. Jackie joined for a bit as well.. Liz got a lot of moves down pretty well in a short time, and they had the makings of a decent routine before long - they even got cheers from the patio group - Flashback 7/28 10.45pm.. Jason threw eye daggers at Shelli as she told an involved story about shooting her show intro segment.. James loaded a condom with a lotiony cucumber and left it in Meg's bed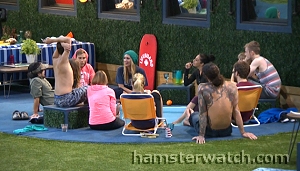 They got a late booze delivery, which Jason had been begging for all day, saying he wanted to do a Britney Haynes and give a sippy snotty soliloquy before going out.. he didn't do that, but all 12 gathered at the hot tub for story time that had some funny moments

Jackie told Jason, Meg, James that Jason would be better for her to stay than Becky, and they hatched a plot to try to get Clay and Shelli (or Johnny and Steve, or Austin and Liz) to vote with them.. Jason said they "have to scare the shit" out of whichever pair they select, and make them think they're the next target(s) and/or convince them that Thursday's HOH comp will be endurance, which he has a good shot at winning, and he'll promise to keep them safe.. they'll have a 6am lockdown for comp building on Wednesday, which will help that story.. too bad Jason trusts Steve the least, since he's all about keeping bigger targets and secret hinky votes - Liz too, and Austin too, for that matter

GET YOUR FEEDS to follow all the action! One week free trial - no promo code needed
Remember to click "previous Hamsterwatch episode" at the top of any page for what's come before, and hit the Feeds Updates tab for loads of details and screencaps



Day 40 - Monday 7/27
Blindside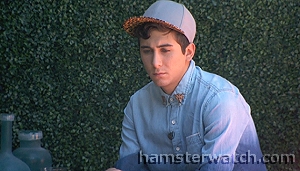 Clay used his veto on himself obviously, and Vanessa put up Jason in his place, as decided late last night on the final spin of renom roulette.. Jason hadn't been warned about that and neither had Meg.. Jason took it pretty well, clearly dumbfounded but he had no explosions or ranty rants

Meg however was crying up a storm and kicking herself for that at the same time, saying she didn't want to be the crying girl.. she kept saying it was the shock of the blindside that hurt, and what a short-lived lousy alliance Dark Moon turned out to be.. James kept pointing out how all of Meg's guys get the boot, which didn't help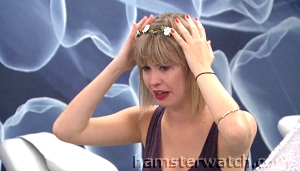 Retell round robins carried on for a few hours, like they do.. the "outsiders" kept saying something was going on that they couldn't figure out, even while they were looking at Shelli and Clay.. Vanessa ran her loops for her various visitors, riddled with the same "integrity," "straight shooter," "solo dolo" and all the other buzzwords she runs into the ground.. she ran them again when Jason finally went up for his long-awaited meeting, which was sad to watch

Shelli was thrilled at "how sexy" Clay was using his veto.. eventually the "outsiders" did figure out that of course Shelli and Clay were part of it all, but other than Meg confronting Clay about lying to her and Clay apologizing on cue, not a lot has come from that side of it - yet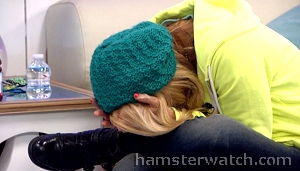 Most everything settled down to a dull roar once all the retells had been told.. naturally Vanessa, Shelli, and Clay kept at it because that's what they do amongst themselves and with others, and Jackie kept hovering around Vanessa because that's what she does, but for the most part it was a quiet evening

Elsewhere, in an attempt to be goofy, Steve threw an orange at Meg and hit her with it, and the twins' scheduled switch back to Julia didn't happen.. Steve and Austin had a fun late night convo about their favorite players from each season - they both had some surprising picks.. I don't think Jason will just lay down and die, and I don't think Becky will either should Jason make any leeway campaigning.. it's still a very long time til they vote on Thursday and despite appearances, I don't think anything's set in stone yet

GET YOUR FEEDS to follow all the action! One week free trial - no promo code needed
Remember to click "previous Hamsterwatch episode" at the top of any page for what's come before, and hit the Feeds Updates tab for loads of details and screencaps



LINES OF THE DAY

Wednesday
Vanessa's blog: My descent into an abyss of confusion...

Vanessa: I have a go-to, it's so complicated in chess, why not just do the same thing every time so you get used to how people play

Meg to Jason, re Shelli/Clay: She responds to paranoia, he responds to loyalty

Vanessa about chess: I'm not very good with pawns

James: So many people we need to get rid of, like..
Jackie: Everybody
James: Everybody

Jason to Shelli/Clay: I will go down with the ship! I had a final two with Day and went down with the ship, I will go down with your ship

Tuesday
Meg: I would rather lose this game than play it safe anymore

James: You know how turtles are always in the middle of the highway? Well, maybe not in LA...

Monday
Steve: Hamsterwatch uses the nastiest screenshots they can find from the feeds
Austin: Is there more than one? I go on a site with Dingo's Hamsterwatch, is that the same one?
Jason: I can never find what I'm looking for on Hamsterwatch

Jason: It's okay guys, I already won - I made it here

Shelli to Jason, Meg, Becky, Jackie: Vanessa's an honest player

Meg: I hate being Crying Girl!

Meg to Shelli: I just got lied to - like why didn't we have a heads up?

Jason to James: Not everything everyone says in this house is true

Jackie to Vanessa: As long as there's nothing going on behind my back, that's all that matters

Meg: It just doesn't make sense
Jason: That's why it's our fault, 'cause we bought it hook, line and sinker

Vanessa: We're gonna get pitted against each other now
Shelli: Me and you?

Jason to Vanessa: What's killing me is that Big Brother is my life and passion, and half of these motherfuckers were found on Tinder

Meg to Johnny: You had a fun filled day, sounds like summer camp you've been to

Clay about Jackie: She's not really fluent about her words - she doesn't say much

Clay: Do you let your dog lick your face?
Shelli: Yes, he can kiss me all over



LINKS OF THE DAY

Get the feeds to see the real show

Live like a hamster! Habitat items available from Amazon: squirrel suit - Jonathan Adler chess set - blow-up giraffe - duckie chlorine dispenser - whale pillow - you might also like Crazy Cat Lady action figure and board game

Who's Ready for a Takeover? Triplet Edition by @IdolKnights

Vanessa's HOH blog

Scheming by @BB11HouseRodent

Big Brother 17 Saga Episode 5 by @WilHeuser

Audrey On The Block with @mccraechum and @SpencerBClawson

On The Block with @mccraechum and @SpencerBClawson

AM 2 PM Special Episode How to Watch Big Brother with @Pete_Monaghan and @Drewmanji74

AM 2 PM Episode 6 with @Drewmanji74 and @Pete_Monaghan

Confessions of a BB feed watcher by me! for Reality Blurred



Ratings - Straight Shooter Solo Dolo edition
Ratings are Monday's for now, based on entertainment value




A few years ago, Chef Joe had to hula hoop whenever a signal sounded for 24 hours. This year, the feedster-voted hula hoop arrived without fanfare around 2am one night. Maybe it's the same hoop.






Won: Outback dinner (guest)
Say what you will (and you do!) he was a certain goner this week but his desperate pleading apologies to Vanessa earned him a miracle save. Plus she and her cronies believe him that he doesn't want to win the season, like All-Stars supposedly believed Dr Will wanted to get the boot before jury on BB7. As for the haters, he's played the bad guy character for a living.. he's going to love being successful at that on BB, and doing it without a wrestling mat.






Won: Outback dinner (guest)
NOMINATED
I really thought this might be the first season in years (maybe ever) with no pinkyswears. No wonder so much lying and backstabbing keeps happening - they haven't been using the one currency that's proven to be valid in BB (sometimes). Leave it to Becky to be the one to introduce it this season, and with a double.






Won: Outback dinner (guest)
WON VETO - USED ON SELF
If they edit him as the manipulating superstar hero again, I might choke.






She's added two and two and come up with four a few times, but more often she comes up with zero, and after everyone else has turned their papers in. She probably has no idea how close she came to being this week's victim.






Won: Outback dinner
He could have taken Audrey's information about The Six another direction rather than to them and been sitting pretty now, but I'm not sure he's fully realized yet that she was right about that. He and a few of the others did discuss it for a minute, but James keeps having weird realizations about things he already knew (like twins), so maybe it'll come up again as a V-8 moment, or something.






Won: 1 week Wackstreet
NOMINATED
Ups for taking his blindside nom as well as he did. He had a couple quiet meltdowns later but he tempered those with jokes and laughter. It's just a shame he got fingered for crimes he didn't commit, thanks to Vanessa convicting him via her paranoid delusions rather than empirical evidence. But let's face it: he's said more than once he only wanted to get on the Wikipedia BB page and that's a done deal, and he pretty much laid around for weeks while all this gaming was going on around him (and without him).
PS Is he going to ask Vanessa how she told him she couldn't put up Audrey two weeks ago because LGBT solidarity, but now it's okay to put him up?






Won: 1 week Wackstreet
He just keeps doing what he does - it's all good. He's the last BB superfan still in the closet about that, and he should probably keep it that way.






Won: 1 week Wackstreet, Outback dinner
She made an interesting comment that her 'mom was right, guys and girls can't be just friends.' (I beg to differ but that's irrelevant.) She admits flirting with Jace, Jeff, and Austin, and being 'friends' isn't about flirting - or at the very least, isn't wholly based on that. Meanwhile she's backed off from Austin a little and that's good for everyone, and the twins farce carries on, but even more out in the open now. I wonder if producers will make them all feign shocked surprise for the big reveal on Thursday.






Won: Gronk party cruise
#LeaningMeg was bolt upright for hours after the veto meeting - it really got her attention. The fact that she took Jason's nomination worse than he did says something, but I'm not sure what. She cried too much about it but to her credit, she also joked about it and said over and over she did not want to be known as Crying Girl. But I was reminded of her telling Jason 'Even if there were a six person alliance, I don't care!' on anti-Audrey Sunday.. maybe she should have at least given it some thought before it was too late.






I'm so over her smug and her bossy, and I'm waiting anxiously til she's not in or affiliated with HOH anymore. Many in there and out here think she's in charge but I think it's Vanessa all the way. Shelli does make a good lieutenant and dirty work do-er though. Her big fight with Clay about not wanting to talk game on camera without makeup was funny because cameras were on her anyway - I guess she doesn't know there are more than just the ones on the walls. But it was also sad, particularly when she retold later that she thinks she's 'ugly' and 'looks like trash' without makeup. That's not true, and it's really not a healthy way to think about herself.. makeup won't fix whatever issues that's about.






I think a lot of his awkward is put on but I don't know how much, making him an interesting study. His street cred is dropping by the day in there, and it makes no sense. I guess they're all just so over-aligned with each other, they don't have anyone else to pick on. The more they do pick on him, the more shocked (and jealous) they'll be when they all get out and find out how popular he is.. wait for it.






Won: Outback dinner
HEAD OF HOUSEHOLD
Downs because exhausting! and not in a fun way. This week will go down as one of the more disastrous HOHs we've seen. She could have overcome the whole BOB and 'foolproof' failure if she'd just picked a renom - any renom - and dropped the axe quickly and cleanly, but no. She had to talk everyone's ears off, talking herself up the whole time while illustrating how paranoid and delusional she really is. I think she and Shelli have both severely ruined their chances at jury votes should either of them go all the way, since they've both made such HUGE stinks about 'doing what the house wants.' It'll be awfully hard to try to turn that around and say they pulled strings and thus deserve the win.






Won: Nothing
She was erratic and unpredictable, and the random ways she kept them stirred up made for some of the best feeds in ages. And as a bonus, she featured in all the fights, many because the others didn't believe her telling truths. They did buy most of the fibs, and without 'empirical evidence,' but they fell for her wacky gameplay more than twice. She marooned herself in a bed and a dental chair, with some laughs in between, and she got the 2nd ever penalty vote. I enjoyed watching her, and will miss her.






Won: Nothing
I haven't given many empty wheels before their time, and I don't think any of those got them as early as he did. But we've never had such a misogynistic, inappropriate, and unfunny pig before. CBS let him get away clean and that's what it is - I'm just glad to see the back of him.






Won: Power to nullify 3 votes
She wasn't afraid to confront people nor to keep fighting to stay, which was good for us, but didn't help her much. She figured out the twins early but didn't leverage that to her advantage soon or well enough. Her 'game on' fight with Audrey and pantry rant to us were memorable, especially her catch-phrase 'get your life!' She was smart, funny, and volatile. She didn't let us take full advantage of #DaVonneHasADaughter, a hashtag that was too good to be true.






Won: Nothing
He was like a parody of all the former surf boys we've had, with all the worst qualities of asshat hamsters past rolled into one. He verbally beat up on Steve a few times but the primetime version earned him viewer loathing, even if his actoring was lousy. He ranted, streaked, flipped us off, and mostly talked about himself, but he promised to save us all someday through music.



SEASON STATS
HOHs in order *denotes surviving HOH for BOB weeks
James*/Jason; Becky/Shelli*; Austin/Vanessa*; Shelli*/Lizia; Jackie/Vanessa*

BOB wins in order
Becky/John; Steve/Jason; Meg/Jason; James/Jackie; James/Lizia

Veto wins in order
Steve; John; John; Vanessa; Clay

Evictions in order
Jace 12-1; Da'Vonne 7-2; Jeff 7-4; Audrey 10-1 (9+1 penalty vote)

Evictee Twitters
@OddreyM; @JeffWeldon21; @DayDaVonne_bb17; @NikolaPoe









Linking to any page here is fine. Please don't repost content from this site (or any other) without permission, and don't repost or hotlink images.



THE REAL SHOW IS THE FEEDS


NEXT-DAY AIR SHOWS
BB1 THRU BB17 AND LOADS MORE CBS CONTENT


HAMSTERWATCH SWAG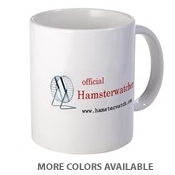 Mugs, shirts, more
Visit my Cafe Press shop





RATINGS WATCH


Wednesday's show won won the hour with 1.8 rating, 7 share, and 5.67 million viewers, ahead of America's Got Talent on NBC with 1.6/6/7.74, MasterChef on FOX with 1.4/6/4.60, and The Middle and The Goldbergs reruns on ABC with 0.7/3/3.80 and 0.7/3/3.17 respectively.









Big Brother 17 FAQ


June 18 was Day 1 move-in. June 24 was CBS premiere, Day 7. Finale will be September 23, Day 98

Feeds are streamed by CBS, and accessible via All Access subscription. Call 888-274-5343 for account help, including cancellation.

CBS shows are Sundays 8pm, Wednesdays 8pm, eviction Thursdays 9pm (Global in Canada).

Big Brother After Dark is on POP (formerly TVGN). It airs Monday, Tuesday 11pm-2am; Wednesday, Friday, Saturday, Sunday midnight-2am; Thursday 1am-3am. The aired blocks are recorded earlier on the same night.

The CBS app (by CBS Interactive) will play BB air shows and other CBS shows, but not feeds. Use your browser to watch feeds on mobile devices. The same All Access link used to subscribe will lead to the feeds viewing page if you're already signed up.

Liz and Julia have to survive five evictions in order to play separately as individuals. They switch places every few days. They have a limited time in Diary to change clothes, adjust their appearance, and exchange info. The non-playing twin probably stays in hotel sequester.

BB17 prizes are the same: $500k for the winner and $50k for 2nd place. Stipend for the others is $1,000 per week again, including pre-show hotel and jury sequester. Recruits or those with established pre-season fan bases might get more.

The habitat has 80 HD cameras (up four) and over 100 microphones.

The recorded in-house announcements are the voice of producer Don Wollman.