This site is about the Big Brother 17 feeds and contains spoilers! It isn't necessarily thorough: it's what I catch and/or what interests me. It's about watching hamsters: who's doing what and why. Thanks for encouraging my behavior.
Your pal, dingo







POWER STATUS


Currently Liz is the 'active' twin

Vanessa is Head of Household
Clay, Becky are nominated
Clay won veto
Clay, Shelli, Steve are Have-not
Their supplement is popcorn







UPCOMING EVENTS


Monday: Veto meeting

Next show: Wednesday 8pm
Veto comp, veto meeting, Outback dinner, assorted drama







BB17 DRINKING GAME


Take a swig whenever someone says 'straight shooter' - take two if it's not Vanessa







QUICK LINKS & BOOKMARKS



-Get/watch the feeds
-Feeds updates by @UGotBronx
-My Twitter - my screencaps
-Hamster Twitters
BB USA - BB Canada
-BB Viewer by @liquid8d
-B3V Viewer by blistering

-Hamsterwatch chatroom
-On The Block with McCrae Olson
and Spencer Clawson

-Amazon portal USA or Canada
purchases help me a bit

-Big Brother 17 official site
-Live show tickets
-Attwx.com all seasons
-Dick at Night with @EvelDick
-Latest alliance chart
by @89razorskate20
-Diary tally by @clamperls

-Feeds devices & system req
-Shop Roku or Chromecast

-East Coast air show streams
1 - 2 - 3 - 4 - 5 - 6 - 7
8 - 9 - 10 - 11 - 12 - 13
NO DOWNLOADS NEEDED




Donations via Paypal are gratefully accepted!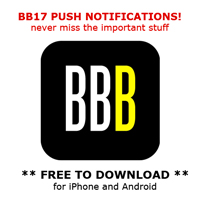 Get Big Brother Buddy app!
Get all the BB17 news plus push notifications of key events as they happen

Watch Big Brother
Seasons 1 thru 16!
Plus tons more CBS content







BIG BROTHER SEASONS



CBS All Access
Seasons 1 thru 16

Amazon DVDs BB4 - BB3

Amazon Instant Video BB16
- BB15
- BB14
- BB13
- BB12
- BB11
- BB10
- BB9
- BB8
- BB7





>> >> >>
>>
ANY AMAZON.COM PURCHASE CAN BE MADE THROUGH THESE LINKS - NO EXTRA COST TO YOU
Amazon USA
- Amazon Canada
GET THE FEEDS - NO PROMO CODE NEEDED - $5.99 PER MONTH
Day 39 - Sunday 7/26
Renom roulette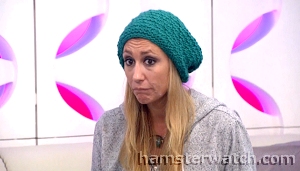 Vanessa kept up her exhausting loops to anyone who would listen as she tried to come up with a renom victim and a Reason to justify her selection.. at one point she decided Da'Vonne hadn't actually gotten the Kathy Phone power, and that Audrey hadn't been the hinky vote at Day's eviction, and she felt those (false) revelations would give her a Reason to put up Jason.. she pretty much cycled through all of them at various times, each Reason more delusional than the last

I'm not the best strategist, but I don't think any of this equates to good jury management for Vanessa, nor does her constant harping about hating liars and being a "straight shooter," especially when her many fibs come out (and they always do, sooner or later).. then again, there are a lot of sheep in that habitat, and they seem to think she's brilliant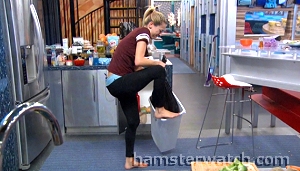 In more comedy news, Liz had a huge fight with the kitchen trashcan when she couldn't get it to let go of its bag of trash.. she stomped, cussed, kicked and finally gave up to wash dishes - Flashback 7/26 1.37pm.. she went back to it again later and succeeded, saying "eureka!".. it was one of those things that happens to us all and is horribly frustrating when it does, but hilarious when it's someone else.. it'll probably show up on the show and/or Jeffish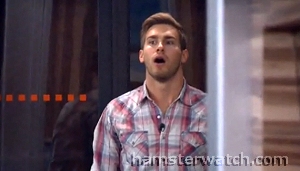 Vanessa, Liz, James apparently got to select a guest each to their Outback dinner, and Clay, Becky, Austin joined them.. feeds shut down for a couple hours so we didn't see it, but they had loads of steaks, mac 'n cheese, cheesy broccoli, dessert, margaritas, and no bloomin' onions.. they came back stuffed and sippy, and it was a nice break from Vanessa's ridiculous renom roulette convos (no word if she formed more new alliances over dinner or not)

The exhausting convos picked up again though, with Vanessa having long chats with Meg and with Becky, then alliance(s) talks in various combos, always with her rapid-fire double-talk, liberally sprinkled with her "straight shooter" and "integrity" buzzwords.. everyone waited for her to meet with Jason but after another lengthy rehash with Shelli and Clay, they brought in Becky and told her Austin was on their side (and now Becky's), that he's only playing for second place now, and they were ready to put up Jason against her and send him home.. Becky said she'll act surprised and "fake cry" at the veto meeting, adding "ask the fairies how bad I am at doing that" - so some of those teary Diary segments are prompted? Interesting indeed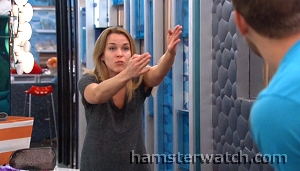 I don't think the Vanessa chat with Jason to find a Reason she can use to justify putting him up ever happened, but it might in the morning.. at any rate, as of now it'll be a blindside renom so that should be fun.. Shelli blew up at Clay for trying to talk to her when she didn't have makeup on, that was fun too - Flashback 7/27 2.51am

GET YOUR FEEDS to follow all the action! One week free trial - no promo code needed
Remember to click "previous Hamsterwatch episode" at the top of any page for what's come before, and hit the Feeds Updates tab for loads of details and screencaps



Day 38 - Saturday 7/25
Slopcorn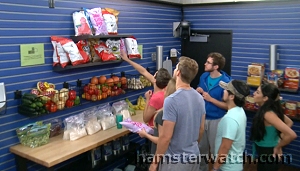 Vanessa picked Shelli, Clay, Steve to be Have-nots, and they were given various flavors of popcorn as their slop supplement.. they thanked feedsters for that, but the feedster vote was jump rope or hula hoop (hula hoop won, which is just as well since they already had a jump rope)

They got Skinny Pop and other brands, although Julie posted a tub of Popcornopolis brand a few weeks ago with "The Official Snack of Big Brother 17" sticker on it.. that's been added to the Goofs tally below - they should get some tips on sponsor product placement from Big Brother Canada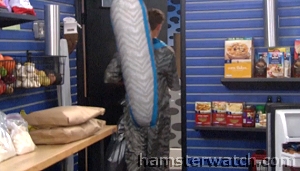 Veto players were picked: Johnny, Lizia, Shelli played along with Vanessa, Becky, Clay, and Jason hosted.. Clay won the veto (his first comp win) so he and Shelli were happy - apparently he broke the veto symbol off the necklace chain somehow.. Becky was caught crying, but recovered pretty well.. they competed in squirrel suits with big poofy tails, in a nod to Benny the Comp Squirrel mascot.. they had to carry something around a puzzle or obstacle course, and Clay's the only one who didn't drop it and have to start over



Poop hits fan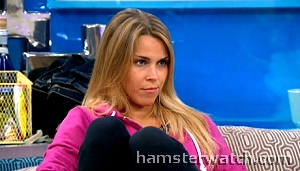 Another huge afternoon got underway when Vanessa summoned Liz for a "big talk".. Austin went up for some pre-emptive damage control to Vanessa and Shelli, making a fatal error by giving his word to Vanessa that he was not the hinky Audrey vote.. when he left, Vanessa told Shelli she knew he was lying and that she "knows his lie face".. Austin pulled Liz aside and told her all that, making Liz whine "but she knows you would have told me!" and then she headed upstairs - Flashback 7/25 5.45pm

Vanessa began at the beginning with Jason's late night tell-all, and Shelli was almost a caricature of the "bad cop" role with her scowls and pointed interjections.. Liz admitted she had known about Operation Jason, and that Austin had told her he was the hinky vote.. Vanessa in turn told Liz that Austin had been the backdoor target all along and nearly everyone knew, and about Austin's intentions to get Julia out so he could canoodle with Liz in jury.. Liz feigned shock, saying she doesn't even like him that way and it's all harmless flirting.. she also said she doesn't want to tell him the truth because then he'd turn on her "like Caleb did with Amber"

A side chapter was introduced when Liz told Shelli that everyone seemed angry when Clay won the veto, and "maybe they wanted Clay out".. then somehow Austin wasn't the target at all anymore, and Vanessa and Shelli tossed around other ideas including Becky, Meg, Jackie or John - go figure! They had a famously FOOLPROOF plan to backdoor Austin, it fell apart but they could still make it work, so they tossed it aside after sharing mass amounts of dirt about Austin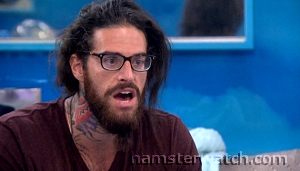 Then it was Austin's turn for a second round with Vanessa, alone this time - Flashback 7/25 6.34pm.. he back-pedalled about the vote lie by saying he just didn't want Shelli to hear it, but Vanessa flayed him open and threw him on her relentless grill, and repeatedly told him how much trouble he was in for openly lying to her.. he admitted he screwed up, he begged and pleaded, and said he didn't mean anything against Vanessa or their alliance deal(s), he'd simply fallen in love

He also stressed the importance of arithmetic and how they need votes against "the other side," and that's what seemed to hit home.. he stressed over and over they can boot him out next week for jury and he doesn't care if he wins the game, but they both continued flogging their respective trust/lies/loyalty/Judas dead horses for ages.. convos, lies and excuses between various combos started up from there, and restarted again and again with new combos, many of them about who the hell to pick for renom roulette, and Shelli started up interrogations about why everyone wasn't happy that Clay won veto

GET YOUR FEEDS to follow all the action! One week free trial - no promo code needed
Remember to click "previous Hamsterwatch episode" at the top of any page for what's come before, and hit the Feeds Updates tab for loads of details and screencaps



LINES OF THE DAY

Sunday
James Diary: I must look nuttier than a squirrel turd right now

Vanessa Diary, about backdooring Austin: Best part of the plan, Jackie will stay in power so she'll get all the blood on her hands, not me

Wondering about Outback's slogan:
Austin: It was under the name on the sign
Jason: A place to eat?
Austin: It was two words
Becky: Steak house?

Liz: ..Dan Griesling or whoever the fuck that nerd was

Vanessa: My integrity matters to me, that's my thing in this game

Becky about fake crying at veto meeting: Ask the fairies how bad I am at doing that

Saturday
Steve to John: I've been planning my game out for years, and what I've been doing in this house has NOTHING to do with that, nothing!

Austin to Clay about veto win: I was watching all their faces.. Steve is a fuckin decoy, they were gonna vote you out

Shelli to Vanessa: James is like a sponge, people go to him and fill him up

Austin: I don't care if I win this game
Vanessa: Why is your name Judas in wrestling?
Vanessa: The point is, I actually just know you're an idiot - you ARE a fuckin idiot
Austin: This was an emotional decision I made based on fucking Liz!
Vanessa: Liz has the biggest target on her because she's in a showmance and a twinmance

James: I'm always the last to know
Jason: Yeah, me too

Steve: Drama is stirring
Johnny: Are any of them angry?
Steve: Yes

Liz: What if we put Austin up, and we save him?
Vanessa: How does that work?



LINKS OF THE DAY

Get the feeds to see the real show

Live like a hamster! Habitat items available from Amazon: squirrel suit - Jonathan Adler chess set - blow-up giraffe - duckie chlorine dispenser - whale pillow - you might also like Crazy Cat Lady action figure and board game

Austin on FYI's Moving In he talked about this on feeds

Mrs Robinson by @BB11HouseRodent

Confessions of a BB feed watcher by me! for Reality Blurred



Ratings - Spirit Animals very special edition
Once more, ratings are courtesy of @TheJenge's My African Shaman (click for full size)




SEASON STATS
HOHs in order *denotes surviving HOH for BOB weeks
James*/Jason; Becky/Shelli*; Austin/Vanessa*; Shelli*/Lizia; Jackie/Vanessa*

BOB wins in order
Becky/John; Steve/Jason; Meg/Jason; James/Jackie; James/Lizia

Veto wins in order
Steve; John; John; Vanessa; Clay

Evictions in order
Jace 12-1; Da'Vonne 7-2; Jeff 7-4; Audrey 10-1 (9+1 penalty vote)

Evictee Twitters
@OddreyM; @JeffWeldon21; @DayDaVonne_bb17; @NikolaPoe









Linking to any page here is fine. Please don't repost content from this site (or any other) without permission, and don't repost or hotlink images.



THE REAL SHOW IS THE FEEDS


NEXT-DAY AIR SHOWS
BB1 THRU BB17 AND LOADS MORE CBS CONTENT


HAMSTERWATCH SWAG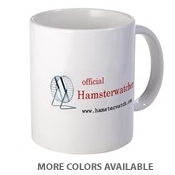 Mugs, shirts, more
Visit my Cafe Press shop





RATINGS WATCH


Sunday's show won placed second with 1.8 rating, 6 share, and 5.92 million viewers, behind Celebrity Family Feud on ABC with 2.0/7/8.54, and ahead of The Simpsons and Brooklyn Nine-Nine reruns on FOX with 0.9/3/2.12 and 0.7/2/1.47, and two Welcome to Swedens on NBC with 0.3/1/1.16 and 0.2/1/1.11.









Big Brother 17 FAQ


June 18 was Day 1 move-in. June 24 was CBS premiere, Day 7. Finale will be September 23, Day 98

Feeds are streamed by CBS, and accessible via All Access subscription. Call 888-274-5343 for account help, including cancellation.

CBS shows are Sundays 8pm, Wednesdays 8pm, eviction Thursdays 9pm (Global in Canada).

Big Brother After Dark is on POP (formerly TVGN). It airs Monday, Tuesday 11pm-2am; Wednesday, Friday, Saturday, Sunday midnight-2am; Thursday 1am-3am. The aired blocks are recorded earlier on the same night.

The CBS app (by CBS Interactive) will play BB air shows and other CBS shows, but not feeds. Use your browser to watch feeds on mobile devices. The same All Access link used to subscribe will lead to the feeds viewing page if you're already signed up.

Liz and Julia have to survive five evictions in order to play separately as individuals. They switch places every few days. They have a limited time in Diary to change clothes, adjust their appearance, and exchange info. The non-playing twin probably stays in hotel sequester.

BB17 prizes are the same: $500k for the winner and $50k for 2nd place. Stipend for the others is $1,000 per week again, including pre-show hotel and jury sequester. Recruits or those with established pre-season fan bases might get more.

The habitat has 80 HD cameras (up four) and over 100 microphones.

The recorded in-house announcements are the voice of producer Don Wollman.