This site is about the Big Brother 17 feeds and contains spoilers! It isn't necessarily thorough: it's what I catch and/or what interests me. It's about watching hamsters: who's doing what and why. Thanks for encouraging my behavior.
Your pal, dingo







POWER STATUS


Currently Liz is the 'active' twin

Vanessa is HOH
John used veto on himself
James, Jeff are nominated
Nobody is Have-not







UPCOMING EVENTS


Friday: Nominations, BOB comp
Saturday: Veto comp
Monday: Veto meeting

Next show: Thursday 9pm
Live eviction, new twist, HOH comp, assorted drama







BB17 DRINKING GAME


Take a swig whenever someone does a retell - take two if it's Vanessa







QUICK LINKS & BOOKMARKS



-Get/watch the feeds
-Feeds updates by @UGotBronx
-My Twitter - my screencaps
-Hamster Twitters
BB USA - BB Canada
-BB Viewer by @liquid8d
-B3V Viewer by blistering

-Hamsterwatch chatroom
-On The Block with McCrae Olson
and Spencer Clawson

-Amazon portal USA or Canada
purchases help me a bit

-Big Brother 17 official site
-Live show tickets
-Attwx.com all seasons
-Dick at Night with @EvelDick
-Latest alliance chart
by @89razorskate20
-Diary tally by @clamperls

-Feeds devices & system req
-Shop Roku or Chromecast

-East Coast air show streams
1 - 2 - 3 - 4 - 5 - 6 - 7
8 - 9 - 10 - 11 - 12 - 13
NO DOWNLOADS NEEDED




Donations via Paypal are gratefully accepted!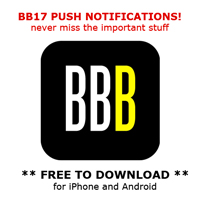 Get Big Brother Buddy app!
Get all the BB17 news plus push notifications of key events as they happen

Watch Big Brother
Seasons 1 thru 16!
Plus tons more CBS content







BIG BROTHER SEASONS



CBS All Access
Seasons 1 thru 16

Amazon DVDs BB4 - BB3

Amazon Instant Video BB16
- BB15
- BB14
- BB13
- BB12
- BB11
- BB10
- BB9
- BB8



>> >> >>
>>
ANY AMAZON.COM PURCHASE CAN BE MADE THROUGH THESE LINKS - NO EXTRA COST TO YOU
Amazon USA
- Amazon Canada
GET THE FEEDS - NO PROMO CODE NEEDED - $5.99 PER MONTH
Day 28 - Wednesday 7/15
Loveline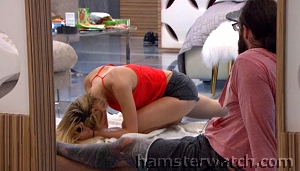 Austin and Vanessa had a chat about his feelings for Liz and his girlfriend at home, most of which was withheld from feeds, but it led to a round-robin about Steve's feelings for Liz, Liz's feelings for Jace, and we nearly had to call Dr Drew back from BB1 to hold a Loveline session.. along the way, Liz told Vanessa she didn't feel "that way" about Austin (and she wouldn't do anything on TV anyway).. Vanessa also talked to Austin about her ex husband Chad Brown's battle with cancer and subsequent death, and she continued to push the showmances to all and sundry

Paranoia kept up its happy dance when they noticed a little decor plane was missing, making Steve and others think that old bygone comp would return, but then they found the plane under a bed.. Audrey kept up her personal brand of get-around, leading to more speculation about her being America's Player

Jeff kept up his "woe is me" loops, and the rest of them speculated about tomorrow's HOH comp since construction began early.. comp guy Heath Luman tweeted that he's "looking forward to #TBT" making it sound like we'll see something we've seen before - I hope it's a good, long endurance



Date night and 90 Percentgate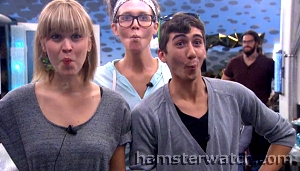 They got an early booze delivery and they got loud, like they do, and they nearly went to Truth or Dare again but fortunately that didn't last.. Shelli, Audrey, Jason, Meg did a reprisal of last night's musical that was cute again, but with a pretty dismal ratio of rehearsal time to performance time

Since date night was cancelled last night, and since Vanessa somehow neglected to tell Austin that Liz doesn't feel that way about him, he worked up a nice little dinner date setting in HOH.. it was far from the Caleb/Amber situation many were comparing it to, but the date didn't go too well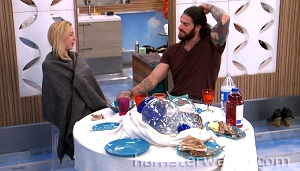 Austin talked about himself, and his wrestling, and a lot of his life stuff he's already told her, and he didn't let Liz get many words in of her own.. when they finished eating, she sat with her arms folded for awhile and then she was wrapped in a blanket.. word to the wise: listening counts too

Meanwhile, the Wednesday night scramble kicked into high gear, with Jeff going around to everyone with his tale of woe and pointless future promises, vote counts going on all over town, and Diary getting into hamster heads.. the frenzy reached a fever pitch when Vanessa asked Clay to confirm (once more) that he'll vote Jeff out - Jeff said he would, 90%

That missing 10% set Vanessa off and she had a major hissyfit.. her eyes were bugging and her mouth was going even faster than usual.. all her real and quasi allies got dragged into it, and feedsters dug out our flak jackets again.. they got it all sorted out, Clay apologized for leaving out 10% and promised 1,000% and 10,000% that indeed he will vote out Jeff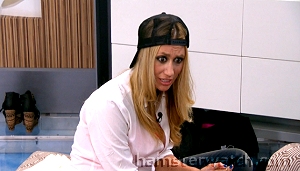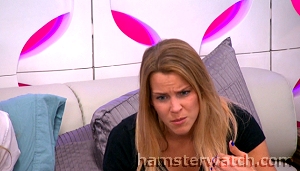 Shelli got into it of course, losing her mind a few times about what Clay said, what Clay meant, and what Clay is really going to do.. in short, a good time was had by all once again.. Jeff thinks he's got five, six, or seven votes but he'll be lucky if he gets more than Jackie's (and we'll be lucky if he gets Audrey's)

Thank you to everyone who used my link for Amazon Prime Day shopping! Any Amazon purchase anytime helps me a bit without costing you anything extra, so please bookmark and use my Amazon portal to enter Amazon USA or Amazon Canada anytime

GET YOUR FEEDS to follow all the action! One week free trial - no promo code needed
Remember to click "previous Hamsterwatch episode" at the top of any page for what's come before, and hit the Feeds Updates tab for loads of details and screencaps



Day 27 - Tuesday 7/14
Cheese day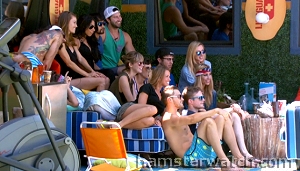 Vanessa wrote her tweets and blog - she said she ran out of the time on the blog, surprising no one.. the camera came out and they did their selfies.. enthusiasm for that is fading for some - pretty soon the weekly exercise might result in just Shelli and Clay pics.. Audrey was particularly uninterested, especially when they all piled onto her for the weekly group pic - she's in there somewhere

Otherwise it was a mostly low key layaround day again, with daytimers wondering what the big deal's about - many still don't realize how much this cast comes alive at night

Vanessa ran her loops a few more times but she seemed to be finally running out of HOH gas.. Jeff confronted Liz about being twins switching, but she denied it.. he also kept up his (pointless) "save me" loops - he seemed to think he's got a chance and is certain it'll be a close vote (it won't be).. Austin kept up his double agent stuff with Jeff and the others, and his flirtmance with Liz - as did Jeff, which caused some indirect friction.. Audrey socialized much more than usual, including a lot of laughter and many well-placed zings at Clay.. Date Night was threatened by Vanessa, as a barter for booze, but luckily that didn't happen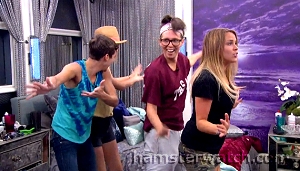 Shelli and Audrey decided to clean the bedroom, which led to a spontaneous musical production that was surprising and fun.. all in all, a typical day for most seasons but surprisingly quiet for this cast - that won't last

Amazon Prime Day is July 15 promising more deals than Black Friday - please use my Amazon portal to enter Amazon USA or Amazon Canada to help me a bit without costing you anything extra.. many thanks, and happy shopping!

GET YOUR FEEDS to follow all the action! One week free trial - no promo code needed
Remember to click "previous Hamsterwatch episode" at the top of any page for what's come before, and hit the Feeds Updates tab for loads of details and screencaps



Day 26 - Monday 7/13
Party's over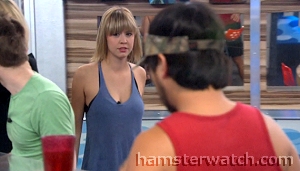 Party signals might be over, that is: they had a quickie luxury comp this morning, involving booze-free juicy drinks, and Meg won a luxury cruise.. the last party signal came at the veto meeting, for TV footage

Vanessa kept up her loops about what she should say at the veto meeting, but she eventually came up with something: she put up Jeff as (exhaustively) planned when Johnny took himself off the block

Jeff's post-meeting response was gloomy, plus a lot of detail about the wet dream he'd had before the meeting.. Austin did his thing, commiserating with him and planning ahead (revival insurance), and later talked to others about Jeff's many inappropriate words and behavior.. Audrey went back to stirring it up, spinning her loopy webs for both Shelli and Vanessa.. Liz rotated back into the habitat, and sat down with Austin to get caught up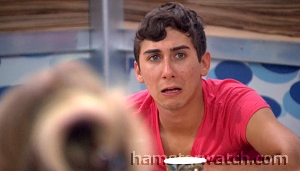 A slow day and evening turned promising when they got a late booze delivery, but that promise failed fast.. they said they had to play a drinking game, and that led to a long debate over rules and a lot of shouting and loud flippy cup noise.. somehow that evolved into another round of (Truth or) Dare, and things got ugly - Flashback 7/13 11.30pm

Jason's face said it all as they covered chest hair licking, condoms over heads, toe licking, cotton ball mouth stuffing, toilet paper diaper making and dancing, and the most horrible of all, barbecue sauce armpit licking - Clay on Jeff, for that one.. screencaps are on my Twitter, but be warned they're not for the queasy

GET YOUR FEEDS to follow all the action! One week free trial - no promo code needed
Remember to click "previous Hamsterwatch episode" at the top of any page for what's come before, and hit the Feeds Updates tab for loads of details and screencaps



LINES OF THE DAY

Wednesday
Steve: Do you like my apron?
Clay: Clay Akron?

Liz: ..and my fucking dad back at home watching this

Johnny: I'll show that butter knife who's boss

Vanessa to Clay: Don't give me anymore heart attacks like that ever again, okay?

@OliveGarden: Alliances are great, but we're just over here wondering if Becky loves breadsticks. #BigBrother #beckyupdates

Tuesday
Vanessa to John, about Jeff: If you talk as much as he does, you're gonna be contradicting yourself

Steve: Do some meth? I'm sorry?
Vanessa: Mud masque

Meg: James leaves ham sandwiches in bed - no one can rely on James to clean anything!

Monday
Jackie: Becky brought a potato to bed last night, she was trying to roll on it

Jason: I wonder if Austin is getting a Deathrace point every day, for your beard and your hair

John: Stress is only good when running from a tiger

Meg: You guys, seriously, I probably have it on me
Jeff: Can we cuddle again? That was tremendous
Meg: You stained my sheets!
Jeff: I told ya I was splooging there

Audrey to Clay: [Shelli] wanted a showmance, she didnt want to adopt a baby

Shelli to Audrey: How are you overhearing all these conversations?

Jason to Meg about Shelli/Clay: Do you think they're like the Jeff and Jordan?

Jackie: I'm probably more Vegas than [Rachel] is



LINKS OF THE DAY

Get the feeds they're starting off with a bang

Live like a hamster! Habitat items available from Amazon: Jonathan Adler chess set - Blow-up giraffe - duckie chlorine dispenser - whale pillow

You might also like Crazy Cat Lady action figure and board game

Vanessa's HOH blog

Big Brother 17: The Saga episode 3 by @WilHeuser

AM to PM Episode 4 with Andrew and Pete Monaghan

Party signals by @TVtater

Dick at Nite Episode 7 is free! with Dick Donato, Sheila Kennedy, James Rhine, Kathy Hillis

Vanessa's real HOH room

Team Steve shirts family run - proceeds will go to charity

Confessions of a BB feed watcher by me! for Reality Blurred



Ratings - Deathrace 2015 special edition
Ratings are based on entertainment value and/or peculiar hair situations, or all of the above




Julie's hair changes with the wind, or at least every Thursday. She hasn't been sporting so much big hair as usual this season, and she's gone too far the other way a couple times and shown up with [gasp] ordinary hair. Jeff's hair doesn't change, just like his jokes - both are probably done by someone else.






She's got two modes so far: styled up to perfection, or that old hamster standby, the bandana bun. I don't know if her look at any given time corresponds to her two game modes of laying low or stirring everyone up for no visible reason, but it might be interesting to track if anyone's looking for a research project.






The beardy-tail can go anytime (please), but he does take pretty good care of his hair, unlike most of the long-haired males we've had before, and his takes some maintenance. He's had his share of hairy slip-ups and there will be more, but overall he's not looking like a puli dog nearly as often as he's got the potential to.






Like most things Becky, her hair is nearly always nice-looking and normal. But like her kooky random comments that come along unexpectedly, her hair does things now and then that nobody saw coming.






He seems so bland but once in awhile he shows up with a poodle poof, rooster tail, or jaunty side swoop I wasn't expecting. I wish that was enough, but it's not. @JordantheBBMan put it best: 'Clay is like all Four Horsemen in one person' referring to BB5 Scott, Jase, Drew, Cowboy. It's a brilliant observation that's scarily accurate.






Her importance on the feeds and show (so far) is equal to the believability of her pounds of fake hair. I don't know who she thinks she's fooling with that mop, but it's just a matter of time til it requires some major maintenance (or suffer the consequences).






NOMINATED
Like his game since his first long week at the top, his hair is pretty much just there. Taking over Austin's Judas hat and the twins' knit kitty hat has helped boost his personality a bit - he wore it when he blew us a kiss the other night. I thought it was a nice gesture, but it made a lot of people cringe.






His hair hasn't been a major player at all, but then he donned this look for a minute on Monday, complete with Herbie the misfit dentist curl in front. I'd give him bonus points for mentioning my Deathrace hair game on the feeds, but contrary to his explanation, it doesn't involve points.






NOMINATED
He's on ignore. I'm done.






USED VETO ON SELF
I pointed out early on that there's something interesting going on atop his head, and it hasn't failed to disappoint. Like his jokes, you sometimes have to look for it, but it's usually worth it once you find it.






Their dark roots are growing in at different rates but they've both got them bad. Especially this one.






Won: Gronk party cruise
Her hair usually looks good - it's cute, simple, and suits her personality. I didn't think I'd have a good shot to use for her here, but then she showed up with this pixie stick arrangement just in time.






What the hell is going on here? She'd look great if she'd cut off those ratty over-blonde extensions, but I think she's waiting for them to fall out.. it shouldn't be long. Sunday night she washed the front of her hair but not the fake blonde bits, and she accidentally made the shampoo horn to end all shampoo horns.






His announced strategy to let his facial hair kill his 'dumb little kid' act is working out pretty well for him, but his head hair is headed towards plush teddy bear, and the mix might confuse them. They loved it when he got styled into sophisticated Stefon for prom, but that was a one-off.






HEAD OF HOUSEHOLD
Apparently she wears a hat when she's playing poker, and she usually had her green knit cap on during her 36 hours of nonstop talking. When it comes off, dark roots and other problems jump out, so she's better off keeping it on. Now that her power's done for the week, maybe we'll have a break from her filibustering for awhile.






Won: Power to nullify 3 votes
She wasn't afraid to confront people nor to keep fighting to stay, which was good for us, but didn't help her much. She figured out the twins early but didn't leverage that to her advantage soon or well enough. Her pantry rant to us was memorable, especially her catch-phrase 'get your life!' and she was smart, funny, and volatile. #DaVonneHasADaughter was a hashtag too good to be true and to her credit, she didn't let us take full advantage of it.






Won: Nothing
He was like a parody of all the former surf boys we've had, with all the worst qualities of asshat hamsters past rolled into one. He verbally beat up on Steve a few times but the primetime version earned him viewer loathing, even if his actoring was lousy. He ranted, streaked, flipped us off, and mostly talked about himself, but he promised to save us all someday through music.



SEASON STATS
HOHs in order *denotes surviving HOH for BOB weeks
James*/Jason; Becky/Shelli*; Austin/Vanessa*

BOB wins in order
Becky/John; Steve/Jason; Meg/Jason

Veto wins in order
Steve; John; John

Evictions in order
Jace 12-1; Da'Vonne 7-2

Evictee Twitters
@NikolaPoe; @DayDaVonne_bb17









Linking to any page here is fine. Please don't repost content from this site (or any other) without permission, and don't repost or hotlink images.



THE REAL SHOW IS THE FEEDS


NEXT-DAY AIR SHOWS
BB1 THRU BB17 AND LOADS MORE CBS CONTENT


HAMSTERWATCH SWAG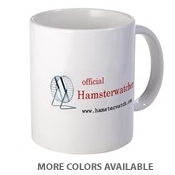 Mugs, shirts, more
Visit my Cafe Press shop





RATINGS WATCH


Wednesday's show remained in second place with 1.9 rating, 8 share, and 5.97 million viewers, behind ESPY Awards on ABC with 2.2/8/7.71, and ahead of MasterChef on FOX with 1.4/6/4.71, and America's Got Talent rerun on 1.2/5/5.79.









Big Brother 17 FAQ


June 18 was Day 1 move-in. June 24 was CBS premiere, Day 7. Finale will be September 23, Day 98

Feeds are streamed by CBS, and accessible via All Access subscription. Call 888-274-5343 for account help, including cancellation.

CBS shows are Sundays 8pm, Wednesdays 8pm, eviction Thursdays 9pm (Global in Canada).

Big Brother After Dark is on POP (formerly TVGN). It airs Monday, Tuesday 11pm-2am; Wednesday, Friday, Saturday, Sunday midnight-2am; Thursday 1am-3am. The aired blocks are recorded earlier on the same night.

The CBS app (by CBS Interactive) will play BB air shows and other CBS shows, but not feeds. Use your browser to watch feeds on mobile devices. The same All Access link used to subscribe will lead to the feeds viewing page if you're already signed up.

Liz and Julia have to survive five evictions in order to play separately as individuals. They switch places every few days. They have a limited time in Diary to change clothes, adjust their appearance, and exchange info. The non-playing twin probably stays in hotel sequester.

BB17 prizes are the same: $500k for the winner and $50k for 2nd place. Stipend for the others is $1,000 per week again, including pre-show hotel and jury sequester. Recruits or those with established pre-season fan bases might get more.

The habitat has 80 HD cameras (up four) and over 100 microphones.

The recorded in-house announcements are the voice of producer Don Wollman.