This site is about the Big Brother 17 feeds and contains spoilers! It isn't necessarily thorough: it's what I catch and/or what interests me. It's about watching hamsters: who's doing what and why. Thanks for encouraging my behavior.
Your pal, dingo







POWER STATUS


Currently Julia is the 'active' twin

Vanessa is HOH
James, John are nominated
John holds veto
Nobody is Have-not







UPCOMING EVENTS


Monday: Veto meeting

Next show: Wednesday 8pm
Parties, Truth or Dare, veto comp, veto meeting, assorted drama







BB17 DRINKING GAME


Take a swig whenever Vanessa goes on a 100 mph speed rap







QUICK LINKS & BOOKMARKS



-Get/watch the feeds
-Feeds updates by @UGotBronx
-My Twitter - my screencaps
-Hamster Twitters
BB USA - BB Canada
-BB Viewer by @liquid8d
-B3V Viewer by blistering

-Hamsterwatch chatroom
-On The Block with McCrae Olson
and Spencer Clawson

-Amazon portal USA or Canada
purchases help me a bit

-Big Brother 17 official site
-Live show tickets
-Attwx.com all seasons
-Dick at Night with @EvelDick
-Latest alliance chart
by @89razorskate20
-Diary tally by @clamperls

-Feeds devices & system req
-Shop Roku or Chromecast

-East Coast air show streams
1 - 2 - 3 - 4 - 5 - 6 - 7
8 - 9 - 10 - 11 - 12 - 13
NO DOWNLOADS NEEDED




Donations via Paypal are gratefully accepted!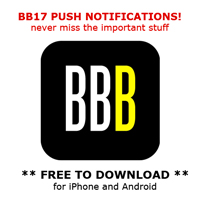 Get Big Brother Buddy app!
Get all the BB17 news plus push notifications of key events as they happen

Watch Big Brother
Seasons 1 thru 16!
Plus tons more CBS content







BIG BROTHER SEASONS



CBS All Access
Seasons 1 thru 16

Amazon DVDs BB4 - BB3

Amazon Instant Video BB16
- BB15
- BB14
- BB13
- BB12
- BB11
- BB10
- BB9
- BB8



>> >> >>
>>
ANY AMAZON.COM PURCHASE CAN BE MADE THROUGH THESE LINKS - NO EXTRA COST TO YOU
Amazon USA
- Amazon Canada
GET THE FEEDS - NO PROMO CODE NEEDED - $5.99 PER MONTH
Day 25 - Sunday 7/12
Party on Wayne, party on Garth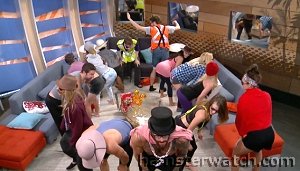 Party signals carried on intermittently, with hot tub, conga line, and costume parties.. no fails so far, thus no Have-nots still

Retells of the night's discussions also carried on, with Vanessa retelling all the juicy details about why Jeff will go up as renom (even though she and Austin arrived at that decision Thursday night), and various hamsters retelling their own versions all around the habitat.. it is the hamster way

Throughout the day and evening, they did a pool party, kitchen party, noise party, and kiss party, and Vanessa kept talking, retelling her history with Jeff to each & every one of them, with each & every detail every time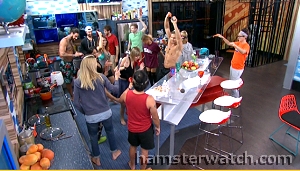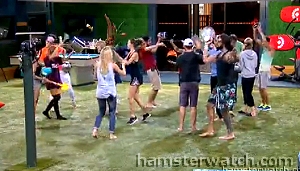 They finally got around to Truth or Dare a little before midnight (just squeaking it into "this weekend").. they quickly bypassed the Truth part, which could have given us some tension or fireworks, and went with fluff Dares.. it was mostly silly with a bit of cringe and cute tossed in - Flashback 7/12 11.03pm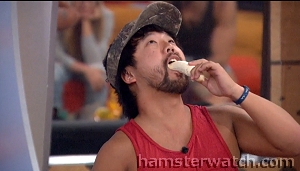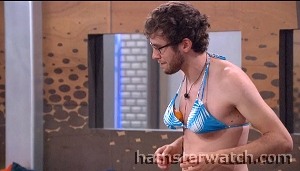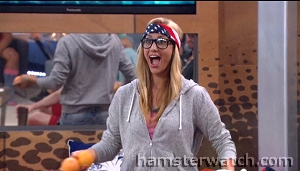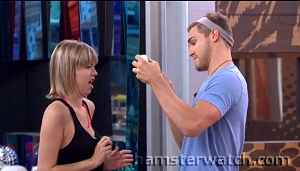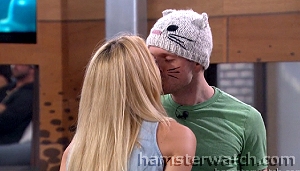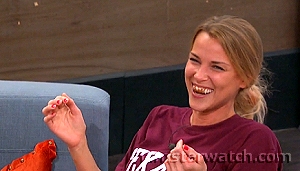 Jeff finally made his way up to HOH and Vanessa lowered the boom, so that's out of the way.. we just have to find a way to suffer through the rest of the week til he walks the plank to Julie's boudoir

GET YOUR FEEDS to follow all the action! One week free trial - no promo code needed
Remember to click "previous Hamsterwatch episode" at the top of any page for what's come before, and hit the Feeds Updates tab for loads of details and screencaps



Day 24 - Saturday 7/11
She said, she said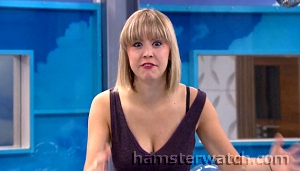 The twins switched again a little after 11am, with Julia re-entering the habitat, which brought another round of catch-up convos.. another round of stir-it-up also came along, and another fight for the tally - both courtesy of Audrey again - when Audrey and Meg tangled over last week's vote convos.. Audrey swore she only told Meg she needed to step up her social game, and Meg swore Audrey had told her there was a plan to flip the vote to keep Da'Vonne and evict Meg.. Vanessa played peacekeeper, kind of - Flashback 7/11 1.07pm

Audrey, Austin, Shelli were picked to play for veto with Vanessa, James, John, and Becky hosted.. it sounded like it was the award-winning and very cool giant dice comp that debuted last year.. Johnny won again, sending them all into yet another tailspin, especially Vanessa.. she'd been hoping to keep the noms the same, and she and Austin had a tense back 'n forth after the comp about him not throwing it.. she kept saying she has "no reason" to explain putting up Jeff, even though that was the plan all along, and she started up more elaborate stories in preparation, including talking through all her alternate choices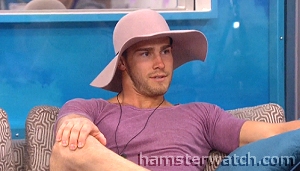 Audrey and Vanessa had another round of ridiculousness, with Vanessa demanding Audrey swear she wasn't the hinky vote, and Audrey swore she wasn't (she was)

Vanessa told Shelli about her suspicions that Clay might be a switching twin (a seed planted by Austin), which Shelli of course pooh-pooh'd at first, but then seemed to start questioning herself.. naturally, the BB interwebs erupted in hysterics, and even more so when Vanessa later tried to convince Clay she was on to him and his brother switching



Party time
They got a notice that said this week's party "twist" was on, and that they had to assemble whenever they heard the party signal and do whatever it said or be Have-nots.. the first time they had to all get in the shower, the second they had to toga party, and the third was limbo.. they did get a booze delivery but it was still a pretty sad party, with no sign yet of Truth or Dare as of 3.30am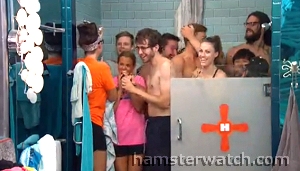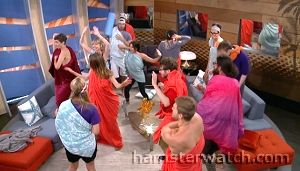 Vanessa ran endless loops about past history with most of them individually, barely taking a breath, and all but panicked about what she could say to explain putting up Jeff.. naturally most of them pushed for Audrey, and Vanessa seemed to backslide to her original preference for James.. Audrey made her rounds, getting everyone riled up even more.. veto meeting probably isn't until Monday, so it's going to be a long weekend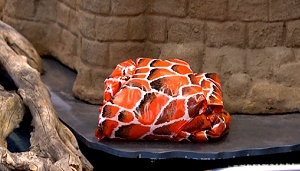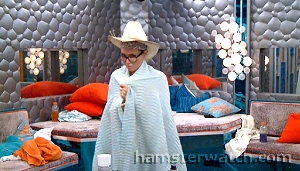 The flattened carcass of Giselle the giraffe was discovered when the backyard opened and they held a memorial of sorts.. Audrey kept on being Audrey while they all buzzed circles about her

GET YOUR FEEDS to follow all the action! One week free trial - no promo code needed
Remember to click "previous Hamsterwatch episode" at the top of any page for what's come before, and hit the Feeds Updates tab for loads of details and screencaps



LINES OF THE DAY

Sunday
Julia: OMG I don't even know my name anymore, it's weird, I'm like 'I'm Liz'

Austin to Julia: I did all this for you.. I moved the target from James to Jeff, I risked it to protect you

Becky to Jason at a party: Your zipper's still open, I didn't want to say something

Meg: Are you ever like bad at taking showers?

Becky: I was talking about weddings and chicken nuggets and weird things when all that shit was going down

Saturday
Audrey: I don't remember saying that
Audrey: I think my words were twisted
Meg: That's exactly what you said to me!
Audrey: I swear I did not say that people were trying to flip the house

Audrey to Vanessa:
(about Jeff): It sounds like he pulled an Oprah and gave everyone the same deal
I can't get in more fights
I swear I did not vote for Day - not on my parents' life, but on my life, everything else, and my fate in this game

Shelli: I do notice that sometimes [Clay] looks skinnier than other times
Shelli: ..and there is something weird about his medicine
Vanessa: It could be one of them really does like you and one is just the brother who has to go along with it

Johnny about Giselle: The first time I saw her, legs and neck for DAYS! This thing I'm holding now, we could melt and patch the hole



LINKS OF THE DAY

Get the feeds they're starting off with a bang

Live like a hamster! Habitat items available from Amazon: Jonathan Adler chess set - Blow-up giraffe - duckie chlorine dispenser - whale pillow

You might also like Crazy Cat Lady action figure and board game

Party signals by @TVtater

10 Best BB Fights of All Time by Andrea Reiher for Zap2It

On The Block McCrae & Spencer talk to Da'Vonne

Dick at Nite Episode 7 is free! with Dick Donato, Sheila Kennedy, James Rhine, Kathy Hillis

Vanessa's real HOH room

Team Steve shirts family run - proceeds will go to charity

Confessions of a BB feed watcher by me! for Reality Blurred



Ratings - Everyone's a Twin edition
Ratings are based on entertainment value




As a whole, this cast continues to deliver far more than the sum of its parts, and these feeds continue to rate up there with the best ever. It's still early and that might not last, but for now, the BB17 feeds are the best show in town, bar none.






If I didn't know better, I'd swear she's got some kind of America's Player assignment, like many of them believe. Nothing else explains her ultra-random accusations and fights, always when she's completely safe, her interrogation sessions, and her 2-for-2 hinky votes. Her loops about 'I never said that' are becoming as predictable as Diary retells, but I'm grateful: she keeps stirring them up, and stirred up hamsters are the best hamsters.






I'm not keeping up well with his romance/fauxmance/showmance storyline, but I love how well he's playing most of them about most everything else. He plays the chameleon perfectly, blending in with whoever he's talking to - so much so, that feedsters believe him even when he says and does totally contradictory things. I'd pay a premium to have him talk to us about his current strategy like Steve did the other morning. At times like this, I miss sincere and insightful Diaries more than I can say.






She's got it in her head that she's a huge target lately, and she also keeps repeating that she's 'the female Clay'. I don't get what that's about, but I still enjoy watching her flutter around here and there, and talk about mundane things when others are gametalking their brains out.






His entertainment value is considerable, but it's starting to fade for me. I can't look at him lately without seeing either BB5 Drew (I wasn't a fan), or Jaime Lannister when he's with Shelli. It doesn't help one bit that they physically resemble the infamous GoT twins somewhat, especially their coloring.






At this time, I feel it's my duty to remind us all that at least twice before, the hamster who required daily reminder tweets that they're still in the habitat ended up taking second place.






NOMINATED
He's got the potential to be one of the classic BB buffoons, but he keeps skirting that fine line between comedy and uh-oh. Vanessa has said that for her, she'd rather he go for personal reasons, even though Jeff would be better strategically. I hope she sticks to that and puts Jeff up and out, as I'd like to see what James is like in there without Jeff's influence.






I've not seen him a lot since Da'Vonne's exit, but I'm glad that he shifted so seamlessly from being her bestie to being Meg's. He seems to be playing a bit more personally and reactionary than a 'superfan' should, but of course it's all a whole lot easier from out here than it is in there.






He's on ignore. I'm done.






NOMINATED - HOLDS VETO
Comp fans cringe when he agrees to throw the BOB and then follows through, and cheer when he wins the vetos he needs to. For random fans, he's the best thing to happen to feeds in years. I just hope the show edits start to highlight him on his own merits (and goofiness) and drop the dentistry puns and related easy/obvious gags.






Once again I applaud their difficult task of keeping up with (nearly) everything with just a few minutes to exchange info, and I can't get enough of them now trying to cover up the fact that they're switching, even though virtually everyone knows they are. I'm not keeping up with all the whatmance angles yet, but I'm getting caught up with the rest of it slowly but surely.






She's confronted Jeff twice about his behavior but unfortunately for us, neither time was on the feeds. I have faith it'll happen again and I'll be ready for it. Meanwhile, she keeps getting dragged into things that really weren't about her and she handles them well, and with fantastic facial expressions throughout.






She seems to have some control issues which are coming out more, as is her paranoia, and that's always good for a handful of popcorn. Her whatever-it-is with Clay is disturbing in some nebulous but visceral way and I simply can't watch them together. But now that Vanessa has her half convinced that Clay's a switching twin, there should be some good comedy there.






His plan to repair his damaged social game seems to be working with some, but not others. He's been pulled into the Austin/Vanessa/twins group's confidence and that's fine with me, even if some of the others still think he's an eavesdropping problem busybody. I love that he and Austin are pretending to hate each other when they don't, and I just hope that doesn't backfire.






HEAD OF HOUSEHOLD
She's exhausting to listen to when she gets going, and her plans to cover up things like her twins knowledge and backdoor plans are comical because they're so elaborate but unnecessary. She doesn't seem to be playing with a very good poker face, but maybe she saves that for the tables.
Update: Downgrade to neutral because exhausting to listen to turned to fatal. Still comical in theory, but enough already.






Won: Power to nullify 3 votes
She wasn't afraid to confront people nor to keep fighting to stay, which was good for us, but didn't help her much. She figured out the twins early but didn't leverage that to her advantage soon or well enough. Her pantry rant to us was memorable, especially her catch-phrase 'get your life!' and she was smart, funny, and volatile. #DaVonneHasADaughter was a hashtag too good to be true and to her credit, she didn't let us take full advantage of it.






Won: Nothing
He was like a parody of all the former surf boys we've had, with all the worst qualities of asshat hamsters past rolled into one. He verbally beat up on Steve a few times but the primetime version earned him viewer loathing, even if his actoring was lousy. He ranted, streaked, flipped us off, and mostly talked about himself, but he promised to save us all someday through music.



SEASON STATS
HOHs in order *denotes surviving HOH for BOB weeks
James*/Jason; Becky/Shelli*; Austin/Vanessa*

BOB wins in order
Becky/John; Steve/Jason; Meg/Jason

Veto wins in order
Steve; John; John

Evictions in order
Jace 12-1; Da'Vonne 7-2

Evictee Twitters
@NikolaPoe; @DayDaVonne_bb17









Linking to any page here is fine. Please don't repost content from this site (or any other) without permission, and don't repost or hotlink images.



THE REAL SHOW IS THE FEEDS


NEXT-DAY AIR SHOWS
BB1 THRU BB17 AND LOADS MORE CBS CONTENT


HAMSTERWATCH SWAG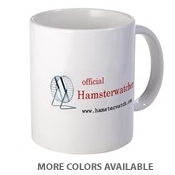 Mugs, shirts, more
Visit my Cafe Press shop





RATINGS WATCH


Sunday's show dropped to second place with 1.9 rating, 7 share, and 5.81 million viewers, behind Celebrity Family Feud on ABC with 2.1/8/8.60, and ahead of American Ninja Warrior on NBC with 1.1/4/3.74, and The Simpsons and Brooklyn Nine-Nine reruns on FOX with 0.6/2/1.49 and 0.5/2/1.19 respectively.









Big Brother 17 FAQ


June 18 was Day 1 move-in. June 24 was CBS premiere, Day 7. Finale will be September 23, Day 98

Feeds are streamed by CBS, and accessible via All Access subscription. Call 888-274-5343 for account help, including cancellation.

CBS shows are Sundays 8pm, Wednesdays 8pm, eviction Thursdays 9pm (Global in Canada).

Big Brother After Dark is on POP (formerly TVGN). It airs Monday, Tuesday 11pm-2am; Wednesday, Friday, Saturday, Sunday midnight-2am; Thursday 1am-3am. The aired blocks are recorded earlier on the same night.

The CBS app (by CBS Interactive) will play BB air shows and other CBS shows, but not feeds. Use your browser to watch feeds on mobile devices. The same All Access link used to subscribe will lead to the feeds viewing page if you're already signed up.

Liz and Julia have to survive five evictions in order to play separately as individuals. They switch places every few days. They have a limited time in Diary to change clothes, adjust their appearance, and exchange info. The non-playing twin probably stays in hotel sequester.

BB17 prizes are the same: $500k for the winner and $50k for 2nd place. Stipend for the others is $1,000 per week again, including pre-show hotel and jury sequester. Recruits or those with established pre-season fan bases might get more.

The habitat has 80 HD cameras (up four) and over 100 microphones.

The recorded in-house announcements are the voice of producer Don Wollman.