This site is about the Big Brother 17 feeds and contains spoilers! It isn't necessarily thorough: it's what I catch and/or what interests me. It's about watching hamsters: who's doing what and why. Thanks for encouraging my behavior.
Your pal, dingo







POWER STATUS


Liz, Julia are (probably) the switching twins

James is HOH
Jackie, Steve were nominated
Steve won veto/used on himself
Jackie, Jace are nominated
Austin, Da'Vonne, Liz, Vanessa are Have-not







UPCOMING EVENTS


Next show: Wednesday 8pm
Veto comp, veto meeting, assorted drama hopefully







BB17 DRINKING GAME


Take a swig whenever one of them uses a BB cliche







QUICK LINKS & BOOKMARKS



-Get/watch the feeds
-Feeds updates by @UGotBronx
-My Twitter - my screencaps
-Hamster Twitters
BB USA - BB Canada
-Feeds viewer by @liquid8d

-Hamsterwatch chatroom
-On The Block with McCrae Olson
and Spencer Clawson

-Amazon portal USA or Canada
purchases help me a bit

-Big Brother 17 official site
-Live show tickets
-Attwx.com all seasons
-Dick at Night with @EvelDick
-Latest alliance chart
by @89razorskate20
-Diary tally by @clamperls

-Feeds devices & system req
-Shop Roku or Chromecast

-East Coast air show streams
1 - 2 - 3 - 4 - 5 - 6 - 7
8 - 9 - 10 - 11 - 12 - 13
NO DOWNLOADS NEEDED




Donations via Paypal are gratefully accepted!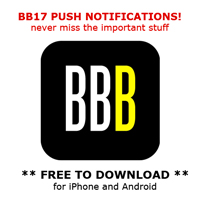 Get Big Brother Buddy app!
Get all the BB17 news plus push notifications of key events as they happen

Watch Big Brother
Seasons 1 thru 16!
Plus tons more CBS content







BIG BROTHER SEASONS



CBS All Access
Seasons 1 thru 16

Amazon DVDs BB4 - BB3

Amazon Instant Video BB16
- BB15
- BB14
- BB13
- BB12
- BB11
- BB10
- BB9
- BB8



>> >> >>
>>
ANY AMAZON.COM PURCHASE CAN BE MADE THROUGH THESE LINKS - NO EXTRA COST TO YOU
Amazon USA
- Amazon Canada
GET THE FEEDS - NO PROMO CODE NEEDED - $5.99 PER MONTH
Day 11 - Sunday 6/28
Dissension in the ranks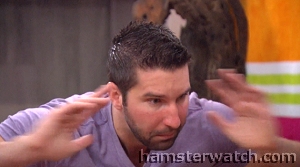 Fallout from the overnight traveling convention continued before the veto meeting, with Jason and particularly Jeff picking up their dawn anti-Audrey campaign and making as many rounds as she does.. I should amend my rating below for Jeff since he's clearly here to play, and I think his & Jackie's TAR experience might bring a different style of gaming than we're used to seeing.. I didn't see their season but TAR is usually more all-out and open

warfare

competition than the subterfuge of BB, and with that style comes the potential for even more drama

Vanessa told Austin she was a professional gambler before she was a DJ, "and a good gambler" (later it came out that Jeff had heard that too, maybe they all have).. Steve used his veto on himself of course, and James put up Jace in his place as planned.. all was calm when the feeds returned, but that didn't last long at all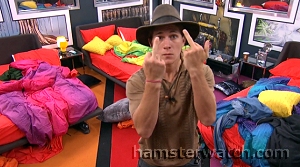 Jace did his Diary, then flipped us off and changed, angry whistling all the way.. he ran it off for a bit, and then he went upstairs to have it out with James.. that went better than it could have, with James staying calm for the most part, only getting a bit riled when Jace brought in his daughter and his WWJD bracelet

That ended with no hug or handshake, and then Jace went to vent at Vanessa, Shelli, and Jackie.. that was all kinds of awkward, and ironic when he griped about having gotten only two hugs.. meanwhile, Audrey picked up her anti-Vanessa campaign by confronting her about "a weird game of telephone going on" - you just can't make this stuff up.. on and on it went, and there isn't enough popcorn in the world

Jace kept up his rounds, bringing out the fake tears he'd been practicing for many of them.. a highlight showdown between him and Audrey came along while the east coast airing of Sunday's show was on, and it was a fun one - Flashback 6/28 5.26pm.. later Jace and James kind of made up: James kept saying it was a last minute decision because other people wanted it, and Jace all but begged for a way out



Escalation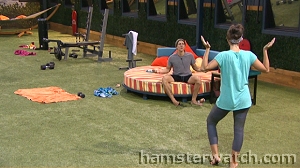 Retells and rehashes carried on all afternoon, like they do, and they (and we) had a break from Audrey's 24/7 getaround when she took her evening nap.. but she sprang into full-out game mode when she got up, approaching Austin and Jace with "I've had like six people stop by my bed and tell me stuff"

Austin eventually got away and then Jace and Audrey went into overdrive: he with his "I'm tired of this bullshit," "pretty fuckin annoyed right now," "it's absurd," and "it's not fair," and she with her usual who said what loops and "I don't want to be involved".. it escalated until Audrey lost her usual calm and shouted "you came to me!!" With two raised voices, it qualifies as a full-fledged fight and I've put it on the Extracurricular Tally, way way down below

From there they held endless meetings in endless personnel combinations, and we ended up with another alliance, Sleeper Cell, comprised of Austin, Clay, Shelli, Vanessa, and of course Audrey.. later they remembered it was John's birthday so they did an extra awkward dance for that, and there was some drama about a cake that I missed.. along the way, the ants successfully continued their assault on the habitat, Austin and Jace had a hammock dump and Becky & James had a trust fall fail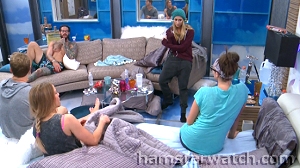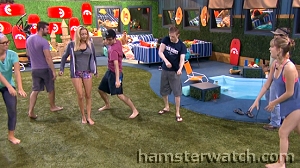 Songgate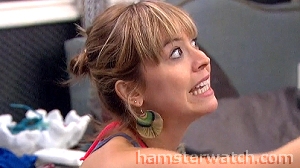 Things settled down somewhat but then they revved up again: James started to rant to Audrey, Clay, Da'Vonne about their secret "long hair don't care" bro code song about Jace and that he'd found out about it, so there must be a rat/mole/leak, and #Songgate was underway

That travelled around the habitat like wildfire, and Jason told James that Audrey had leaked the song and Jace had found out.. Meg in particular was delighted by all this, as were we.. almost all of them ended up in the backyard, even John.. Clay filled in Audrey about the situation and we waited with baited breath for the explosion or at least the long-threatened house meeting but alas, neither came

Instead, Audrey went back to deflection mode, naming various others for various crimes to Clay, and told him she was going to "start falling off the grid, being anti-social".. meanwhile Jace lost and found his Bible, then found religion from it, then headed back out on a new campaign trail with a peace and honor platform.. yet another alliance formed late night with Clay, Shelli, and yep, Audrey - they had naming problems for that one

GET YOUR FEEDS to follow all the action! One week free trial - no promo code needed
Remember to click "previous Hamsterwatch episode" at the top of any page for what's come before, and hit the Feeds Updates tab for loads of details and screencaps



Day 10 - Saturday 6/27
Who's on first?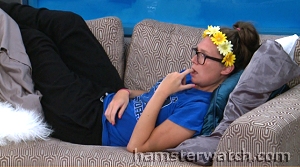 I can't say I've lost the plot because I haven't really grasped it yet, but suffice to say everything remains in chaos and an awful lot of it's due to Audrey.. she's got them all scrambling and scurrying nonstop, and she seems to be staying two steps ahead of most of them the whole time

Most of today's scramble was about the impending veto meeting, but not really: most of them know Jace is going up in Steve's place, and they're playing ahead as if they aren't heavily over-allied with BOB and weekly twists to mess everything up, but that's hamsters for you

Jace interrogated Steve in the pantry late last night and got in his face about loyalty and the like - Flashback 6/27 3.34am.. but Steve told us today (again) that he wants Jace to stay, maybe because his trainwreck of a social game is beneficial to everyone else in the long run.. Jace staying would also help our feeds stay lively, but I don't think Steve's got much pull at this point and there aren't enough of them who'd be willing to be pulled there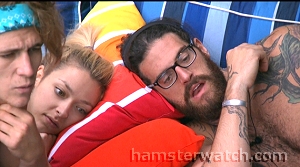 Jace did a streak of the backyard and then laughed to himself about it for a good couple minutes alone in the bathroom afterward, which made it weird.. then late night, Steve did a strip tease of sorts for the HOH spyscreen, which delighted Meg in particular.. these two are just a taste of the kind of random chaos that's going on in there round the clock, and I simply can't keep up

Deals and alliances kept coming, like they do, but a highlight of this day for me was Jason talking about my Deathrace hamster hair disasters game - a first on the feeds.. he didn't have it quite right (there are no points like there are for BBQ Smackdown, which he also mentioned), but it was fun to hear that being talked about.. he said Jace was a shoe-in for it today and it's true, he had a GinaMarie-esque concoction going on with bonus man bun and McCrae-ish bandana, and it was ridiculous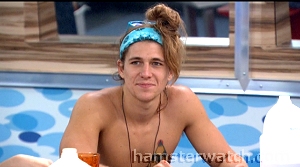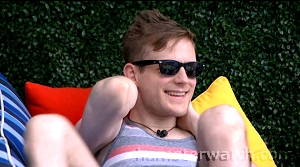 John has something going on with his hair much of the time too - it's more subtle but it's there.. they celebrated his Saturday birthday early (probably because After Dark cuts off at 11pm BB time on Saturday).. I think they sang Happy Birthday but that was blocked for royalties of course, and they got a twice-in-two-days booze delivery for that.. that led to high energy scrambling and whispering plus some joking around again, and another very fun night of feeds.. Audrey and others kept going at it, with formal meetings still taking place at 4.30am

I realize I'm glossing over all the meaty stuff again but I did get my first ratings & pics done at least.. as usual, @UGotBronx has you covered for updates and @89razorskate20 has you covered for alliances - hats off to both of them!

GET YOUR FEEDS to follow all the action, and remember to click "previous Hamsterwatch episode" at the top of any page to see what's come before



Day 9 - Friday 6/26
Parannoying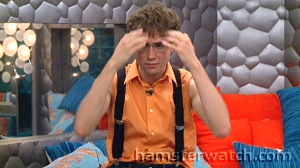 Steve won the veto by spelling BONUSED and/or TROMBONISTS, saving himself and making me happy along with his many fans.. water was involved and that's about all I've got about the comp because when they returned, they started parannoying their brains out (that's a BB5 Diane Henry word, and one of the best)

Aside from the whole needing a re-nom situation, accusations started to fly about who said what to whom, who was the mole, fake story plants, and on and on and on all around the habitat - it was glorious! Audrey was heavily involved in almost every stage, with Da'Vonne running a close second.. a house meeting was threatened many times but alas, they handled things in twos and threes and fives instead - this time

Then they started forming more alliances (because there weren't enough already).. Audrey, James, Meg, Da'Vonne, Jason, Jeff, Jackie formed the High Rollers, with plans to lure in "sidepieces" for insurance/extra votes as needed - those included Clay, Shelli, and John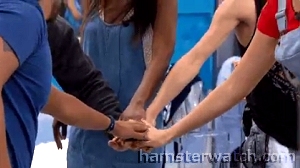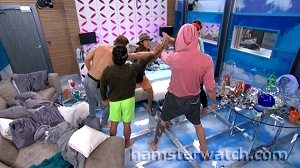 Later on, Audrey, James, Clay, Jace, Austin formed Five Alive, which is a fake alliance for Jace & Austin's benefit.. it came complete with hand signals/secret handshake, and when Jace & Austin left the room, James said "dumbest damn alliance ever" because he's still planning on putting up Jace

Confused? You're not alone, most of us are scrambling hard to catch a clue but fortunately @89razorskate20 is here for us once again with visual aids.. I'll keep the latest alliance chart updated in the left sidebar as we go.. note the current status has a whole lot more going on than just those Bomb Squad/Chop Shop mobs, and Audrey figures prominently in most of it.. she's pretty much gametalk and/or gossip all the damn time, with whoever's handy



Glossing over all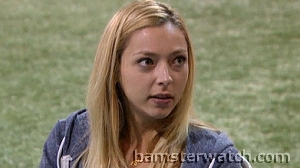 In other news, most feedsters are already playing which twin is it, pointing out differences in hair and the like, and many thought Liz switched in for Julia today.. I'm treating them as one entity as long as they're playing one, and I'm calling them Lizia (many are calling them Jiz).. various hamsters have made comments about her/them not remembering something or looking different.. Da'Vonne went so far as to say she didn't look like her photo wall pic - oops!

Austin mentioned several times that he thinks Da'Vonne does something to do with poker rather than teaching school - huh? That's way too random for me to believe he came up with it out of thin air.. maybe she confided in him, or maybe she recognized Vanessa and told him, who knows but it's pretty weird.. meanwhile John told Da'Vonne he doesn't think anyone's running a job lie like Derrick - ironic.. this took place while Da'Vonne was masterfully recruiting him for a "sidepiece" - he seemed to fall for it

Vanessa recovered from her meltdown.. Meg and Becky both seem to be having the time of their lives.. Clay and Jace keep doing their respective things, as do Jeff and Jackie, and Shelli's barely there.. they finally got the backyard and had a late booze delivery - it was a light one but it kicked off their all-nighter nicely.. bottom line, this first full day of feeds was crazy chaotic, and full of promise for a stellar season

GET YOUR FEEDS - they're only $5.99/month recurring billing and include air show archives for all BB seasons plus tons of other CBS shows

Remember to click "previous Hamsterwatch episode" at the top of any page to see what's come before, and hit the Feeds Updates tab top right of every page for all the juicy details and screencaps



LINES OF THE DAY

Sunday

Jace: Jackie, you have nothing to worry about, no one is threatened by you, everyone's threatened by me

Jace: It's fine, at least I'll go out with dignity, knowing I didn't lie to anybody

Audrey: Once again there's a weird game of telephone going on
Audrey: I don't want to be involved
Audrey: I'm trying to help you, without sabotaging my own game
Jace: I'm sabotaged! somebody threw me under the bus! I'm fucked!

John: They told us to stand behind our signs during the competition but I couldn't fit behind mine

Steve: I don't understand a lot of Hamsterwatch
Jason: I like them on Twitter better because their website is hard to navigate

Saturday

Shelli: This Jace thing, it's breaking my heart, I don't want to send him home, I don't want to sit here and say that

Becky: Five days of sitting here is a lot of no game

Jason to Jace: You're so #Deathrace2015 right now

Lizia: There's ants on me, what the hell

Da'Vonne to us about Lizia: She just apologized to me, but aren't you in an alliance that's supposed to put me up next week?!

James: You know what's real therapeutic I think, is cutting up vegetables

Audrey to Clay: Close your legs, you smell like Funyuns that have been regurgitated by a homeless person and have been sitting in the sun 42 days

James: All my girlfriends are ex girlfriends

Friday

Austin: Audrey's in fuckin nonstop game mode

Audrey: The spilled milk flooded the whole fucking house

Austin about Da'Vonne: She's not even a schoolteacher, she's some kind of poker player or something

Da'Vonne: So what side would you be aligned with?
John: I don't know what the sides are
Da'Vonne: Oh shit!

John to Da'Vonne: Nobody jumps out at me as they're doing a Derrick, lying about their job

Da'Vonne about Jace at veto comp: He almost swallowed his teeth

Jason about Jace: He makes Devin look like marshmallows and cream pies

Becky: Forget working out, we've got drinking to do!

Becky: I feel like a hamster sometimes, people tap the cage if they get bored



LINKS OF THE DAY

Get the feeds they're starting off with a bang

Becky imitating Jace by @IAmTeamVegas

Clay bed dancing by @DawgsBigBrother

Clay's busy tongue by @bb_spicoli and again by @DawgsBigBrother

Clay being Clay by @DawgsBigBrother

Reddit AMA with Lizia's cousin, maybe (reminder: nothing's official until Julie makes it so)

Jace and Silent Austin by @CSpottswood

On The Block McCrae and Spencer dive into the new season

AM 2 PM Andrew & Pete Monaghan on BOB's return, twins twist

Big Brother in 2 Minutes by @TrashTweetTV

Confessions of a BB feed watcher by me! for Reality Blurred



Ratings - Full Shred Chaos edition
Ratings are Saturday's for now, based on entertainment value




They really could and should forget the whole twistorama plan because this cast is bringing everything BB should be all by themselves. It's very early days yet but we haven't had feeds begin with this much promise for quite awhile. On top of that, fishies blocks have been minimal, and feeds seem to be functional for the vast majority and the few glitches some have are being addressed. All that plus booze deliveries two nights in a row, skimpy or not, makes for very easy ups.






She's everywhere all the time, and she's allied with pretty much everyone (probably even the ants). She said she wanted to be like Dexter Morgan but he was a serial killer, not a mass murderer. It's beyond impressive that her game hasn't blown up like BB10 Brian's, but so far she seems to be pulling it off. I don't think that can last long, but we'll see. If she wins HOH next, it'll be a scramble of epic proportions.






Probational ups because I think he's stringing Jace along, and Liz and others to a lesser degree, but I can't be sure unless/until we get some kind of confirmation. He's such a BB scholar and feeds analyst, and a trained actor/roleplayer/whatever you call that part of pro wrestling, that I can't believe he'd be dumb enough to throw all his eggs into Jace's leaky basket.






NOMINATED BY JASON - WON BOB
I think she's one of those who doesn't know what show she's on, but her hit-in-the-face-by-a-train story was good enough for carryforward ups. Honestly, it was good enough to keep her in the ups for the whole season.






I don't like him much but he's amusing me no end. His constant and superweird lip-licking tics are creepy but comical, and he acts like he knows everything BB while he lets Audrey and others walk all over him. He reminds me of BB14 Shane and I'm looking forward to him getting got like Shane did.






I love her expressions and IDGAF attitude, and I like the position she's put herself in game-wise. She's on to Audrey and vice versa, and while they're currently both pretending they're solidly with each other, I can't wait for the inevitable battle between the two queen bees to happen. Talking to us after her pantry chat with Lizia was superb.






NOMINATED (RENOM)
Arrows are for entertainment value, remember? While I don't necessarily find him entertaining, the fact that he keeps the rest of them so wound up most of the time is priceless. He suspects but doesn't realize how certain it is that he'll be the re-nom, and he'll most likely walk the plank on Thursday, taking his #Deathrace2015 hair with him.






NOMINATED
Yes, I get that it's about CBS cross-promo, but I really don't understand why she's here. She's like an NPC (non-playing character) that was thrown into our game for no reason, that we don't need.






HEAD OF HOUSEHOLD
He's been refreshingly (and I admit, surprisingly) calm about his extended HOH, and hasn't shown many signs of HOHitis at all. That'll detract from our fun a bit when he doesn't have a post-HOH crash 'n burn, but it's commendable nonetheless. Laughing about the fake Five Alive alliance seconds after it was created is just icing on top.






DEPOSED HOH
Sometimes we get annoyed when they talk BB history all the time, but we do the same when we meet up with fellow fans/addicts so I can't fault him for that. At least he knows his history, and from a feedster perspective rather than the CBS versions like many former 'superfans' who got on the show. He might become annoying after awhile for trying too hard to be funny but for now, it's all good.






Yes, I get that it's about CBS cross-promo, but I really don't understand why he's here. He's like an NPC (non-playing character) that was thrown into our game for no reason, that we don't need.






NOMINATED BY JASON - WON BOB
He's absent a lot from the feeds and he might be in the dark about a lot of the gaming going on, but he's still a breath of fresh air since he's a unique individual rather than a 'type' like we usually get. He's keeping a low profile and staying out of the crossfire, exactly like he should at this point. Happy 28th to him on the 28th!






I haven't had the chance to study differences and speculate on switches a lot, but the fact the rest of them are commenting about subtle little things and forgotten convo tidbits is promising. I don't know if Julie said they had to remain 'undetected' for five evictions like Adria/Natalie in BB5 had to or not, but otherwise what's the point?






Her expressions are priceless and they just keep coming. Whether it's shock, outrage, confusion, joy, or raucous laughter, she wears her heart on her face and she's a screencapper's dream.






She's barely there at this point, except when she's with Clay. She had a teary meltdown for him on Saturday and afterwards apologized for 'being a girl'. He was clearly not so comfy for that, and proceeded to tell her what kind of girl he tends to go for: one who takes control, and that seemed to go *whoosh* over her head. I can see this whole thing turning into a BB14 Danielle/Shane situation.






WON VETO/USED ON SELF
He's becoming more visible since winning his veto, and I think/hope he can overcome whatever damage was done to his social game last week, whatever that was about. BB14 Ian had a bad first week too, and look how that turned out. The whole hiding in a trashcan thing is pretty epic any way you slice it.






I suspect she, like Audrey, thought she had this thing wrapped up the moment she was cast, but it's not as easy as it looks, even starting off a solid base. Her extended teary meltdown as soon as feeds kicked on was peculiar no matter how genuine or fake it was, especially since she's been fully recovered ever since. It might come back when she finds out Audrey's been putting her name out there all over town.








Linking to any page here is fine. Please don't repost content from this site (or any other) without permission, and don't repost or hotlink images.



THE REAL SHOW IS THE FEEDS


NEXT-DAY AIR SHOWS
BB1 THRU BB17 AND LOADS MORE CBS CONTENT







RATINGS WATCH


Sunday's show dropped to 2nd place with 1.7 rating, 6 share, and 5.71 million viewers, behind Celebrity Family Feud on ABC with 1.8/7/8.14, and ahead of Dateline on NBC with 0.8/3/3.81, and The Simpsons rerun on FOX with 0.5/2/1.55.









Big Brother 17 FAQ


June 18 was Day 1 move-in. June 24 was CBS premiere, Day 7. Finale will be September 23, Day 98

Feeds are streamed by CBS, and accessible via All Access subscription. Call 888-274-5343 for account help, including cancellation.

CBS shows are Sundays 8pm, Wednesdays 8pm, eviction Thursdays 9pm (Global in Canada).

Big Brother After Dark is on POP (formerly TVGN). It begins Thursday, June 25 midnight-3am. After that the regular schedule is Monday, Tuesday 11pm-2am; Wednesday, Friday, Saturday, Sunday midnight-2am; Thursday 1am-3am.

The CBS app (by CBS Interactive) will play BB air shows and other CBS shows, but not feeds. Use your browser to watch feeds on mobile devices. The same All Access link used to subscribe will lead to the feeds viewing page if you're already signed up.

BB17 prizes are the same: $500k for the winner and $50k for 2nd place. Stipend for the others is probably $1,000 per week again, including pre-show hotel and jury sequester. Austin, Vanessa, Jeff, Jackie might get more.

The habitat has 80 HD cameras (up four) and over 100 microphones.

The recorded in-house announcements are the voice of producer Don Wollman.