This site is about the Big Brother 17 feeds and contains spoilers! It isn't necessarily thorough: it's what I catch and/or what interests me. It's about watching hamsters: who's doing what and why. Thanks for encouraging my behavior.
Your pal, dingo







POWER STATUS


Jeff, Jackie joined the cast
Liz, Julia are (probably) the switching twins

James won HOH #1, nominated Jackie, Steve
Jason won HOH #2, nominated Becky, John
Becky, John won BOB, Jason was deposed
Vanessa awarded safety to Austin

James is HOH
Jackie, Steve are nominated
Austin, Da'Vonne, Liz, Vanessa are Have-not







UPCOMING EVENTS


Friday: Veto comp

Monday: Veto meeting?, John's birthday

Next show: Sunday 8pm
Nominations, BOB comp, assorted drama







BB17 DRINKING GAME


Take a swig whenever someone says how much they already love or hate any of the new hamsters







QUICK LINKS & BOOKMARKS



-Get/watch the feeds
-Feeds updates by @UGotBronx
-My Twitter - my screencaps
-Hamster Twitters
BB USA - BB Canada
-Hamsterwatch chatroom
-On The Block with McCrae Olson
and Spencer Clawson

-Amazon portal USA or Canada
purchases help me a bit

-Big Brother 17 official site
-Live show tickets
-Attwx.com all seasons
-Dick at Night with @EvelDick
-Latest alliance chart
by @89razorskate20
-Diary tally by @clamperls

-Feeds devices & system req
-Shop Roku or Chromecast

-East Coast air show streams
1 - 2 - 3 - 4 - 5 - 6 - 7
8 - 9 - 10 - 11 - 12 - 13
NO DOWNLOADS NEEDED




Donations via Paypal are gratefully accepted!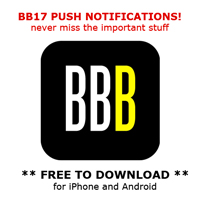 Get Big Brother Buddy app!
Get all the BB17 news plus push notifications of key events as they happen

Watch Big Brother
Seasons 1 thru 16!
Plus tons more CBS content







BIG BROTHER SEASONS



CBS All Access
Seasons 1 thru 16

Amazon DVDs BB4 - BB3

Amazon Instant Video BB16
- BB15
- BB14
- BB13
- BB12
- BB11
- BB10
- BB9
- BB8



>> >> >>
>>
ANY AMAZON.COM PURCHASE CAN BE MADE THROUGH THESE LINKS - NO EXTRA COST TO YOU
Amazon USA
- Amazon Canada
GET THE FEEDS - NO PROMO CODE NEEDED - $5.99 PER MONTH
Day 8 - Thursday 6/25
We got feeds! almost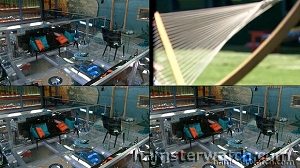 In a wonderful and benevolent move, The Powers That Be switched the feeds on about eight hours ahead of schedule and we once again had fishies swimming and music looping, as if they'd never left.. there was a superquick flash of the habitat at one point: nobody was seen but voices were heard (not clearly), and we found out the hammock is in place.. and then they gave us an actual leak that lasted 10 minutes or so - Flashback 6/25 4.33pm

We found out they'd had a Have-not comp, and that Jeff & Jackie were in, and that Jason was probably the second HOH, which was confirmed on the CBS show.. the hamsters are already grouping up and gossiping, and plotting and planning, and it's glorious.. the best part was they didn't know we were watching, so it was our first glimpse at their non-intro package, non-Diary, actual hamster selves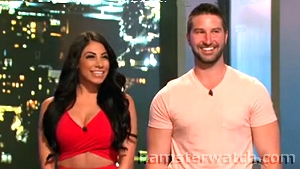 Then Julie showed up and sent in Liz, Jason, Vanessa, and John, Becky, Steve and they all did more champagne toasting and intro lying - Vanessa told them she's a DJ rather than a superstar poker player.. interestingly, there was no twin Julia in Liz's intro package including family farewells, which further clinches my hunch that they will be the switching twins.. that's right, Julie said she'd tell us tonight but now that reveal is delayed until next Thursday for some reason

The first twist delivery came from Amazing Race host Phil Keoghan, who sent in TAR blind date alumni Jeff Weldon and Jackie Ibarra for our total of 16 hamsters (plus or minus a twin).. Vanessa sat out this HOH comp, which was a laser-ish light, alien attack, pole hugging/climbing affair with green goo, loosely based on last night's movie theme.. it also made them creepily Quasimodo-like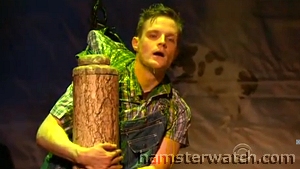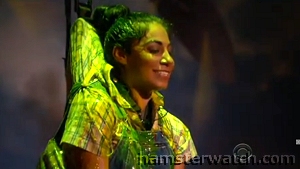 Jason won that one and became HOH #2 along with James.. yes, we do have an overabundance of J names, it's like Hamster Duggars this year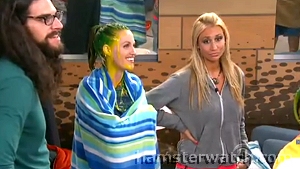 Phil gave comp sitter-outers Da'Vonne and Vanessa a threat/promise about "with risk sometimes comes reward - another day" and that was pretty much that

NOW IS THE TIME TO GET YOUR FEEDS - they will kick on Thursday night 9pm Pacific/midnight Eastern and will be accessible via computer and mobile device browser at that same link, as well as via Roku (and Chromecast and Apple TV, if you know how to set those up - I do not).. feeds aren't in the CBS app yet, but might be coming.. no promo code is needed, and there is no season pass: All Access is $5.99 per month recurring billing, and includes archived air shows of BB and most CBS shows, as well as live CBS viewing in some regions.. After Dark also starts Thursday night (Friday morning) on Pop (formerly TVGN) in USA and Slice in Canada



We got feeds! for real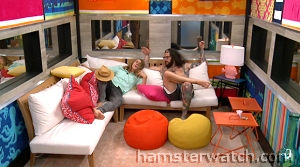 The feeds fired up right on time once again: we came in on them sitting around awkwardly waiting for us to join them - oops.. then they did the now-usual raucous whooping, hollering and welcoming, and a round-robin of shoutouts, and skit, and then it was time for them to scatter and for us to scramble to try to catch up on what they've been up to.. Austin and Jace sat down to talk and fill us in a bit, and we quickly established that Jace is more of a "let's put on a show for the feeds!" than pro wrestler Austin - go figure

James nominated Jackie & Steve, and Jason nominated Becky & John.. Becky & John won the BOB and their safety, and Jason was deposed as HOH.. Austin got safety from Vanessa, apparently her perk from sitting out the HOH comp (I don't know what happened there with Vanessa)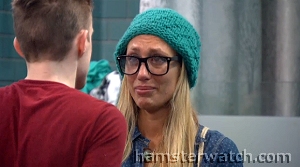 Veto hadn't been played yet but players were picked: John, Becky, Jason will play.. Jace will not, and he's already James' backdoor target, and there's a lot of backup for that plan.. Steve's also seen as sketchy by several of them - I don't know what that's about, but I don't like it

The first tears came early, from Vanessa - she had a few rounds of them, some with actual tears and most with a solidly stuffed nose and hyperventilated sobs.. she misses her girlfriend, she can't take the isolation, she can't stand the bullying, it's not worth the money, and etc etc etc.. many thought she was bluffing but I don't think tears at the table are a strategy at her level of poker, but who knows? We'll see if more develops from that.. she had a revolving group of sympathizers and supporters throughout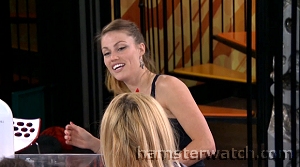 James selected Have-nots and/or they volunteered: Austin, Da'Vonne, Liz, Vanessa moved into the new Have-not room which is a dental office theme this time (what's the odds?).. the beds are dental chairs

The highlight of the night was when Becky launched into a story that blew Victoria's crow away: she was hit in the face by a train! She went into detail about the many serious injuries she sustained, fear of brain damage and the like, and she told it all with gusto and glee.. she also said she couldn't say where it happened as there was still some pending litigation.. we're used to trainwrecks on the feeds but #TrainwreckBecky brings it to a whole new level - Flashback 6/25 9.35pm

The other best news is that the ants are already in the habitat! Team Ants is stronger every year - all that tomato juice might have helped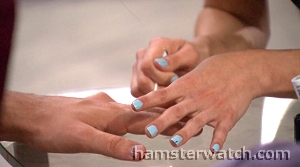 Cries of "nail party! nail party!" made me cringe but they went ahead with it anyway - James and Clay seemed to be the most eager about it.. spats that we missed include Clay vs Da'Vonne, Austin vs Jeff, Steve vs Jason, and Jace vs Becky - those last two had a confrontation about whatever their issues were, which ended with a hug and a promise to "talk it over first" next time

Bottom line, there's an awful lot of them and most of them are already gaming their brains out.. it's a lot to catch up with on top of just figuring out who's who, voices and personalities and the rest of it.. but BB feeds are a marathon, not a sprint, and it will all become clear in time, more or less

Remember to click "previous Hamsterwatch episode" atop every page to see what's come before, and hit the Feeds Updates tab up there for detailed real-time updates with dozens of screencaps

GET THE FEEDS to watch all this unfold for yourself, including Flashback to catch what you missed.. they're accessible via device browser on computer and mobile using that same link, as well as via Roku (and Chromecast and Apple TV, if you know how to set those up - I do not).. feeds aren't in the CBS app yet, but might be coming.. no promo code is needed, and there is no season pass: All Access is $5.99 per month recurring billing, and includes archived air shows of BB and most CBS shows, as well as live CBS viewing in some regions



LINES OF THE DAY

Austin about 'little Jason': I feel like I'm Seabiscuit and he's my jockey

Liz about Clay: He is foyyynnn

Jackie: I'm a dancer.. I just have to wrap my legs around this pole

Jeff: I'm a houseguest, the whole time I'm here

Da'Vonne about Jeff/Jackie: These are two people that did Gulliver's Travels, they've been around the world

John: I hope I don't get impregnated and have a chest bursting thing at night

Audrey: My grandmother is a Capricorn, she's like super Capricorny



LINKS OF THE DAY

Get the feeds Jeff interviews are now available - use this same link to watch feeds when they begin

Big Brother in 2 Minutes by @TrashTweetTV

Confessions of a BB feed watcher by me! for Reality Blurred

Big Brother is a terrible show ó but here's why Iíll never stop watching by @EmilyYahr for Washington Post

BB17 Saga promo by @WilHeuser

Stages of Big Brother by Nepotism TV, featuring Adam Poch



Ratings - Crescent Fresh
14

16 edition Ratings are based on potential entertainment value, as I see it now - be sure to check the BB17 Cast folder in the Updates area for their bios, interviews, and assorted other links which are still being added - it's a process

I'm letting these first impressions ride for now, until our feeds begin




It was a nice perk for feedsters to get the exclusive on the Jefferviews, and while he gets a lot of flak for various things, I think he's a good fit for the intro gig. His easy style seems to make most of them feel at ease and we can get as genuine a first impression of them as possible, under the circumstances. All that can change once the feeds kick on of course, and I'm ready. I'm not eager to see weekly twists come into play but there's nothing we can do about it. I think we've got a promising cast this time, and I don't often think that at this stage. We'll find out soon enough if the new hamsters can bring the entertainment (and if BB will bring them the booze to help that along) but in the meantime, stock up on your favorite snack foods and beverages, kiss family and friends good-bye, and get your rabies boosters. Our summer crack habit is ready to start anew.






Our first stuntcast of three, she's already been in the news and created much buzz for being a transgender woman. That'll be interesting for sure but also a novelty, and it won't take any time at all for us to move right past that and see what she's like as a hamster and player. She says she's a fan and knows the game, so she might excel. I might like her Dexter Morgan analogy a little too much. I just hope they stick with the no gum chewing rule, because we don't need or want that in our ears all summer.






Another stuntcast, he too will bring an established fanbase with him and The Powers That Be love that, as they should. I don't follow wrestling but I know enough about it to know that he brings a potential for drama because he knows how to stage a fight. However, since he's also done some very real 'anti-bullying' (pardon the phrase) work, he probably won't want to use fake intimidation just to make some game progress. Normally I'm against stuntcasts in principle, but I'm really looking forward to seeing Austin in action, especially after hearing his articulate, savvy, and highly perceptive analysis of a BB15 week. He's definitely a feedster.






NOMINATED BY JASON - WON BOB
She seems nice and pleasant, and that's about all I got. With double college majors in finance and economics, she's probably brainier than the others will think she is, but that doesn't necessarily mean anything in the BB habitat.






Unlike some, I'm really glad we only have one muscled-up jock type this season as opposed to the usual four or five (so far, anyway??) He's got a deer-in-headlights look about him and he's already getting a reputation for being not super bright. But I love that his mom rehabs wild animals - that would add some pretty cool experiences to one's life.






Everyone's sure she'll recognize Vanessa first thing, and she might, but it's also very possible Da'Vonne just puts in her day's work and doesn't follow pro poker.. we'll see. I think she shows a lot of promise for fun feeds, not only because she's watched since BB1, but because she's likely to be a #DeathRace2015 star. More importantly, I'm pretty sure she'll be good-natured about it (if she ever sees it). Hopefully she won't go overboard like Devin did, but #DaVonneHasADaughter (named Kaydence) is like a made-to-order hashtag.






This year's surf boy slot has a Southern twist and could end up being a pleasant and fun guy to watch. Whether he goes out early like Braden and David Girton or sticks around like Hayden Voss remains to be seen. (Hopefully he won't end up showing everything ad nauseum like Girton.)






NOMINATED
I got nothing.






HEAD OF HOUSEHOLD
I really don't know what to expect here. He's already run the "hillbilly Asian" nickname into the ground so let's hope he's got more in his arsenal and isn't just a one trick pony. Like Da'Vonne, James also has a daughter (Baleigh), as well as an

inherited

adopted son (Landon). I'm concerned about him having worked in corrections if it means hands-on in jail or prison - we don't need no steenkin' peacemakers!






DEPOSED HOH
This guy looks he'll be lively and fun. I like his self-deprecating humor and his 'gay glue' strategy for finding his way into a girls' alliance, as unlikely as a girls' alliance on BB sounds. He also sounds like a legit 'superfan' (pardon the word) as he's definitely a feedster. Or feeder, as he put it (so he's probably not a Hamsterwatcher, but I won't hold that against him.)






I got nothing.






NOMINATED BY JASON - WON BOB
That's right, double ups at this stage of the game is a first, but this guy's going to be incredible watching. Not only is the #MadDentist loud, extra random, twitchy, and awkward, but he has a whole nother layer of the kind of talent I admire like no other. His acoustic guitar work is as impressive as his thrash metal bass. All those things combine into a unique blend, the likes of which we've never had on BB before. I might even overlook his Diary shouting.






First off, kudos to Jeff for keeping his eyes up, it probably wasn't easy for him. Many are expecting her identical twin to show up with her, but their uncle's premature leak only said his niece Liz Nolan would be on CBS June 24 - not nieces, not Liz and Julia, so I'm skeptical there (even though BB5 switching twins was the best twist ever). I don't know what to expect from Liz on feeds, but she's already in the #Deathrace2015 Hall of Fame for this art piece with her sister.






Wow, she's perky. I'm not usually a fan of perky, but I realize they need some for the air shows, and her perky won't necessarily be full-time on the feeds. I hope. It's encouraging that she didn't opt for 'lose and be loved' over 'win and be hated', but she also wants to play a loyal game and have folks at home be proud of her. So she's a mixed bag, plus she's got a lot of media projects out there such as Fabulous in New York City, subtitled 'The Gay's Guide to Girls' which makes me think she and Jason might form an early and solid duo.






It's pretty sad when someone who's 33 is the designated old person of the cast, but that's how things are anymore. She doesn't really stand out to me as someone who will stand out, which could mean she'll stick for a very long time and we'll get to know her well, perhaps more than she's prepared for. She's very Aaryn-like in appearance, and let's hope that's where the similarities end.






NOMINATED
He's another one to watch. His nerdy nice guy persona and self-professed 'superfan' status tend to be good hamster qualities, but like John, he too has incredible musical talent. Check out his one man choir of an ELO cover! Granted, musical talents might not be the best fit for our feeds ('Please stop singing!') but as personality traits go, I've found talented musicians tend to be more interesting people overall. We'll see.






Our third stuntcast, she's a huge name in poker circles as was her now deceased ex-husband. And since she's now with a female, that'll give her an added interest for the editors who are always looking for a salacious angle. She says she's a BB fan as well as being a superstar poker player and she says she has good people-reading skills, so she might do well. I suspect she'll be mostly a flirter and sunbather on feeds, but hopefully she'll bring more to our table. 'Deserves to win' arguments are usually ridiculous, but I'm going to find it hard to root for a millionaire with a mansion over stock boys and waitresses, but I guess it just shows they really went with 'all walks of life' this time.








Linking to any page here is fine. Please don't repost content from this site (or any other) without permission, and don't repost or hotlink images.



THE REAL SHOW IS THE FEEDS


NEXT-DAY AIR SHOWS
BB1 THRU BB17 AND LOADS MORE CBS CONTENT







RATINGS WATCH


Thursday's premiere #2 won the hour with 2.0 rating, 8 share, and 6.41 million viewers, ahead of Dateline on NBC with 1.3/5/6.85, Boom! premiere on FOX with 0.9/4/2.51, and The Astronaut Wives Club on ABC with 0.8/3/4.50.

Wednesday's premiere #1 won the hour with 2.0 rating, 8 share, and 6.83 million viewers, ahead of MasterChef on FOX with 1.4/6/4.64, America's Got Talent clip show on NBC with 1.3/6/5.91, and The Middle rerun on ABC with 0.9/4/4.24.









Big Brother 17 FAQ


June 18 was Day 1 move-in. June 24 was CBS premiere, Day 7. Finale will be September 23, Day 98

Feeds are streamed by CBS, and accessible via All Access subscription. Call 888-274-5343 for account help, including cancellation.

CBS shows are Sundays 8pm, Wednesdays 8pm, eviction Thursdays 9pm (Global in Canada).

Big Brother After Dark is on POP (formerly TVGN). It begins Thursday, June 25 midnight-3am. After that the regular schedule is Monday, Tuesday 11pm-2am; Wednesday, Friday, Saturday, Sunday midnight-2am; Thursday 1am-3am.

The CBS app (by CBS Interactive) will play BB air shows and other CBS shows, but not feeds. Use your browser to watch feeds on mobile devices. The same All Access link used to subscribe will lead to the feeds viewing page if you're already signed up.

BB17 prizes are the same: $500k for the winner and $50k for 2nd place. Stipend for the others is $1,000 per week, including pre-show hotel and jury sequester. Recruits and stuntcasts may get more.

The habitat has 80 HD cameras (up four) and over 100 microphones.

The recorded in-house announcements are the voice of producer Don Wollman.