This site is about the Big Brother 16 feeds and contains spoilers! It isn't necessarily thorough: it's what I catch and/or what interests me, and it isn't necessarily about who will win, who should win, who's cute or who's horrid. It's about watching hamsters: who's doing what and why. Thanks for encouraging my behavior.
Your pal, dingo







QUICK LINKS & BOOKMARKS



-View or buy BB16 live feeds

-Live feed updates
-Hamsterwatch chatroom
-McCrae Olson videos & blog
-Amazon portal USA or Canada
-VPN for international viewers
-Hamsterwatch Twitter - Twitpic
-BB16 official site
-Hamster Twitters
BB USA - BB Canada
-East Coast air show feeds
1 - 2 - 3 - 4 - 5 - 6 - 7 - 8 - 9







POWER STATUS


Frankie is Head of Household
Victoria and Jocasta are nominated
Hayden won veto
Nicole, Caleb, Christine, Derrick are Have-not

Donny, Derrick, Frankie are Team America (fuck yeah)







UPCOMING EVENTS


Monday: Veto meeting
Tuesday: HOH tweets, blog, photos

Next show
Wednesday 8pm: Veto comp, veto meeting



Save 20% on orders over $29 with coupon code AFFILIATE20
Big Brother plus other CBS shows - shop now!





BB16 DRINKING GAME


Take a swig whenever one of them makes you cringe




Donations via Paypal are gratefully accepted!






BIG BROTHER SEASONS



Amazon DVDs BB4 - BB3

Amazon Instant Video BB16
- BB15
- BB14
- BB13
- BB12
- BB11
- BB10
- BB9
- BB8





BB16 FAQ


Feeds are streamed by CBS.

Call 877-211-4367 for account help, including password reset or to cancel subscription.

CBS shows are Sundays 8pm, Wednesdays 8pm, eviction Thursdays 9pm (Global in Canada).

Big Brother After Dark is on TVGN (Slice in Canada) three hours Mon/Tues starting 11pm, two hours Wed/Fri/Sat/Sun starting midnight; and two hours Thurs starting 1am.

BB16 prizes are the same: $500k for the winner and $50k for 2nd place. Stipend for the others is $1,000 per week, including pre-show hotel and jury sequester. Frankie might get more.

The habitat has 76 cameras (up 11, and now high def) and 100 microphones (up 2).

The recorded in-house announcements are the voice of producer Don Wollman.





>> >> >>
>>
ALL AMAZON.COM PURCHASES MADE THROUGH THESE LINKS HELP SUPPORT THIS SITE
Amazon USA
- Amazon Canada
Four-three-two-what? (Sunday 7/27)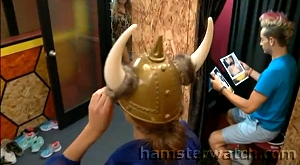 The feedster poll showed 50-50 results for the silly photobooth props vote, but it has peace sign rainbow glasses marked as the winner - they got both props for the weekly selfie event anyway.. could they make more of a mockery of the promised "exclusive votes just for Live Feed subscribers" or of us? I don't think so

Hayden initiated a chat with Jocasta about his veto.. he didn't promise anything but told her if he uses it on Victoria, it'll be to replace her with a "bigger target".. he repeated that several times, and Frankie used the same language with Jocasta last night, so she'll probably be putting two and two together if she hasn't yet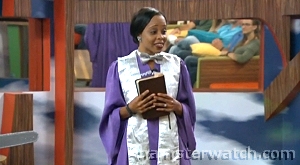 They had another memorial for the two deceased grandfathers, this one led by Jocasta - Flashback 7/27 9.29pm.. the plan remains for Hayden to veto Victoria and for Frankie to put up Amber in her place.. Zach worked up a speech for the veto meeting, going after Amber for treating Caleb badly, which Caleb was all for even though it'll make him look even dumber than he already does.. the Team America (fuck yeah) guys indicated that it would earn them another $5,000 each if Zach runs for a full 20 seconds - never mind the task wording about making two of them fight

- Click "previous Hamsterwatch episode" up top to see what came before
- Check my Twitter and Twitpic for more of the random bits that I cover
- Check the Updates section for all the rest of it with real-time feeds updates and caps
- Get the feeds
to watch it unfold for yourself



Zingaroonie (Saturday 7/26)
Waiting around for the veto comp, some of them were doing roasts of each other and mock nominations.. Cody did a spot-on Zach impression and it was all fun and games until Donny contributed "you're not very good at renominating" to Cody's roast, and then pointed out that Cody was the only one of the who hadn't been nominated yet during mock noms.. Cody wasn't pleased, and complained to his boys about it later

Meanwhile, Jocasta was telling a few of them that Brittany had "borrowed" her story about having to raid the kids' piggy banks to pay bills, and said she wasn't sure if Brittany even had kids.. maybe she was setting up for a revival that won't happen (but they don't know that) or maybe she was just milking that mom card, but you'd think she'd murdered Brittany and her kids by the reactions out here

Donny, Hayden, Christine were picked to play for veto with Frankie, Jocasta, Victoria, with Amber hosting.. Hayden won, and Jocasta took to her bed again with another case of heat-stroke, or something.. it was a Western themed comp involving blocks and rocking horses - it sounded very physical, and most of them said it was fun but strenuous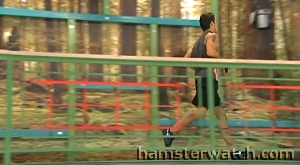 Caleb continued his Amber loops, like he does.. at one point he was talking in HOH and Zach suddenly started shouting at him "BEAST MODE COWBOY MY FUCKING ASS! GET THE FUCK OUTTA HERE BEAST MODE PIECE OF SHIT! BEAST MODE PUSSY!" (jokingly) (more or less).. it was audible downstairs, and Cody went tearing up the stairs as did Derrick to break up the fight that wasn't real - Flashback 7/26 4.54pm and go quads

They got their deep fish pizza which turned out to be a huge variety of fresh and canned seafood plus pizza crusts, including some gluten-free for Christine - they were thrilled.. the card said "America voted" implying CBS viewers, but that was another feedster-only vote.. Caleb bit the head off a raw fish and went into retells of that immediately, along with a lot of hunting chat about internal organs - bleah

The plan as of now seems to be for Hayden to use his veto on Victoria, and Amber will go up in her place.. even Caleb got on board with this plan, saying it'll "scare her a little bit" but figuring she won't go home (she will).. as always, keep it in pencil




Get a free trial of the live feeds to see it all as it happens

Ratings - TBA edition
Ratings will be updated eventually, based on entertainment value, or something else




To follow






Won: Nothing yet
To follow






Won: $5,000
To follow






Won: Nothing yet
To follow






Won: 24 hrs kicking self
To follow






Won: $10,000
TEAM AMERICA
To follow






Won: $10,000
TEAM AMERICA
To follow






Won: $10,000
TEAM AMERICA
HEAD OF HOUSEHOLD
To follow






Won: Nothing yet
WON VETO
To follow






Won: Nothing yet
NOMINATED
To follow






Won: 1 week frog, 1 week Germitard
To follow






Won: Nothing yet
NOMINATED
To follow






Won: Germany trip
To follow






Won: 2400 goals
EVICTED 10-0
She was the rawest recruit we've had in awhile and she didn't do much homework, which worked against her in a big way. She seemed to have pretty good game instincts and may have done some real damage if she'd been better prepared. She'll be remembered for her high bun as well as the few times her hair escaped it and landed her in Deathrace 2014 hall of fame, and for sticking with and completing that brutal soccer task when she didn't have to.






Won: Nothing
He has a daughter.






Won: Nothing
I kept hoping for the spitfire she plays on Twitter & Instagram to show up but it didn't until the veto meeting blowup. She was well on her way to being a perma-pawn but she stressed about not being able to win comps, and then Devin happened and out she went. She had a lot of entertainment potential and while we were robbed of most of it by her early exit, we'll always have CALTORU.






TEAM AMERICA FAIL
Won: Nothing
She blew up her game prematurely and spectacularly, and then her alter ego Alex and his 'big ass balls' sealed the deal. Supposedly she beat someone with 150k Twitter followers (plus 15 million backup) in a public vote, but that went splat just like BB12's saboteur Annie. Joey was lively and personable, a worthy member of the first out club, and she easily leads the pack of hamsters with unnatural hair colors.







Linking to any page here is fine. Please don't repost content from this site (or any other) without permission, and don't repost or hotlink images.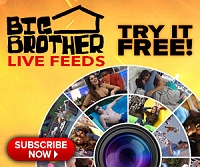 The real show is on the feeds





TEAM AMERICA VOTE


Hide someone's things & convince them to blame someone else
> Get two hamsters to fight at either noms or veto meeting
Voting is closed







FEEDSTER VOTE


Currently: Deep fish pizza for Have-not supplement







RATINGS WATCH


Sunday's show was first for the hour with 2.1 rating, 6 share, and 6.52 million viewers, ahead of Wipeout on ABC with 0.8/3/3.20, American Ninja Warrior rerun on NBC with 0.7/3/2.99, and The Simpsons reruns on FOX with 1.0/3/2.17 and 1.1/4/2.57 respectively.








Clicky: caps sorted by day - all caps

SEASON STATS
HOHs in order, *indicates the surviving HOH
Frankie/Caleb*, Amber/Devin*, Nicole/Derrick*, Cody*/Frankie, Frankie*/Zach

BOB wins in order
Brittany/Victoria, Hayden/Nicole, Amber/Donny, Amber/Jocasta, Christine/Nicole

Veto wins in order
Donny, Devin, Donny, Victoria, Hayden

Evictions in order
Joey 13-0; Paola 10-2; Devin 11-0; Brittany 10-0

Evictees on Twitter: @JoeyVanPelt1, @paolashea, @devinshepbb16, @britt4skin



BBQ Smackdown Scorecard

- Big Brother 16 -
Round 1: BBQ 1, Frankie 0
Round 2: BBQ 1, Frankie 0, Derrick 0

- Big Brother 15 -
Round 1: BBQ 1, Helen 1, Jessie 0
Round 2: BBQ 1, Helen 0, Jessie 0
Round 3: BBQ 1, Spencer 0
Round 4: BBQ 1, Spencer ½, Judd 0, McCrae 0

- Big Brother 14 -
Round 1: BBQ ½, Dan 0

- Big Brother 13 -
Round 1: BBQ ½, Adam ½, Rachel 0
Round 2: BBQ ½, Adam 0
Round 3: BBQ 1, Rachel 0

- Big Brother 12 -
Round 1: BBQ ½, Brendon 0
Round 2: BBQ 2, Britney 0, Lane 0
Round 3: BBQ 1, Lane 0, CBS 0

- Big Brother 11 -
Round 1: BBQ 0, Jeff 0
Round 2: BBQ 0, Jeff ½
Round 3: BBQ ½, Kevin 0, Michele 0


- Big Brother 10 -
No title events

- Big Brother 9 Winter Edition -
Round 1: BBQ ½, Ryan 0
Round 2: BBQ ½, Adam 0
Round 3: BBQ ½, Ryan 0

- Big Brother 8 -
Round 1: BBQ 1, Dick 0
Round 2: BBQ ½, Zach 0
Round 3: BBQ 0, Dick 1

- Big Brother 7 All-Stars -
BBQ training sabbatical

- Big Brother 6 -
Round 1: BBQ 1, Ivette 0
Round 2: BBQ 0, Howie 0

- Big Brother 5 -
Round 1: BBQ 1, Cowboy 1, Drew 0
Round 2: BBQ 1, Drew 0, Diane ½
Round 3: BBQ 1, Cowboy 1, CBS 0, Nakomis 0



EXTRACURRICULAR TALLY
House meetings - 4
First eight, on premiere #1
Joey's, semi-formal 6/28 5.56pm
Devin's 7/2 11.18pm
Devin's Bomb Squad 7/5 5.47pm

Fights - 3
Devin vs Brittany 6/29 12.21am
Devin vs Caleb 7/5 3.06am
Zach vs Paola 7/7 3.10pm

Makeout pairings - 1
Hayden & Nicole

Sex events - 1
Hayden self service (retell) 7/25 6.57pm

Blindside evictions - 1
Brittany

Nom speech scorchers - 1
Zach putting up Nicole & Christine

Pinkyswears - 12
Paola & Devin 6/29 1.35pm
Paola & Devin 7/4 12.15am
Paola & Donny 7/4 8.06pm
Devin & Victoria 7/6 10.49am
Jocasta & Amber 7/10 7.57pm
Derrick & Victoria 7/12 8.37pm
Nicole & Christine 7/13 1.24am
Nicole & Hayden 7/15 12.07am
Nicole & Christine 7/15 11.05pm
Jocasta & Amber 7/22 6.27pm
Zach & Victoria 7/24 9.00pm
Nicole & Hayden 7/25 5.32pm

The Soup mentions - 3
-Donny's smarts
-Donny's America + Devin/Caleb cuddling
-Egg puns + Jocasta's tongues

Almost literal asshats - 1
Zach 7/5 6.08am

CBS goofs - 14
- Happends
- Jill, for the 2nd year
- Premiere 2 wasn't live
- Misspelled Jocasta 6/29 show
- Flashback calendar's off
- Joey left before trackers came but got 1st place anyway
- Forgot TA results 7/10 show
- Pointless edit amputated Caleb's toes 7/10 show
- Misspelled Jeff's name 7/10 show
- Live show tweet on Saturday
- #BattleoftheBlcok
- Faulty status updates
- Arithmetic is hard
- Ignored feedster poll