This site is about the Big Brother 16 feeds and contains spoilers! It isn't necessarily thorough: it's what I catch and/or what interests me, and it isn't necessarily about who will win, who should win, who's cute or who's horrid. It's about watching hamsters: who's doing what and why. Thanks for encouraging my behavior.
Your pal, dingo







QUICK LINKS & BOOKMARKS



-View or buy BB16 live feeds

-Live feed updates
-Hamsterwatch chatroom
-McCrae Olson videos & blog
-Amazon portal USA or Canada
-VPN for international viewers
-Hamsterwatch Twitter - Twitpic
-BB16 official site
-Hamster Twitters
BB USA - BB Canada
-East Coast air show feeds
1 - 2 - 3 - 4 - 5 - 6 - 7 - 8 - 9







POWER STATUS


Brittany evicted 10-0
Frankie is Head of Household
Victoria and Jocasta are nominated
Nicole, Caleb, Christine, Derrick are Have-not

Zach is deposed HOH
His tributes were Christine, Nicole - they won BOB

Donny, Derrick, Frankie are Team America (fuck yeah)







UPCOMING EVENTS


Saturday: Veto comp
Sunday: Photobooth, featuring peace sign rainbow glasses OMG!!
Monday: Veto meeting

Next show
Sunday 8pm: Zach's Wild Ride, nominations, BOB comp



Save 20% on orders over $29 with coupon code AFFILIATE20
Big Brother plus other CBS shows - shop now!





BB16 DRINKING GAME


Take a swig whenever one of them makes you cringe




Donations via Paypal are gratefully accepted!






BIG BROTHER SEASONS



Amazon DVDs BB4 - BB3

Amazon Instant Video BB16
- BB15
- BB14
- BB13
- BB12
- BB11
- BB10
- BB9
- BB8





BB16 FAQ


Feeds are streamed by CBS.

Call 877-211-4367 for account help, including password reset or to cancel subscription.

CBS shows are Sundays 8pm, Wednesdays 8pm, eviction Thursdays 9pm (Global in Canada).

Big Brother After Dark is on TVGN (Slice in Canada) three hours Mon/Tues starting 11pm, two hours Wed/Fri/Sat/Sun starting midnight; and two hours Thurs starting 1am.

BB16 prizes are the same: $500k for the winner and $50k for 2nd place. Stipend for the others is $1,000 per week, including pre-show hotel and jury sequester. Frankie might get more.

The habitat has 76 cameras (up 11, and now high def) and 100 microphones (up 2).

The recorded in-house announcements are the voice of producer Don Wollman.





>> >> >>
>>
ALL AMAZON.COM PURCHASES MADE THROUGH THESE LINKS HELP SUPPORT THIS SITE
Amazon USA
- Amazon Canada
More ups, more downs (Friday 7/25)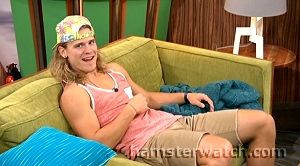 Hayden had asked Frankie if he could have a "special" shower upstairs and was told yes.. later he told Cody & Donny that he had indeed done his doo-dah - Flashback 7/25 6.57pm.. it was a rather funny retell, mostly because Hayden just doesn't care

Frankie nominated Victoria & Jocasta and Zach nominated Christine & Nicole, sticking with the last Thursday night plans after many, many round robins naming most everyone.. Zach also went with the speech scorchers he'd rehearsed, calling Nicole a Froot Loop dingus superfan and Christine a JennCity floater.. no official word yet if Team America (fuck yeah) got credit for anything today but I think not - they'll have to try again at the veto meeting

Christine & Nicole won the BOB, meaning they're safe, Zach's not, and Frankie is the surviving HOH for the week.. it sounded like another flying event, this time with a wedding theme.. Jocasta got hurt, this time it was her knee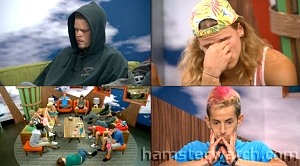 Tragedy struck the habitat for the second time in as many days when Derrick was informed his grandfather Norman had passed away.. he too had a letter from home that assured him they'd be okay and he should stay.. they all gathered together again in the living room and remained for a half hour or more, silent - Flashback 7/25 7.45pm.. the extended silence was odd but touching.. my condolences go out to Derrick's family, especially Jana & Tenley, Sue, Aimee, and Meaghan

The Zach Show wasn't renewed after its spectacular one night stand, so the rest of the day and evening were pretty quiet.. gametalk ranged from guarantees that noms won't change to the old Amber (or Caleb) backdoor plans - wait for the veto comp for all that to firm up a bit.. Nicole's Germitard came to an end at midnight, so she worked up a little strip routine with Amber's & Donny's help that she performed at midnight.. it was awkward and semi-uncomfortable for her, making it all kinds of cute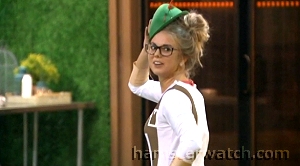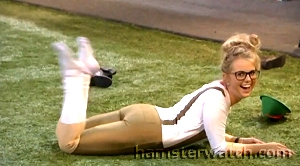 - Click "previous Hamsterwatch episode" up top to see what came before
- Check my Twitter and Twitpic for more of the random bits that I cover
- Check the Updates section for all the rest of it with real-time feeds updates and caps by @UgotBronx
- Get the feeds
to watch it unfold for yourself



Mascara mode cowboy (Thursday 7/24)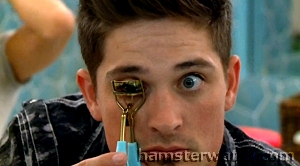 As usual on a Thursday, much of their time was spent either napping or prepping and primping, and Caleb was no exception: today he applied mascara, curled his eyelashes, and added some color enhancement to his eyebrows - he's gonna look real purdy tonight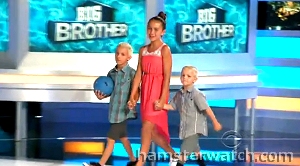 Brittany walked the plank on a unanimous vote, as expected by everyone but her, and she was reunited with her three lovely kids on stage.. it's been a long time since we've had family reunions in Julie's boudoir, and it was very sweet.. the HOH comp was a buzz-in affair with country music clips describing some of the comps to date: Frankie and Zach won, meaning we won't have a much-needed regime change yet, but Zach might bring some of his erratic behavior if he survives

Julie told Nicole, Caleb, Christine, Derrick they're the new Have-nots due to being the laziest hamsters per their tracker jackers.. they should get deep fish pizza as their supplement at some point, unless that vote got lost somewhere.. she also told us that the Team America (fuck yeah) task will be to cause a fight at noms or veto meeting, so WTG everyone who voted for that - it won't be on feeds #headdesk



The Zach Show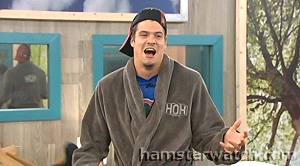 Between Julie's farewell and the "WHO WANTS TO SEE OUR HOH ROOM" hollering, Zach whipped them all up into a fevered frenzy that had to be seen to be believed.. he and Frankie more or less decided they want to get Caleb gone, or Amber if they can't do that, but the BOB wrench makes first round noms trickier than usual when the HOHs have a target in mind, as we've seen

By the time they trotted up to oooh and aahh over pics, letters, and junk food, just about every possible combo of four names had been "decided", and then things got good.. within a few short hours, Cody was ticked off, Victoria was in tears, Christine was livid, the on/off Caleb & Amber soap opera was off again, and it was all due to Zach

Whether by design or happy accident, he took full advantage of the speed at which stories spread in there, and he told some truths and some lies that grew legs fast, giving us a glorious fun-filled night of wacky feeds.. at one point Zach was swaggering around like a madman who knew exactly what he was doing, and it was delightful in every way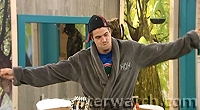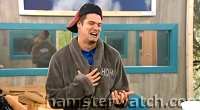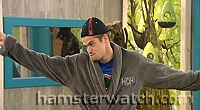 They might have ended up with Frankie planning to put up Jocasta and Victoria, and Zach putting up Nicole and Christine, with Amber as the ultimate target - but keep that in pencil, it's definitely subject to change.. Derrick & Frankie decided to go for a fight between Zach and Christine at noms, but I'd be surprised if they get the cash for that since they hardly "puppet mastered" it? But we'll see how it plays out - oh snap, no we won't

- Click "previous Hamsterwatch episode" up top to see what came before
- Check my Twitter and Twitpic for more of the random bits that I cover
- Check the Updates section for all the rest of it with real-time feeds updates and caps by @UgotBronx
- Get the feeds
to watch it unfold for yourself




Get a free trial of the live feeds to see it all as it happens

Ratings - King of the Castle edition
Ratings are Thursday's for now, based on entertainment value
VTE = Voted to evict




Julie's afternoon tweet was surprising - she usually doesn't ridicule them so openly, even when they're easy targets, not unless there's a Penisgate apology video anyway. I suggested at the beginning that they get their hamsters properly trained while they still could, but now they're singing and talking about production all the time, and they're on a first-name basis with Diary staff. Again, the fishies are fantastic this year but the music is still jarring when it cuts in, and still way too loud.

PS I wish I knew why they completely omitted the first Caleb/Amber breakup convo. They ran the before and after of that night, but gave no indication the two of them had that lengthy and awkward chat in between, and it was the highlight of that whole storyline.






Won: Nothing yet
VTE Brittany
Yes she's gorgeous and her stress-cleaning helps with all the mess, but I still don't see what she brings to the table other than the on again/off again crazy Caleb storyline. I've got nothing against her so save the angry cards and letters, but I don't see what makes her Queen Amber either.






Won: $5,000
VTE Brittany
He's good comedy in his 'no way this guy can be real' kind of way, but he's a one trick pony and we've taken the ride.






Won: Nothing yet
VTE Brittany
NOMINATED by Zach - WON BOB
Lots of people are hating on her but I still think she's fun and funny, and she's not preachy like I was afraid she might be. However, it was brought up that she's getting all the perks of being in a mongo alliance without doing any of the work, and that's kind of true. It's probably time for her to do some time on the block and in the comp arena.






Won: 24 hrs kicking self
No vote (HOH)
This guy's a moody one, happily cuddling with Zach & Frankie one minute and ready to blow the next, and that's the kind of stuff that makes for good comedy and good feeds.






Won: $10,000
TEAM AMERICA
VTE Brittany
They still haven't caught on that he's the smartest guy in the room and only playing like he's on their level. You get the idea he's done this shtick 1,000 times before on the job, and this is a walk in the park for him. People are hating on him too and I don't get that. I always hear fans say they want gamers in there and when one comes along, and a master orchestrator at that, they hate him.. go figure.






Won: $10,000
TEAM AMERICA
No vote (nominee)
Sweet guy, funny guy, kind and sincere, and he's probably with us for the duration. We keep such different hours, I don't have much more to say about him.






Won: $10,000
TEAM AMERICA
VTE Brittany
HEAD OF HOUSEHOLD
I like him okay when he's just being himself, but that doesn't happen very often. I'm tired of the constant singing that brings the fishies, tired of the characters, and tired of him always having to be in the spotlight.






Won: Nothing yet
VTE Brittany
He's still flying low under the radar and under their noses, and it seems to still be working for him.






Won: Nothing yet
VTE Brittany
NOMINATED
I'd like more wacky behavior and 'the hell you say' expressions from her and less preaching. I've got nothing against anyone practicing whatever religion they like, but I didn't pay $24 to attend summer Bible camp.






Won: 1 week frog, 1 week Germitard
VTE Brittany
NOMINATED by Zach - WON BOB
She's Public Enemy #2 or #3 lately and it makes no sense to me. I still think she's hilarious, and her retell of her convo with Zach was one of the funniest highlights of a very funny night.






Won: Nothing yet
VTE Brittany
NOMINATED
We need more crow stories and Frank crushes, and a lot less 'poor me' tears and self-victimization.






Won: Germany trip
VTE Brittany
DEPOSED HOH
This guy gave us the funniest post-eviction night that I can remember in a very long time. When the HOH comp outcome left us with the same regime as we've had since the start, most of us were afraid we'd be in for a boring night, but this guy saved the day in every way. Loony, erratic, volatile, and insane are the kind of qualities that make for great feeds. Crazy like a fox or just crazy? I have no idea, and it doesn't matter - it simply works.






Won: 2400 goals
EVICTED 10-0
She was the rawest recruit we've had in awhile and she didn't do much homework, which worked against her in a big way. She seemed to have pretty good game instincts and may have done some real damage if she'd been better prepared. She'll be remembered for her high bun as well as the few times her hair escaped it and landed her in Deathrace 2014 hall of fame, and for sticking with and completing that brutal soccer task when she didn't have to.






Won: Nothing
He has a daughter.






Won: Nothing
I kept hoping for the spitfire she plays on Twitter & Instagram to show up but it didn't until the veto meeting blowup. She was well on her way to being a perma-pawn but she stressed about not being able to win comps, and then Devin happened and out she went. She had a lot of entertainment potential and while we were robbed of most of it by her early exit, we'll always have CALTORU.






TEAM AMERICA FAIL
Won: Nothing
She blew up her game prematurely and spectacularly, and then her alter ego Alex and his 'big ass balls' sealed the deal. Supposedly she beat someone with 150k Twitter followers (plus 15 million backup) in a public vote, but that went splat just like BB12's saboteur Annie. Joey was lively and personable, a worthy member of the first out club, and she easily leads the pack of hamsters with unnatural hair colors.







Linking to any page here is fine. Please don't repost content from this site (or any other) without permission, and don't repost or hotlink images.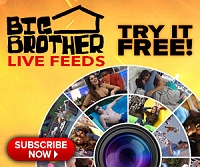 The real show is on the feeds





TEAM AMERICA VOTE


Hide someone's things & convince them to blame someone else
> Get two hamsters to fight at either noms or veto meeting
Voting is closed







FEEDSTER VOTE


Which prop would you like in the photobooth next week? Polls are closed
Viking hat (50%)
> Peace sign rainbow glasses (50%)

On hold: Deep fish pizza for Have-not supplement







RATINGS WATCH


Thursday's show was first for the hour with 2.1 rating, 7 share, and 6.40 million viewers, ahead of Gang Related on FOX with 0.8/3/2.56, Welcome to Sweden and Working the Engels on NBC with 0.8/3/2.94 and 0.6/2/2.24 respectively, and Black Box on ABC with 0.7/1/0.49.








Clicky: caps sorted by day - all caps

SEASON STATS
HOHs in order, *indicates the surviving HOH
Frankie/Caleb*, Amber/Devin*, Nicole/Derrick*, Cody*/Frankie, Frankie*/Zach

BOB wins in order
Brittany/Victoria, Hayden/Nicole, Amber/Donny, Amber/Jocasta, Christine/Nicole

Veto wins in order
Donny, Devin, Donny, Victoria

Evictions in order
Joey 13-0; Paola 10-2; Devin 11-0; Brittany 10-0

Evictees on Twitter: @JoeyVanPelt1, @paolashea, @devinshepbb16



BBQ Smackdown Scorecard

- Big Brother 16 -
Round 1: BBQ 1, Frankie 0
Round 2: BBQ 1, Frankie 0, Derrick 0

- Big Brother 15 -
Round 1: BBQ 1, Helen 1, Jessie 0
Round 2: BBQ 1, Helen 0, Jessie 0
Round 3: BBQ 1, Spencer 0
Round 4: BBQ 1, Spencer ½, Judd 0, McCrae 0

- Big Brother 14 -
Round 1: BBQ ½, Dan 0

- Big Brother 13 -
Round 1: BBQ ½, Adam ½, Rachel 0
Round 2: BBQ ½, Adam 0
Round 3: BBQ 1, Rachel 0

- Big Brother 12 -
Round 1: BBQ ½, Brendon 0
Round 2: BBQ 2, Britney 0, Lane 0
Round 3: BBQ 1, Lane 0, CBS 0

- Big Brother 11 -
Round 1: BBQ 0, Jeff 0
Round 2: BBQ 0, Jeff ½
Round 3: BBQ ½, Kevin 0, Michele 0


- Big Brother 10 -
No title events

- Big Brother 9 Winter Edition -
Round 1: BBQ ½, Ryan 0
Round 2: BBQ ½, Adam 0
Round 3: BBQ ½, Ryan 0

- Big Brother 8 -
Round 1: BBQ 1, Dick 0
Round 2: BBQ ½, Zach 0
Round 3: BBQ 0, Dick 1

- Big Brother 7 All-Stars -
BBQ training sabbatical

- Big Brother 6 -
Round 1: BBQ 1, Ivette 0
Round 2: BBQ 0, Howie 0

- Big Brother 5 -
Round 1: BBQ 1, Cowboy 1, Drew 0
Round 2: BBQ 1, Drew 0, Diane ½
Round 3: BBQ 1, Cowboy 1, CBS 0, Nakomis 0



EXTRACURRICULAR TALLY
House meetings - 4
First eight, on premiere #1
Joey's, semi-formal 6/28 5.56pm
Devin's 7/2 11.18pm
Devin's Bomb Squad 7/5 5.47pm

Fights - 3
Devin vs Brittany 6/29 12.21am
Devin vs Caleb 7/5 3.06am
Zach vs Paola 7/7 3.10pm

Makeout pairings - 1
Hayden & Nicole

Sex events - 1
Hayden self service (retell) 7/25 6.57pm

Blindside evictions - 1
Brittany

Nom speech scorchers - 1
Zach putting up Nicole & Christine

Pinkyswears - 12
Paola & Devin 6/29 1.35pm
Paola & Devin 7/4 12.15am
Paola & Donny 7/4 8.06pm
Devin & Victoria 7/6 10.49am
Jocasta & Amber 7/10 7.57pm
Derrick & Victoria 7/12 8.37pm
Nicole & Christine 7/13 1.24am
Nicole & Hayden 7/15 12.07am
Nicole & Christine 7/15 11.05pm
Jocasta & Amber 7/22 6.27pm
Zach & Victoria 7/24 9.00pm
Nicole & Hayden 7/25 5.32pm

The Soup mentions - 3
-Donny's smarts
-Donny's America + Devin/Caleb cuddling
-Egg puns + Jocasta's tongues

Almost literal asshats - 1
Zach 7/5 6.08am

CBS goofs - 13
- Happends
- Jill, for the 2nd year
- Premiere 2 wasn't live
- Misspelled Jocasta 6/29 show
- Flashback calendar's off
- Joey left before trackers came but got 1st place anyway
- Forgot TA results 7/10 show
- Pointless edit amputated Caleb's toes 7/10 show
- Misspelled Jeff's name 7/10 show
- Live show tweet on Saturday
- #BattleoftheBlcok
- Faulty status updates
- Arithmetic is hard