This site isn't about who should win, who will win, who I'd be friends with, or who is cute. It's about watching hamsters: which ones are doing what and why. Which are fun and which are dull. If they aren't entertaining, get rid of 'em! More to come, bookmark & come back!

.. that dingo
Linkage


Daily feed recaps & opinion ratings navigation tool for this often-biased site
HamsterWatch Big Brother 8 here we go again
HamsterWatch Big Brother 7 Hamster all-stars in the house
HamsterWatch Big Brother 6 time to do it all over again
CBS Big Brother 5 the official site
Housecalls live web show with Marcellas, also archived shows
TV Updates feed updates, screencaps, and fun boards - easy to use and functional!
bb5fan's 30 second refresh screencaps if you don't have feeds (great at work!)
Hollyisms and Cowboyisms and Lisa-isms from me, that dingo person
Sir LinksALot Big Brother 5 all the links
Reality TV Links emphasis on individual hamsters' sites
Aldav has all of the edgier stuff & the best mini-recaps in town (alternate url)
Today's must-click special: Grin's BB5 Park: Day 45






8/15/04 - Day 45, part 2

>> to the future >> dwell in the past >> latest
<< missed the fight? back to part 1



It's all fun and games again



There's no denying that Jase and Scott knew how to have a good time, and fun is hard to find since they left and Adria took over. But these remaining hamsters are finally giving it a shot. They're relatively new at it, but at least they're trying.



Karen says to Nik "You have the most expressive face I've ever seen"







It's August: Cowboy and Nat compare pool handstands (Cowboy added
a big scissor-finish) and see who can stay underwater longer (Natalie)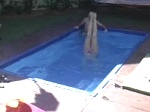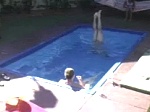 Sunbathing/napping: Drew in a spread-eagle pose
and the camera zooms in on Karen all the way to very extreme closeup







Diane also adopts the spread-eagle pose to wash her dainties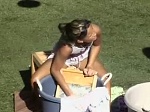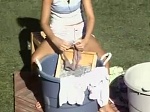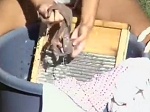 Is Cowboy missing bath buddies? Maybe so, as he keeps Natalie company
It just isn't the same though - maybe because she's a girl (although he
seems to overlook that fact, talking about April the whole time)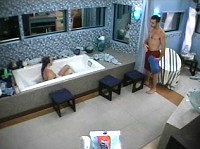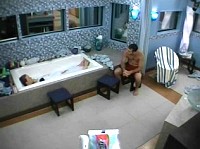 Nat's looking like a natural bath buddy with a sudsy beard and sleeves







The spirit of Scott seems to be everywhere as Drew & Cowboy
do some impromptu rasslin' (hey guys, "don't make this weird")







Then it's a quickie game of Follow the (new) Leader












Outside almost all of them enjoy a lengthy evening game of golfball-throwing
It's an odd game - throw from the hot tub, from chairs (standing & sitting),
and so on - but they seem to like it.. and they all got along well
Marvin kept up a hilarious nonstop running commentary throughout







Nat continues having a great night with a hole-in-one, some juggling,
and showing off her neatly-stacked laundry and panties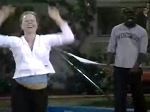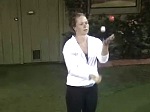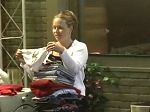 Other evening activities included girl-lifting, M&M counting,
and signalling to a low-flying circling helicopter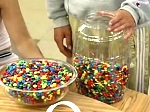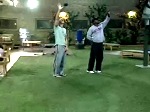 Something has been revealed to me: the whole holier-than-thou vibe is not good tv. Now claims she wants a tie? Adria, get over yourself.



He's still just there, not doing much of anything. Points for trying to revive bath buddies, however feeble.



The repercussions I predicted manifested themselves as her getting too cocky and too vocal to each of the various alliances she's in bed with, which will come back to bite her. Dressed up sexy for the evening to entice her boy back.



Is he still in there?



Will her visit with the shrink be good for us, or will she get meds and become stable (dull)? And how far along is she?



Laid it on the line to Her Highness Queen Adria and came out ahead with a direct hit on the "faith or random" issue. AND came back to give extra-fun color commentary throughout the golfball-throwing tournament.



About the twins complaining about being shuttled in & out while switching: "I don't care if I'm gagged and tied up and put in the trunk!" That could be arranged..



I had kept her on a downward spiral, but she redeemed herself tonight with a flurry of happy fun. At least I think that was her - if not, I take it all back.



On again/off again about the whole nominated situation, and his bitchy attitude about almost everything and almost everyone has gone from being campy cute to tiring and dull.



Overall a good show, but puh-leez! "The remaining HGs fought for HOH" against video of.. shuffleboard? The manufactured melodrama isn't cutting it. So many shot-for-shot and word-for-word recaps on Saturday's show as my day 42 two-parter, plus Nik's black hole theories - repeated here first - were finally picked up.. (don't make me beg - just hire me!) Notably edited & absent: Adria's pausing her HOH room debut for "first, the rules"; and the streaking/strip-tease spyscreen escapades were a freaking week ago! Many who'd heard about Truth or Dare night but missed it thought that was it.. shame on you CBS.





Hamster watching doesn't get better than this guy. Bath buddies forever!





The goon is gone - long live the goon :)





Unique, fun, annoying, ditzy, and oddly vulnerable. Bless her pointy lil head.





This year's Lisa, but without her luck.





Smart or not, he was first out: 'nuff said. Fold your arms and go home.