This site isn't about who should win, who will win, who I'd be friends with, or who is cute. It's about watching hamsters: which ones are doing what and why. Which are fun and which are dull. If they aren't entertaining, get rid of 'em! More to come, bookmark & come back!

.. that dingo
Linkage


Daily feed recaps & opinion ratings navigation tool for this often-biased site
HamsterWatch Big Brother 8 here we go again
HamsterWatch Big Brother 7 Hamster all-stars in the house
HamsterWatch Big Brother 6 time to do it all over again
CBS Big Brother 5 the official site
Housecalls live web show with Marcellas, also archived shows
TV Updates feed updates, screencaps, and fun boards - easy to use and functional!
bb5fan's 30 second refresh screencaps if you don't have feeds (great at work!)
Hollyisms and Cowboyisms and Lisa-isms from me, that dingo person
Sir LinksALot Big Brother 5 all the links
Reality TV Links emphasis on individual hamsters' sites
Aldav has all of the edgier stuff & the best mini-recaps in town (alternate url)
Today's must-click special: Grin's BB5 Park: Day 41 with Guest Appearances






8/11/04 - Day 41

>> to the future >> dwell in the past >> latest

RealPlayer and the feeds are so screwed up that it's hard to tell what's going on in there, if anything. I phoned Real to complain today - they acknowledged there is a problem, but had no info as to repairing it. If enough of us call often enough, they'll fix it just to shut us up: 1-866-420-5833 M-F 9am-9pm Eastern (Sat-Sun 10.30am-8pm Eastern). They have a special Big Brother option on the voicemail menu, which starts with "If you are seeing the fishtank, press 1" :)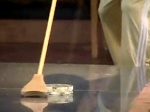 On to the hamsters.. the big news is shuffleboard! Which means we should have a new HOH before tomorrow night's ending credits. Everyone was happy to have a new activity, and they spent the early evening practicing together. Nicely. I'm proud of them getting along with each other so well lately - so much so, that today's arrows are competition-specific. Just this once.








Both of our nominees did their packing in their Official Big Brother 5 Hamsterbags







Drew & Cowboy giggled at Jase's plumber's crack/pencil holder..
he said "under 1½ inches is ok - it's comic relief"







Jase asked if there was any glue in the house?
Then he got some band-aids from the supply room and slapped several of them on this little Pikachu-Hello-Kitty thing.. I don't get it, but I liked it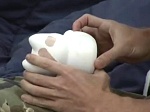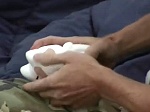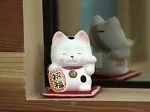 Nik is getting credit all over town for being The Smart One, when all she did was trip over the reason for the Golden Veto before the others (I suspect the Diary Room gave a lot of hints to these folks, and they had some trouble catching on - with the exception of Marvin, who doesn't feel the need to bask in smart-glory)

They were all a bit slow out of the starting gate on that one, including The Smart One Nakomas.. (don't forget her famous Neil Armstrong Strategy).. However, Nik is the one who suggested Karen talk to the cameras and for that I'm ever grateful - we could go the rest of the season with just her in there!







Asking our advice about the peanut butter - nah, it's crunchy style.. she hates that

Jase gave his hair a trim earlier in the day..
never to be outdone, Diane got a tag team trim from Ad/Nat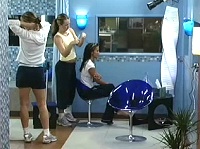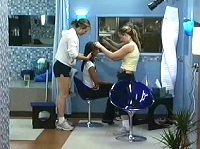 Hamsters discover clouds in the evening sky
(one of the weirder Big Brother moments ever)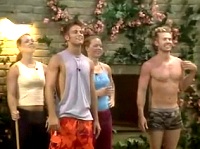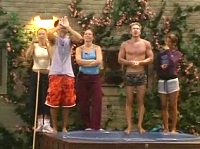 Some random unflattering shots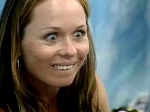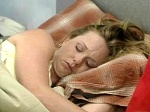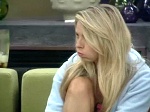 (hey don't blame me - this is all the feeds are supplying tonight)

"Pussy Power" had another night of spyscreen shenanigans
with much whooping, hollering, and riotous laughter..
We saw only an empty living room (courtesy of Real Networks' ongoing screwup)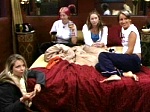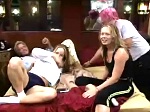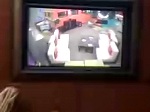 Diane's kinky love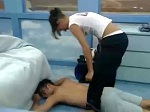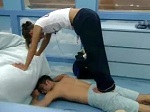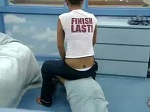 Diane:
Do a push-up with me on your back.. I bet you can't do it!

I have a friend who calls them her babykiller pills.. that's so awesome!

I can totally tell them apart, being a twin myself
....
Drew to Diane:
To be terribly honest, I'm frightened of you.. so we're on the same page
....
Karen:
Diane said to me 'Karen you're so cute.. you go from neurotic to paranoid to detrimental'



Approaches shuffleboard like Olympic gold is on the line. Easy to predict her the next HOH, but dumb luck on the non-jocks' part will play a part. (exchange with Nat's pic & prediction if applicable)



It'd be fun if he won, but let's face it - he's given up. He even pulled up a chair for practice.



Certain that her jock boy-toy will win this one for her, she'll put more effort into looking cute on the court than competing. She may make a last minute effort to avoid looking like a loser on tv, but she'll over-correct, and blame the wind.



Steely determination to win anything athletic, his shuffleboard focus is extreme to the point of the tongue sticking out. An easy winner if he doesn't freeze under the pressure to impress Diane.. but he will.



Jase won't be competing with these puckers anymore..
He'll be schmoozing Julie while the others are shoving pucks around - let's hope he knows who she's engaged to. (This is CBS's current pic of Jase: they always put up the unflattering shots when someone's on their way out.) You know I'll miss you, dude - bath buddies forever!



Her off-hand non-athletic approach just may be the twist needed for this one. I'm going out on a limb and predicting Karen will take it - she'll be fun to watch as HOH, and that'll stir things up in the house also!



The only one who's got anything really riding on this - and nobody's fool - I think he'll use as much technique and finesse when he pucks as he does when he.. well nevermind, that was last night. An easy 2nd HOH win if Karen doesn't shrug her way to a surprise upset.



I suspect she was last chosen for recess dodgeball teams and that she's got some buried revenge angst about that, so she opts for a whimsical &quotwho cares" approach. That could make her a surprise winner, but this rebel will be obediently reading the rules to the others instead of competing this time.



Approaches shuffleboard like Olympic gold is on the line. Easy to predict her the next HOH, but dumb luck on the non-jocks' part will play a part. (exchange with Adria's pic & prediction if applicable)



He knows this one isn't a championship game, so he'll put forth a token effort and be done with it.



A good show Tuesday. High drama, complex plot, and zany cast of characters. Ok, it was a bit overblown, with many "key" sequences totally out of order & context, but that's their prerogative: they own these hamsters and their cage. They made a good show out of this mess, and yes, I noticed how they used the same image for Cowboy's big speech yesterday that I illustrated Cowboyisms with.. four days ago! Just freaking hire me.





The goon is gone - long live the goon :)





Unique, fun, annoying, ditzy, and oddly vulnerable. Bless her pointy lil head.





This year's Lisa, but without her luck.





Smart or not, he was first out: 'nuff said. Fold your arms and go home.


(secret alliance shout-out handshake to insane & attw)