This site isn't about who should win, who will win, who I'd be friends with, or who is cute. It's about watching hamsters: which ones are doing what and why. Which are fun and which are dull. If they aren't entertaining, get rid of 'em! More to come, bookmark & come back!

.. that dingo
Linkage


Daily feed recaps & opinion ratings navigation tool for this often-biased site
HamsterWatch Big Brother 8 here we go again
HamsterWatch Big Brother 7 Hamster all-stars in the house
HamsterWatch Big Brother 6 time to do it all over again
CBS Big Brother 5 the official site
Housecalls live web show with Marcellas, also archived shows
TV Updates feed updates, screencaps, and fun boards - easy to use and functional!
bb5fan's 30 second refresh screencaps if you don't have feeds (great at work!)
Hollyisms and Cowboyisms and Lisa-isms from me, that dingo person
Sir LinksALot Big Brother 5 all the links
Reality TV Links emphasis on individual hamsters' sites
Aldav has all of the edgier stuff & the best mini-recaps in town (alternate url)
Today's must-click special: Grin's BB5 Park: Day 34






8/4/04 - Day 34

>> to the future >> dwell in the past >> latest

The votes have been cast. Short of a miracle twist, the Santa Monica Van Boys will break up tomorrow for sure, and quite possibly the Four Horsemen as well. It's always a sad day when boy bands break up.

I refuse to speculate on whether Marv or Scott will walk the FOTH plank to Julie's boudoir - partly because I can't keep up with the waffling madness - but mostly because I'm in denial that either of them will be gone tomorrow.



Fortunately both nominees seem to be doing well and acting normal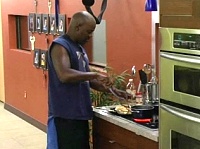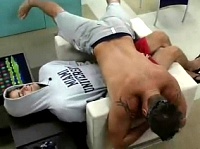 With all the fun on the block (literally) this week and all alliances in shambles, it's easy to forget that tomorrow PROJECT DNA [donotassume] will finally come to fruition

Keeping the big secret a big secret is a heavy burden for Ad/Nat







This half of The Fitness Twins is by far the better cryer - she looks almost angelic







But wait.. what's this?? A special "live switch" preview!
Ad/Nat morphing into Nat/Ad (or vice versa) before our eyes!
Thanks to the super technology of RealPlayer we can forget the tears
and toss the kleenex aside - here comes the dancing girl!







As usual, the other hamsters remain oblivious to PROJECT DNA [donotassume]

Diane spent the evening holding court among those she claims to hate..
(a few attention issues maybe? of course it has nothing to do with Holly..)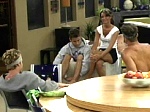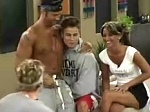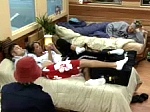 Cowboy scored higher in today's invitation-only competition - "Remove
Diane's Socks Lovingly" - but Drew walked off with the prize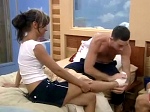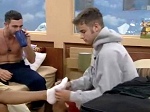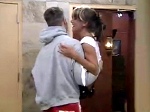 More hamsters entered the cocoon stage today...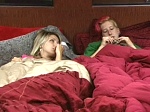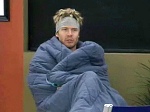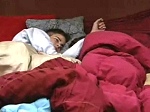 Karen got an ice cream headache...







Ad/Nat got drugs.. Scott gave Drew a tickle (or something)..
and Scott and/or Marv enjoyed a tasty last supper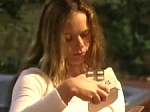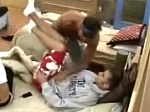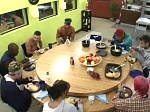 Marv & Scott say good bye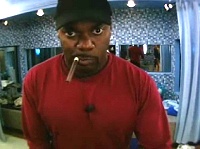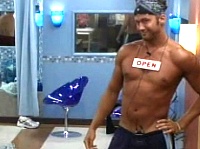 Thanks for playing - you'll be missed


Ok I admit it, I want to see twistage. Ad/Nat, I know it's not in your nature(s), but please try to lay low for the next few hours.



Might be beginning to lose it in a Chicken George kinda way.. here's hoping.



This is all your doing, Diane.. your time will come.



<yawn&gt



The stress of having to give up one of the van boys is showing - shenanigans are fading. Bath buddies returned tonight, but we were deprived of playing along, boo! Bad producers, bad!



I still don't know or care either way about her. It's weird.



Don't go Marvin! We need you around so we still have someone to laugh with..


Oh dear. "Scott is smart, remember on the first day when he said he's smart?" Nik, we thought you were smart! Smarter than to believe anyone's smart cuz they say so anyway. Go back to being the resident weirdo.



Don't go Scott! We need you around to fill the cocky bastard role. Hey.. wait a minute.. awww shit, don't make us feel sorry for you. We know it's all an act, all bravado - you do too.. don't you??



I'd like to think Will is the sharp crayon in this box - he is perceptive about his fellow hamsters - but I'm not completely convinced yet. The Rock Solid Deal® may turn out to be more of a "save Will" deal than a brilliant secret alliance strategy - but Jase will end up getting blamed if "Save Will" fails, so maybe it is brilliant.



I was going to give "The Diane Show" on Tuesday a shrug, until the Will/Jase Rock Solid Deal® segment. Keeping pivotal game events from feeders who paid for 24/7 unlimited access to ensure viewers (ratings) - causing rumors, theories, and yes, emotions to run amok - is beyond sleazy. SHAME ON YOU, CBS! (On the other hand, they are selecting tons of the same mini-events to highlight as I do on this site, right down to the screenshots. Stop lifting my editorial choices guys.. just hire me.





Unique, fun, annoying, ditzy, and oddly vulnerable. Bless her pointy lil head.





This year's Lisa, but without her luck.





Smart or not, he was first out: 'nuff said. Fold your arms and go home.