This site isn't about who should win, who will win, who I'd be friends with, or who is cute. It's about watching hamsters: which ones are doing what and why. Which are fun and which are dull. If they aren't entertaining, get rid of 'em! More to come, bookmark & come back!

.. that dingo
Linkage


Daily feed recaps & opinion ratings navigation tool for this often-biased site
HamsterWatch Big Brother 8 here we go again
HamsterWatch Big Brother 7 Hamster all-stars in the house
HamsterWatch Big Brother 6 time to do it all over again
CBS Big Brother 5 the official site
Housecalls live web show with Marcellas, also archived shows
TV Updates feed updates, screencaps, and fun boards - easy to use and functional!
bb5fan's 30 second refresh screencaps if you don't have feeds (great at work!)
Hollyisms and Cowboyisms and Lisa-isms from me, that dingo person
Sir LinksALot Big Brother 5 all the links
Reality TV Links emphasis on individual hamsters' sites
Aldav has all of the edgier stuff & the best mini-recaps in town (alternate url)
Today's must-click special: Grin's BB5 Park: Day 33






8/3/04 - Day 33

>> to the future >> dwell in the past >> latest

Sorry hamster watchers, this was not the most thrilling day in Big Brother history.

The "Pussy Power" alliance can't remember who they're supposed to vote for tomorrow,
so they go over all the options.. again. And again. And yet again. Now it looks like they're going to end up voting for who is neater to live with, Scott or Marv.. oops that means it's another tie, dammit



Damn, all this waffling is exhausting!













Nik gets a nicotine patch kit - and something to read! Karen falls off the bed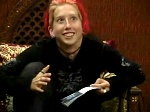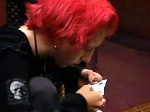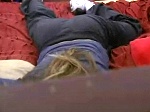 Scott tried to campaign some support from the hamsters, but he mistook their
total confusion for an eviction prediction, and he seems to have given up








Not even the evening meeting of the Booze Rationing Alliance can save the hamsters
from the gloom on the house tonight, but Jase gives it a shot - what a trooper!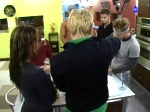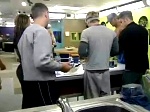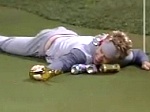 Scott commisserates with Marvin (strangely silent and off-camera tonight),
each of them reflecting on being not-here soon.. elsewhere alliances are being formed, dissolved, reformed, and hastily slapped together like patchwork quilts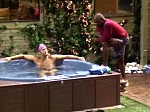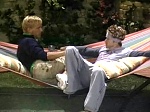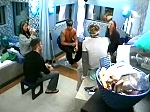 Later Scott is called into the DR to capture some sadness for the tv audience







After that he perked up a bit and reverted to the Scott we've come to
know and love, but it just didn't seem like his heart was really in it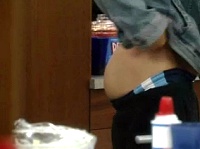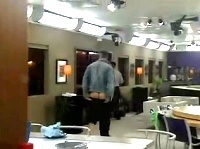 Diane may have said it best:
Scott's calmed down some.. he's really turned over his leaf

Nik was also philosophical about it all:
As long as Neil Armstrong is still going to the moon, that's all we need to know.. there's gonna be a touchdown, or there's gonna be a Challenger disaster



Drew: She's so intelligent
Diane: I know.. she's my brother

Drew has a moment of clarity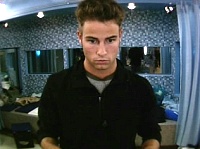 Earlier in the evening Will asked Drew
"Did you have internet fans today?"

Drew shrugged and mumbled he didn't know

Will said he thinks Mindy is the person to
ask if they have internet fans on a given day

Drew looks like he's replaying this convo
as he gets ready for bed, brushing his teeth and popping zits in the mirror.. for his internet fans



Ok I admit it, I want to see twistage. Ad/Nat, I know it's not in your nature(s), but please try to lay low for the next few hours.



Might be beginning to lose it in a Chicken George kinda way.. here's hoping.



Hey Diane, whatever happened to your PLAN? Get us all worked up, and then nothing! (ahh now we know how Drew feels every night)



<yawn&gt



The stress of having to give up one of the van boys is showing - shenanigans galore! Feeders are starting to squick, but they'll miss him if he goes and all the entertainment goes with him.



I still don't know or care either way about her. It's weird.



Don't go Marvin! We need you around so we still have someone to laugh with..


Oh dear. "Scott is smart, remember on the first day when he said he's smart?" Nik, we thought you were smart! Smarter than to believe anyone's smart cuz they say so anyway. Go back to being the resident weirdo.



Don't go Scott! We need you around to fill the cocky bastard role. Hey.. wait a minute.. awww shit, don't make us feel sorry for you. We know it's all an act, all bravado - you do too.. don't you??



I'd like to think Will is the sharp crayon in this box - he is perceptive about his fellow hamsters - but I'm not completely convinced yet. The Rock Solid Deal® may turn out to be more of a "save Will" deal than a brilliant secret alliance strategy - but Jase will end up getting blamed if "Save Will" fails, so maybe it is brilliant.



I was going to give "The Diane Show" on Tuesday a shrug, until the Will/Jase Rock Solid Deal® segment. Keeping pivotal game events from feeders who paid for 24/7 unlimited access to ensure viewers (ratings) - causing rumors, theories, and yes, emotions to run amok - is beyond sleazy. SHAME ON YOU, CBS! (On the other hand, they are selecting tons of the same mini-events to highlight as I do on this site, right down to the screenshots. Stop lifting my editorial choices guys.. just hire me.





Unique, fun, annoying, ditzy, and oddly vulnerable. Bless her pointy lil head.





This year's Lisa, but without her luck.





Smart or not, he was first out: 'nuff said. Fold your arms and go home.