This site isn't about who should win, who will win, who I'd be friends with, or who is cute. It's about watching hamsters: which ones are doing what and why. Which are fun and which are dull. If they aren't entertaining, get rid of 'em! More to come, bookmark & come back!

.. that dingo
Linkage


Daily feed recaps & opinion ratings navigation tool for this often-biased site
HamsterWatch Big Brother 8 here we go again
HamsterWatch Big Brother 7 Hamster all-stars in the house
HamsterWatch Big Brother 6 time to do it all over again
CBS Big Brother 5 the official site
Housecalls live web show with Marcellas, also archived shows
TV Updates feed updates, screencaps, and fun boards - easy to use and functional!
bb5fan's 30 second refresh screencaps if you don't have feeds (great at work!)
Hollyisms and Cowboyisms and Lisa-isms from me, that dingo person
Sir LinksALot Big Brother 5 all the links
Reality TV Links emphasis on individual hamsters' sites
Aldav has all of the edgier stuff & the best mini-recaps in town (alternate url)
Today's must-click special: Grin's BB5 Park: Day 35
Bonus must-click rerun special: Scott & Jase The Love Below video (explicit site)






8/5/04 - Day 35

>> to the future >> dwell in the past >> latest

Ad/Nat saves the day! Ratings are up, interest is up, and the hamsters are active and happy again. Adria (or was it Natalie?) also saves Marvin in a super-secret swing vote, and Scott is gone.. but not without giving the best line of the day, to Julie: "I dunno if you guys showed that." (whatever it was, they prolly didn't)

"I'm not good at good byes, so I'll say hello one last time"

Scott came in an arrogant jock, full of himself in the worst way. It soon became clear that he was also a buffoon, a clown, and the hamster most likely to be spontaneously fun - much to our surprise and delight. Between his many streaking, mooning, diddling, and bath-buddying moments, he also revealed his loyalty, insecurity, and vulnerability to us. Suddenly the most unlikeable guy in town was infinitely likeable, and he will be missed.



Scott takes a last look at his kingdom of lunacy, the backyard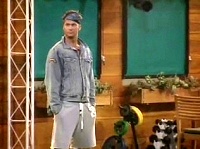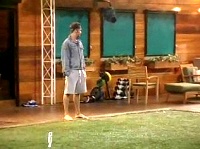 So what happened to the seemingly unbeatable Four Horsemen alliance? In a word, girlfriends. Jase chose to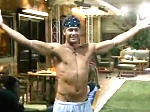 spend a lot of time with Holly, much to the chagrin of his compadres; and Diane chose for Drew to spend his time with her. Scott was noticeably jealous of Holly and Jase's attention to her - as were Drew and Cowboy - but Scott was eventually big enough to acknowledge and admit it (even if it was too late for the 4H to ride to victory.) I think Scott grew in the house more than most we've seen. He was in a unique position: a serious case of hero-worship for Jase, while being hero-worshipped by Cowboy and Drew, and he grew into each role and played them well. Not only did the eejit grew a heart in there somehow, but he learned to let it show. And he made us laugh.


Project DNA (Discovering Natalie & Adria)
The theme of the evening: "Which one of you was that?"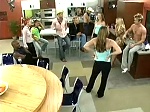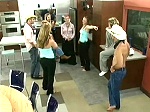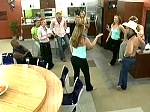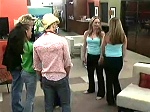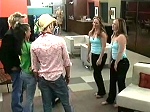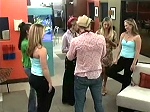 Cowboy sees his dad for the first time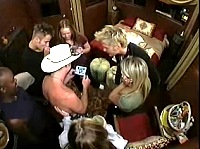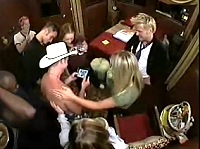 It's a happy night in the house, mostly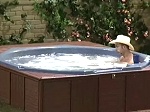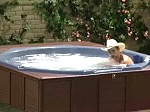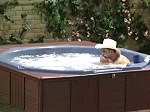 Nakomis settles into the HOH role (and robe)
"Hey they dumbed down the directions for the remote"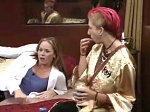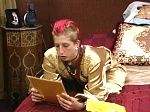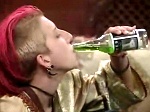 Yep, she really said that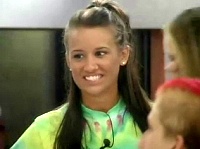 I wish my twin looked like me that much

My sister wouldn't have lasted 15 minutes in here

(on being suspicions about Ad/Nat, with both listening):

You know I wondered.. one day I'd think she was pretty, but then another day she wasn't so pretty

Now I feel kinda bad cuz I was bashing one of them


Yay they pulled it off! Finally something that almost lived up to the hype. This pic is Adria, but no guarantees I'll keep them straight in future.



"Here's Cowboy's problem: he's always been everybody's Robin. Now Batman's gone.. who is he gonna be Robin to?" - Marv



For two weeks it's been "take a drink every time Diane says H-O-H" but after the last few days, hamster watchers need to dry out a bit.



Many more surprises and this poor guy's head is gonna explode. He reacted to the Ad/Nat reveal as if he'd never heard of twins before.



First Holly and now Scott, Jase has taken some major hits lately. In the vapor trail of the Rock Solid Deal® he says "from now on it's game off. I'm gonna be just Jase." Sounds good to me!



Finally Karen wigs out, cries, and irritates just about everyone. She's a keeper!



"Thanks to those who voted for me to stay.. and to those who didn't: if the good die young, I hope y'all live forever."



HOH comp was definitely rigged for her to win this week. Observations about the house? C'mon, the others have only noticed the mirror.



Yay they pulled it off! Finally something that almost lived up to the hype. This pic is Natalie, but no guarantees I'll keep them straight in future.



I want to like him, and I think I know they "have to lie" to win, but the Rock Solid Deal® lie came too easily from him. It takes a lot of practice to appear that sincere & believable.



Ok, they pulled this one off - about 3 weeks too late - and only after a montage of horribly out-of-context snippets complete with over-melodramatic and sappy-sad music. Scott's exit interview was dwarfed by PROJECT DNA as much as Julie was dwarfed by him; but not as much as the big reveal dwarfed her moneyshot punchline: "Houseguests, get to know Natalie.. oh, you already know her, ha ha!" <thud>





The goon is gone - long live the goon :)





Unique, fun, annoying, ditzy, and oddly vulnerable. Bless her pointy lil head.





This year's Lisa, but without her luck.





Smart or not, he was first out: 'nuff said. Fold your arms and go home.