This site isn't about who should win, who will win, who I'd be friends with, or who is cute. It's about watching hamsters: which ones are doing what and why. Which are fun and which are dull. If they aren't entertaining, get rid of 'em! More to come, bookmark & come back!

.. that dingo
Linkage


Daily feed recaps & opinion ratings navigation tool for this often-biased site
HamsterWatch Big Brother 8 here we go again
HamsterWatch Big Brother 7 Hamster all-stars in the house
HamsterWatch Big Brother 6 time to do it all over again
CBS Big Brother 5 the official site
Housecalls live web show with Marcellas, also archived shows
TV Updates feed updates, screencaps, and fun boards - easy to use and functional!
bb5fan's 30 second refresh screencaps if you don't have feeds (great at work!)
Hollyisms and Cowboyisms and Lisa-isms from me, that dingo person
Sir LinksALot Big Brother 5 all the links
Reality TV Links emphasis on individual hamsters' sites
Aldav has all of the edgier stuff & the best mini-recaps in town (alternate url)
Today's must-click special: Grin's BB5 Park: Day 32 Adult Content
Bonus must-click special: Scott & Jase The Love Below video hilarious! (explicit site)






8/2/04 - Day 32

>> to the future >> dwell in the past >> latest



Late news from last night!
Apparently Drew & Diane's adolescent pillowtalk has become too much even for the pillow: it threw itself between them in an attempt to put a stop to the idiocy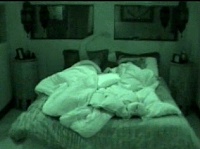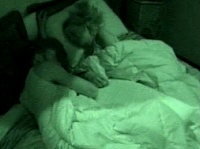 Other than nominating Marvin (boo!) the hamsters busied themselves today
with the usual home-study courses in hairstyling and tattooing..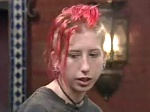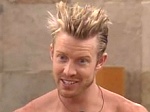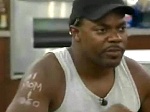 .. and added kite flying* and do-it-yourself chiropracty to their activities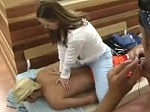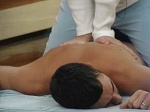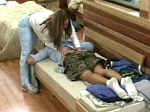 * sorry, no kite flying pics - blame my evil day job

Cowboy .. well, what can I say?






(about his fiancée April): As far as sex, she's the best I've ever had.
If I went by looks, I'd never have experienced that.


It looked like another long, dull evening in the house.. and then.. BEER!!!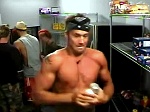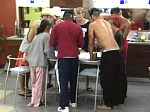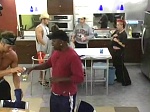 Scott grabs a couple and runs to stash them before they ration and scatter

Jase streaks the house and the bath buddies gather round,
then he decides to work up a boner "for the internet fans"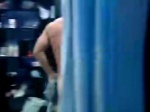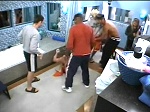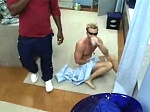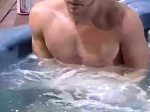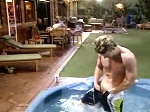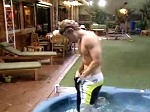 Next thing we know, it's drunken nekkid pool party!!











Point 'n laff
(Diane is showering)

Cowboy: Go on Drew, she's waiting for you
Drew: Nah
Cowboy: She opened the door for you, go on!
Drew: Well..
Cowboy: Drew! Drew! Drew!
Drew: Well.. I'll do it if they don't show it.. how 'bout it cameraman? Shake your head if you won't show it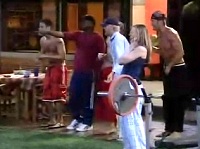 Diane-isms of the day:

You guys are gonna cry when you see me crying.. I know you cried, and you cried.. but when you see ME crying, oh wow, it was that bad.

I'm not putting mine (beer) in the fridge.. warm beer gets you drunk quicker, I swear

The very first time I lost my virginity..




Yea, yea, you're twins, we know. Big freakin' deal. Better do something with it soon cuz the hamsters are turning on you too.



Hopefully CBS will buy that sitcom treatment of his, cuz he isn't going to be able to go back home once he gets outta here. (We'll all be here for you, April.. don't forget to change the locks!)



We have exactly 3 fun people in there and she manages to nominate them all in one week. I hope she's nom'd next week and every week til she's gone. A phony "suicide watch" attention ploy once a week will liven things up. "Nothing personal" Diane ;)



Diane has leeched so much of his essence (what little there was) that he can't even dredge up the energy to be gloaty about being in bed with both camps anymore. Maybe Ben is the fun one? Send him in!



Self-veto'd his nomination away as expected, but sadly it means one of the bath buddies is going down the drain. Boo.



<checking> Nope, still nothing. I don't seem to care about her either way. I do like how she answers to Marv when he calls her MILF tho.



Being nominated hasn't damped his spirits at all, or made him any less vulgar, good-natured, or funny. Right on, mofo!



These shock value attempts with a new wacky 'do-a-day aren't working: we've seen it all before. She's smarter than the rest of them but hasn't done anything with it since she found the spyscreen.



Nominated and nervous-ing about it, he just isn't his usual self lately. When Jase streaked the house, Scott said "WTF are you doing??" <sigh> Scott, we hardly knew ye.



Yay, Will is in the game! Oops, was. He's been awfully quiet about The Rock Solid Deal® lately - does it exist? C'mon Will, don't disappoint us!



Saturday's show had too much manufactured drama about the wrong things again, and avoided the real dramas. The 9½ hour HOH competition was not good tv: even edited down to a mere half hour it was about 20 minutes too long. Cowboy crying was a nice bone to throw at us, and the montages were cute but too little, too late. We want twins dammit!





Unique, fun, annoying, ditzy, and oddly vulnerable. Bless her pointy lil head.





This year's Lisa, but without her luck.





Smart or not, he was first out: 'nuff said. Fold your arms and go home.