This site isn't about who should win, who will win, who I'd be friends with, or who is cute. It's about watching hamsters: which ones are doing what and why. Which are fun and which are dull. If they aren't entertaining, get rid of 'em! More to come, bookmark & come back!

.. that dingo
Linkage


Daily feed recaps & opinion ratings navigation tool for this often-biased site
HamsterWatch Big Brother 8 here we go again
HamsterWatch Big Brother 7 Hamster all-stars in the house
HamsterWatch Big Brother 6 time to do it all over again
CBS Big Brother 5 the official site
Housecalls live web show with Marcellas, also archived shows
TV Updates feed updates, screencaps, and fun boards - easy to use and functional!
bb5fan's 30 second refresh screencaps if you don't have feeds (great at work!)
Hollyisms and Cowboyisms and Lisa-isms from me, that dingo person
Sir LinksALot Big Brother 5 all the links
Reality TV Links emphasis on individual hamsters' sites
Aldav has all of the edgier stuff & the best mini-recaps in town (alternate url)
Today's must-click special: Grin's BB5 Park: Day 31






8/1/04 - Day 31

>> to the future >> dwell in the past >> latest



Another lazy Sunday.. most of our hamsters are up by the crack o' noon
Cowboy starts the day by telling a story about a double date with a cousin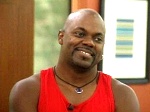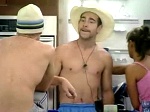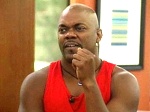 (Cowboy & his cousin hooked up with two girls, who said they wouldn't kiss them or anything; later Cowboy was kissing his girl and his cousin was pissed off at him)

(one of the boys): When was this?
Cowboy: When I was 16
Marv: Sheeee-it, I thought this was last week!
Scott: Thanks Cowboy, for wasting 10 minutes of my busy day!
Marv: So that's it? You kissed a girl? You didn't get HJ? You didn't get BJ? You didn't get FJ?? Man, you didn't get no J!!


Tanning ensues, along with plotting, planning, scheming, and movie discussions
Diane whispers to Will "I love it when they whisper.. there's no need to whisper"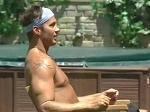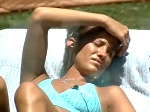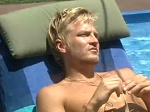 Girls alliance (aka "Pussy Power") meet in HOH and make 246 decisions
- none of which they'll stick to -
It dawns on them the boys kept the spyscreen secret for weeks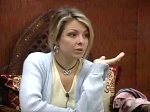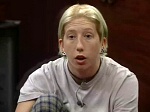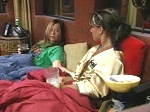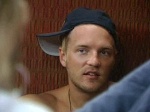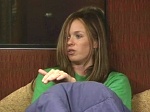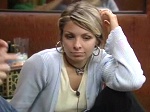 Some hamsters got new looks today.. and some didn't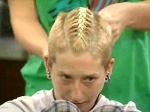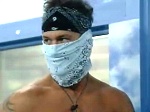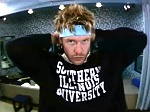 The hamsters had a busy day today! They played lawn bowling with golf balls..






Karen cried when her picture fell down again, but Nik fixed it up..






Strategizing, plotting, planning, scheming continued through the day..







Marvin and Cowboy made playing cards out of cereal boxes..







.. and they were finally able to have that poker tournament they've been wanting







Cruelly deprived of bath buddy activities, Jase instead had a sincere
conversation with Scott about life, goals, dreams, and acting lessons






Snippets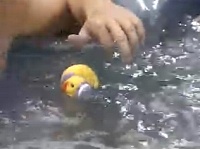 Drew: Did you see what we're having for dinner? The fish? It's got bones in it
Scott: The salmon?
Drew: Yeah, it's got bones in it
Scott: That's weird, salmon doesn't have bones
Drew: I know
....
Cowboy: Mexico don't have no Olympic team!
....
Marv, saying grace before dinner: May all your pain be champagne


Yea, yea, you're twins, we know. Big freakin' deal. Better do something with it soon cuz the hamsters are turning on you too.



Still wants to run with the big dogs but he's getting tired and now he's getting mopey too. And horny. And talks about it a lot.



Super-gloaty about being HOH and still obsessed with Holly. But she's turning out to be a heavy drinker and - what's this? - she has a PLAN! But apparently she forgot it overnight.



Gloaty about being in bed with both camps, and he's starting to realize he's between a rock and a hard place. Points for mooning us have expired.



Nominated but now holds the veto and - as if that weren't enough - he's made a surprise Rock Solid Deal® with Will, so Jase will probably stick around. He had a rough day: he's getting sick and the producers killed bath buddy time, damn them.



She's got one more day to prove herself with me, and I'm pretty sure she's going to prove herself to be evictable.



Might be leaving when veto is used so he's laying low, but he's the star of the day nonetheless. Cereal boxes?? Brilliant!



Must be having a lot of "I never thought I'd be hanging out and getting drunk with people like these" moments. Finally figured out the spyscreen: it took way too long, but being the first girl to suss it makes her a keeper for today.



Nominated and nervous-ing about it. Still funny as hell, he's gradually learning to accept his role as second banana.



Yay, Will is in the game! Uh-oh, the Rock Solid Deal® may not be as solid as we were led to believe.. but I'll be generous, he's new.



Saturday's show had too much manufactured drama about the wrong things again, and avoided the real dramas. The 9½ hour HOH competition was not good tv: even edited down to a mere half hour it was about 20 minutes too long. Cowboy crying was a nice bone to throw at us, and the montages were cute but too little, too late. We want twins dammit!





Unique, fun, annoying, ditzy, and oddly vulnerable. Bless her pointy lil head.





This year's Lisa, but without her luck.





Smart or not, he was first out: 'nuff said. Fold your arms and go home.