This site isn't about who should win, who will win, who I'd be friends with, or who is cute. It's about watching hamsters: which ones are doing what and why. Which are fun and which are dull. If they aren't entertaining, get rid of 'em!
More to come, bookmark & come back!

.. that dingo
Linkage


Daily feed recaps & opinion ratings navigation tool for this often-biased site
HamsterWatch Big Brother 8 here we go again
HamsterWatch Big Brother 7 Hamster all-stars in the house
HamsterWatch Big Brother 6 time to do it all over again
CBS Big Brother 5 the official site
Housecalls live web show with Marcellas, also archived shows
TV Updates feed updates, screencaps, and fun boards - easy to use and functional!
bb5fan's 30 second refresh screencaps if you don't have feeds (great at work!)
Hollyisms and Cowboyisms and Lisa-isms from me, that dingo person
Sir LinksALot Big Brother 5 all the links
Reality TV Links emphasis on individual hamsters' sites
Aldav has all of the edgier stuff & the best mini-recaps in town (alternate url)
Today's must-click special: Grin's BB5 Park: Day 30 Alliance Schmalliance






7/31/04 - Day 30

>> to the future >> dwell in the past >> latest



Ad/Nat, Nakomis, Will and Diane worry after Jase wins the veto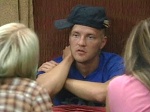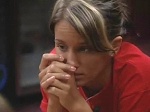 Will firms up his Rock Solid Deal® with Jase, and compares notes with Karen about Ad/Nat (but oddly, no mention of her fluctuating ass or unexplainable moodswings)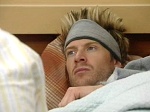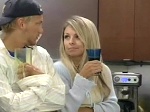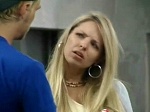 Will gets seductive in the hot tub, Ad/Nat coaches Nik; and the boys make burgers
(Cowboy wants "why-whist-cherry sauce" on his)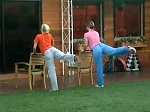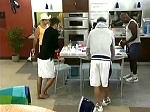 Hourly check in with mirror-face; Diane gives Marv a stylin' new buzz;
Karen in wet, unstyled hair is looking like someone else (twins??)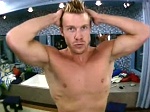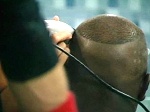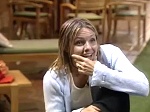 Diane & the girls toast a few Coronas 'n orange to "pussy power" <clink>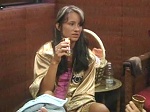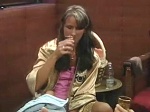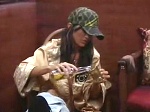 The Penny Drops

Nik contemplates a cheez-it (hey, maybe it's a strategy tool!) then decides to investigate the painting. Diane says she always thought there was something freaky about it.. then, through sheer dumb luck, they pull out the HOH instruction sheet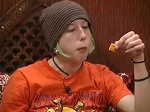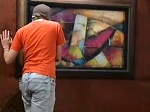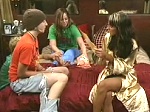 Eureka! They've discovered the spyscreen at last.. and they can't work it.
Diane says she doesn't want to watch the fucking fishtank!
-- (finally, something we can all agree on) --
10 minutes later they figure out the remote and are instantly mesmerized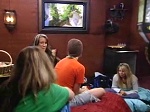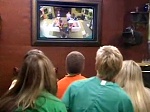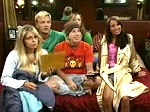 Ad/Nat asks Diane isn't it odd that her boyfriend Drew didn't mention it to her..
The boys discover the girls have made their discovery, and perhaps in honor of
the blue moon, nice Bible boy Drew gives a special hello to the spyscreen cam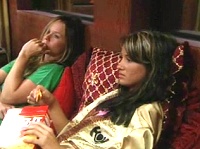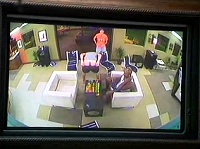 Pillowtalk and a PLAN





Diane: I'm so mentally stupid, but I've come to agreeance with it
....
Drew: Dude, tonight was kinda boring.. really boring
Diane: I had a blast!
Drew: (sniff) I smell alcohol on you
Diane: You can smell alcohol?
....
Diane: Did you guys bust Jase out on this tv thing with kissing Holly?
Drew: Yes
Diane: Did that have some kind of detrimental decision in why Holly left?
Drew: Maybe
....
Diane went on to tell Drew she has a PLAN, and to ask him for a favor next week "if he has the testicles to do it." She said it might save him from going on the block in Jase's place if he agrees. She can't tell him what the PLAN is yet (or the favor for that matter), just that "this will go down in history as the best plan EVER" and that she'd need this mysterious favor from him to pull it off. He was noncommital about it.

Diane also complained about her bad teeth veneers among many other things, and Drew told her that Orbit gum is his favorite 'cause it doesn't loose its flavor.

(I wish I was kidding)


Made a nice pig.
Yea, yea, you're twins, we know. Big freakin' deal. Better do something with it soon cuz the hamsters are turning on you too.



Made a nice pig.
Still wants to run with the big dogs but he's getting tired and now he's getting mopey too. And horny. And talks about it a lot.



Made a hot pink horizontal pig.
Super-gloaty about being HOH and still obsessed with Holly. But she's turning out to be a heavy drinker and - what's this? - she has a PLAN! (see Pillowtalk below.) Worth keeping her around to see if we're in "agreeance" with it.



Made a nice pig.
Gloaty about being in bed with both camps, but he's starting to realize he's between a rock and a hard place. Points for mooning us.



Made a cool (football) pig.
Nominated but now holds the veto and - as if that weren't enough - he's made a surprise Rock Solid Deal® with Will, so Jase will probably stick around. Good news for horsemen, van boys, and bath buddies everywhere.



Made a stylish professional pig.
Not going anywhere soon, but she's showing signs of becoming annoying.



Made an Emmett Smith football pig.
Might be leaving when veto is used so he's laying low, but still telling the best stories of all of them. In a stroke of brilliance, he joined the hip 'do club - he knows how to get on the power hamsters' good side!



Made an Eat Me pig.
Must be having a lot of "I never thought I'd be hanging out and getting drunk with people like these" moments. Finally figured out the spyscreen: it took way too long, but being the first girl to suss it makes her a keeper for today.



Made a psychotic pig.
Nominated and nervous-ing about it. Still funny as hell, he's gradually learning to accept his role as second banana.



Made a nice pig with blue eyeshadow.
Yay, Will is in the game! Complete with requisite Rock Solid Deal® - let's see what he does with it.



Saturday's show had too much manufactured drama about the wrong things again, and avoided the real dramas. The 9½ hour HOH competition was not good tv: even edited down to a mere half hour it was about 20 minutes too long. Cowboy crying was a nice bone to throw at us, and the montages were cute but too little, too late. We want twins dammit!





Unique, fun, annoying, ditzy, and oddly vulnerable. Bless her pointy lil head.





This year's Lisa, but without her luck.





Smart or not, he was first out: 'nuff said. Fold your arms and go home.