This site isn't about who should win, who will win, who I'd be friends with, or who is cute. It's about watching hamsters: which ones are doing what and why. Which are fun and which are dull. If they aren't entertaining, get rid of 'em!
More to come, bookmark & come back!

.. that dingo
Linkage


Daily feed recaps & opinion ratings navigation tool for this often-biased site
HamsterWatch Big Brother 8 here we go again
HamsterWatch Big Brother 7 Hamster all-stars in the house
HamsterWatch Big Brother 6 time to do it all over again
CBS Big Brother 5 the official site
Housecalls live web show with Marcellas, also archived shows
TV Updates feed updates, screencaps, and fun boards - easy to use and functional!
bb5fan's 30 second refresh screencaps if you don't have feeds (great at work!)
Hollyisms and Cowboyisms and Lisa-isms from me, that dingo person
Sir LinksALot Big Brother 5 all the links
Reality TV Links emphasis on individual hamsters' sites
Aldav has all of the edgier stuff & the best mini-recaps in town (alternate url)
Today's must-click special: Grin's BB5 Park: Day 26






7/27/04 - Day 26

>> to the future >> latest

Booze! Booze! Booze! Fight! Fight! Fight!



Cowboy asks "How many people do we have in here?" and struts in the HOH robe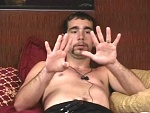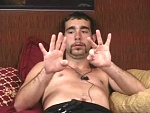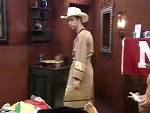 Diane moseys over to Marv at the hot tub, flirts with him, and gives him a backrub - later she'll complain about him groping her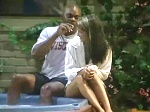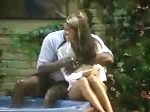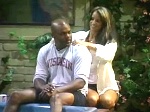 Diane and Ad/Nat compare leg lengths with Nakomas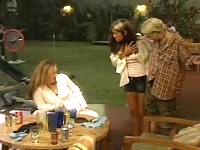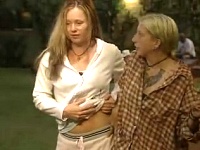 Scott demonstrates his everlasting fart talent ("just like that guy on Stern")
and the van boys break up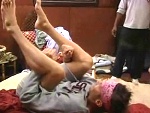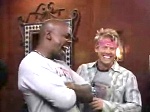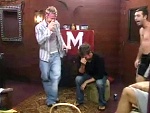 The boys watch the spyscreen and see The Kiss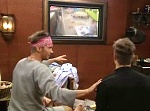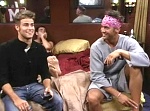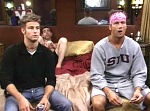 Marvin works Drew over a few holes of golf and gets him to rally up the boys to confront Jase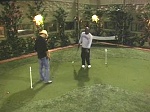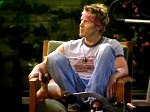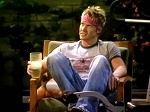 Cowboy: You don't even spend two hours with us anymore
Jase: She's a hot chick, I like cuddling with her.. you'd do the same if everyone was single and there was a hot chick for everyone
Scott: I didn't come here to cuddle.. I came here to win the money
Cowboy: You didn't play putt-putt with us tonight
Jase: I'm not saying the L-word, or whatever
Drew: You're with her all the time, and we're like, where's our guy at?
Jase: What about you & Diane? You don't even like her and you cuddle with her!
Drew: That's different man.. I don't talk to her


Drew gives us what may be the line of the season "I HAVE BALLS!"
and they all kiss and make up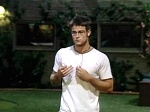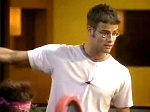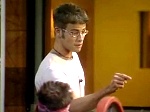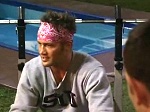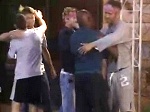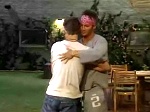 Tidbits of the day



Jase & Holly engage in a little foot worship in the bath.. hot stuff!








Then he almost trips getting out, and diddles himself before giving us mirror-face






Another Scott fashion statement; Nakomas gives Will a boxing glove weenie;
and Drew gets Danielle-style lil devil horns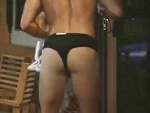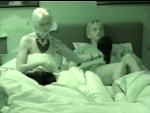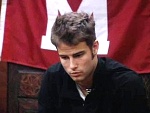 Cowboy "The Night Prowler" starts singing and orchestra-conducting
in his sleep - Scott can't believe it - then "The Night Prowler"
goes for a sleepwalk around the house, and back to bed






I'm treating them as one person for now, since that's how they're being fed to us. Ad/Nat lost ground with the endless waterworks after being nominated, but made up for it by being CBS's prime tease.



This guy just gets better & better. Idiot savant or just idiot, it doesn't matter. He knows he's the butt of a lot of jokes, but he keeps coming back for more (you couldn't find a better sport when it comes to pantsing.) Cowboy's a walking example of not taking oneself so seriously - we could all learn something from him.



How many times can she flirt with Marv and then cry "harassment" before someone catches on? Poor Diane wants to quit and go home. Let's send her.



Puppy dogging his boys and whining for Jase to spend more time with them, and more HOH tears than all the Big Brother drama queens of the past.. all with Bible verse. This pretty boy may outgrow adolescence eventually and won't have to shout "I've got balls!" anymore to try to convince us.



Holly would make me crazy in life, but as a hamster she is perfection. Ditzy, cute, annoying, whiney; equally stereotypical and unique, Holly even falls out of hammocks! Let's hope she survives the vote.



He's got game, he's got friends, and he's got mirror-face. He seems like a good guy all around, in spite of his arrogance and odd hygiene habits. He's funny as hell, and he's falling in love on live tv - can't beat that with a stick!



I dunno what to make of Karen. She seems smart and fun, and she seems whiney and irritating too. One thing she does is talk too much - she'll make her point 100 times and then start over. I'll figure out what I think of her eventually.



Marvin is the man! Not only does he talk the best smack in town, he maneuvered the boys into evicting Lori and Holly, and he has Diane fascinated (don't be fooled by her complaints of "groping" - she is loving it!) This guy is smooth, let's keep him around.



Jennifer/Nakomas was put in as part of the shocking DNA twist, which tanked, and now she's just the resident weirdo. She may be the smartest person in there, but she's dull - never a good quality for a weirdo.



Obnoxious, juvenile, crude, vulgar, and hilarious. Not as dumb as he looks either. His main weakness is being jealous of his buddies having girlfriends, but he always finds ways to amuse himself.



Will isn't doing his job as the token gay guy - he never flutters or frolics or throws a hissy fit. He's like gay people in real life - where's the fun in that? He seems sharp and occasionally funny, so there's still hope for him.



Tuesday's show was the best editing yet, catching all the best moments of all the best fights. Way to go!





This year's Lisa, but without her luck.





Smart or not, he was first out: 'nuff said. Fold your arms and go home.