February 6, 2008 - Preseason





>>

Somebody is Head of Household - Somebody is nominated - nobody knows who

<<



Hamster previews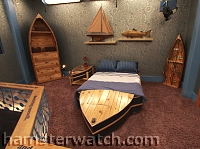 And their kiddie beds are all ready for them

Our worst fears have come true, Hamsterwatchers: not only is it a herd of 20-something actormodels, but the dreaded twist this time is "soulmates" - gag

It sounds like a cross between the (ex)lovers of BB4 and the secret pairs of BB6, with a little "Matchmaker, matchmaker, make me a match" thrown in.. but first impressions look like they took BB8's cast and got out the cookie cutter

Ah well, first impressions are just so much slop derived from over-posed photos and bios dreamed up by the PR department, making it easy to be catty.. easy and fun

One good thing: it looks like maybe they're bringing pets back! Along with a deer head on the wall, it looks like they've got rodents this time - hamsters, perhaps? Complete with a little wheel, appropriately

So without further ado, here they are, and in their new sidebar format - yes, I know it's not on the side anymore, but it's what it is.. the physical sidebar will have other uses this season



Roll call






Daily ratings will commence when we've got something to rate (i.e. feeds) on February 12.. bio info is from the newly launched CBS BB9 site - opinions and quick rushes to judgment are mine, as always.. old BB8 links on this page will be modernized soon including the links to links for all the other BB sites



Oops, they did it again. Enough with the damn twists, already - nobody likes them except their creators. Not to mention the formula casting - how's about some regular, ordinary people who really are 'from all walks of life' (and all ages) one of these years? Oh well, it's too late now so we might as well try to get used to this 'soulmates' problem as long as we have a few days to digest it. Teasers say each pair of soulmates must sleep together, compete together, and they 'could be' evicted together.. with 16 hamsters on a 14 hamster schedule, it's looking like we might have another pre-ordained eviction order that includes a couple double evictions. BTW you'll note a new title for this crew this season: it's not right for me to blame everything on the editors: after all, they're just doing what they're told. It's time I go after the people who are responsible for all this.




29 - single
Birthday April 30
Public relations manager
Del Ray Beach, FL 'via Cherry Hill, NJ'

I guess that 'via' stuck in there means he's going to have a Joisey accent? He's 29 and has a master's degree - what's he doing here? Oh, it's in fashion design. His bio sounds like BB 6/7 Howie when he's talking about himself.
Adam Jasinski linkage:



24 - single
Birthday August 16
DJ entertainment company owner
Staten Island, NY

He's a wedding

singer

spinner, and he's probably going to tawk funny too. He's working on his 2nd master's degree - again, what's he doing here? His dad died in 9/11 and 'Alex has dedicated his life to making his dad proud.' Umm..
Alex Coladonato linkage:
MySpace - another MySpace - DJ site




28 - single
Birthday July 24
Pharmaceutical sales rep
Boston, MA

A drug pusher like BB6 April, but she's a college grad and has volunteered for Mother Theresa. She claims 'guys usually like her, women usually hate her' - that's usually either untrue or it means she'll be out before jury. She looks sweet & perky - not the fireworks type.
Allison Nichols linkage:
MySpace




23 - single
Birthday August 17
Paralegal
Fridley, MN

She comes from the land of BB3 Lori, BB 6/7 Janelle and BB8 Nick, and she loves to cook: that's usually good for some longevity. She texts her friends a 'motivational quote of the day' - we could have a Bible thumper here.
Amanda linkage:




21 - single
Birthday November 9
College student
Cedar Falls, IA

German student by day and wild child at night? She's got tats, piercings, and likes Tool & Marilyn Manson. She is probably either really sweet or really bitchy - I don't see any in-between here.
Chelsia Hart linkage:




23 - single
Birthday May 15
Electrician
Dallas, GA

A Marine turned electrician, he's a jock and a 'regular churchgoer'. He looks like the guy we're all surrounded by in high school yearbooks, but we can't remember his name.
Jacob linkage:




21 - single
Birthday November 21
Riding bicycle around world
Sarasota, FL

Yep, that's what his job's listed as.. if he sticks, he's going to be late to Peru. The pink mohawk may be gone by the time the feeds start, but the flamboyance probably won't be.
James Zinkand linkage:
MySpace - Facebook - world bike ride (site closed)




26 - single
Birthday October 18
Bartender
Columbus, OH

She & Ryan are MySpace friends so if CBS is going to pretend they're matchmaking soulmates from strangers, well, let's just cry foul. (If they're secret pairs, we'll cry rerun!) She gave up special ed teaching for pouring shots, and she likes to shop and tan - who woulda guessed?
Jen Diturno linkage:
MySpace (pic with Ryan)




25 - single
Birthday June 3
Advertising media buyer
Dallas, TX

I don't understand that H at the end of his name, but I guess I don't have to. He's gay and most of his CBS bio revolves around that. He's also afraid of snakes.. I wonder if that includes the human in-the-grass variety.
Joshuah Welch linkage:
MySpace




23 - single
Birthday April 7
Roofing foreman
Charleston, MA

Another Eastern accent for us (Bawston this time), he sounds like he'd like to have BB2/7 Dr. Will's fanbase: 'America will love me.' We'll see about that. He was on 'Couples Fear Factor' and lost.
Matt McDonald linkage:




28 - single
Birthday November 7
Bikini barista
Salem, OR

She's been Miss Hawaiian Tropic so she probably knows BB8 Jen. She'd like to open a 'mermaid art store' - yep, that sounds like Jen. She totes a Bible around and answered an 'Early Show' question about bikinis etc. that 'God created the human body'.. ooookay. She could always work as a Maggie Gyllenhaal lookalike if the 'bikini barista' thing doesn't work out.
Natalie Cunial linkage:
MySpace - cached MySpace - 2001 Hawaiian Tropic




29 - single
Birthday September 16
Realtor
Los Angeles, CA

He's a college dropout but at least he's honest about saying he lives in LA - half the others probably do too. He's gay and a jock, and he plays dodgeball, kickball, and 'ding dong ditch'. He tried actormodeling but gave that up like his degree because of 'phony' people.. and he came here?
Neil Garcia linkage:
MySpace




26 - single
Birthday April 6
Paparazzo
Northridge, CA

The Air Force didn't go so well so he became a celebrity stalker. He says he is 'inappropriate, unpredictable and authentic' and lists 'laughing at other people's expense' as a hobby. This guy sounds like the spark of entertainment we so desperately need. He could also be the resident pottymouth: he got the only 'Early Show' bleep.
Parker Somerville linkage:
MySpace - TMZ




27 - single
Birthday September 16
College student
Columbus, OH

Student, competitive, basketball, 'ideal romantic partner' descriptions, etc etc. He's a MySpace friend and/or soulmate of Jen's. I keep seeing BB1/BB7 Chicken George here but his description sounds like he'll be wallpaper rather than bathroom rocket blaster-offer.
Ryan Quicksall linkage:
MySpace (pic with Jen)




23 - single
Birthday June 24
Realtor
Olathe, KS

'Loud, dramatic, and over the top' - oh, goodie. She also lists tanning as an activity. She's from BB8 Jessica & Carol's neck of the woods, and although we can hope for a Jessica type, she seems a lot like Carol.
Sharon linkage:
MySpace




45 - single
Birthday April 12
Mom, former model
Reseda, CA 'via Memphis, TN'

45 seems a bit old to be anyone's soulmate on this list, unless they aren't using the word in a romantic way? I don't get it. She yells and cries and has a temper: good news for us! She was 1983 Penthouse Pet of the Year and lived a 'Girls Next Door' life with Bob Guccione for 10 years.. 'nuff said.
Sheila Kennedy linkage:
official site - MySpace - IMDb - Scott Baio is 45 and Single - Wikipedia: Penthouse Pets


Please do not repost any content from this site (or any other) without permission, and do not repost or hotlink to any images
!! THIS MEANS YOU !!

IT'S TIME TO ORDER YOUR FEEDS
TWO WEEK FREE TRIAL

This year for the first time, you can sign up for monthly renewal
or save with a three month subscription
- and both come with a 14 day free trial!



FEEDS WILL GO LIVE AFTER TUESDAY'S PREMIERE


Probably sometime between
7-8pm Pacific / 10-11pm Eastern.
Otherwise they'll kick in
after the West Coast show ends at
10pm Pacific / 1am Eastern.


LATEST TWITTER


posted :
""

Get free Hamsterwatch updates to your cell phone! Text 'follow hamsterwatch' to 40404 to sign up (21212 in Canada). Click for more info






JULIE ON LATE LATE SHOW


FOUL! (as promised). Julie told Craig Ferguson that they're '16 strangers' and that BB is 'matching them up' - tell it to Jen & Ryan, and whoever else has already been found out as having known each other before last week.






POWER STATUS


Somebody is HOH and noms have been made: we won't know who til the premiere airs.






NEXT SHOW


Big Brother 9 premieres Tuesday, February 12 at 9pm, hosted once again by Julie Chen (the only constant series fixture since BB1). Wednesday and Sunday episodes will air at 8pm.










LINKAGE


Click to see my full list of BB9 links. These are some of my favorites.

24/7 feeds - 14 day free trial
see everything that happens before it gets edited into something else for tv

No time-out feed links including set-up how-to, plus Real contact info

Hamsterwatch Chatroom

Hamsterwatch Forum

BB9 adult/explicit links

CBS Big Brother 9 the official site

DogDave BB9 by any name, still the first to find big news, all the edgy stuff & the best mini-recaps in town

Attw x's houseguest tributes all seasons fun & reference by BB's number one fan

BuddyTV - Big Brother 9 TV supersite with news, articles, discussions

Sir LinksALot Big Brother 9 all the links

Reality TV Links - Big Brother 9 emphasis on individual hamsters' sites










THANKS FOR VISITING


Donations are gratefully accepted through Paypal using the button below or direct by email. Please support other BB9 sites that you like, too. Many thanks!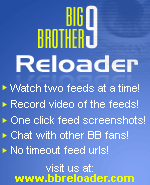 This site isn't necessarily thorough: it's what I catch and/or what interests me. It also isn't necessarily about who should win, who will win, who I'd be friends with or who is cute. It's about watching hamsters: which ones are doing what and why, which are fun and which are dull. If they aren't entertaining, get rid of 'em! Thanks for encouraging my behavior.