This site is about the Big Brother 17 feeds and contains spoilers! It isn't necessarily thorough: it's what I catch and/or what interests me. It's about watching hamsters: who's doing what and why. Thanks for encouraging my behavior.
Your pal, dingo







POWER STATUS


Currently Julia is the 'active' twin

Shelli is HOH
Vanessa won veto - used on Jason
John, Audrey are nominated

Jackie, Audrey, John, Becky are Have-not
Their supplement is grunge cake (sponge cakes+gravy)
Lizia, John, Jason are Wackstreet for 1 week







UPCOMING EVENTS


Friday: Nominations, BOB comp, Liz due to rotate in Saturday: Veto comp

Next show: Thursday 9pm
Wackstreet live?, eviction, HOH comp, assorted drama







BB17 DRINKING GAME


Take a swig whenever Meg leans on something







QUICK LINKS & BOOKMARKS



-Get/watch the feeds
-Feeds updates by @UGotBronx
-My Twitter - my screencaps
-Hamster Twitters
BB USA - BB Canada
-BB Viewer by @liquid8d
-B3V Viewer by blistering

-Hamsterwatch chatroom
-On The Block with McCrae Olson
and Spencer Clawson

-Amazon portal USA or Canada
purchases help me a bit

-Big Brother 17 official site
-Live show tickets
-Attwx.com all seasons
-Dick at Night with @EvelDick
-Latest alliance chart
by @89razorskate20
-Diary tally by @clamperls

-Feeds devices & system req
-Shop Roku or Chromecast

-East Coast air show streams
1 - 2 - 3 - 4 - 5 - 6 - 7
8 - 9 - 10 - 11 - 12 - 13
NO DOWNLOADS NEEDED




Donations via Paypal are gratefully accepted!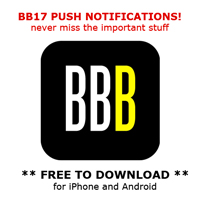 Get Big Brother Buddy app!
Get all the BB17 news plus push notifications of key events as they happen

Watch Big Brother
Seasons 1 thru 16!
Plus tons more CBS content







BIG BROTHER SEASONS



CBS All Access
Seasons 1 thru 16

Amazon DVDs BB4 - BB3

Amazon Instant Video BB16
- BB15
- BB14
- BB13
- BB12
- BB11
- BB10
- BB9
- BB8
- BB7





>> >> >>
>>
ANY AMAZON.COM PURCHASE CAN BE MADE THROUGH THESE LINKS - NO EXTRA COST TO YOU
Amazon USA
- Amazon Canada
GET THE FEEDS - NO PROMO CODE NEEDED - $5.99 PER MONTH
Day 35 - Wednesday 7/22
Thunder Road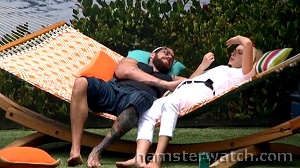 It was another quiet, mostly napping day at first, with Audrey only leaving her dental chair to change her battery or use the bathroom.. Austin continued his touchy-feely with Liz, and she continued to not return most of it, and not discourage it either.. Austin said he's worried about Becky and Jackie, and he laid out a plan in which he'll buddy up to Jason.. he also said he'll throw a hinky vote to keep Audrey tomorrow, and blame that on Steve - Flashback 7/22 12.32pm (this convo had major repercussions in the days that followed)

Vilification of Audrey continued by Austin to Meg and others, and by Vanessa, Shelli, and Clay to each other and anyone who would listen, and by Jackie and Becky - it is the hamster way.. Vanessa also returned to sowing anti-James seeds to Shelli and Clay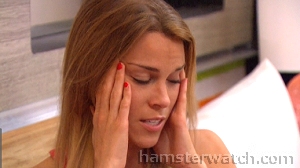 Audrey finally rose as the air show was getting underway.. she asked Jackie how everything had gone down on Sunday, and Jackie told her.. they parted with hugs and Jackie saying she's glad Audrey's okay, "good game" and etc.. then Jackie reported to Clay and Shelli, and they all scoffed, laughed, and said "oh gawd!" a lot

Audrey pulled Shelli into the parlor where they rehashed and retold their lies and didn't settle anything of course.. Audrey said Shelli had betrayed her in a monumental way that would go down in BB history, which set Shelli off to yet more retell rounds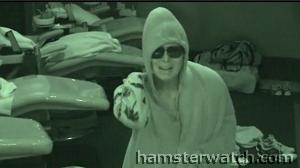 Audrey also told Shelli that she had indeed seen the doc and was given Ativan.. she rose again a couple times and peeked out, disappeared again, and then she was up and at 'em in her greenlight, doing a sad/angry/loopy rendition of their musical song.. sure, it looked crazy but I took it as she had turned the corner and was on the rebound, especially when she finished with a big flourish and bow, and said "and scene"

Later the others were gathered for loud chat in the living, and Audrey made a grand re-entrance with wig and blanket-robe, hollering "who's ready for a takeover?!" They rallied for a minute and asked how she was doing, and that was pretty much that - but it was nice to see after three days of the lethal isolation/ostracization combo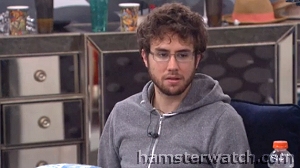 Julia rotated back in so Austin was able to start getting around again.. Steve told him he wouldn't throw the vote, and Austin said he was worried that Clay might (when Austin plans to) - it was like a Who's On First routine.. Steve had a long talk with Julia.. she was perturbed about Audrey breaking Have-not rules but Steve explained it was production's decision and thus legal/not rule-breaking.. Steve suggested they come out openly as twins and Julia thought it was a good idea (with Steve's explanation) - she said she'd discuss it with Liz at the next swap

They did some loud bowling with weighted cereal boxes, and a lot of group chit-chat.. Austin started putting his Operation Jason plan into effect by admitting what a huge fellow superfan he is, and he gave up the twins' names and how smitten he is with Liz.. we didn't see Audrey again, but Vanessa and Shelli each made a few more rounds to ensure votes that are already there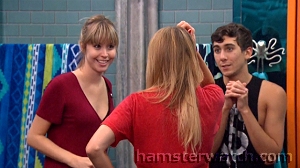 Operation Jason backfired spectacularly when Jason later told Meg, Shelli, and Vanessa the news about Austin being a superfan/feedster, the twins' names, the crush on Liz and the allegedly now ex-girlfriend, and especially that Austin would rather Julia go sooner than later so he can get more Liz time.. naturally Shelli told Clay.. Austin's game went boom in a matter of minutes

GET YOUR FEEDS to follow all the action! One week free trial - no promo code needed
Remember to click "previous Hamsterwatch episode" at the top of any page for what's come before, and hit the Feeds Updates tab for loads of details and screencaps



Day 34 - Tuesday 7/21
Marooned 2.0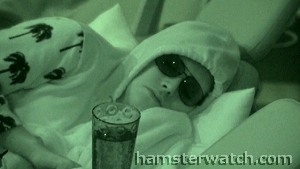 We got a taste of what feeds could be like after Audrey's gone, since she remained asleep in the dental office virtually all day - convos elsewhere were mostly mundane.. through hearsay from them now and then, we learned Audrey was given a slop pass for "24 to 36 hours" due to whatever meds she's been given, and Becky delivered her an apple here, some crackers there, but she wasn't up and eating much anyway

Steve expressed concern a couple times and said he didn't know whether to visit or leave her alone.. Vanessa did pay a visit but Audrey ignored her, setting Vanessa off on a few ranty rounds.. James and Jackie napped in their dental chairs for awhile but didn't chat with Audrey, who was sleeping on the floor at that point.. it wasn't fun/funny like the first time Audrey was "marooned" in bed: that was as much strategy and/or regrouping as anything, in my opinion.. this time it was just a sad thing to witness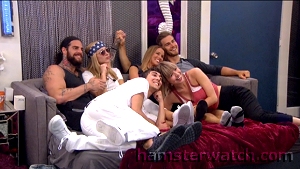 Otherwise there wasn't much, as I said.. they did their happy posing and duck-facing for the weekly picture-taking, and Shelli wrote another blog and tweets.. apparently Austin talked to Liz about his girlfriend at home, saying they had an open relationship - I didn't hear that one, but I heard some of the catty remarks about the situation from various others

Shelli and Clay had a disturbing bedchat about how perfect and attractive her brother is, and how much he looks like Clay, and Vanessa joined them for some gametalk.. I haven't heard any of those three acknowledge Audrey's truths about them, and their denial and blaming Audrey rages on.. also, Shelli might be getting a little tired of Vanessa making plans for them, or she might just be feeling her HOHitis peaking.. Jason told some of the "outsiders" that they need to get the twins out before they're allowed to be two votes, and James had a penny-drop moment about that.. I think they decided to gun for Austin first

Wackstreet signals continued to happen here and there - they're back to pager notices for those.. they got a small booze delivery but nothing major came from it.. Audrey ate an apple in the greenlight dental office, and trended on Twitter - strange days in the BB world

GET YOUR FEEDS to follow all the action! One week free trial - no promo code needed
Remember to click "previous Hamsterwatch episode" at the top of any page for what's come before, and hit the Feeds Updates tab for loads of details and screencaps



Day 33 - Monday 7/20
Hamster loony bin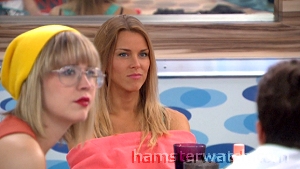 They waited around for veto meeting until Audrey was finished with another Diary marathon.. like last night, much of the BB interwebs decided she had quit the show rather than go up as renom.. hamsters quitting because they're upset is always the most persistent conspiracy theory of any season, even though it's never happened in 19 seasons (16 USA + 3 Canada).. meanwhile Shelli was wrapped in something that had a kind of straitjacket effect

If you missed Sunday, you missed a major, major day of the season.. I suggest you drop everything and catch up yesterday's episode before proceeding further, or you'll be hopelessly lost and confused for the duration.. and as always, @UGotBronx has you covered for the details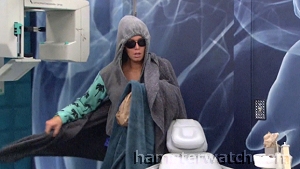 Repercussions from all that hit fast and hard, most noticeably when the veto meeting didn't happen around 11am as usual - it turned out Audrey was in Diary, and she stayed in there for more than four hours.. that led to rumors gone wild in there and more so out here, but she finally emerged, causing a lively group convo to screech to a silent halt and a few mouths to hang wide open, particularly Julia's

Audrey headed quietly to her dental chair, hoodie up and carrying a paper bag.. Vanessa checked on her and reported to Shelli that she was "stable and not crying" and that she'd offered to bring her Advil but Audrey said They had given her something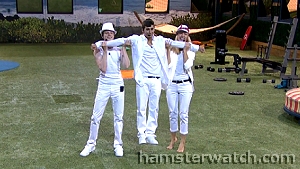 The meeting finally happened and Vanessa used her veto to save Jason, and Shelli replaced him with Audrey, as planned.. Audrey did not attend the meeting - a first, possibly (Jocasta missed a veto comp due to illness, but she was at the meeting where Donny saved her)

Liz rotated back into the habitat once again (after having to sit around for five hours).. she got caught up by Austin, and she performed the Wackstreet dance better than most expected, including me, especially when she fell right in with their own new ending rather than the choreographer's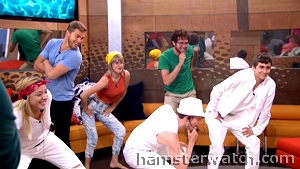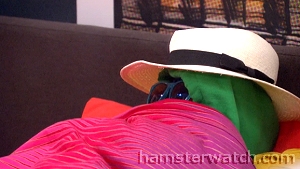 Wackstreet got new backup dancers for their next performance, and James built more bed hamsters, with Austin and Clay's help.. Becky almost had an oven fire when a pizza slid off her tray onto the oven heating element.. otherwise it was a relatively quiet evening since Audrey, Shelli, and Vanessa were all pretty much off the feeds

GET YOUR FEEDS to follow all the action! One week free trial - no promo code needed
Remember to click "previous Hamsterwatch episode" at the top of any page for what's come before, and hit the Feeds Updates tab for loads of details and screencaps



LINES OF THE DAY

Wednesday
Austin to Liz: Hopefully Jason doesn't betray my confidence

James: So no one reads our HOH blogs that we take all that time to type?

Shelli: If I'd have known that people would wear beanies in this house, I would have brought some

Clay about Audrey: How does someone play with that little integrity?

Steve: This game is designed to cause hurt feelings, hurt emotions, and piss people off

Vanessa: Is there any particular reason you ignored me yesterday?
Audrey: I was on medication, I don't remember.. if I did, I'm really sorry

Audrey singing, to self/us: Is this real, is this really real? Tell me this isn't my life, Vanessa and James, please stop telling lies.. and scene

Tuesday
Shelli: You went up four times in a row?
John: Yeah, I've been up every week

Jason: Boobs are looking good
Becky: Thank you, can't get on the show without them

Vanessa: I really think there's an alliance between Jackie, Becky, John, and Steve
Shelli: Okay, Audrey

James re twins: That's smart though - I didn't think of that, we should be breaking those two up

Becky: Look what I made, fresh out of the oven!
James: Becky Crocker

Monday
Steve: You got everything this week - you're on the block, you're a have-not, and you're in the band
John: Everybody wants to be in the band

Jackie: Have they ever had a veto where someone didn't show up?
Meg: Is she not gonna show up for eviction?

Meg: Weird weird weird vibe in the house, man
Jackie: It should be good! I thought we just had a bonding meeting last night

Liz: She just blew up our alliance
Austin: No she didn't
Liz: Yes she did!
Austin: No, we got out of it

Johnny: I never had sex on a beach, I imagine it would be sandy



LINKS OF THE DAY

Get the feeds to see the real show

Live like a hamster! Habitat items available from Amazon: Jonathan Adler chess set - Blow-up giraffe - duckie chlorine dispenser - whale pillow

You might also like Crazy Cat Lady action figure and board game

Mrs Robinson by @BB11HouseRodent

Shelli's HOH blog

Big Brother Taker Over by @jasonriotmaker

AM to PM Episode 5 with Andrew and Pete Monaghan

Big Brother 17 Saga episode 4 by @WilHeuser

They erased Jeff on Sunday's show, like they erased Helen

Confessions of a BB feed watcher by me! for Reality Blurred



Ratings - Hamsters Prefer Blondes edition
Ratings are Monday's, based on entertainment value, more or less




A great cast riddled with paranoia and drama, but the edits are bland and silly. BB Takeover was promised for each week but nobody took this week over, and last week's party takeover was rather lame. A twist was promised for each week but this is the second week without one. Revival of the twin twist was welcome but these twins aren't fooling anyone. It's an odd mix of highs and lows this time, resulting in resounding neutrals.






NOMINATED
I don't like to see any of them truly hurting and I believe she is, like several others have before her. I guess it's been awhile though, and a lot of folks don't remember the crash-shrink-cocoon cycle we saw with her Sunday and Monday. We used to call it 'BB Plague' and it's not pretty when one of them's ostracized by all while they keep repeating 'it's just a game'. Of course she brought most of it on herself but they knew about her stir-it-up game style from the start - I think they're all just mad at themselves for falling for it again. The ironic part is this whole blowup revolved around things Audrey was saying that were true, and nobody believed her (except the other five or six who know it's true, and let her take the blame). I'd just posted the other day that it was good to see her laughing and joking, and I hope she rebounds to do that a bit more before she goes. Bottom line, she's an interesting character who's been responsible for most of the follies we've enjoyed so far, and she'll be missed.






I don't think he's creepy but he's being a dummy about this whole Liz thing. It's possible he's just fine with not winning this season and coming out with some added showbiz cred, only we know how far that goes.. not very. His shtick is getting old and he's becoming a parody of himself but isn't that how those pro wrestler characters work? I'm asking.






She's still good for comic relief and recipes, but she's got a mean girl side that's slipping out now and then. It's not mean-mean (yet) but it could get there. Or maybe she'll stay with lukewarm mean to go along with her lukewarm game. She figured out what's true about the alliances that don't include her, but she doesn't care.






I need a break from this character, triply so after he announced that BB is about peace, love and unicorns. 'Superfan' who hadn't heard of the show four months ago, remember? Well, five now.






She's getting louder and getting cattier. I'm keeping her options open but I don't have high hopes. Maybe she'll surprise me.






As I'd hoped, he's a much better hamster now that that other guy isn't around encouraging him. He's still questionable a lot of the time, but he's better than he was. He was given a game gift on a silver platter from Audrey, albeit a slightly tarnished platter, and he threw it away. Well, he'll enjoy the jury house.






Won: 1 week Wackstreet
I like that he's giving Attwx.com the recognition @attwx deserves, but he needs to study it better: he gets an awful lot of BB trivia and 'how feeds work' things wrong. His humor can be on point at times, so I'll give him a pass for another round. Bonus ups for doing Wackstreet with style and fun rather than complaining.






Won: 1 week Wackstreet
NOMINATED
He's the only one who can do no wrong according to them in there and (most of) us out here. At this stage of the game, that's doing pretty darn well. And he rocks that Wackstreet fedora.






Won: 1 week Wackstreet
They keep covering when everyone's on to them switching and there's a certain amount of comedy to that.. in the olden days, they'd call it a 'farce'. Knowing Austin likes Liz like he does, and letting him think that's reciprocated, is distasteful to me, but so what? That's between the two or three of them. It might be distasteful to Austin too if they cut him like they did Jeff. Big ups to both twins for pulling off Wackstreet as well as they have, especially Liz coming into it cold.






Won: Gronk party cruise
She's usually fun, usually pleasant, and she adds a whimsical element we don't always have on feeds. Plus she leans like a champ. But to come out say she doesn't even care if there is a six-person alliance that doesn't include her? Summercamper.






HEAD OF HOUSEHOLD
She's screechy and squawky, and she lectures them like a bossy little kid playing teacher. I'll probably get over it, but for now I can't accept the way she assembled everyone but Audrey to talk about how horrible Audrey's been, while most of it was true and Shelli's guilty of what she said Audrey was. And then to say she didn't want it to be mob rule? Girl needs a dictionary as well as a new hair system.






I don't think he's nearly as innocent and naive as he's playing, but he does have some tendencies that way, which help to make him a cute and sympathetic character. I'm pretty sure he's got some cutthroat in him though and we might see it come out. I may have missed it but I don't think they gave us an explanation on Sunday's show about his hinky vote, and that's a glaring omission. WTF Steve? Clue us in.






USED VETO ON JASON
I'd like to give her credit for showing some compassion to Audrey and some human interest to the rest of them, but it doesn't overcome her viciousness in getting her agenda handled. Last week she said multiple times that she didn't want to put Audrey up and out because she's transgender, but she sure backtracked on that in a hurry when it came to getting someone else to do it. See Shelli as far as the witch hunt they led together to blame their game crimes on someone else.






Won: Nothing
I haven't given many empty wheels before their time, and I don't think any of those got them as early as he did. But we've never had such a misogynistic, inappropriate, and unfunny pig before. CBS let him get away clean and that's what it is - I'm just glad to see the back of him.






Won: Power to nullify 3 votes
She wasn't afraid to confront people nor to keep fighting to stay, which was good for us, but didn't help her much. She figured out the twins early but didn't leverage that to her advantage soon or well enough. Her pantry rant to us was memorable, especially her catch-phrase 'get your life!' and she was smart, funny, and volatile. #DaVonneHasADaughter was a hashtag too good to be true and to her credit, she didn't let us take full advantage of it.






Won: Nothing
He was like a parody of all the former surf boys we've had, with all the worst qualities of asshat hamsters past rolled into one. He verbally beat up on Steve a few times but the primetime version earned him viewer loathing, even if his actoring was lousy. He ranted, streaked, flipped us off, and mostly talked about himself, but he promised to save us all someday through music.



SEASON STATS
HOHs in order *denotes surviving HOH for BOB weeks
James*/Jason; Becky/Shelli*; Austin/Vanessa*; Shelli*/Lizia

BOB wins in order
Becky/John; Steve/Jason; Meg/Jason; James/Jackie

Veto wins in order
Steve; John; John; Vanessa

Evictions in order
Jace 12-1; Da'Vonne 7-2; Jeff 7-4

Evictee Twitters
@NikolaPoe; @DayDaVonne_bb17; @JeffWeldon21









Linking to any page here is fine. Please don't repost content from this site (or any other) without permission, and don't repost or hotlink images.



THE REAL SHOW IS THE FEEDS


NEXT-DAY AIR SHOWS
BB1 THRU BB17 AND LOADS MORE CBS CONTENT


HAMSTERWATCH SWAG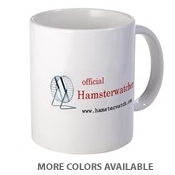 Mugs, shirts, more
Visit my Cafe Press shop





RATINGS WATCH


Wednesday's show won the hour with 1.8 rating, 7 share, and 5.75 million viewers, ahead of MasterChef on FOX with 1.4/6/4.44, America's Got Talent clip show on NBC with 1.2/5/5.66, and two Blackish reruns on ABC with 0.7/3/3.16 and 0.7/3/2.88 respectively.









Big Brother 17 FAQ


June 18 was Day 1 move-in. June 24 was CBS premiere, Day 7. Finale will be September 23, Day 98

Feeds are streamed by CBS, and accessible via All Access subscription. Call 888-274-5343 for account help, including cancellation.

CBS shows are Sundays 8pm, Wednesdays 8pm, eviction Thursdays 9pm (Global in Canada).

Big Brother After Dark is on POP (formerly TVGN). It airs Monday, Tuesday 11pm-2am; Wednesday, Friday, Saturday, Sunday midnight-2am; Thursday 1am-3am. The aired blocks are recorded earlier on the same night.

The CBS app (by CBS Interactive) will play BB air shows and other CBS shows, but not feeds. Use your browser to watch feeds on mobile devices. The same All Access link used to subscribe will lead to the feeds viewing page if you're already signed up.

Liz and Julia have to survive five evictions in order to play separately as individuals. They switch places every few days. They have a limited time in Diary to change clothes, adjust their appearance, and exchange info. The non-playing twin probably stays in hotel sequester.

BB17 prizes are the same: $500k for the winner and $50k for 2nd place. Stipend for the others is $1,000 per week again, including pre-show hotel and jury sequester. Recruits or those with established pre-season fan bases might get more.

The habitat has 80 HD cameras (up four) and over 100 microphones.

The recorded in-house announcements are the voice of producer Don Wollman.