This site is about the Big Brother 16 feeds and contains spoilers! It isn't necessarily thorough: it's what I catch and/or what interests me, and it isn't necessarily about who will win, who should win, who's cute or who's horrid. It's about watching hamsters: who's doing what and why. Thanks for encouraging my behavior.
Your pal, dingo



Ariana's My Everything
Now available from
Amazon USA or Canada





QUICK LINKS & BOOKMARKS



-View or buy BB16 live feeds

-Live feed updates
-Hamsterwatch chatroom
-McCrae Olson videos & blog
-Amazon portal USA or Canada
-VPN for international viewers
-Hamsterwatch Twitter - Twitpic
-BB16 official site
-Hamster Twitters
BB USA - BB Canada
-East Coast air show feeds
1 - 2 - 3 - 4 - 5 - 6 - 7 - 8








POWER STATUS


Donny evicted 5-0
Caleb is Head of Household
Nicole, Christine are nominated
Christine won veto
Derrick, Nicole are Have-not
Cody's in a dinosaur suit 1 week
Donny, Derrick, Frankie are Team America (fuck yeah)







UPCOMING EVENTS


Sunday: Photobooth
Monday: Veto meeting

Next show
Sunday 8pm: Ice buckets? Endurance comp, nominations

Finale is Sept 24 at 9.30pm



Save 15% on BB fan gear
Use code BIGBROTHERAFF15





BB16 DRINKING GAME


Take a swig if you're taking it all more seriously than they are




Donations via Paypal are gratefully accepted!






BIG BROTHER SEASONS



Amazon DVDs BB4 - BB3

Amazon Instant Video BB16
- BB15
- BB14
- BB13
- BB12
- BB11
- BB10
- BB9
- BB8





BB16 FAQ


Feeds are streamed by CBS.

Call 877-211-4367 for account help, including password reset or to cancel subscription.

CBS shows are Sundays 8pm, Wednesdays 8pm, eviction Thursdays 9pm (Global in Canada).

Big Brother After Dark is on TVGN (Slice in Canada) three hours Mon/Tues starting 11pm, two hours Wed/Fri/Sat/Sun starting midnight; and two hours Thurs starting 1am.

BB16 prizes are the same: $500k for the winner and $50k for 2nd place. Stipend for the others is $1,000 per week, including pre-show hotel and jury sequester. Frankie might get more.

The habitat has 76 cameras (up 11, and now high def) and 100 microphones (up 2).

The recorded in-house announcements are the voice of producer Don Wollman.





>> >> >>
>>
ALL AMAZON.COM PURCHASES MADE THROUGH THESE LINKS HELP SUPPORT THIS SITE
Amazon USA
- Amazon Canada
Codysaurus (Saturday 8/30)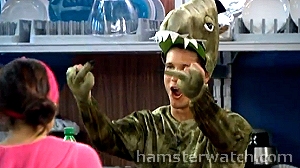 Christine won the veto, pretty much ensuring Nicole will walk the plank again on Thursday, barring some unlikely miracle.. yes, the guys are still expecting Victoria will go up and out, but I suspect Derrick will likely revise that before Monday's veto meeting

Their veto comp was about colors, and they returned from it very messy again.. Cody will be in a dinosaur costume.. they all agreed it was a fun comp and they were grateful it wasn't physical, since some are still hurting from Thursday's skating.. everyone played but Frankie

Evening brought yet another booze delivery (!) - Codysaurus and Victoria each got extra sippy, but otherwise it still wasn't much.. I really think the booze is finally flowing because so many have switched over to Utopia feeds - it's like there was a huge casting error somehow and they got the drama kings/queens and trainwrecks we love and expect on Big Brother, while BB got the kumbaya get-alongs required to build a community

- Click "previous Hamsterwatch episode" up top to see what came before
- Check my Twitter and Twitpic for more of the random bits that I cover
- Check the Updates section for all the rest of it with real-time feeds updates and LOADS of screencaps
- Get the feeds
to watch it unfold for yourself



Slop roast (Friday 8/29)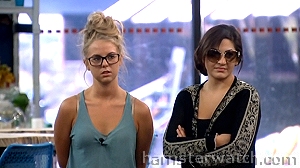 They got their last Have-not supplement, which turned out to be "meat products" including liver, mushrooms, and garlic.. Derrick volunteered, as he said he would last night after taking the $5,000, and then we had yet another Most Ridiculous Moment of BB16 when Caleb asked for another volunteer.. they all stood around in very awkward silence for what seemed forever, and Frankie didn't bother to step up even though Caleb said "everyone's done it twice, right?" - Frankie's only done it once

Nobody else stepped up either, so Caleb assigned Nicole to a second week running (something Caleb never stopped complaining about, and he didn't even have to sleep on the slabs for his two weeks).. Nicole had a minor meltdown after that, alone and to Derrick, and Frankie had a hissy fit elsewhere about how kooshy she had it in the jury house and that his condition prevents him and etc etc.. that's the last thing I'll report here about Frankie other than game facts, as he's on full, complete, and utter ignore for me from here on out.. Caleb nominated Nicole and Christine as planned.. they got booze and Play-Doh, but the feeds remained dull

- Click "previous Hamsterwatch episode" up top to see what came before
- Check my Twitter and Twitpic for more of the random bits that I cover
- Check the Updates section for all the rest of it with real-time feeds updates and LOADS of screencaps
- Get the feeds
to watch it unfold for yourself



Utopia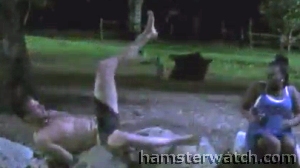 Meanwhile, Utopia feeds have started, on move-in day, with both free and pay versions - info is at the Utopia site.. their first day had two (outdoor) house meetings, skinny-dipping, much booze, a near fistfight, and the drunkest one of them, Josh, shown here falling over, possibly kicked out for drunken sexual harassment.. also, a female got the boot before the feeds launched for violating sequester rules

Most of them went to bed early, and a few of the go-getters griped about the partiers.. later two of them got even sippier, and Hex "The Huntress" hurled into the swimming/fishing pond after kneeing Rob, hard, then she passed out in a field - see Links of the Day below.. that should be fun in the morning

The concept is interesting: build a functional community from scratch.. they all bring different skill sets, but unfortunately the dreaded reality casting formula (including stints on other reality shows for some) might win over the concept itself - we'll see.. also, one of them's pregnant.. Utopia premieres on FOX September 7 and is slated to run for a year



Last minute scramble (Thursday 8/28)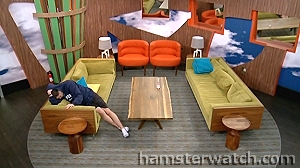 It was a foregone conclusion that Donny would go tonight, but Caleb & Frankie led a last minute charge to evict Nicole instead.. Cody told them he still wants Donny gone, and Derrick was left having to do the job none of the others bother with: thinking ahead

Of course all that was pointless, and Donny walked the plank 5-0 as expected.. he got a huge audience reaction but was teary with Julie, and looked positively stunned when she told him he'd already landed a guest spot on The Bold & The Beautiful.. we also had home visits with Christine's & Cody's families, with heavy emphasis on their petting.. all of them saw quick video clips from home - a first for the live show I believe, but they've never had an Ariana to exploit before.. Julie announced next week is another double eviction



Skating with the stars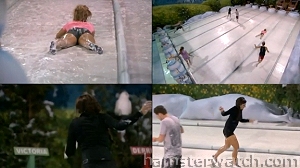 The HOH comp was the skating in oil they've done for several years, this time with a winter theme and the jugs they had to fill were snowman heads.. they were given a smaller jug option to win $5,000 and obnoxious hollas for the rest of the season, the latter voted on live (by non-feedsters presumably)

Derrick shifted to the smaller jug partway through, which he completed successfully.. Victoria made an impressive showing considering the kind of week she's had.. Caleb, Frankie, Nicole, Christine all did pretty well - all six of them took some hard falls.. Caleb won in just under 2.5 hours

Caleb didn't get his room until 1.30am, and he was pleased with his haul which included military memorabilia and a letter from brother Blake.. they all hobbled up the stairs slower than usual, especially Caleb whose knee was jacked up pretty bad in the comp.. Nicole and Christine or Victoria will be the likely noms tomorrow, but there has been some anti-Frankie sentiment stirring among the boys' club

- Click "previous Hamsterwatch episode" up top to see what came before
- Check my Twitter and Twitpic for more of the random bits that I cover
- Check the Updates section for all the rest of it with real-time feeds updates and LOADS of screencaps
- Get the feeds
to watch it unfold for yourself




Get a free trial of the live feeds to see it all as it happens

Ratings - BB16 Park special edition
With a grateful nod to TD/Mooman for many years of BB Park on this site. South Park characters created by Trey Parker and Matt Stone.
VTE = Voted to evict




Mr Garrison (original version) tried to instruct his students while overcoming chaos and assorted dramas, and alternately creating same. His alter ego Mr Hat might be seen as Jeff this season, reading fed lines that masquerade as humor but are often malicious.






Won: $5,000, shaved head, 48 hr Adam & Eve with Victoria, football trip

VTE Donny
HEAD OF HOUSEHOLD
Eric Cartman, always sure he knows the score (but often wrong) and usually working overtime to be the center of attention, often wearing wacky costumes to make it so.






Won: Football trip

VTE Donny
NOMINATED - WON VETO
Bebe Stevens, usually an extra in the background, and occasional best friend of Wendy/Nicole.






Won: 24 hrs kicking self, 1 week dinosaur

No vote (HOH)
Kyle Broflovski, one of the main characters of the show, is nonetheless an outsider much of the time. He's reactionary and often upset, but he's usually not the one to either cause problems nor solve them.






Won: $20,000
TEAM AMERICA

VTE Donny
Stan Marsh, another of the main characters, usually at the center of things and often the voice of reason and conscience ('You know, I learned something today.') Stan and Kyle are best friends, but Stan's usually a bit more mature and a lot brighter.






Won: $15,000
TEAM AMERICA

EVICTED 5-0
Kenny McCormick, usually speaking truths that few can understand, often killed and revived, and beloved by most. 'Oh my god, they killed Donny! You bastards!' will soon be the battle cry of viewers.






Won: $15,000, football trip
TEAM AMERICA

VTE Donny
I had him as Butters, then Tweek, then remembered the whole reason I wanted to do South Park ratings was for him to be Sexual Harassment Panda.






Won: 1 week frog, 1 week Germitard, revival

No vote (nominee)
NOMINATED
Wendy Testaburger, the most prominent female and as such, is often overlooked by the boys, but she occasionally demands their attention.






Won: 48 hr Adam & Eve with Caleb

VTE Donny
Timmy Burch, mentally & physically handicapped and thus usually out of his (her) league, but every once in awhile rises to the occasion and saves the day.






Won: Germany trip
A kooky combo of erratic, volatile, and endearing, he was unique in every way. He slept much of the time but when he was awake he was as unpredictable as they get, a rare and valuable hamster quality. He'll be remembered for

his

Victoria's ever-present pink hat, cuddling with Frankie, for being the TAFY 'escape goat', and most of all for playing a pretty crappy game yet ending up a huge fan favorite anyway.






Won: Nothing
He was the nice guy they all liked, and it's always rough to lose that guy early. Slightly immature with no shame, he was extremely good-natured and responsible for most of the just-for-fun activities and spontaneous silliness. He was cute with Nicole and a perfect combo of Jackass and hamster. He brought a lightness to the feeds that was missed when he left.






Won: Nothing
She didn't bring the holy wars I feared but she did speak in tongues. She cried a lot but she also laughed a lot, and she did great Diaries. She'll be remembered for her bow ties, her choir robe/portable changing room, and most of all her judgemental, IDGAF, side-eye, and the hell you say expressions.






Won: Nothing
A stunningly gorgeous model, she lasted longer than the hamster in that slot usually does, but she exited on another unanimous vote, and before jury. She wanted to play a clean game and that usually doesn't work out so well on this show. She was a good sport about pranks, including the antiquing shown here, but she'll mostly be remembered as the object of Caleb's dreams, and I do mean dreams.






Won: 2400 goals
She was the rawest recruit we've had in awhile and she didn't do much homework, which worked against her in a big way. She seemed to have pretty good game instincts and may have done some real damage if she'd been better prepared. She'll be remembered for her high bun as well as the few times her hair escaped it and landed her in Deathrace 2014 hall of fame, and for sticking with and completing that brutal soccer task when she didn't have to.






Won: Nothing
He has a daughter.

PS He easily wins the Best Evictee Award with this.






Won: Nothing
I kept hoping for the spitfire she plays on Twitter & Instagram to show up but it didn't until the veto meeting blowup. She was well on her way to being a perma-pawn but she stressed about not being able to win comps, and then Devin happened and out she went. She had a lot of entertainment potential and while we were robbed of most of it by her early exit, we'll always have CALTORU.






TEAM AMERICA FAIL
Won: Nothing
She blew up her game prematurely and spectacularly, and then her alter ego Alex and his 'big ass balls' sealed the deal. Supposedly she beat someone with 500k Twitter followers (plus 15 million backup) in a public vote, but that went splat just like BB12's saboteur Annie. Joey was lively and personable, a worthy member of the first out club, and she easily leads the pack of hamsters with unnatural hair colors.







Linking to any page here is fine. Please don't repost content from this site (or any other) without permission, and don't repost or hotlink images.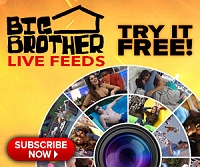 The real show is on the feeds





TEAM AMERICA VOTE


Nothing right now
All tasks & outcomes recap







FEEDSTER VOTE


What supplement should Have-nots get? Voting is closed
> Snot roast (80%)
Breakfast eareal (20%)







RATINGS WATCH


Final ratings, adjusted for football
Thursday's live show won the hour with 2.0 rating, 8 share, and 5.70 million viewers, ahead of Bones rerun on FOX with 0.6/2/2.46, two Welcome to Sweden episodes on NBC with 0.4/1/1.80 and 0.3/1/1.53 respectively, and The Quest on ABC with 0.3/1/1.37.








Clicky: caps sorted by day - all caps

SEASON STATS
HOHs in order, *indicates the surviving HOH
Frankie/Caleb*, Amber/Devin*, Nicole/Derrick*, Cody*/Frankie, Frankie*/Zach, Nicole*/Donny, Caleb, Nicole/Christine*, Derrick/Frankie*, Cody, Caleb

BOB wins in order
Brittany/Victoria, Hayden/Nicole, Amber/Donny, Amber/Jocasta, Christine/Nicole, Caleb/Victoria, (none), Frankie/(Caleb), Donny/Christine

Veto wins in order
Donny, Devin, Donny, Victoria, Hayden, Christine, Donny, Zach, Frankie, Cody, Christine

Evictions in order
Joey 13-0; Paola 10-2; Devin 11-0; Brittany 10-0; Amber 9-0; Jocasta 6-2; Hayden 5-2; Nicole 6-0 (revived a week later); Zach 5-0; Donny 5-0

Evictees on Twitter: @JoeyVanPelt1, @paolashea, @devinshepbb16, @britt4skin, @aborzotra



BBQ Smackdown Scorecard

- Big Brother 16 -
Round 1: BBQ 1, Frankie 0
Round 2: BBQ 1, Frankie 0, Derrick 0
Round 3: BBQ 1, Frankie 0

- Big Brother 15 -
Round 1: BBQ 1, Helen 1, Jessie 0
Round 2: BBQ 1, Helen 0, Jessie 0
Round 3: BBQ 1, Spencer 0
Round 4: BBQ 1, Spencer ½, Judd 0, McCrae 0

- Big Brother 14 -
Round 1: BBQ ½, Dan 0

- Big Brother 13 -
Round 1: BBQ ½, Adam ½, Rachel 0
Round 2: BBQ ½, Adam 0
Round 3: BBQ 1, Rachel 0

- Big Brother 12 -
Round 1: BBQ ½, Brendon 0
Round 2: BBQ 2, Britney 0, Lane 0
Round 3: BBQ 1, Lane 0, CBS 0

- Big Brother 11 -
Round 1: BBQ 0, Jeff 0
Round 2: BBQ 0, Jeff ½
Round 3: BBQ ½, Kevin 0, Michele 0


- Big Brother 10 -
No title events

- Big Brother 9 Winter Edition -
Round 1: BBQ ½, Ryan 0
Round 2: BBQ ½, Adam 0
Round 3: BBQ ½, Ryan 0

- Big Brother 8 -
Round 1: BBQ 1, Dick 0
Round 2: BBQ ½, Zach 0
Round 3: BBQ 0, Dick 1

- Big Brother 7 All-Stars -
BBQ training sabbatical

- Big Brother 6 -
Round 1: BBQ 1, Ivette 0
Round 2: BBQ 0, Howie 0

- Big Brother 5 -
Round 1: BBQ 1, Cowboy 1, Drew 0
Round 2: BBQ 1, Drew 0, Diane ½
Round 3: BBQ 1, Cowboy 1, CBS 0, Nakomis 0



EXTRACURRICULAR TALLY
House meetings - 6
First eight, on premiere #1
Joey's, semi-formal 6/28 5.56pm
Devin's 7/2 11.18pm
Devin's Bomb Squad 7/5 5.47pm
Derrick's re Victoria 8/10 2.45am
TAFY missing items 8/17 5.55pm

Fights - 5
Devin vs Brittany 6/29 12.21am
Devin vs Caleb 7/5 3.06am
Zach vs Paola 7/7 3.10pm
Zach Cody Derrick Hayden plus Caleb Frankie 7/29 8.22pm
Zach vs Frankie 8/8 9.50pm

Hamster revivals - 1
Nicole

Makeout pairings - 1
Hayden & Nicole

Sex events - 4
-Hayden self service (retells)
7/25 6.57pm, 8/02 1.50am
-Zach self service (retell)
7/28 10.37pm
-Christine self service
8/12 2.16pm
-Cody self service (retell)
8/19 8.23pm

Blindside evictions - 3
Brittany
Amber
Jocasta

Nom speech scorchers - 3
Zach putting up Nicole & Christine
Zach when Frankie put up Amber
Christine putting up Nicole

Backstory mysteries - 2
Victoria's hair loss
Amber's past relationship(s)

Pinkyswears - 16
Paola & Devin 6/29 1.35pm
Paola & Devin 7/4 12.15am
Paola & Donny 7/4 8.06pm
Devin & Victoria 7/6 10.49am
Jocasta & Amber 7/10 7.57pm
Derrick & Victoria 7/12 8.37pm
Nicole & Christine 7/13 1.24am
Nicole & Hayden 7/15 12.07am
Nicole & Christine 7/15 11.05pm
Jocasta & Amber 7/22 6.27pm
Zach & Victoria 7/24 9.00pm
Nicole & Hayden 7/25 5.32pm
Amber & Christine 7/29 11.15pm
Nicole & Christine 8/9 12.19am
Cody & Christine 8/9 1.28am
Nicole & Victoria 8/31 6.26pm

The Soup mentions - 5
-Donny's smarts
-Donny's America + Devin/Caleb cuddling
-Egg puns + Jocasta's tongues
-Frankie's solo BOB
-Frankie coming out + Zach's teary DR

Almost literal asshats - 1
Zach 7/5 6.08am

CBS goofs - 27
- Happends
- Jill, for the 2nd year
- Premiere 2 wasn't live
- Misspelled Jocasta 6/29 show
- Flashback calendar's off
- Joey left before trackers came but got 1st place anyway
- Forgot TA results 7/10 show
- Pointless edit amputated Caleb's toes 7/10 show
- Misspelled Jeff 7/10 show
- Live show tweet on Saturday
- #BattleoftheBlcok
- Faulty status updates
- Arithmetic is hard
- Ignored feedster poll - they got both
- Flashback highlight time error
- Week-old comp on feeds
- Staffer caught on feeds
- 8/2 Trifecta: BBAD ran 1+ hour while feeds remained blocked, production comp audio leaks on BBAD, fishies on BBAD
- More faulty status updates
- Misspelled Donny 8/10 show
- Forgot TA 8/10 show
- Flashback highlight a week late
- Staffer caught on feeds again
- Nicole evicted 8/14 but in a group shot on 8/21 show
- Discrete/discreet error
- Bad info given to cable guides
- Misspelled apple (really)