This site is about the Big Brother 16 feeds and contains spoilers! It isn't necessarily thorough: it's what I catch and/or what interests me, and it isn't necessarily about who will win, who should win, who's cute or who's horrid. It's about watching hamsters: who's doing what and why. Thanks for encouraging my behavior.
Your pal, dingo







QUICK LINKS & BOOKMARKS



-View or buy BB16 live feeds

-Live feed updates
-Hamsterwatch chatroom
-McCrae Olson videos & blog
-Amazon portal USA or Canada
-VPN for international viewers
-Hamsterwatch Twitter - Twitpic
-BB16 official site
-Hamster Twitters
BB USA - BB Canada
-East Coast air show feeds
1 - 2 - 3 - 4 - 5 - 6 - 7 - 8








POWER STATUS


Frankie is Head of Household
Frankie used veto on Caleb
Cody, Zach are nominated
Christine, Victoria are Have-not

Donny, Derrick, Frankie are Team America (fuck yeah)







UPCOMING EVENTS


Friday: Nominations
Saturday: Veto comp

Next show
Thursday 9pm: More TAFY task fallout, live eviction, Revive-a-Hamster, likely within HOH comp

Finale is Sept 24 at 9.30pm



Save 15% on BB fan gear
Use code BIGBROTHERAFF15





BB16 DRINKING GAME


Take a swig if Frankie talks more than 5 minutes about anything other than himself or his sister




Donations via Paypal are gratefully accepted!






BIG BROTHER SEASONS



Amazon DVDs BB4 - BB3

Amazon Instant Video BB16
- BB15
- BB14
- BB13
- BB12
- BB11
- BB10
- BB9
- BB8





BB16 FAQ


Feeds are streamed by CBS.

Call 877-211-4367 for account help, including password reset or to cancel subscription.

CBS shows are Sundays 8pm, Wednesdays 8pm, eviction Thursdays 9pm (Global in Canada).

Big Brother After Dark is on TVGN (Slice in Canada) three hours Mon/Tues starting 11pm, two hours Wed/Fri/Sat/Sun starting midnight; and two hours Thurs starting 1am.

BB16 prizes are the same: $500k for the winner and $50k for 2nd place. Stipend for the others is $1,000 per week, including pre-show hotel and jury sequester. Frankie might get more.

The habitat has 76 cameras (up 11, and now high def) and 100 microphones (up 2).

The recorded in-house announcements are the voice of producer Don Wollman.





>> >> >>
>>
ALL AMAZON.COM PURCHASES MADE THROUGH THESE LINKS HELP SUPPORT THIS SITE
Amazon USA
- Amazon Canada
Reduce, reuse, recycle (Wednesday 8/20)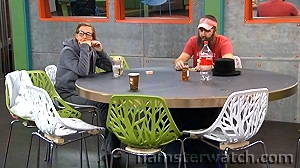 The day started in the afternoon as usual, with Donny and Christine having a lengthy discussion about everyone else as they slept.. Donny provided truths again, like he does, with Heisenberg hat at the ready (thanks @bigbrothernet for that one!).. Christine did a lot of nodding and mm-hmming

Later she took it all to Cody and Derrick of course, and a meeting formed in HOH with the three of them plus Frankie and Caleb to go over various reasons and methods to assassinate Donny.. Donny walked in during that, saying "what in the world is going on?" They changed the subject fast, and scattered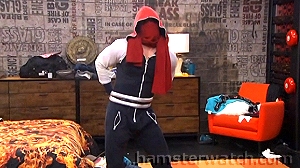 Otherwise Zach's last day (for now?) was a mostly quiet one.. Caleb did some more creep mode cowboy sleuthing which was good for a few laughs.. night-time brought some revelations when Zach discovered Spencer's nametag under his own on his mic pack and the rest of them started peeling their nametags off too to discover they were reusing mic packs from BB15 that were reused then from BB14 - they were a bit starstruck, which was cute

After that it was an impromptu karate show by the guys, which led to Caleb getting back into his Angry Onesie and weirding out around the habitat again

- Click "previous Hamsterwatch episode" up top to see what came before
- Check my Twitter and Twitpic for more of the random bits that I cover
- Check the Updates section for all the rest of it with real-time feeds updates and LOADS of screencaps
- Get the feeds
to watch it unfold for yourself



Hatgate 2014, continued (Tuesday 8/19)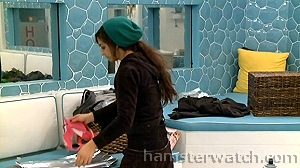 Victoria dug out the notorious pink hat from among her things, and we saw that she had indeed shredded it behind the fishies last night - which she can since it's her own hat.. she wrapped it in tinfoil, because it's not Big Brother without a tinfoil hat at some point, then she stuffed it into a ziplock bag and stuffed the whole package back among her things



Something from nothing
The camera came out and Frankie enjoyed taking pics of what he termed "doing inappropriate things" with the guys while they slept, and they got magnetic darts, with instructions that the dartboard had to remain where it was and they'd get the darts for 24 hours once a week.. the set is available from the CBS Store, as Donny correctly guessed (get 20% off orders over $29 using this link
).. otherwise the day and evening seemed like a total loss, with a lot of extra helpings of Frankie seeking attention, but a couple spats broke out that livened things up a bit

Caleb made a remark about Cody cuddling with this girl and that girl and moving on to other girls, and things got a bit heated between them - Flashback 8/19 10.05pm.. Christine jumped in to change the subject but not before Caleb called Cody a slut and Cody responded by saying Caleb's jealous.. Christine said something about it later to Cody, and how Caleb's bugging her lately, along with Donny.. earlier Caleb had said something to Derrick & Frankie about Cody & Christine always petting each other.. the cracks are finally starting to show among the guys, like we all knew they would eventually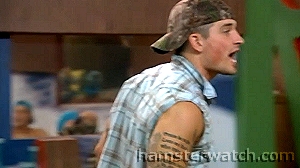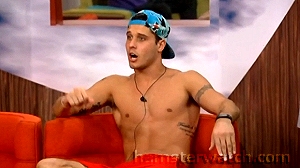 Later, Zach and Frankie had another round over pool about Zach going or staying, which also got a bit heated, but there wasn't really anything new in it, except Frankie saying he can only get second place and that he can only buy two schools with $50,000 - Flashback 8/20 12.15am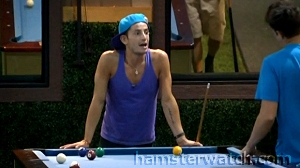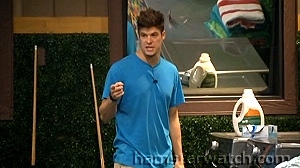 There were more hollerings from afar which brought more fishies, like they do.. for some reason The Powers That Be marked last night's hollers as a feeds highlight - rhyme or reason escapes me with this show at times

- Click "previous Hamsterwatch episode" up top to see what came before
- Check my Twitter and Twitpic for more of the random bits that I cover
- Check the Updates section for all the rest of it with real-time feeds updates and LOADS of screencaps
- Get the feeds
to watch it unfold for yourself



End of the line (Monday 8/18)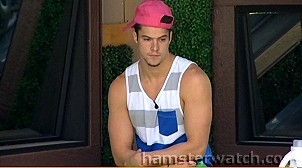 Frankie used his veto on Caleb and put up Zach in his place, as planned.. Zach was predictably bummed out and took to his bed for a bit, but a bit later he asked Caleb about it, and then Frankie - Flashback 8/18 12.35pm.. I say end of the line, but Zach's got a good shot at coming back in the revolving door Thursday, which would really liven things up

TAFY patrols carried on, bringing far more comedy than security between the flashlight miner hats and letting individual hamsters roam off on their own, particularly Prime Suspects #1 and #2 Zach and Victoria.. meanwhile Frankie hid a pair of Christine's shoes - apparently they were told her stuffed tiger didn't quality as "clothing".. Derrick called an end to the neighborhood watch around 7pm, and nobody questioned why



Hatgate 2014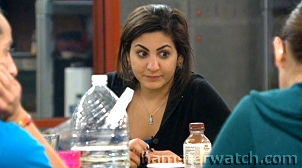 They had their third family dinner in a row, sans Zach who was asleep.. Derrick went to bed not much later, before Donny even, and the kiddies ran amok.. some more hollers came wafting in over the fence, consensus was "Beast Mode, we hate you! Zach we love you! Frankie you're disgusting!" but the hollerer posted on Jokers that he hollered "Attention Frankie, America hates you! Zach we love you! Frankie you're disgusting!"- Flashback 8/18 10.19pm.. Caleb, Zach & Frankie heard it

Cody, Christine, and Frankie had been on & off trashing Zach to Victoria for awhile, and that revved up into a new Hatgate.. Victoria threatened to cut up her pink hat that Zach's been wearing all season, or maybe she did cut it.. that led to a lot of slow burns and awkward silences, and eventually a couple confrontations between the two of them.. Zach asked if he could just have it back "for Thursday" and Victoria said she didn't know, would he be nice to her til then? He didn't promise that, but said didn't they sit up til 5am together the other night? And on it goes

- Click "previous Hamsterwatch episode" up top to see what came before
- Check my Twitter and Twitpic for more of the random bits that I cover
- Check the Updates section for all the rest of it with real-time feeds updates and LOADS of screencaps
- Get the feeds
to watch it unfold for yourself



BBQ Smackdown Round 3: Toxic Fuminator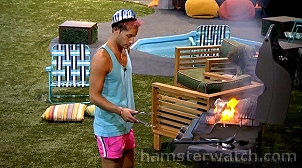 I posted this cap last night when Frankie was grilling tuna again, with the caption "the grill is just itching to burn someone tonight".. little did I know it would be a delayed event

This is the first Smackdown match scored by retell, but what a retell it was - Flashback 8/18 4.36pm.. in the midst of dog chat, the guys broke out in a terrifying description of how close they all came to succumbing to death by melting plastic decor fumes.. the metal monster pulled out all the stops this time: it didn't attack directly, but rather it used Frankie to wreak havoc and cause massive destruction to the habitat itself, and then it sat back to let Frankie take the blame

Donny: That grill melted the wall out there
Cody: Oh yeah, we gotta keep that thing off the wall, man
Donny: The bush is just melted to the wall
Derrick: Well who - usually I always pull it away, who just cooked on it?
Caleb: Frankie
Derrick: It was Frankie then
Caleb: When Frankie cooked on it, it wasn't by the wall but he probably pushed it back while it was still hot
Derrick: I think it should be kept off the wall permanently

Final score: BBQ 1, Frankie 0




Get a free trial of the live feeds to see it all as it happens

Ratings - Frankie special edition
Ratings are based on Frankie, and should be sung to the tune of "I'm so pretty, oh so pretty" which is a Broadway song, because he's a Broadway STAR




THEY LOVE ME!! I know they love me one thousand million percent because they said so! After I asked!! Who couldn't love me? I'm so lovable. I'm like the star of the show, because WHO ELSE?! They mention my sister as much as I do so that like proves they love me!!! Even the name of the show is about ME because I am THE big brother!!! Get it? They give me whatever I want and I'm going to get to watch the VMAs STARRING MY SISTER in the DR!!!






Won: $5,000, shaved head, 48 hr Adam & Eve with Victoria, football trip

I love him so much with his manly arms and his manly tats and his womanly boob. He's the MAN OF MY FUCKING DREAMS and I love humping him whenever I can. He likes it too. He's my future husband. Wait, is he gay? FORGET I ASKED THAT it doesn't matter.






Won: Football trip

Which one is she again? I know I've seen her around but I just can't place her. Wait, what?! She's in my alliance?! NO FUCKING WAY! I've never heard of her.






Won: 24 hrs kicking self

NOMINATED
I love him so much with his tight little ass and his pretty face, he's a GREEK GOD! I want him to be my boyfriend, can someone make that happen? We can do bad accents all night long and I can make sexual comments while he looks pretty. It's a dream come true <3 <3 <3






Won: $10,000
TEAM AMERICA

He's everywhere! But he's not my type so he should like get out of my sight and out of my HOH room. Why is he always talking about the game? I DON'T CARE ABOUT THE GAME I just care about me and my sister and me. He doesn't even let me hump him very often.
PS DON'T EVER EVER EVER TELL ANYONE I'M ACTUALLY A YEAR OLDER THAN HIM!!






Won: $10,000
TEAM AMERICA

I've never seen this guy in my life. Why is he here? He's not even on my show! PRODUCTION DO SOMETHING!!!






Won: $10,000, football trip
TEAM AMERICA

HEAD OF HOUSEHOLD
USED VETO ON CALEB
Wait, what? Where's my triple up arrows? You can't ignore me, I'm a SOCIAL MEDIA MOGUL!! I'M FAMOUS!!! SO IS MY SISTER!!! I'm in her shadow because I made her become the sun. I WILL NOT BE IGNORED!!!






Won: 48 hr Adam & Eve with Caleb

Like who ARE all these people?! I've never heard of her. Oh wait, let me grab some of that primo makeup before she dissolves!






Won: Germany trip

NOMINATED
I LOVE HIM he's my boo. And my Problem (that's my sister's hit record, #1 ON iTUNES BUY IT!!) He's my bae. And the hot object of my even hotter desires. I'm SURE he's gay but he's just pretending he isn't. Why does he torture me so? I WILL PUNISH HIM for not sexing with me! I love him for almost letting me sex him. Wait, no, he must die! He confuses me. Is he in my alliance? No? Okay. Don't tell him I nominated him, okay? OH MY GOD maybe I still have a chance.






Won: 1 wk frog, 1 wk Germitard
EVICTED 6-0
She was ingenuous without being cliche, refreshing and adorable, and she wore both costumes equally well. She was flattered & surprised to be a flirting target, and her game and/or guts were praised by Ian Terry, Dick Donato, Andy Herren, and Dan Gheesling, which is pretty high praise. Despite some very stiff competition, Nicole is easily the winner of Deathrace 2014, and she'll be missed.






Won: Nothing
He was the nice guy they all liked, and it's always rough to lose that guy early. Slightly immature with no shame, he was extremely good-natured and responsible for most of the just-for-fun activities and spontaneous silliness. He was cute with Nicole and a perfect combo of Jackass and hamster. He brought a lightness to the feeds that was missed when he left.






Won: Nothing
She didn't bring the holy wars I feared but she did speak in tongues. She cried a lot but she also laughed a lot, and she did great Diaries. She'll be remembered for her bow ties, her choir robe/portable changing room, and most of all her judgemental, IDGAF, side-eye, and the hell you say expressions.






Won: Nothing
A stunningly gorgeous model, she lasted longer than the hamster in that slot usually does, but she exited on another unanimous vote, and before jury. She wanted to play a clean game and that usually doesn't work out so well on this show. She was a good sport about pranks, including the antiquing shown here, but she'll mostly be remembered as the object of Caleb's dreams, and I do mean dreams.






Won: 2400 goals
She was the rawest recruit we've had in awhile and she didn't do much homework, which worked against her in a big way. She seemed to have pretty good game instincts and may have done some real damage if she'd been better prepared. She'll be remembered for her high bun as well as the few times her hair escaped it and landed her in Deathrace 2014 hall of fame, and for sticking with and completing that brutal soccer task when she didn't have to.






Won: Nothing
He has a daughter.

PS He easily wins the Best Evictee Award with this.






Won: Nothing
I kept hoping for the spitfire she plays on Twitter & Instagram to show up but it didn't until the veto meeting blowup. She was well on her way to being a perma-pawn but she stressed about not being able to win comps, and then Devin happened and out she went. She had a lot of entertainment potential and while we were robbed of most of it by her early exit, we'll always have CALTORU.






TEAM AMERICA FAIL
Won: Nothing
She blew up her game prematurely and spectacularly, and then her alter ego Alex and his 'big ass balls' sealed the deal. Supposedly she beat someone with 500k Twitter followers (plus 15 million backup) in a public vote, but that went splat just like BB12's saboteur Annie. Joey was lively and personable, a worthy member of the first out club, and she easily leads the pack of hamsters with unnatural hair colors.







Linking to any page here is fine. Please don't repost content from this site (or any other) without permission, and don't repost or hotlink images.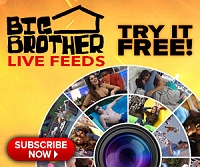 The real show is on the feeds





TEAM AMERICA VOTE


> Create a distraction by hiding a favorite piece of clothing from each Houseguest then organize a neighborhood watch program to keep it from happening again
All tasks & outcomes recap







FEEDSTER VOTE


What supplement should Have-nots get?
Root cake (39%)
> Squish kabobs (61%)

Currently Transylvanian goulash







RATINGS WATCH


Wednesday's show won the hour with 2.3 rating, 8 share, and 6.58 million viewers, ahead of America's Got Talent recap on NBC with 1.1/4/5.60, So You Think You Can Dance on FOX with 0.9/3/3.36, and The Middle and The Goldbergs reruns on ABC with 0.9/3/3.27 and 0.9/3/3.08 respectively.








Clicky: caps sorted by day - all caps

SEASON STATS
HOHs in order, *indicates the surviving HOH
Frankie/Caleb*, Amber/Devin*, Nicole/Derrick*, Cody*/Frankie, Frankie*/Zach, Nicole*/Donny, Caleb, Nicole/Christine*, Derrick/Frankie*

BOB wins in order
Brittany/Victoria, Hayden/Nicole, Amber/Donny, Amber/Jocasta, Christine/Nicole, Caleb/Victoria, (none), Frankie/(Caleb), Donny/Christine

Veto wins in order
Donny, Devin, Donny, Victoria, Hayden, Christine, Donny, Zach, Frankie

Evictions in order
Joey 13-0; Paola 10-2; Devin 11-0; Brittany 10-0; Amber 9-0; Jocasta 6-2; Hayden 5-2; Nicole 6-0

Evictees on Twitter: @JoeyVanPelt1, @paolashea, @devinshepbb16, @britt4skin, @aborzotra



BBQ Smackdown Scorecard

- Big Brother 16 -
Round 1: BBQ 1, Frankie 0
Round 2: BBQ 1, Frankie 0, Derrick 0
Round 3: BBQ 1, Frankie 0

- Big Brother 15 -
Round 1: BBQ 1, Helen 1, Jessie 0
Round 2: BBQ 1, Helen 0, Jessie 0
Round 3: BBQ 1, Spencer 0
Round 4: BBQ 1, Spencer ½, Judd 0, McCrae 0

- Big Brother 14 -
Round 1: BBQ ½, Dan 0

- Big Brother 13 -
Round 1: BBQ ½, Adam ½, Rachel 0
Round 2: BBQ ½, Adam 0
Round 3: BBQ 1, Rachel 0

- Big Brother 12 -
Round 1: BBQ ½, Brendon 0
Round 2: BBQ 2, Britney 0, Lane 0
Round 3: BBQ 1, Lane 0, CBS 0

- Big Brother 11 -
Round 1: BBQ 0, Jeff 0
Round 2: BBQ 0, Jeff ½
Round 3: BBQ ½, Kevin 0, Michele 0


- Big Brother 10 -
No title events

- Big Brother 9 Winter Edition -
Round 1: BBQ ½, Ryan 0
Round 2: BBQ ½, Adam 0
Round 3: BBQ ½, Ryan 0

- Big Brother 8 -
Round 1: BBQ 1, Dick 0
Round 2: BBQ ½, Zach 0
Round 3: BBQ 0, Dick 1

- Big Brother 7 All-Stars -
BBQ training sabbatical

- Big Brother 6 -
Round 1: BBQ 1, Ivette 0
Round 2: BBQ 0, Howie 0

- Big Brother 5 -
Round 1: BBQ 1, Cowboy 1, Drew 0
Round 2: BBQ 1, Drew 0, Diane ½
Round 3: BBQ 1, Cowboy 1, CBS 0, Nakomis 0



EXTRACURRICULAR TALLY
House meetings - 6
First eight, on premiere #1
Joey's, semi-formal 6/28 5.56pm
Devin's 7/2 11.18pm
Devin's Bomb Squad 7/5 5.47pm
Derrick's re Victoria 8/10 2.45am
TAFY missing items 8/17 5.55pm

Fights - 5
Devin vs Brittany 6/29 12.21am
Devin vs Caleb 7/5 3.06am
Zach vs Paola 7/7 3.10pm
Zach Cody Derrick Hayden plus Caleb Frankie 7/29 8.22pm
Zach vs Frankie 8/8 9.50pm

Makeout pairings - 1
Hayden & Nicole

Sex events - 4
-Hayden self service (retells)
7/25 6.57pm, 8/02 1.50am
-Zach self service (retell)
7/28 10.37pm
-Christine self service
8/12 2.16pm
-Cody self service (retell)
8/19 8.23pm

Blindside evictions - 3
Brittany
Amber
Jocasta

Nom speech scorchers - 3
Zach putting up Nicole & Christine
Zach when Frankie put up Amber
Christine putting up Nicole

Backstory mysteries - 2
Victoria's hair loss
Amber's past relationship(s)

Pinkyswears - 15
Paola & Devin 6/29 1.35pm
Paola & Devin 7/4 12.15am
Paola & Donny 7/4 8.06pm
Devin & Victoria 7/6 10.49am
Jocasta & Amber 7/10 7.57pm
Derrick & Victoria 7/12 8.37pm
Nicole & Christine 7/13 1.24am
Nicole & Hayden 7/15 12.07am
Nicole & Christine 7/15 11.05pm
Jocasta & Amber 7/22 6.27pm
Zach & Victoria 7/24 9.00pm
Nicole & Hayden 7/25 5.32pm
Amber & Christine 7/29 11.15pm
Nicole & Christine 8/9 12.19am
Cody & Christine 8/9 1.28am

The Soup mentions - 5
-Donny's smarts
-Donny's America + Devin/Caleb cuddling
-Egg puns + Jocasta's tongues
-Frankie's solo BOB
-Frankie's schools + Zach's teary DR

Almost literal asshats - 1
Zach 7/5 6.08am

CBS goofs - 23
- Happends
- Jill, for the 2nd year
- Premiere 2 wasn't live
- Misspelled Jocasta 6/29 show
- Flashback calendar's off
- Joey left before trackers came but got 1st place anyway
- Forgot TA results 7/10 show
- Pointless edit amputated Caleb's toes 7/10 show
- Misspelled Jeff 7/10 show
- Live show tweet on Saturday
- #BattleoftheBlcok
- Faulty status updates
- Arithmetic is hard
- Ignored feedster poll - they got both
- Flashback highlight time error
- Week-old comp on feeds
- Staffer caught on feeds
- 8/2 Trifecta: BBAD ran 1+ hour while feeds remained blocked, production comp audio leaks on BBAD, fishies on BBAD
- More faulty status updates
- Misspelled Donny 8/10 show
- Forgot TA 8/10 show
- Flashback highlight a week late
- Staffer caught on feeds again