This site is about the Big Brother 16 feeds and contains spoilers! It isn't necessarily thorough: it's what I catch and/or what interests me, and it isn't necessarily about who will win, who should win, who's cute or who's horrid. It's about watching hamsters: who's doing what and why. Thanks for encouraging my behavior.
Your pal, dingo







QUICK LINKS & BOOKMARKS



-View or buy BB16 live feeds

-Live feed updates
-Hamsterwatch chatroom
-McCrae Olson videos & blog
-Amazon portal USA or Canada
-VPN for international viewers
-Hamsterwatch Twitter - Twitpic
-BB16 official site
-Hamster Twitters
BB USA - BB Canada
-East Coast air show feeds
1 - 2 - 3 - 4 - 5 - 6 - 7 - 8







POWER STATUS


Nicole evicted 6-0
Frankie is Head of Household
Caleb, Cody are nominated

Derrick is deposed HOH
His tributes were Donny, Christine - they won BOB

Nobody is Have-not

Donny, Derrick, Frankie are Team America (fuck yeah)







UPCOMING EVENTS


Middle-size table is due
Friday: Nominations, BOB comp
Saturday: Zingbot visit & veto comp

Next show
Sunday 8pm: Nominations, BOB comp

Finale is Sept 24 at 9.30pm



Save 15% on BB fan gear
Use code BIGBROTHERAFF15





BB16 DRINKING GAME


Take a swig whenever you mute the feeds - take two if you shut them off




Donations via Paypal are gratefully accepted!






BIG BROTHER SEASONS



Amazon DVDs BB4 - BB3

Amazon Instant Video BB16
- BB15
- BB14
- BB13
- BB12
- BB11
- BB10
- BB9
- BB8





BB16 FAQ


Feeds are streamed by CBS.

Call 877-211-4367 for account help, including password reset or to cancel subscription.

CBS shows are Sundays 8pm, Wednesdays 8pm, eviction Thursdays 9pm (Global in Canada).

Big Brother After Dark is on TVGN (Slice in Canada) three hours Mon/Tues starting 11pm, two hours Wed/Fri/Sat/Sun starting midnight; and two hours Thurs starting 1am.

BB16 prizes are the same: $500k for the winner and $50k for 2nd place. Stipend for the others is $1,000 per week, including pre-show hotel and jury sequester. Frankie might get more.

The habitat has 76 cameras (up 11, and now high def) and 100 microphones (up 2).

The recorded in-house announcements are the voice of producer Don Wollman.





>> >> >>
>>
ALL AMAZON.COM PURCHASES MADE THROUGH THESE LINKS HELP SUPPORT THIS SITE
Amazon USA
- Amazon Canada
Another new hamster (Friday 8/15)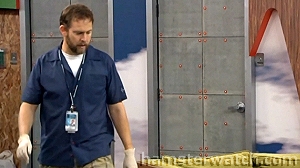 It's hard to tell if this is the same guy who showed up a couple weeks ago or not, but I'm thinking maybe not - today's staffer seems to understand hamster hygiene (or lack of), and wore gloves.. feedsters are hoping either or both will enter the game and swap out a couple from our cast

As decreed by the Skittles Reaping, Frankie nominated Caleb and Cody, and Derrick nominated Donny and Christine

Donny & Christine won the BOB comp, despite all the plans and Skittles.. it was a messy affair involving crawling in the dark to find bones and then fit them into a puzzle, plus chain link fences.. Team America (fuck yeah) got their task to steal clothing and form a neighborhood watch, and decided to wait until after veto to get it going.. they drew names for the veto comp tomorrow: all will play except Derrick, who will host (Zingbot's sidekick?), and Zach, who will sit out while the others decide his fate

- Click "previous Hamsterwatch episode" up top to see what came before
- Check my Twitter and Twitpic for more of the random bits that I cover
- Check the Updates section for all the rest of it with real-time feeds updates and LOADS of screencaps
- Get the feeds
to watch it unfold for yourself



Feedsters take a hit (Thursday 8/14)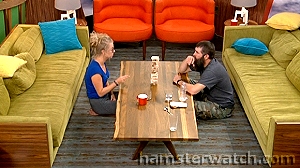 Nicole and Donny sat over Jenga to study the zombie clues, some of which Donny slept through last night.. it's a foregone conclusion that Nicole will be evicted, but losing either of them will be a big hit to the feeds.. luckily we're due for a revival and both of them have proven comp ability, so it's not over yet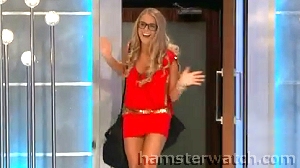 When Nicole did walk the plank, she had cheers behind her and cheers ahead, and true to form, her sit-down in Julie's boudoir was genuine, awkward, and sweet.. the rest of them did their Q&A about last night's zombie clues, and Derrick & Frankie won

Julie gave us a slew of announcements including Revive-a-Hamster (singular) next Thursday with either Jocasta, Hayden, Nicole, or whoever gets the boot that night coming back, and Zingbot veto Saturday for Wednesday's show, and that this is the last dual HOH/BOB week - finally!



The Reaping, Skittles style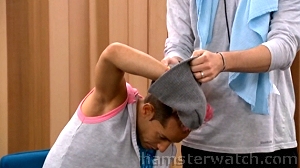 Frankie's letter was an album/VMA promo from Ariana, and Derrick's was from wife Jana with news of daughter Tenley and their doggies

A noms meeting for the books began around 12.07am with everyone but Victoria and Donny.. after almost an hour of discussion and a few slightly raised tempers, they drew Skittles to make the decision - I kid you not.. Frankie will put up Caleb and Cody, and Derrick will put up Donny and Christine - or maybe the other way around, I'm not sure.. Christine has strict orders to throw the BOB so they can evict Donny

- Click "previous Hamsterwatch episode" up top to see what came before
- Check my Twitter and Twitpic for more of the random bits that I cover
- Check the Updates section for all the rest of it with real-time feeds updates and LOADS of screencaps
- Get the feeds
to watch it unfold for yourself




Get a free trial of the live feeds to see it all as it happens

Ratings - Captain Obvious edition
Ratings are based on entertainment value
VTE = Voted to evict




They're going to keep shoving Grandes down our throats, and there doesn't seem to be anything we can do about it.






Won: $5,000, shaved head, 48 hr Adam & Eve with Victoria, football trip

VTE Nicole
NOMINATED
Against all odds, he's become one of the more amusing ones in there, mostly because he's a parody character. A parody of himself, that is.






Won: Football trip

No vote (HOH)
NOMINATED by Derrick - WON BOB
Along with Frankie, Cody, and Caleb, she's touchy-feely to a fault. A San Andreas sized fault.






Won: 24 hrs kicking self

VTE Nicole
NOMINATED
He's sleeping almost as much as Zach these days, but at least he does memorable things in his sleep.






Won: $10,000
TEAM AMERICA

VTE Nicole
DEPOSED HOH
Yep, still the smartest guy in the room and the only one playing for jury votes. Skittles saved him from having to nominate anyone at this crucial point, and he's now the only one left who hasn't been nominated at all.. yet. He really should have to sweat a bit for that $500k at some point, but it might never happen.






Won: $10,000
TEAM AMERICA

No vote (nominee)
NOMINATED by Derrick - WON BOB
Donnyisms, roaming the house alone all day, and causing the most tears with his farewells, all these things are well and good, but they can't save the feeds on their own.






Won: $10,000, football trip
TEAM AMERICA

VTE Nicole
HEAD OF HOUSEHOLD
Still on ignore.






Won: 48 hr Adam & Eve with Caleb

VTE Nicole
She's become one of the more entertaining ones among them, which speaks volumes.






Won: Germany trip

VTE Nicole
Skittles saved him from almost certain nomination, and don't think the rest of them didn't notice his rapid change from Impending Zach Attach to gloaty giggles when his Skittle wasn't picked. Depending on veto, he's the likely renom, and Zingbot might rattle him enough to affect his comp performance.






Won: 1 wk frog, 1 wk Germitard
EVICTED 6-0
She was ingenuous without being cliche, refreshing and adorable, and she wore both costumes equally well. She was flattered & surprised to be a flirting target, and her game and/or guts were praised by Ian Terry, Dick Donato, Andy Herren, and Dan Gheesling, which is pretty high praise. Despite some very stiff competition, Nicole is easily the winner of Deathrace 2014, and she'll be missed.






Won: Nothing
He was the nice guy they all liked, and it's always rough to lose that guy early. Slightly immature with no shame, he was extremely good-natured and responsible for most of the just-for-fun activities and spontaneous silliness. He was cute with Nicole and a perfect combo of Jackass and hamster. He brought a lightness to the feeds that was missed when he left.






Won: Nothing
She didn't bring the holy wars I feared but she did speak in tongues. She cried a lot but she also laughed a lot, and she did great Diaries. She'll be remembered for her bow ties, her choir robe/portable changing room, and most of all her judgemental, IDGAF, side-eye, and the hell you say expressions.






Won: Nothing
A stunningly gorgeous model, she lasted longer than the hamster in that slot usually does, but she exited on another unanimous vote, and before jury. She wanted to play a clean game and that usually doesn't work out so well on this show. She was a good sport about pranks, including the antiquing shown here, but she'll mostly be remembered as the object of Caleb's dreams, and I do mean dreams.






Won: 2400 goals
She was the rawest recruit we've had in awhile and she didn't do much homework, which worked against her in a big way. She seemed to have pretty good game instincts and may have done some real damage if she'd been better prepared. She'll be remembered for her high bun as well as the few times her hair escaped it and landed her in Deathrace 2014 hall of fame, and for sticking with and completing that brutal soccer task when she didn't have to.






Won: Nothing
He has a daughter.

PS He easily wins the Best Evictee Award with this.






Won: Nothing
I kept hoping for the spitfire she plays on Twitter & Instagram to show up but it didn't until the veto meeting blowup. She was well on her way to being a perma-pawn but she stressed about not being able to win comps, and then Devin happened and out she went. She had a lot of entertainment potential and while we were robbed of most of it by her early exit, we'll always have CALTORU.






TEAM AMERICA FAIL
Won: Nothing
She blew up her game prematurely and spectacularly, and then her alter ego Alex and his 'big ass balls' sealed the deal. Supposedly she beat someone with 500k Twitter followers (plus 15 million backup) in a public vote, but that went splat just like BB12's saboteur Annie. Joey was lively and personable, a worthy member of the first out club, and she easily leads the pack of hamsters with unnatural hair colors.







Linking to any page here is fine. Please don't repost content from this site (or any other) without permission, and don't repost or hotlink images.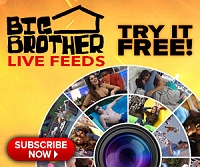 The real show is on the feeds





TEAM AMERICA VOTE


-Create a distraction by hiding a favorite piece of clothing from each Houseguest then organize a neighborhood watch program to keep it from happening again
All tasks & outcomes recap







FEEDSTER VOTE


What supplement should Have-nots get?
> Transylvanian goulash (62%)
Frankenstew (38%)







RATINGS WATCH


Thursday's live show won the hour with 2.2 rating, 7 share, and 6.39 million viewers, ahead of Last Comic Standing on NBC with 1.4/5/4.87, Rookie Blue on ABC with 1.0/3/5.06, and Gang Related on FOX with 0.7/2/2.36.








Clicky: caps sorted by day - all caps

SEASON STATS
HOHs in order, *indicates the surviving HOH
Frankie/Caleb*, Amber/Devin*, Nicole/Derrick*, Cody*/Frankie, Frankie*/Zach, Nicole*/Donny, Caleb, Nicole/Christine*, Derrick/Frankie*

BOB wins in order
Brittany/Victoria, Hayden/Nicole, Amber/Donny, Amber/Jocasta, Christine/Nicole, Caleb/Victoria, (none), Frankie/(Caleb), Donny/Christine

Veto wins in order
Donny, Devin, Donny, Victoria, Hayden, Christine, Donny, Zach

Evictions in order
Joey 13-0; Paola 10-2; Devin 11-0; Brittany 10-0; Amber 9-0; Jocasta 6-2; Hayden 5-2; Nicole 6-0

Evictees on Twitter: @JoeyVanPelt1, @paolashea, @devinshepbb16, @britt4skin, @aborzotra



BBQ Smackdown Scorecard

- Big Brother 16 -
Round 1: BBQ 1, Frankie 0
Round 2: BBQ 1, Frankie 0, Derrick 0

- Big Brother 15 -
Round 1: BBQ 1, Helen 1, Jessie 0
Round 2: BBQ 1, Helen 0, Jessie 0
Round 3: BBQ 1, Spencer 0
Round 4: BBQ 1, Spencer ½, Judd 0, McCrae 0

- Big Brother 14 -
Round 1: BBQ ½, Dan 0

- Big Brother 13 -
Round 1: BBQ ½, Adam ½, Rachel 0
Round 2: BBQ ½, Adam 0
Round 3: BBQ 1, Rachel 0

- Big Brother 12 -
Round 1: BBQ ½, Brendon 0
Round 2: BBQ 2, Britney 0, Lane 0
Round 3: BBQ 1, Lane 0, CBS 0

- Big Brother 11 -
Round 1: BBQ 0, Jeff 0
Round 2: BBQ 0, Jeff ½
Round 3: BBQ ½, Kevin 0, Michele 0


- Big Brother 10 -
No title events

- Big Brother 9 Winter Edition -
Round 1: BBQ ½, Ryan 0
Round 2: BBQ ½, Adam 0
Round 3: BBQ ½, Ryan 0

- Big Brother 8 -
Round 1: BBQ 1, Dick 0
Round 2: BBQ ½, Zach 0
Round 3: BBQ 0, Dick 1

- Big Brother 7 All-Stars -
BBQ training sabbatical

- Big Brother 6 -
Round 1: BBQ 1, Ivette 0
Round 2: BBQ 0, Howie 0

- Big Brother 5 -
Round 1: BBQ 1, Cowboy 1, Drew 0
Round 2: BBQ 1, Drew 0, Diane ½
Round 3: BBQ 1, Cowboy 1, CBS 0, Nakomis 0



EXTRACURRICULAR TALLY
House meetings - 5
First eight, on premiere #1
Joey's, semi-formal 6/28 5.56pm
Devin's 7/2 11.18pm
Devin's Bomb Squad 7/5 5.47pm
Derrick's re Victoria 8/10 2.45am

Fights - 5
Devin vs Brittany 6/29 12.21am
Devin vs Caleb 7/5 3.06am
Zach vs Paola 7/7 3.10pm
Zach Cody Derrick Hayden plus Caleb Frankie 7/29 8.22pm
Zach vs Frankie 8/8 9.50pm

Makeout pairings - 1
Hayden & Nicole

Sex events - 3
-Hayden self service (retells)
7/25 6.57pm, 8/02 1.50am
-Zach self service (retell)
7/28 10.37pm
-Christine self service
8/12 2.16pm

Blindside evictions - 3
Brittany
Amber
Jocasta

Nom speech scorchers - 3
Zach putting up Nicole & Christine
Zach when Frankie put up Amber
Christine putting up Nicole

Backstory mysteries - 2
Victoria's hair loss
Amber's past relationship(s)

Pinkyswears - 15
Paola & Devin 6/29 1.35pm
Paola & Devin 7/4 12.15am
Paola & Donny 7/4 8.06pm
Devin & Victoria 7/6 10.49am
Jocasta & Amber 7/10 7.57pm
Derrick & Victoria 7/12 8.37pm
Nicole & Christine 7/13 1.24am
Nicole & Hayden 7/15 12.07am
Nicole & Christine 7/15 11.05pm
Jocasta & Amber 7/22 6.27pm
Zach & Victoria 7/24 9.00pm
Nicole & Hayden 7/25 5.32pm
Amber & Christine 7/29 11.15pm
Nicole & Christine 8/9 12.19am
Cody & Christine 8/9 1.28am

The Soup mentions - 4
-Donny's smarts
-Donny's America + Devin/Caleb cuddling
-Egg puns + Jocasta's tongues
-Frankie's solo BOB

Almost literal asshats - 1
Zach 7/5 6.08am

CBS goofs - 23
- Happends
- Jill, for the 2nd year
- Premiere 2 wasn't live
- Misspelled Jocasta 6/29 show
- Flashback calendar's off
- Joey left before trackers came but got 1st place anyway
- Forgot TA results 7/10 show
- Pointless edit amputated Caleb's toes 7/10 show
- Misspelled Jeff 7/10 show
- Live show tweet on Saturday
- #BattleoftheBlcok
- Faulty status updates
- Arithmetic is hard
- Ignored feedster poll - they got both
- Flashback highlight time error
- Week-old comp on feeds
- Staffer caught on feeds
- 8/2 Trifecta: BBAD ran 1+ hour while feeds remained blocked, production comp audio leaks on BBAD, fishies on BBAD
- More faulty status updates
- Misspelled Donny 8/10 show
- Forgot TA 8/10 show
- Flashback highlight a week late
- Staffer caught on feeds again