This site is about the Big Brother 16 feeds and contains spoilers! It isn't necessarily thorough: it's what I catch and/or what interests me, and it isn't necessarily about who will win, who should win, who's cute or who's horrid. It's about watching hamsters: who's doing what and why. Thanks for encouraging my behavior.
Your pal, dingo







QUICK LINKS & BOOKMARKS



-View or buy BB16 live feeds

-Live feed updates
-Hamsterwatch chatroom
-McCrae Olson videos & blog
-Amazon portal USA or Canada
-VPN for international viewers
-Hamsterwatch Twitter - Twitpic
-BB16 official site
-Hamster Twitters
BB USA - BB Canada
-East Coast air show feeds
1 - 2 - 3 - 4 - 5 - 6 - 7 - 8 - 9







POWER STATUS


Devin evicted 11-0
Cody is Head of Household
Brittany, Victoria are nominated
Frankie is deposed HOH
His tributes were Amber, Jocasta - they won BOB
Nobody is Have-not

Donny, Derrick, Frankie are Team America (fuck yeah)







UPCOMING EVENTS


Saturday: Veto comp
Sunday: Photobooth

Next show
Sunday 8pm: HOH comp, nominations, BOB comp



Save 20% on orders over $29 with coupon code AFFILIATE20
Big Brother plus other CBS shows - shop now!





BB16 DRINKING GAME


Take a swig whenever one of them does a fake accent - take two if it's Frankie




Donations via Paypal are gratefully accepted!






BIG BROTHER SEASONS



Amazon DVDs BB4 - BB3

Amazon Instant Video BB15
- BB14
- BB13
- BB12
- BB11
- BB10
- BB9
- BB8





BB16 FAQ


Feeds are streamed by CBS.

Call 877-211-4367 for account help, including password reset or to cancel subscription.

CBS shows are Sundays 8pm, Wednesdays 8pm, eviction Thursdays 9pm (Global in Canada).

Big Brother After Dark is on TVGN (Slice in Canada) three hours Mon/Tues starting 11pm, two hours Wed/Fri/Sat/Sun starting midnight; and two hours Thurs starting 1am.

BB16 prizes are the same: $500k for the winner and $50k for 2nd place. Stipend for the others is $1,000 per week, including pre-show hotel and jury sequester. Frankie might get more.

The habitat has 76 cameras (up 11, and now high def) and 100 microphones (up 2).

The recorded in-house announcements are the voice of producer Don Wollman.





>> >> >>
>>
ALL AMAZON.COM PURCHASES MADE THROUGH THESE LINKS HELP SUPPORT THIS SITE
Amazon USA
- Amazon Canada
Drama, at last (Friday 7/18)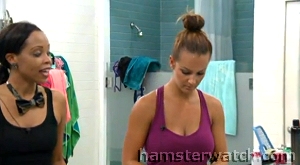 Frankie nominated Amber & Jocasta and Cody nominated Brittany & Victoria, which caused some moping and complaining because the nominees weren't in on the guys' overnight talks that decided everything.. they didn't have long before the BOB comp came along, which sounds like it was chess-like with a medieval theme.. Amber & Jocasta won, Jocasta spoke in tongues (or tons, per Cody), Frankie got "tarred and feathered", and then Brittany & Victoria really got going on their complaint loops - it's not fair, you know.. it wasn't a lot of drama but it was something, and feedsters eagerly awaited a booze delivery to amp it up a bit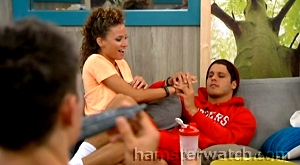 Most of them slept through primetime and were up and active overnight again.. for awhile most everyone was up except Caleb, Brittany, and Frankie, and everything was fun and peaceful - boring and boozeless, but peaceful.. several were in HOH including Cody & Amber: he was playing with Amber's hands, his legs across hers, and then Caleb came in.. he sat down across from them and started spinning the fake dagger they got from today's comp, presumably death-staring.. it was caught in a masterful shot by the feedmasters and I salute them for it

After that it was tension here, tension there, with Caleb endlessly repeating how he doesn't care and Amber endless repeating how she's tired of it all.. Zach, who's been having Amber issues lately, told Caleb they should just get rid of her next week.. Victoria rebounded a bit after a mysterious problem involving allegations of some sort - every mention of whatever that was went to fishies.. Brittany remained asleep or isolated, Donny and Jocasta went to bed on time, and the rest of them carried on through the night

Amber made a pitch to Nicole & Christine, which Christine reported to the guys in HOH, and they decided to boot Amber next after Brittany.. at the same time, Caleb finally told Amber he has a problem seeing her with Cody, in one of the most awkward convos we've ever had on feeds - Flashback 7/19 2.29am.. hilarity ensued, and just kept on going

I dedicate this classic from the late, great Gene Pitney to Caleb on this lonely Friday night

Remember to click "previous Hamsterwatch episode" up top to see what came before, and/or check the Updates section for real-time feeds updates & caps by @UgotBronx, and/or get the feeds
to watch it unfold for yourself



Pinkies crossed (Thursday 7/17)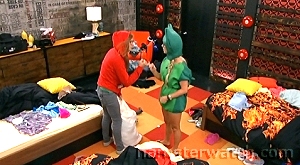 Team Nicotine put pinkyswear #9 on the tally the other night, swearing they wouldn't tell anyone about their plan to vote to evict Caleb tonight.. it was Christine's idea and Nicole thought it was a great one, as do I.. it was a foregone conclusion that Devin would go out on a unanimous vote and Caleb had sworn to go beast mode if it wasn't.. Nicole & Christine figured their hinky votes would get blamed on Donny, Jocasta and/or Victoria, which would give this new week something interesting for them and for us - here's hoping they stick with the plan

Alas, it didn't happen, and Devin went out on a unanimous 11-0 vote.. they were paired up for the HOH comp and Frankie & Cody won - it was passing eggs through chicken wire, with a devil/heavy metal theme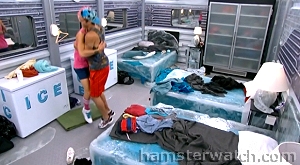 Frankie & Cody went airborne in their celebrations, and most of the others were happy with the results too.. Brittany was one of the ones who weren't, and a new Bedgate happened when they tried to figure out where they were all going to sleep: Brittany didn't want to have to share with Victoria, she was afraid of being nominated, she was homesick, and I don't know what all else but she stomped a bit and cried off & on for a long time.. Zach launched an impromptu talent show that was rather fun - Flashback 7/17 10.45pm.. it turns out Frankie does a pretty good Zingbot impression, good enough that Zingbot trended USA for a little while on Twitter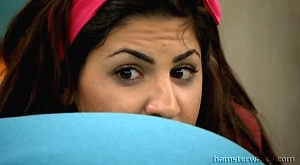 Junk food was revealed and letters were read, Cody's from "daddio" and Frankie's from "Ari" (plus childhood pics) - Flashback 11/17 11.46pm.. Have-nots had their traditional midnight feast, and Team America (fuck yeah) got their task to try to get a "physical threat" nominated - they decided to go for Amber.. late-late night noms talks sounded like Frankie will put up Amber & Victoria, and Cody will put up Brittany & Jocasta - the guys all more or less agreed Donny will be their real target.. keep all that in pencil, obviously

Remember to click "previous Hamsterwatch episode" up top to see what came before, and/or check the Updates section for real-time feeds updates & caps by @UgotBronx, and/or get the feeds
to watch it unfold for yourself



Ratings - Deathrace 2014 edition
Ratings are Thursday's for now, based on hair

as

and entertainment value
VTE = Voted to evict




Julie looked lovely on Thursday's show, but the fishies are fabulous this year. I'm curious why they decided to make Jocasta their punching bag this week but I guess it's not BB until someone pukes on the air show. No points for withholding the HOH comp from us, but it was nice to get a new loop of Jeffish clips, even if it was extra screechy.






VTE Devin
Nominated by Frankie - won BOB
She's got the most versatile hair, from natural curls to piled up mop to straightened sleek. She's doing more cuddling with Cody, some of it in front of Caleb, so he'll be retelling that for the next few days. CBS pushed a #LoveTriangle hashtag during the show, which was awkward for all.






VTE Devin
NOMINATED
Her trademark tight high bun is almost always present, and she looks very nice when her hair's down and styled, but when she does her tease 'n curling iron routine, look out. She had a hissy-fit and a half but kept repeating 'I'm not mad!' when she clearly was, giving it that comical edge. Then she cried for a long time in her bed, but she pulled it together to lay a very nice table for the Have-not feast, putting her event coordinator skills to good use.






No vote (nominee)
He got a haircut from Derrick that turned out pretty well, even if it did make him look like a little kid. His estrogen problems were causing him boobie pain, which may be why he wasn't as vocal as usual.. or maybe it was because his hunger was finally sated and/or he's finally accepting that Amber's just not into him. Either way, he didn't clam up completely: he spent a good while telling them all about his nominee speech, as if they hadn't just heard it a few minutes earlier.






VTE Devin
She's got very nice hair, and it's all her own. Nicole curled it for her for the show, but I remain disappointed they didn't cast their hinky votes as planned - we would have had a much more interesting night if they had.






VTE Devin
HEAD OF HOUSEHOLD
He's got a good head of hair and he probably won't turn up often in #Deathrace2014. I don't know what he'll think about TAFY pushing Amber for one of the noms, but we'll see how it unfolds.






Won: $5,000
TEAM AMERICA
No vote (HOH)
His hair is a non-issue and he probably won't land in #Deathrace2014 once, but his cop skills are another matter. It seems way too easy for him to get them all to do his bidding and I keep thinking that criminals he interrogates might just throw their hands up and yell 'Okay, I'm guilty! Cuff me already!'






Won: $5,000
TEAM AMERICA
VTE Devin
His beard is a star but the guy behind it is a superstar who can do no wrong. His family was adorable on the show, and girlfriend Christine was lovely. I'm surprised they left in the bits where his parents, mom especially, said they don't watch or like the show - hilarious!






Won: $5,000
TEAM AMERICA
VTE Devin
Deposed HOH
His hair's got a tri-color thing going on now that makes him look like a Neapolitan ice cream cone. Everyone wondered if he'd get photos of Ariana if he won HOH and now we know: childhood pics. Among this cast of many goodie-goodies, he stands out with his raunchy humor and 'WHO WANTS TO SEE MY PENIS' gags. I don't know if that's a good thing or not.






VTE Devin
His hair usually has two speeds: loose and flowy or small tight bun. He wasn't a big feature in Thursday night's festivities, proving that he's learning to lay low.. it's working out pretty well for him.






VTE Devin
Nominated by Frankie - won BOB
Her hair usually looks fantastic, and when it doesn't, she wears a hoodie. It's going to be a challenge to catch her hair in Deathrace condition, but it could happen. I honestly don't know why they dragged her through the pukey/teary mud for two shows now, but it all happened so it's fair game.






Won: 1 week frog
VTE Devin
Her frog kept her out of the running for #Deathrace2014 all week, and she'd been in the lead. Her hair is huge, and while it looks really good when styled, it's a crazy fun heap most of the time and now we're going to be able to get back to that. She was hilarious tonight with her secret smiles every time Brittany said 'I'm not mad!' See Christine: I wish at least one of them had stuck with their hinky vote plan.. maybe next time.






VTE Devin
NOMINATED
She keeps her extensions in pretty good shape (especially compared to some we've seen), but her single braid is so thick it looks ridiculously fake. She was the topic of several awkward convos tonight that got a hundred times more awkward when she walked in, and she kept doing it. Even better, they got her to retell her crow and hamster stories again! Comedy gold.






VTE Devin
You wouldn't think this guy would have any relationship with #Deathrace2014 at all, but then he puts on his hats and that same little tuft of hair jumps out every time. He was hilarious tonight with his impromptu talent show, requisite twerking, and random funnies throughout. I've said before he seems like he got Dr Will's playbook but he only read the chapter titles, and his 'I hate you all' on the live show was a good example of that.. surely there's a chapter titled 'I Hate You All' or would be, if Dr Will wrote a playbook.






EVICTED 11-0
Won: Nothing
He has a daughter.






Evicted 10-2
Won: Nothing
I kept hoping for the spitfire she plays on Twitter & Instagram to show up but it didn't until the veto meeting blowup. She was well on her way to being a perma-pawn but she stressed about not being able to win comps, and then Devin happened and out she went. She had a lot of entertainment potential and while we were robbed of most of it by her early exit, we'll always have CALTORU.






TEAM AMERICA FAIL
Won: Nothing
She blew up her game prematurely and spectacularly, and then her alter ego Alex and his 'big ass balls' sealed the deal. Supposedly she beat someone with 150k Twitter followers (plus 15 million backup) in a public vote, but that went splat just like BB12's saboteur Annie. Joey was lively and personable, a worthy member of the first out club, and she easily leads the pack of hamsters with unnatural hair colors.







Linking to any page here is fine. Please don't repost content from this site (or any other) without permission, and don't repost or hotlink images.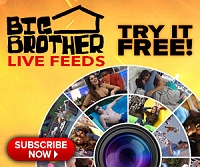 The real show is on the feeds





TEAM AMERICA VOTE


Who should Team America put on the block? Polls are closed
Someone they believe is a floater
> Someone they believe is a physical threat







FEEDSTER VOTE


What food supplement should the Have-nots get? Polls are closed
Hot sludge sundae (40%)
> Deep fish pizza (60%)







RATINGS WATCH


Thursday's live show won the hour with 2.1 rating, 8 share, and 6.03 million viewers, ahead of Gang Related on FOX with 0.9/3/2.69, Rookie Blue on ABC with 0.9/3/5.31, and Welcome to Sweden and Working the Engels on NBC with 0.8/3/2.85 and 0.6/2/2.07 respectively.








Clicky: caps sorted by day - all caps

SEASON STATS
HOHs in order, *indicates the surviving HOH
Frankie/Caleb*, Amber/Devin*, Nicole/Derrick*, Cody*/Frankie

BOB wins in order
Brittany/Victoria, Hayden/Nicole, Amber/Donny, Amber/Jocasta

Veto wins in order
Donny, Devin, Donny

Evictions in order
Joey 13-0; Paola 10-2; Devin 11-0

Evictees on Twitter: @JoeyVanPelt1, @paolashea



BBQ Smackdown Scorecard

Big Brother 15
Round 1: BBQ 1, Helen 1, Jessie 0
Round 2: BBQ 1, Helen 0, Jessie 0
Round 3: BBQ 1, Spencer 0
Round 4: BBQ 1, Spencer ½, Judd 0, McCrae 0

Big Brother 14
Round 1: BBQ ½, Dan 0

Big Brother 13
Round 1: BBQ ½, Adam ½, Rachel 0
Round 2: BBQ ½, Adam 0
Round 3: BBQ 1, Rachel 0

Big Brother 12
Round 1: BBQ ½, Brendon 0
Round 2: BBQ 2, Britney 0, Lane 0
Round 3: BBQ 1, Lane 0, CBS 0

Big Brother 11
Round 1: BBQ 0, Jeff 0
Round 2: BBQ 0, Jeff ½
Round 3: BBQ ½, Kevin 0, Michele 0


Big Brother 10
No title events

Big Brother 9 Winter Edition
Round 1: BBQ ½, Ryan 0
Round 2: BBQ ½, Adam 0
Round 3: BBQ ½, Ryan 0

Big Brother 8
Round 1: BBQ 1, Dick 0
Round 2: BBQ ½, Zach 0
Round 3: BBQ 0, Dick 1

Big Brother 7 All-Stars
BBQ training sabbatical

Big Brother 6
Round 1: BBQ 1, Ivette 0
Round 2: BBQ 0, Howie 0

Big Brother 5
Round 1: BBQ 1, Cowboy 1, Drew 0
Round 2: BBQ 1, Drew 0, Diane ½
Round 3: BBQ 1, Cowboy 1, CBS 0, Nakomis 0



EXTRACURRICULAR TALLY
House meetings - 4
First eight, on premiere #1
Joey's, semi-formal 6/28 5.56pm
Devin's 7/2 11.18pm
Devin's Bomb Squad 7/5 5.47pm

Fights - 3
Devin vs Brittany 6/29 12.21am
Devin vs Caleb 7/5 3.06am
Zach vs Paola 7/7 3.10pm

Pinkyswears - 9
Paola & Devin 6/29 1.35pm
Paola & Devin 7/4 12.15am
Paola & Donny 7/4 8.06pm
Devin & Victoria 7/6 10.49am
Jocasta & Amber 7/10 7.57pm
Derrick & Victoria 7/12 8.37pm
Nicole & Christine 7/13 1.24am
Nicole & Hayden 7/15 12.07am
Nicole & Christine 7/15 11.05pm

The Soup mentions - 2
-Donny's smarts
-Donny's America + Devin/Caleb cuddling

Almost literal asshats - 1
Zach 7/5 6.08am

CBS goofs - 9
- Happends
- Jill, for the 2nd year
- Premiere 2 wasn't live
- Misspelled Jocasta 6/29 show
- Flashback calendar's off
- Joey left before trackers came but got 1st place anyway
- Forgot TA results 7/10 show
- Pointless edit amputated Caleb's toes 7/10 show
- Misspelled Jeff's name 7/10 show