This site is about the Big Brother 16 feeds and contains spoilers! It isn't necessarily thorough: it's what I catch and/or what interests me, and it isn't necessarily about who will win, who should win, who's cute or who's horrid. It's about watching hamsters: who's doing what and why. Thanks for encouraging my behavior.
Your pal, dingo







QUICK LINKS & BOOKMARKS



-View or buy BB16 live feeds

-Live feed updates
-Hamsterwatch chatroom
-McCrae Olson videos & blog
-Amazon portal USA or Canada
-VPN for international viewers
-Hamsterwatch Twitter - Twitpic
-BB16 official site
-Hamster Twitters
BB USA - BB Canada
-East Coast air show feeds
1 - 2 - 3 - 4 - 5 - 6 - 7 - 8 - 9







POWER STATUS


Paola evicted 10-2
Derrick is Head of Household
Caleb, Jocasta are nominated
Nicole's a frog for 1 week
Nobody is Have-not

Nicole is deposed HOH
Her tributes were Amber, Donny

Donny, Derrick, Frankie are Team America (fuck yeah)
Task 1: Get three to repeat rumors that Zach's related to BB15 Amanda







UPCOMING EVENTS


Saturday: Veto comp, Have-nots
(I'm guessing, new comp schedule is still unclear)

Monday midnight: Team America task deadline

Next show
Sunday 8pm: Nominations, BOB comp, assorted drama



Save 20% on orders over $29 with coupon code AFFILIATE20
Big Brother plus other CBS shows - shop now!





BB16 DRINKING GAME


Take a swig whenever Frankie hugs someone - take two if he jumps on them




Donations via Paypal are gratefully accepted!






BIG BROTHER SEASONS



Amazon DVDs BB4 - BB3

Amazon Instant Video BB15
- BB14
- BB13
- BB12
- BB11
- BB10
- BB9
- BB8





BB16 FAQ


Feeds are streamed by CBS.

Call 877-211-4367 for account help, including password reset or to cancel subscription.

CBS shows are Sundays 8pm, Wednesdays 8pm, eviction Thursdays 9pm (Global in Canada).

Big Brother After Dark is on TVGN (Slice in Canada) three hours Mon/Tues starting 11pm, two hours Wed/Fri/Sat/Sun starting midnight; and two hours Thurs starting 1am.

BB16 prizes are the same: $500k for the winner and $50k for 2nd place. Stipend for the others is $1,000 per week, including pre-show hotel and jury sequester. Frankie might get more.

The habitat has 76 cameras (up 11, and now high def) and 100 microphones (up 2).

The recorded in-house announcements are the voice of producer Don Wollman.





>> >> >>
>>
ALL AMAZON.COM PURCHASES MADE THROUGH THESE LINKS HELP SUPPORT THIS SITE
Amazon USA
- Amazon Canada
The backdoor gets propped open (Friday 7/11)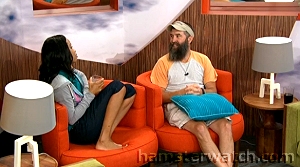 Derrick nominated Jocasta and Caleb (who he'd gotten to volunteer last night), and Nicole nominated Amber as a "safe" retaliation nom and Donny, because of something he said this morning? Nicole basically ran out of candidates since Derrick got dibs on Jocasta somehow.. earlier Victoria had been warned about the possibility of going up and she didn't take it well.. sending Devin home as renom remains the plan, at least as far as anyone's saying out loud, and Devin's aware of that

Team America (fuck yeah) discussed their assigned task, with Derrick & Frankie filling Donny in on the particulars.. they decided to attempt to spread a rumor that Zach is related to BB15 Amanda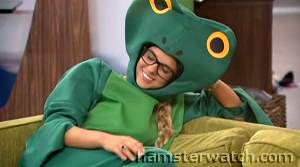 Amber & Donny won the BOB comp, which was a puzzle of some sort, meaning they're safe this week and Nicole is in jeopardy, potentially.. she's also a frog for a week, and not thrilled about it - somebody needs to tell her costumes are one of the things that make hamsters memorable long after their season is over

Jocasta fell ill, possibly from the comp and the heat.. Caleb helped her to the bathroom to vomit, a crowd gathered, and Caleb, Donny & Amber all helped her get settled back in her bed.. it sounded like she saw the doc who said she was severely dehydrated plus heat exhaustion (on top of her well-documented poopy problems) - they said the comp was hot and she was being yanked up and down on a cable.. Hayden was also seen for his bleeding gum problems

The rest of the day was a lot of psst-pssting and Hayden making frog jokes, plus Brittany continuing to try to figure everything out, and Derrick explaining all to everyone, planting jury seeds along the way



Slop sick (Thursday 7/10)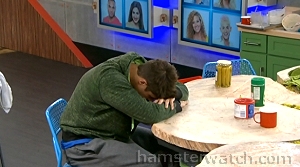 The combination of slop, too much sleep in poor sleeping conditions, and being nominated looked like it had taken a toll on Zach as they primped, listened to Devin's daughter speeches, and waited for Julie to say "hello houseguests".. this whole slop thing has really run its course: I wish they'd come up with something that doesn't knock them out so badly

After a juicy edit of the veto meeting festivities, Paola walked the plank on a 10-2 vote, and Nicole & Derrick finished one-two in the HOH comp, which was croquet with a sea monster theme



Nerds unite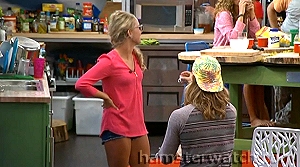 After the show, Nicole had another celebration dance in the pantry, this time with Victoria.. Brittany went into hardcore gaming mode, as did Caleb, and Jocasta.. Devin remained relatively isolated

Hayden made a faux proposal to Nicole, saying "it's not because you just won HOH" - she seemed embarrassed by it and threw his offering, but later faux accepted.. they all trotted up to HOH to see Nicole's & Derrick's photos and goodies, and to hear their letters: Nicole's from her mom and Derrick's from wife Jana - Flashback 7/10 9.52pm.. Nicole's mom sent a dream catcher for the ghosts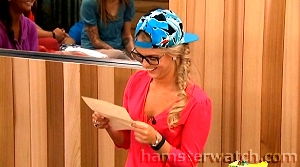 Nicole & Derrick finally settled in to discuss their nominations, and Derrick told some whoppers about his knowledge of and involvement with Bomb Squad.. both of them said they want to get Devin gone, and they maneuvered around the various scenarios most likely to make that happen - Flashback 7/10 11.07pm.. they pretty much agreed on keeping him off the block for round one in order to put him up as veto renom for certain eviction - Derrick pushed for that a bit harder than Nicole, who wasn't sure if that was the best way to go or not

They went through the names and more or less settled on Derrick planning to put up Caleb and Jocasta, and Nicole putting up Amber and someone else yet to be determined - that plan would have the bonus of keeping Caleb and Amber separated comp-wise.. neither thought they could/should put up Frankie because "he's in with EVERYONE" (which would seem the ideal reason/excuse to put him up if you ask me, but they didn't).. they wound up by saluting us, their fellow feedsters, because they finally got together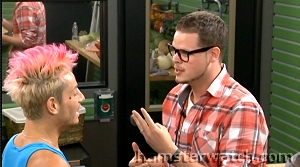 Have-nots feasted at midnight, enjoying it as much as they always do.. nom rounds carried on, with a masterful dance by Derrick to get Caleb to volunteer to go up with Amber - Flashback 7/11 2.05am.. this after Caleb expressed anger about Cody rubbing on Amber.. a bit later, Derrick told Frankie they've been given their first Team America (fuck yeah) task: to get three others to spread a rumor that someone's related to a former hamster - Flashback 7/11 2.42am.. they have until Monday midnight to pull it off, and they agreed to tell Donny about it in the morning.. Truth or Dare broke out around 3.48am

Remember to click "previous Hamsterwatch episode" up top for what came before.. @UgotBronx has all the play-by-plays in the Updates section, or you can get the feeds
to watch it unfold for yourself



Ratings - I Can't Believe It's Not Butter edition
Ratings are Thursday's with minor Friday updates, based on entertainment value
VTE = voted to evict




Friday: Yep, the new loop of highlight clips is already old.
Thursday: Big ups for a pretty good edit of this week's fallout, even if they did leave out Frankie's part in all of it. Jeffish also had some much-needed new content with a few feeds clips, most of which were fluff yet fun, and they seemed to be from those phantom days before the feeds actually started. Like the interview bits, this new loop of clips will get old fast, but maybe they're going to keep updating them as we go. They make it even harder to tell if live feeds have actually come back when you've got it running in the background, but at least they're listening to us.






VTE Paola
NOMINATED - WON BOB
Friday: She did a good job on the Puking Committee and seemed genuinely concerned about Jocasta, which was good to see.
Thursday: She's barely there for the most part, but letting Cody rub her back and shoulders was fun, especially when Caleb confirmed he saw it. She was also funny when she appeared to be glaring at everyone during Nicole & Derrick's initial nom talks, and doubly so since she was the first definite name they agreed on after Devin.






VTE Paola
Friday: This everlasting Bomb Squad autopsy of hers has got to stop. She'll never get to the bottom of everything and she needs to stop trying before she makes all of them and all of us lose our minds.
Thursday: Less than barely there today, except when she gametalked at supersonic speed after the show.






VTE Paola
NOMINATED
Friday: If he didn't already have ups for falling on his sword, he'd have gotten them today for being so good helping Jocasta get to the bathroom and back to bed, pukey all the way.
Thursday: Watching Derrick play him like a fiddle was glorious, and it just got better and better as it went on.






VTE Paola
Friday: Still barely there.
Thursday: Barely there tonight. I wish she'd fessed up more/better to Nicole about the Bomb Squad because I was solidly behind Team Nicotine, but that omission might have killed it now that Derrick's got Nicole's ear.






VTE Paola
Friday: Still barely there.
Thursday: Also barely there except for the rubbing incident, which had nice repercussions that might not be over yet.






TEAM AMERICA
VTE Paola
HEAD OF HOUSEHOLD
Friday: He's good, damn good, but he's talking entirely too much and they're going to catch on to him. Or not - some of them aren't the fastest hamsters on the wheel. He 'guaranteed' I'd put a pic of Nicole's frog with her rating but alas, I didn't change them today.. tomorrow for sure.
Thursday: He didn't have 100% success telling Nicole the Bomb Squad was never a 'real alliance', but he made up for it by ever so smoothly convincing Caleb it'd be a good idea to volunteer to go up as nominee, and making Caleb think it was his own idea. Like a hot knife through country butter. Bow down Hamsterwatchers, it appears we may have a new master of the game.






No vote (HOH)
Friday: He seems to have accepted his demise and is trying to be a citizen again, ready to go out on a good note, but they might not let him.
Thursday: He's past his sell-by date.






TEAM AMERICA
VTE Zach
NOMINATED - WON BOB
Friday: Another valued member of the Puking Committee. I don't know what happened this morning that made Nicole decide to nominate him, but something did.
Thursday: A few more good one-liners today, but he goes to bed way too early.






TEAM AMERICA
VTE Paola
Friday: Barely there.
Thursday: Most are falling off the Frankie train fast but I don't mind him, yet. Maybe that's because he kept a lower profile Thursday night than usual. That may have have been because he had a reason to be nervous for the first time, but it resulted in less of his 'on' persona and fake accents, and that's all I ask.






VTE Paola
Friday: Just when you get sick of him telling frog jokes (or whatever his shtick du jour is), he keeps going with it, and it becomes funnier than ever. I don't know how he does that.
Thursday: Acting like a doofus while Caleb fumed at Cody over chess was hilarious, and it may have prevented bloodshed.






VTE Zach
NOMINATED
Friday: I don't like to see any of them ill to the point of a Puking Committee assembling (unless as the result of drunken escapades, of course), and she was really suffering today. Here's hoping she gets some rest, hydrates, and perks up soon.
Thursday: After Devin, Amber & Caleb, she was the first one Derrick & Nicole both agreed they wanted to nominate. I'm not sure why, but I'm not ready to say good-bye to her bow ties, facial expressions, or choir robe/changing room just yet.






Won: 1 week frog
VTE Paola
DEPOSED HOH
Friday: She did some whining about her frog suit, especially having to wear it all week including the next live show, but she confessed a couple times that she's 'secretly stoked' about it, so it's all good. Plus she's adorable in it.
Thursday: She let Derrick explain everything to her that's come before and even though she knew better for some of it, she didn't let on. I think she might let herself be swayed by him up to a point, but she's not as dumb as he (or most of them) thinks she is.






VTE Paola
Friday: Aside from some morning tears over possibly being nominated, it was more of the same from her, and that's not saying much.
Thursday: What exactly is she doing here? Her

biggest

only concern seems to be where her cosmetics are.






No vote (nominee)
Friday: When Derrick was telling Nicole her frog wasn't so bad and that she wears it well, Zach piped up with 'you look ridiculous' - that's our Zach.
Thursday: I still don't really see the appeal that so many do, but I love that he messed up Devin's game and I'm glad they let us see his outburst at the veto meeting. They cut out some of it but that's okay, their many retells filled in those gaps for us.






Evicted 10-2
Won: Nothing
I kept hoping for the spitfire she plays on Twitter & Instagram to show up but it didn't until the veto meeting blowup. She was well on her way to being a perma-pawn but she stressed about not being able to win comps, and then Devin happened and out she went. She had a lot of entertainment potential and while we were robbed of most of it by her early exit, we'll always have CALTORU.






TEAM AMERICA FAIL
Won: Nothing
She blew up her game prematurely and spectacularly, and then her alter ego Alex and his 'big ass balls' sealed the deal. Supposedly she beat someone with 150k Twitter followers (plus 15 million backup) in a public vote, but that went splat just like BB12's saboteur Annie. Joey was lively and personable, a worthy member of the first out club, and she easily leads the pack of hamsters with unnatural hair colors.







Linking to any page here is fine. Please don't repost content from this site (or any other) without permission, and don't repost or hotlink images.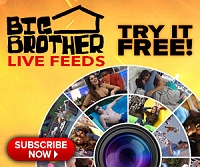 The real show is on the feeds





TEAM AMERICA VOTE


What should Team America do? Polls are closed
Get two hamsters to kiss and then spread rumors they're a showmance
> Get three hamsters to spread a rumor that someone in the house is related to a former







FEEDSTER VOTE


What food supplement should the Have-nots get? Polls are closed
> Offal burritos (50%)
Baddy melt (50%)
currently: The 'Wurst BLT







RATINGS WATCH


Thursday's show won the hour with 2.0 rating, 7 share, and 6.15 million viewers, ahead of Rookie Blue on ABC with 0.9/3/4.94, Welcome to Sweden and Working the Engels premieres on NBC with 0.9/3/3.50 and 0.7/2/2.76 respectively, and Gang Related on FOX with 0.8/3/2.48.








Clicky: caps sorted by day - all caps

SEASON STATS
HOHs in order, *indicates the surviving HOH
Frankie/Caleb*, Amber/Devin*, Nicole/Derrick*

BOB wins in order
Brittany/Victoria, Hayden/Nicole, Amber/Donny

Veto wins in order
Donny, Devin

Evictions in order
Joey 13-0; Paola 10-2

Evictees on Twitter: @JoeyVanPelt1, @paolashea



BBQ Smackdown Scorecard

Big Brother 15
Round 1: BBQ 1, Helen 1, Jessie 0
Round 2: BBQ 1, Helen 0, Jessie 0
Round 3: BBQ 1, Spencer 0
Round 4: BBQ 1, Spencer ½, Judd 0, McCrae 0

Big Brother 14
Round 1: BBQ ½, Dan 0

Big Brother 13
Round 1: BBQ ½, Adam ½, Rachel 0
Round 2: BBQ ½, Adam 0
Round 3: BBQ 1, Rachel 0

Big Brother 12
Round 1: BBQ ½, Brendon 0
Round 2: BBQ 2, Britney 0, Lane 0
Round 3: BBQ 1, Lane 0, CBS 0

Big Brother 11
Round 1: BBQ 0, Jeff 0
Round 2: BBQ 0, Jeff ½
Round 3: BBQ ½, Kevin 0, Michele 0


Big Brother 10
No title events

Big Brother 9 Winter Edition
Round 1: BBQ ½, Ryan 0
Round 2: BBQ ½, Adam 0
Round 3: BBQ ½, Ryan 0

Big Brother 8
Round 1: BBQ 1, Dick 0
Round 2: BBQ ½, Zach 0
Round 3: BBQ 0, Dick 1

Big Brother 7 All-Stars
BBQ training sabbatical

Big Brother 6
Round 1: BBQ 1, Ivette 0
Round 2: BBQ 0, Howie 0

Big Brother 5
Round 1: BBQ 1, Cowboy 1, Drew 0
Round 2: BBQ 1, Drew 0, Diane ½
Round 3: BBQ 1, Cowboy 1, CBS 0, Nakomis 0



EXTRACURRICULAR TALLY
House meetings - 4
First eight, on premiere #1
Joey's, semi-formal 6/28 5.56pm
Devin's 7/2 11.18pm
Devin's Bomb Squad 7/5 5.47pm

Fights - 3
Devin vs Brittany 6/29 12.21am
Devin vs Caleb 7/5 3.06am
Zach vs Paola 7/7 3.10pm

Pinkyswears - 5
Paola & Devin 6/29 1.35pm
Paola & Devin 7/4 12.15am
Paola & Donny 7/4 8.06pm
Devin & Victoria 7/6 10.49am
Jocasta & Amber 7/10 7.57pm

The Soup mentions - 2
-Donny's smarts
-Donny's America + Devin/Caleb cuddling

Almost literal asshats - 1
Zach 7/5 6.08am

CBS goofs - 9
- Happends
- Jill, for the 2nd year
- Premiere 2 wasn't live
- Misspelled Jocasta 6/29 show
- Flashback calendar's off
- Joey left before trackers came but got 1st place anyway
- Forgot TA results 7/10 show
- Pointless edit amputated Caleb's toes 7/10 show
- Misspelled Jeff's name 7/10 show