This site is about the Big Brother 11 feeds and contains spoilers! It isn't necessarily thorough: it's what I catch and/or what interests me. It also isn't necessarily about who will win, who should win, who's cute or who's horrid. It's about watching hamsters: who's doing what and why, who's fun and who's dull. If they aren't entertaining, get rid of 'em! Thanks for encouraging my behavior.



DON'T MISS THE FIRST DAYS
Sign up for the feeds
to see it all as it unfolds
BIG BROTHER 11 on iTUNES







BB11 DRINKING GAME


Take a swig whenever feedmasters zoom in on Lydia's tattoos







POWER STATUS


Jessie is Head of Household
Lydia & Chima are nominated
Russell Lovemuscle holds veto
Team Brain is on slop/jail/cold showers







RATINGS WATCH


Thursday's premiere won its timeslot with a 2.2 rating and 8 share, ahead of 'Bones' on FOX with 1.4/5, '30 Rock' on NBC with 1.2/4, and 'Samantha Who?' on ABC with 1.0/4 (adults 18-49)




Donations are gratefully accepted through Paypal using the button above or direct by email. Please support other Big Brother sites that you like, too. Many thanks!







UPCOMING EVENTS


Veto meeting might be Sunday? Monday?

CBS shows are Sundays at 8, Tuesdays at 9, and live evictions Thursdays at 8

Ross (The Intern) Mathews will do post-eviction shows every Friday

Express Lunch with MissyZ and BB8 Chelsia Hart is on SuperPass Thursdays & Fridays at noon Pacific/3pm Eastern. Call-in number is 1-877-576-3348.

I am hoping we'll have weekly visits from Craig Ferguson again (even though they've revived the 'no outside contact' catchphrase)








FAQ


There are four teams: Populars, Jocks, Brainiacs, and Offbeats.

Teamies of the HOH cannot be nominated.

Comps determine living conditions for the teams. The losers live in the Jail room with lights always on, cold water showers, and slop.

Viewer votes will determine one additional food item the sloppers can have.

The habitat has 52 cameras and 80 mics.

The recorded Big Brother in-house announcements are the voice of producer Don Wollman







Day 6 - July 10, 2009


>> past >> present >> future >> all

>>

Jessie is Head of Household - Chima & Lydia are nominated - Russell won veto

<<

>> Tweeting Big Brother since BB8 - click to see all or follow - latest:



Too late to back out now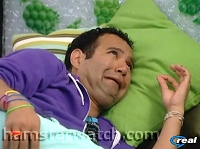 Too late for them, and for us.. not that Kevin wanted to, it's just that he was so rarely on the feeds today, I snapped him when I had the chance

So far, today's been mostly a lot of psst-pssting and trashing behind backs, which is part of what we love about this mess.. the habitat is roughly divided as expected/planned: Team Jock & Team Popular versus everyone else, but there are lots of double agents too

Russell Lovemuscle won the veto in a comp that included spelling, which they completed in a record two hours



Feeds highlights






If you have SuperPass you can watch anything you missed, or see it again.. just enter the date, time and feed on the FlashBack page

7/10 - 9pm - F1 - Jeff's hissy fit about Russell Lovemuscle (halfway thru)
7/10 - 10pm - F1 - Jeff explains his anger to Lydia
7/10 - 11pm - any - Group discussion & poll about anal sex
7/11 - 12am - F1 - Chima tells her story about being raped by a serial killer (begins a few minutes before) - History Channel article
7/11 - 2am - F3 - Lydia & Natalie catfight in HOH

Recent random caps of the day - click thumbnails to enlarge or click here to see more


Daily Ratings - First Veto edition






Ratings are based on entertainment value, and there isn't much yet.. as hard as some of them are playing, they're playing it as a game - it doesn't become life & death until after the first eviction



They can't really afford to lose Lydia or Chima yet, but one or the other seems inevitable now, and then who's next? Are we going to have a repeat of last season where the most entertaining of them were gone early and we were left watching paint dry? I sure hope not. They debuted their pretty new splash screens during the veto comp (with the same tired music), but I have to hand it to them for pulling off a veto comp in two hours - especially their first one. I won't even mention the Jessie situation, because I've put him on ignore. Ups are for a short interlude by our favorite feedmaster, who panned back & forth a few times between the SHALLOW sign on the Swim room wall and Braden, and then Jordan.





Team Popular

He started off great with pink swim fins and snorkel mask, but that's about the last interesting thing he did that I'm aware of. Pretty boy needs to step it up.



Team Offbeat

He put on a pink wig with a basketball net or something on top of it, and that's about the last interesting thing he did that I'm aware of. Mingle Mixx also needs to step it up.





Team Brain
NOMINATED

She told her shocking true story of being raped, beaten, and nearly murdered by a serial killer tonight, and she made it obvious that she hasn't let it turn her into a professional victim. She might not have wanted to tell it so soon, and some of them might think she did tell it (or made it up) for votes, but it is true and her resiliency shows she's a very strong person. However, she complained that she didn't know BB would be 'like this' which is surprising, considering there's only one small degree of separation between her and BB4/7 Erika Landin who, coincidentally (or not), is now involved with reality TV casting.





Team Jock

I'm still not sure why he & his teamies hate each other but he gave us our first hissy fit cussfest of the season when he went off about Lovemuscle after the veto comp, with more F-bombs in a shorter time than we've heard in there in a long time. A little later he talked about it a bit, and then it was over and done with, so we not only know he recovers quickly, but we now know he's in there.





Team Jock
HEAD OF HOUSEHOLD

He's on ignore again, just like last year.





Team Popular

She earned ups for getting nekkid and being oblivious to the cameras & one-way glass surrounding her, because a lot of feedsters appreciate that, but she's neutralized by being AWOL the rest of the day.. maybe she got the day off for showing her junk. Where's our TMI Queen when we need her?





Team Offbeat

I wasn't looking forward to the overblown stereotype we were promised in the pre-season, and he seems calm and down to earth when he's not on-camera (using the term lightly), but I was expecting he'd show up now and then. He did get a few minutes of airtime talking about his fear of rejection, so when it's his turn to be nominated it could get interesting.





Team Popular

She moped for the first night and day of feeds, with a bit of whining today about how she's all alone and has no one in there (so much for being 'Popular' and 'using her looks'?) But then she came to life after the veto comp, with a high energy transparent campaign in hopes she wasn't going to become the next nominee. And then it was over. It's not much and not really worthy of ups, but we don't have much to work with yet.





Team Offbeat
NOMINATED

She was topless when Jordan was bottomless and she's working hard around the clock on almost everyone. And when she's not working, she's eavesdropping. She cried again a few times during her rounds, and bitched & griped with the best of them - wearing a gigantic white flower on her head for most of it. CBS might have some fun with that. She's a unique character and could prove to be a great hamster, but she's playing way too hard, way too soon and that might be her undoing.





Team Brain

She's still in there, being brainy.





Team Jock

She sat around patiently all day, bottling up her gripes about everything & everyone, and when it got late and she started to let them out, she ended up in a spat with Lydia that was a fun topper to the day - until spotlight grabber Jessie took over anyway.





Team Brain

He's also playing too hard and too fast, and he should know better. It's fun watching him test them though, by asking things like 'Do you think winning the veto if you're not on the block is a lot of pressure?' and asking Jessie if he happens to know how many laps of the pool would be needed to do a mile.





Team Jock
HOLDS VETO

I don't know what happened in the Haves vs. Have-nots comp but we know he didn't lose it, and now he's won 2 of the 2 real comps they've had. That's not shabby at all, but he's still not very entertaining so far, despite having his own nekkid flash today.






Didn't make it through the front door:
BB10 Brian Hart
BB8 Jessica Hughbanks
BB5 Michael Cowboy Ellis

Please do not repost any content from this site (or any other) without permission, and do not repost or hotlink to any images
!! THIS MEANS YOU !!

DON'T MISS A THING

Free trial- includes FlashBack
No time-out feeds links - FlashBack







GET TWITTERED! FREE TEXT ALERTS
Get free Hamsterwatch updates to your cell phone! Follow me at my Twitter page or text 'follow hamsterwatch' to 40404 (21212 in Canada). Click for more info.



LINES OF THE DAY

Braden: Give me an hour - let me be funny after I wake up

Laura: I don't really have anybody in this house, I don't have a little clique

Big Brother: There are over 300 species of turtles alive today

Jeff: My naps are six minutes each

Lovemuscle: It's a normal dictionary - I went through and read a couple chapters

Jessie: He was quiet as nails

Michele, about abs: I probably have a sixpack underneath it all

Chima: When I'm watching all these other shows, none of this is happening!

Jessie: People on the live feeds probably hate us because we're boring






Click to see my full list of BB11 links
These are some of my favorites:

24/7 feeds - free trial see everything that happens before it gets edited into something else for tv

No time-out feed links including set-up how-to, plus Real contact info

SuperPass FlashBack instant replay by time/date/feed (requires SuperPass)

Hamsterwatch Twitter - Twitpic

Hamsterwatch Chatroom

Hamsterwatch Forum

BB adult/explicit links - already updated for BB11!

CBS Big Brother 11 the official site

DogDave BB11 aka Aldav scouts all the BB sites so you don't have to: all the news, edgy stuff & the best mini-recaps in town

Attw x's houseguest tributes all seasons fun & reference by BB's number one fan

Sir LinksALot Big Brother 11 all the links, once again

BuddyTV - Big Brother 11 TV supersite with news, articles, discussions







EXTRACURRICULAR TALLY



Naughty past that may have surprised the producers: 1 (Braden)

Shocking true stories: 1 (Chima)

'The Soup' mentions:
1 (Wedgie comp + Jessie)