This site is about the Big Brother 11 feeds and contains spoilers! It isn't necessarily thorough: it's what I catch and/or what interests me. It also isn't necessarily about who will win, who should win, who's cute or who's horrid. It's about watching hamsters: who's doing what and why, who's fun and who's dull. If they aren't entertaining, get rid of 'em! Thanks for encouraging my behavior.



DON'T MISS THE FIRST DAYS
Sign up for the feeds
to see it all as it unfolds
Big Brother 11 on iTunes







BB11 DRINKING GAME


Premiere event: take a swig every time Julie says 'but first' - everyone's still sober







POWER STATUS


Jessie is Head of Household
Lydia & Chima are nominated







RATINGS WATCH


Thursday's premiere won its timeslot with a 2.2 rating and 8 share, ahead of 'Bones' on FOX with 1.4/5, '30 Rock' on NBC with 1.2/4, and 'Samantha Who?' on ABC with 1.0/4 (adults 18-49)




Donations are gratefully accepted through Paypal using the button above or direct by email. Please support other Big Brother sites that you like, too. Many thanks!







UPCOMING EVENTS


It's aawwwwnnnn

Veto comp is Friday? Saturday?

CBS shows are Sundays at 8, Tuesdays at 9, and live evictions Thursdays at 8

Ross (The Intern) Mathews will do post-eviction shows every Friday

Express Lunch with MissyZ and BB8 Chelsia Hart is on SuperPass Thursdays & Fridays at noon Pacific/3pm Eastern. Call-in number is 1-877-576-3348.

I don't know for sure but am guessing/hoping we'll have weekly visits from Craig Ferguson again (even though they've revived the 'no outside contact' catchphrase)








FAQ


There are four teams: Populars, Jocks, Brainiacs, and Offbeats.

Teamies of the HOH cannot be nominated.

Comps will determine living conditions for the teams. The losers will live in the Jail room with lights always on, cold water showers, and slop.

Viewer votes will determine one additional food item the sloppers can have.

Promises of a 'green' habitat have apparently been grossly exaggerated: they still have the washer & dryer (rats!) not to mention tons of TV lights, but they did get recycling bins and a compost machine.

Feeds have a new replay option with the ability to select a date & time to see what you missed - or to rewatch what you just can't believe and have to see again!

The habitat has 52 cameras and 80 mics.







Day 5 - July 9, 2009


>> past >> present >> future >> all

>>

Jessie is Head of Household - Chima & Lydia are nominated

<<

>> Tweeting Big Brother since BB8 - click to follow - latest:



Operation Sexbomb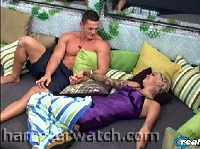 That's the name Lydia & Kevin came up with to get her off the block, and she worked it hard with serial cozying campaigns through the habitat

She seems to have as many alliances going as BB10 Brian Hart, and we all know how that turned out

Jessie's tweeting from BigBrotherHOH as will future HOHs, but don't bother to reply - they won't see them.. they all did an impromptu beauty pageant thingy in the backyard after Showtime signed off, that was really quite fun - a few caps of that are in the forum.. they all strutted their stuff, like they do, and Casey was a decent emcee, but the real surprise was Michele who really worked it



Feeds highlights






The timestamping is off on the FlashBack feature, but meanwhile these are good tidbit segments from this first night of feeds - times are actual/BB time, to be adjusted if I figure out their system

7/ 9 - 11pm - F3 - First tears of the feeds (Lydia), and Operation Sexbomb on Jessie
7/10 - 12am - F3 - Beauty pageant show

Other random caps from the evening are on my Twitpic



Welcome back, Hamsterwatchers




GET YOUR FEEDS ALREADY
It has begun

If you're just arriving here this season, I've already posted a few Hamsterwatch episodes with news, rumors, and links to what our new hamsters are about.. please to enjoy

If you're a feedster, you know it's urgent you be watching these first days, as deals & alliances have already been made that will affect the rest of the season - not to mention learning who's who

Join us in the Hamsterwatch Chatroom evenings to point and laugh, and say WTF?



Daily Ratings - Here We Go edition






Ratings are based on entertainment value.. this is where the bulk of the haps will be this season



Even though they unfollowed me on Twitter, I'm giving them ups for being back, for giving us a good premiere without a lot of unnecessary fluff, and for Julie cutting down on her 'but firsts' so we could all stay sober. Also we didn't have to have 2 hours of feeds without audio (remember last time?) and there were only a couple momentary fishies all night. The Jail room was a brilliant idea but unfortunately it doesn't have the lights on 24/7 as promised - boo! The bubble wrap wall with the green recycle arrows looks surprising cool on the feeds - but don't try it at home.





Team Popular

I didn't see much of him and have no idea what his voice sounds like. We saw a lot of that dazzling actormodel smile in the pre-season, but tonight he was all goofy expressions.



Team Offbeat

I was all set not to like him but he was a decent emcee for the beauty pageant, and we need one of those. When he went up for his turn to spin and moonwalk, the rest of them were at a loss as to what to say.





Team Brain
NOMINATED

Something happened to get her nominated but I don't know what, and I didn't see any indication tonight of the fireworks she promised. She laughs at herself too much and too loudly, but I think she's playing the game - I'm just not sure who with.





Team Jock

His teamie Natalie hates him.. that's all I got.





Team Jock
HEAD OF HOUSEHOLD

Yep, he's back, and the vast majority of the BB interwebs are asking why?? He started tweeting tonight, so there's no excuse for you not to. He's still full of Jessie-isms but he's still full of himself too.





Team Popular

This girl's funny: she can talk about any subject and run off down tangents you never saw coming. She said in pre-interviews that she waitresses at a bowling alley, but tonight she said she'd also worked at Hooters - surprised? Her stories might get annoying but for now, they're pretty funny to listen to. It's looking like Lydia's the only one who can shut her up, and that's by out-talking her.





Team Offbeat

Mr. Fabulous kept a disappointingly low profile on this first night of feeds, so I'm still not at all sure what he's about behind the flamboyance. He did urge Lydia to go out and set Operation Sexbomb into action, so the two of them might be actual allies, but it's too soon to know for sure who's lying through their teeth.





Team Popular

She was mostly subdued and seemed almost gloomy most of the times I saw her, except when it was her turn to strut her bikini for the pageant. She said she cried last night but I don't know why, and she got a little snippy when Jordan & Lydia decided to wear lingerie for tonight's debut - I bet she wishes she'd thought of it first.





Team Offbeat
NOMINATED

Qualified ups because she's one of the busiest hamsters we've seen since BB6 April and BB5 Diane, and she cried within two hours of the feeds kicking on, but she might get irritating if she keeps gaming this hard. Or evicted. Operation Sexbomb was all go tonight though and wow did she make a lot of rounds, using different tactics with everyone she cozied up with.





Team Brain

She's laying very low but she surprised everyone by doing a full-out bikini hoochie dance during the pageant show - nobody saw that coming from the neurobrainy. I don't know where she stands as far as the game, but I have high hopes that she knows what she's doing in there.





Team Jock

She spent half the night counting votes - and they haven't even had the veto comp yet! Even Jessie, who listened to Michelle harangue about game all last summer, told her stop talking game when they were holed up in HOH after lights out. She seems to be all game, all the time - and that's never my cup of tea.





Team Brain

I was a little disappointed that he wasn't as fun & perky as he'd led us to believe he would be, but he salvaged that by telling a funny story about being jealous & angry when he found out his wife had a friend named Tom on her MySpace. He spent a long time with Lydia as one of her Operation Sexbomb victims, then an hour or so with a harem of girls in the spa/gym, and then went up to compare notes with Jessie, so he's working a lot of them too.





Team Jock

I have no idea what Lovemuscle brings to our table.






Didn't make it through the front door:
BB10 Brian Hart
BB8 Jessica Hughbanks
BB5 Michael Cowboy Ellis

Please do not repost any content from this site (or any other) without permission, and do not repost or hotlink to any images
!! THIS MEANS YOU !!

DON'T MISS A THING

Free trial- includes FlashBack
No time-out feeds links - FlashBack







GET TWITTERED! FREE TEXT ALERTS
Get free Hamsterwatch updates to your cell phone! Follow me at my Twitter page or text 'follow hamsterwatch' to 40404 (21212 in Canada). Click for more info.



LINES OF THE DAY

Craig Ferguson to Julie Chen: Have you got a whole bunch of new skanks & ho's?

Julie: Step into your underwear and grab your toilet seat

Jordan: Booger means sex

Chima: This live feeds thing is weird - this whole time we hadn't been watched

Casey: Best looking season ever!

Lydia: I hope everyone in the hot tub drowns

Jessie: I do like taking naps

Jessie: Our discreetness is immaculate






Click to see my full list of BB11 links
These are some of my favorites:

24/7 feeds - free trial see everything that happens before it gets edited into something else for tv

No time-out feed links including set-up how-to, plus Real contact info

SuperPass FlashBack instant replay by time/date/feed (requires SuperPass)

Hamsterwatch Twitter - Twitpic

Hamsterwatch Chatroom

Hamsterwatch Forum

BB adult/explicit links - already updated for BB11!

CBS Big Brother 11 the official site

DogDave BB11 aka Aldav scouts all the BB sites so you don't have to: all the news, edgy stuff & the best mini-recaps in town

Attw x's houseguest tributes all seasons fun & reference by BB's number one fan

Sir LinksALot Big Brother 11 all the links, once again

BuddyTV - Big Brother 11 TV supersite with news, articles, discussions







EXTRACURRICULAR TALLY



Naughty past that may have surprised the producers: 1 (Braden)

They'll have to work hard to get up to as much sex & fights as last season, but I have high hopes for them