This site isn't about who should win, who will win, who I'd be friends with, or who is cute. It's about watching hamsters: which ones are doing what and why. Which are fun and which are dull. If they aren't entertaining, get rid of 'em! More to come, bookmark & come back!

.. that dingo
Linkage


Daily feed recaps & opinion ratings navigation tool for this often-biased site
HamsterWatch Big Brother 8 here we go again
HamsterWatch Big Brother 7 Hamster all-stars in the house
HamsterWatch Big Brother 6 time to do it all over again
CBS Big Brother 5 the official site
Housecalls live web show with Marcellas, also archived shows
TV Updates feed updates, screencaps, and fun boards - easy to use and functional!
bb5fan's 30 second refresh screencaps if you don't have feeds (great at work!)
Hollyisms and Cowboyisms and Lisa-isms from me, that dingo person
Sir LinksALot Big Brother 5 all the links
Reality TV Links emphasis on individual hamsters' sites
Aldav has all of the edgier stuff & the best mini-recaps in town (alternate url)
Today's must-click special: Grin's BB5 Park: Day 37






8/7/04 - Day 37

>> to the future >> dwell in the past >> latest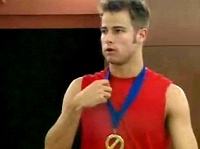 Ok here's the Plan: Diane is nominated. Marv is still nominated. They and Nakomis will pick "Pussy Power"-friendly hamsters to compete for veto, remove Diane, and put up Jase so they can get rid of him. Not a bad Plan as Plans go.. but hamsters are not brain surgeons.

Sure enough, oopsie - Drew's darts win the veto! So much for "throwing" a competition! I guess he didn't learn his lesson after winning HOH, setting Hollygate into motion.. now he will be the pivotal player in yet another episode guaranteed to tear him apart and make his brain melt.. bring it on!



In HOH Nik, Karen and Will watch the spyscreen and discuss
differences in the twins.. and how they all "knew"







Natalie went on a cleaning rampage while the others were napping
Yes, that is one of the kitchen sponges (it's ok, they boil them once a week)











Adria joined in - casually, drink in hand - cleaning where Nat had already been
One of them (prolly Nat) couldn't stop cleaning even while showering







Cowboy got domestic too, "worshing" the towels
Drew came over and said losing Scott was "a huge blow to us"







Just like the old days (2 weeks ago?) Cowboy seized the opportunity
and tried to talk some sense into Drew about The Dream





Frat-boy loyalty to da brothas vs. Diane's nightly cock-tease? A tough choice..
Drew is realizing he's in the same rock/hard spot place again
and that even the Diary Room doesn't want to hear about it again..
but Drew honey, remember.. you do so have balls!!

Diane asks the date and says her best friend got married today!
Awww, she missed it, and adds "I love weddings, they're so fun!
I go to weddings where I don't even know the people"
(good news for best friends and strangers alike)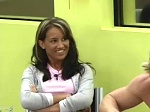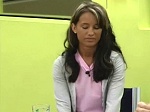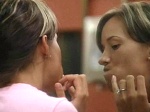 Cowboy, Karen and Ad/Nat practice for spring break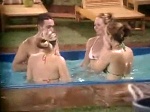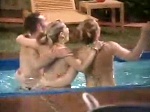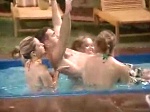 Nakomas reacts to someone she sees on the spycam.. gee I wonder who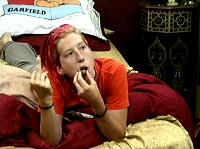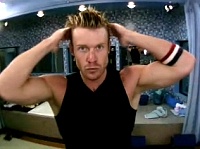 Late night rumblings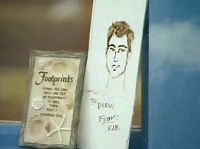 In the backyard after most of the hamsters are tucked in, Diane explains to Drew how the game will play out, down to the final six. Drew is confused and asks six??

She counts them off for him, and says "Well, you weren't part of the original alliance.."

You can almost hear a squeaky little wheel turning in his head as the words "original alliance" sink in, deep and heavy, and this new dilemma begins to feed

A little later Diane jumps up screaming from the poker table "Ow! WTF was that! Not to steal your thunder Drew (he had just won the hand), but something bit me!"
Drew, Cowboy and Marvin find the insect - a large one - and Diane says "I can't tell where it bit me, but it bit me!"
....
Ironic end to the day? Let us count the ways :)
....
P.S. A few minutes after that she bangs her knee into a wall "with the force of a soccer kick." Cowboy applies ice, she ties it on with a bandana and limps around muttering about PMS, cramps, and Midol.. we'll be lucky if she makes it til morning


They are playing their own game and are going to clean up while everyone else is busy focusing on Jase & Karen. Much has been said about their rears: this is A's (Nat already cleaned there.)



Everyone's favorite goofball may be the one who can lure Drew back to the dark side, causing a new Diane meltdown. Fingers crossed!



New drinking game: take a swig every time Diane takes credit for something. <hic>



"I haven't been to the Diary Room in like two days, and I won the golden veto! Maybe they don't like me anymore." Yeah, maybe they don't.



"I don't wanna be over-arrogant and cocky." A bit late in the game for that dude, but you aren't fulfilling your fun potential lately either. Step it up or you'll follow Scott, and the rear end of the horsemen will be left in the game.



Charlie Brown parent/teacher sound: "Wah-wah-wahh-wah-wahh." Laaarrryyyy, come and get her.



Double whammy! Let everyone think Nakomis thought up Operation Six Finger, and wait to call out Jase til the timing is right. Keep yanking those chains and playing those mofo's!



Being HOH is going to her head: she's actually starting to think these hamsters are interested in her faux-intellectualism and trendy punky gothy ways. Two minutes out of the house and they will ignore her again like their types always have.



They are playing their own game and are going to clean up while everyone else is busy focusing on Jase & Karen. Much has been said about their rears: this is Nat's. She is the obsessive one.



CBS is trying to get that token mojo working, but "Jase has pit stains" is the best fashion commentary he's got? Paging Marcellas, we need some serious help here stat!



Saturday was good tv! Mostly because of the surprises withheld again from those who paid for The Great Lie ("unlimited access 24/7" - what a crock!) Don't think that airing Cowboyisms the day after I posted them went unnoticed either.. just hire me, already.





The goon is gone - long live the goon :)





Unique, fun, annoying, ditzy, and oddly vulnerable. Bless her pointy lil head.





This year's Lisa, but without her luck.





Smart or not, he was first out: 'nuff said. Fold your arms and go home.