February 26, 2008 - Day 19 (or 20)





>>

James & Chelsia are Heads of Household - Alex & Amanda and Matt & Natalie are nominated

<<



Topsy-turvy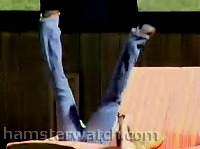 They're in full pre-vote waffling mode - everyone's flip-flopping like maniacs

They had a nice sunny day: bikinis, brawn and Brawny were out in force.. Amanda tripped over a chair and inverted.. she repeated the pose a bit later, and some of the boys played blind man's basketball.. Matt replayed for Adam & Alex how he caught Sharon spying through the camera hole last night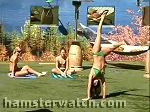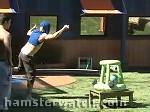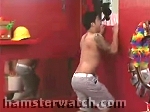 The HOH camera came out: Chelsia said she want natural shots, not posed, but that didn't last long.. picture time turned into another boobiefest, and Natalie wasn't even around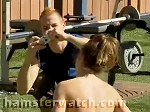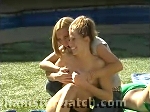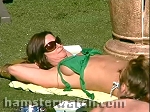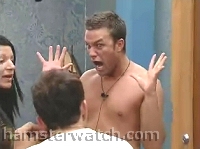 Everyone's running around whispering, conniving, cussing and backstabbing.. even though I'm not following who loves or hates whom at which hour, it's a good time watching their many mood changes

Allison's been busier than most, but James, Sharon & Joshuah are right up there.. Joshuah said he's about ready to lose it again and go off on someone like he did on Amanda.. we could be in for another fun night

I have revised the day count on the site since tonight's show finally gave us something more official that jibed with Julie's statement last week.. I'm changing these pages under protest though: I'd been going by what they've all been saying in the habitat all along.. I'm curious if Julie blew it and they decided to go with it, or if they're trying to speed up the season a wee bit, hoping nobody notices

April update: I've revised all pages back again to accuracy, per the hamsters' own counts off the feeds replay: CBS did indeed fudge and shift forward a day to match up to Julie's flub, and they gradually convinced all the hamsters to believe the revised version



Jonestown revisited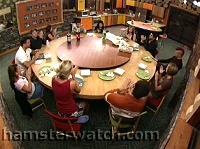 I guess eviction eve family dinners with tributes are going to be a tradition with this group

Luckily, the smarmy speeches this time were just to and from the nominees rather than all around like last week, but the kumbayas still went on forever.. shortly afterward most of it was proven to be as full of poop as it sounded, and the Kool-aid came out

After dinner, Sharon & Joshuah spied/eavesdropped on the dishwashers, but I don't think they got much

Allison & Amanda had a go-round, mostly Allison talking about Amanda having been mean to her early on (again).. Amanda countered with her usual "What I said is nothing compared to what others said" and dad mention.. Amanda reported it immediately to Joshuah, James & Chelsia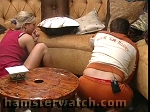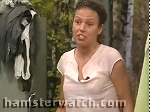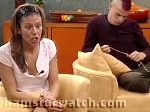 It was looking like the bj's might come out: they're under the impression that it was Matt & Allison, not Natalie, and I eagerly prepared for another fight night.. Chelsia & Joshuah encouraged Amanda to go stir things up but she said she didn't want to be yelled at again.. they reminded her that they were the yellers last time, and they were with her on this.. the chain of command ran its course, Joshuah & Sharon went to the hot tub ("where it's safe"), and Allison showed up on cue

More rewind and rehash of Allison's Horrible Vacation at the Big Brother House, ad nauseum.. Alex showed up and stated his case as far as campaigning/not campaigning.. Ryan joined, and Matt, and eventually we were back downstairs again, stuck with Allison griping to Amanda again about how mean she'd been, but now alternating one-for-one with "I adore you, I fucking love you", and Amanda crying for a vote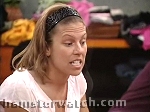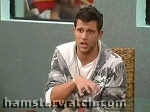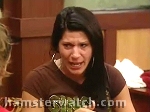 It was exhausting, and we didn't get the satisfaction of a fight, but we did find out that Allison had made out with James - that sure surprised me.. he & Chelsia remained in place through the entire proceedings, soaking up every word but not participating at all, and neither Allison nor anyone else seemed to think that was suspicious



Daily videos






James & Chelsia about the vote; Allison versus Amanda plus Amanda's version of same are posted in the forum and at Veoh, linked top & bottom of every page



Daily ratings - Special Saint Allison edition






Ratings are based on entertainment value.. amen



I'm kind of stunned at the creative way they maneuvered Sheila & Allison on Tuesday's show: setup - conflict - resolution, just like they were taught in creative writing class. It was a neat little package but it was missing something.. oh I know, the yeast! That was the cause of their blowout but since nobody needs or wants to hear about that again, I guess it doesn't matter if they revise history a bit. The veto comp sounds like a 'Jericho' cross promotion opp might be on the horizon - its ratings need help too - but it was nice to see them all dressed during a comp. Visitors arrived in EMT uniforms, and the tinkly piano not only made its BB9 debut, but it got a long solo accompanying the dual tragedies of last week. The puzzle in the guinea pigs cage looks like it'll definitely come into play: it got its second mention.




Paired with Sheila

I'm pleased to report he's wearing a different T-shirt today but that's about all I got. Did they slow his voice down when he hosted the veto comp? He just didn't sound like himself, but it was fun hearing him say they have to win 'dese powasa vedo'. In case I haven't mentioned it before, I vow to never call him 'Balla'.



NOMINATED
Paired with Amanda

Maybe he realized he'd better get to work when he asked Allison 'Don't you think it's better to keep my word?' [about not campaigning] and she said 'Nope' without missing a beat. Later he countered her everlasting All About Allison filibuster with 'If that's not a factor, then why get rid of me?' I don't think she responded directly.. she just rewound and replayed. Again. And again.





Paired with Ryan

Okay, enough's enough. Her entertainment value plummeted with each retelling of the All About Allison story. She spent most of the day saying this one or that one is 'so easy to manipulate' but she has no idea everyone is on to her. She seems to envision herself as the patron saint of Big Brother, embodying the best bits of every viewer favorite and/or smart player, and she keeps telling everyone to 'check the tapes' - but the tapes are full of her trashing them all. She seems to think we're all cheering her on and worshiping her every word.. won't she be surprised when she gets out and finds out a) nobody's watching the show, and b) she's thought of as more of a Maggie than a Dr. Will, Janelle, Kaysar, or even Dick? I can see why she gave up gambling.. her poker face has only two modes: smug and smugger. The new drinking game of take a sip every time she says 'trust me' or 'one million percent' has been discontinued since nobody playing along can stay upright.





NOMINATED
Paired with Alex

Ups by default since even she looks good compared to Allison. She went upside down twice today, cried a load of crocodile tears, exaggerated convo retellings, and was thrown to the lions (Allison) by Chelsia, Joshuah & Sharon without any protection. Anyone else would have hauled off and slapped Allison after the 100th 'you were so mean to me' so kudos to Amanda for soldiering through without resorting to violence.





Co-HEAD OF HOUSEHOLD
Paired with James

This girl is ruthless, saying things like she'd rather keep Amanda around since she can easily break her later, and she had a test run by making Amanda stir up a confrontation between Allison and Alex. Unfortunately it didn't bring the hoped for fireworks but the season's still young, and Chelsia's here for at least another week. I don't know why the feedmasters keep cutting away from her & James when they get smacky with each other, but it's ok with me.





Co-HEAD OF HOUSEHOLD
Paired with Chelsia

He seems to have had a sudden realization today that heads of household not only live in comparative luxury and make nominations, but that those nominations make enemies and draw big bull's eyes on one's back. It was another day of strong contenders, but he gets Line of the Day award with this observation: 'I'm just getting caught in the middle of all this shit.' He truly doesn't seem to realize there's a connection between the current shit and his & Chelsia's noms.





Paired with

Neil

Sharon

He threatened another knockdown dragout and I'm disappointed he didn't deliver, but I have to admire his & Sharon's stirring everyone up into a frenzy and then hiding out in the hot tub while it played out - without involving them.





NOMINATED
Paired with Natalie

Most are convinced he's staying but he thinks he's going, and he's pretty much given up. His oral evenings with Natalie almost became public knowledge and it would have been pretty funny if they had, since most of them think Allison did them. He's been doing his share of shmoozing after agreeing with buddy Alex that they wouldn't campaign against each other, but Alex started making up for lost time after finding out Matt was playing without him. Matt wants to be thought of America's Playa and that sounds pretty accurate.





NOMINATED
Paired with Matt

I didn't see much of her today for a change, and if she goes tomorrow the habitat will suffer - not to mention the feedsters and the CBS ratings, which are already scraping bottom. She's the easy and early front-runner for Hamsterwatch Star of the Season and it would be a shame to see her go this soon - CBS hasn't even aired any of her escapades yet. None of tomorrow's nominees are really expendable, so hopefully it's a Revive-a-Hamster(s) season and we won't have to do without for long.





Jen's boyfriend/Paired with Allison

Allison pretends to everyone else that they're a team and even sometimes says he makes their decisions, but the poor guy always comes along late to every event and doesn't have much to contribute. He's in the same situation as Parker was: stuck with a witch for a partner, and while Allison's a lot slyer than Jen, Ryan will probably suffer the same innocent bystander consequences Parker did.





Paired with

Jacob (her ex)

Joshuah

See Joshuah. These two are a force to be reckoned with, and nobody seems to be doing so.





Paired with Adam

I'm pretty sure she was in there today, but I didn't see much of her after the topless HOH photo shoot.





Won: $5k
Ryan's girlfriend/Paired with Parker

She & Ryan could have gone far if she hadn't opened her mouth in the first days. She made loads of enemies in a short time and took Parker down with her. She'll be remembered for super-quickie sex in the bathroom and a rash on her backside.. hmm, coincidence?





Won: $5k
Paired with Jen

He was good watching at first til he gave up and went on strike. He rebounded a bit at the end but his doom came early when partner Jen couldn't keep her trap shut about her & Ryan. She had to go, and he was just the innocent bystander casualty. 'I'm sick of people's dumbass assinine ass comments' might be Line of the Season.





Paired with Joshuah

He left suddenly and mysteriously but wrote on his MySpace that he didn't leave for health reasons and that he won't be back. He seems like a good guy and I wish him well.. he's probably lucky he got out when he did, unscathed.





Paired with Sharon (his ex)

Gone before the feeds kicked in: he didn't even make an appearance. All that potential for rehashing their breakup and/or a jealous rage up in smoke. To make it worse, he & Sharon didn't even get an exit interview in Julie's boudoir - how rude!



Please do not repost any content from this site (or any other) without permission, and do not repost or hotlink to any images
!! THIS MEANS YOU !!

BEST FEEDS EVER, SO FAR
TWO WEEK FREE TRIAL

This year for the first time, you can sign up for monthly renewal
or save with a three month subscription
- both come with a 14 day free trial



LATEST TWITTER


posted :
""

Get free Hamsterwatch updates to your cell phone! Text 'follow hamsterwatch' to 40404 to sign up (21212 in Canada). Click for more info






UPCOMING EVENTS


Lots of campaigning and vote waffling






POWER STATUS


Chelsia/James are HOH
Alex/Amanda and Matt/Natalie are nominated






FAQ


Jen & Parker didn't do 'Housecalls' or 'Early Show', and Jacob hasn't surfaced either.. maybe they're all sequestered to rotate back in later.

On slop: Alex/Amanda, Adam/Sheila

Operation Condor means getting rid of hamsters on the top row of the photo wall first (Jen, Parker, Alex, Amanda). Lots of them are in on it.

HOH comp consequences:
No drinking cups for 1 week
Females cook dinner for 1 week
No washing machine for 2 weeks
No hot water for 72 hours - done
Margarita party - done
Females wear bikinis 24 hours - done

Julie said tune in for couples nomination & couples veto, and 'the' live eviction. Maybe nothing, maybe something: last week she clearly said Feb 20 would be couples eviction.

Nobody knows when or if they'll play solo at some point, but CBS has announced it will be a full season.






RATINGS WATCH


Tuesday's show was third for the timeslot with a 4.4 rating and 7 share, behind 'American Idol' (16.5/24) and 'Back to You' (7.5/11) on Fox, and 'The Biggest Loser' with 5.7/8 on NBC.







NEXT SHOW


Wednesday, February 27 at 8pm: live eviction, HOH comp, assorted dramas






EXTRACURRICULAR TALLY


Sex: 3 (Jen/Ryan)
Oral: 2 (Natalie/Matt)
Self-service: 1 (James)
Makeout session pairings: 3
(Jen/Ryan, James/Chelsia,
Alex/Sharon)
Nekkid makeout pool orgy: 1
Nekkid party favor: 3
(Natalie, James, Chelsia)
Nekkid party trick: 2 (James, Natalie)
Ambulance rides: 2 (Amanda, Allison)
Major fights: too many to count

See it all with a monthly
or quarterly
feeds subscription. Both include a two week free trial with no obligation to buy.









LINKAGE


Click to see my full list of BB9 links. These are some of my favorites.

24/7 feeds - 14 day free trial
see everything that happens before it gets edited into something else for tv

No time-out feed links including set-up how-to, plus Real contact info

Hamsterwatch Chatroom

Hamsterwatch Forum

BB9 adult/explicit links

CBS Big Brother 9 the official site

DogDave BB9 by any name, still the first to find big news, all the edgy stuff & the best mini-recaps in town

Attw x's houseguest tributes all seasons fun & reference by BB's number one fan

BuddyTV - Big Brother 9 TV supersite with news, articles, discussions

Sir LinksALot Big Brother 9 all the links

Reality TV Links - Big Brother 9 emphasis on individual hamsters' sites










THANKS FOR VISITING


Donations are gratefully accepted through Paypal using the button below or direct by email. Please support other BB9 sites that you like, too. Many thanks!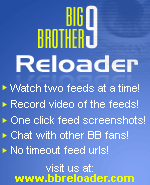 This site isn't necessarily thorough: it's what I catch and/or what interests me. It also isn't necessarily about who should win, who will win, who I'd be friends with or who is cute. It's about watching hamsters: which ones are doing what and why, which are fun and which are dull. If they aren't entertaining, get rid of 'em! Thanks for encouraging my behavior.