February 13, 2008 - Day 6





>>

Amanda & Alex are Heads of Household - Allison/Ryan and Jen/Parker are nominated

<<

>>

Neil went to Diary and didn't come back - Joshuah picked Sharon to return as his partner

<<



Soulmates, shmoulmates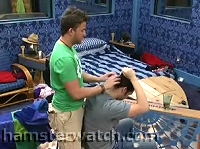 So far I haven't seen any lovey-dovey action other than Jen & Ryan (and they remind me of Eric & Jessica when together - not necessarily a good thing), but Joshuah & Neil seem to be getting along

Joshuah's friendly with most of them though - even Sheila, who had a rousing fight with him.. I thought I'd caught my first big blowout of the season today, but it turned out later that it was staged, and they are secretly working together along with a few others.. I'm not sure who all is involved in that group and I'm not ready to keep track yet

I am getting better at learning who's who, though I still have name mix-ups between Alex, Matt & Neil, and between Allison, Amanda & Chelsia, so apologies if I screw up anything in that regard.. I'll get it figured out soon enough, as we all will

Many of them have taken up marathon grooming sessions already: that's a hamster behavior that doesn't usually kick in for a few weeks, when the boredom does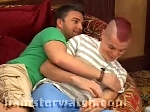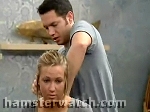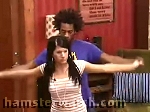 A hamster revival, already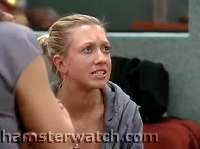 The flames come and go, like they do, and when they return Neil's gone.. and Sharon's back in.. with a vengeance

She spent her time on her return mouthing off about various backstabs and unfairnesses, trashing Jen, and much if not most of the house now seems to be against Jen but with Parker, making for a sticky situation for them

I don't know yet why Neil left.. it's sounding like a family emergency maybe? Nobody seems to have heard a peep from anyone on the feeds about it, which makes the whole thing a bit suspicious.. ditto about when or how Sharon came back: was she sequestered and a revive-a-hamster season was already planned? Possible, but not likely.. did she watch the feeds last night & today, visit sites, talk with feedster friends since she left? We may never know, but it doesn't really matter: any true integrity for this season of Big Brother went out the window in the first minutes of the first show with "16 strangers looking for love"

Correction: From a convo between Sharon & Parker, it sounds like she & Jacob were in sequester (why?).. she didn't have fun there.

I don't think I've mentioned yet that the gym is a spa this year.. this stuff probably won't last long, but it's all the rage at the moment and the feedmasters love it, especially during Showtime hours: zooms galore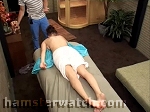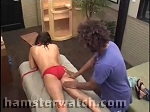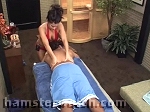 Daily videos



I'm still having some technical problems with recording but I posted up a few videos today including the Sheila/Joshuah faux fight, charades before dinner, and a Sharon tirade shortly after her return.. these and all my BB videos can be found at my Veoh page, linked at the top & bottom of each page here for your convenience

The video of the day is from xx2000xx, who caught the audio portion of Jen & Ryan having a quickie in the bathroom - and I do mean quickie



Daily ratings: Disappearing/reappearing edition






Ratings are based on entertainment value.. this was more of a confusion day than an entertaining one



Dear Allison, Rich, Robyn and friends,
Another season and another set of 'twists' out the window before they even get off the ground. I know you guys check the sites, at least sometimes, and I know you've seen the utter lack of enthusiasm among otherwise diehard BB fans about this season's cockamamie setup and the mostly adolescent cast. I also know that ratings are your be-all and end-all and that we feedsters don't mean squat, but we are the pulse of your viewers so give us a listen for a change. Try something fresh this summer, please: regular people, true diversity in the cast, and no freaking twists! If you want sex in there - and you obviously do - put in real couples and don't sabotage them: it's simple. Genuine human behavior is the best bet for interesting dynamics any day of the week, and ordinary people are the true wackos.. the ones who seem like they'll be wild 'n wacky are usually dull dull dull once the novelty wears off.
Also, it's time to put in some new trivia or dump it entirely in favor of something else like say, the Hamstercam! And the music is still WAY TOO LOUD when you block us out of the feeds.
Thanks for your consideration in these matters.
Your pal,
dingo




Paired with Sheila

He's still scarce on my feeds but he got a lot of air time on Wednesday's show, so I can finally dump his CBS pic. I'm confused now about his occupation: is he a 'public relations manager' or budding 'hair salon for retards' entrepreneur? It can't be both.. they are mutually exclusive.



Co-HEAD OF HOUSEHOLD
Paired with Amanda

Jen gave him a haircut today and one of the guys trimmed his ear hair. That's all I got.





NOMINATED
Paired with Ryan

She needs booze again.. or rather, we need her to have booze again. She was a lot more fun when she was tipsy.





Co-HEAD OF HOUSEHOLD
Paired with Alex

See Allison.





Paired with James

She's turning out to be the quiet, one-on-one, behind-the-back type of maneuverer. I'm not following all the details yet but I'm guessing she might be one to watch, game-wise. She's sly.





Paired with Chelsia

I didn't see much of him today, and he's not hard to miss. Maybe he had the day off.





NOMINATED
Won: $5k
Ryan's girlfriend/Paired with Parker

More whining from her today about noms, votes, her partner, her boyfriend, and whether or not she'll have the will to live if she & Ryan are split up in there.. it's already old. What isn't old yet (but soon will be) is the sheer comedy of her not just counting votes an eviction or two ahead, but she's already counting her jury votes! She might not realize that she's on a lot more hit lists today than she was yesterday, including her partner's.





Paired with Neil

He's quite the getaround guy and seems liked by all. I thought maybe Sheila was an exception there when I came in on them having a big fight, but it turned out to be staged to cover up a secret alliance. Kudos for an outstanding performance: they had me going! He was really torn up over Neil's exit - they shared a kiss today - and he took his dinner to eat alone in the spa, but Natalie & Chelsia joined him. He can cry, eat and talk all at the same time.





Paired with Natalie

He's in there, and he's not very good at playing charades. That's all I got, except for his Line of the Day award when he said something about 'all reality tv is scripted anyway'.. and cut to flames.





Paired with Matt

I've had lots of questions about yesterday's pic of her rear end and exactly what was going on there, but it was just one of those happy capping accidents. She was just stripping down to a very teeny weeny thong, with assistance, and with an audience.. it was all innocent. Well, innocent for this hormonally challenged group at least. Not as bad as it looked at any rate, despite the producers' salacious hopes for this group.





NOMINATED
Won: $5k
Paired with Jen

All that 'call you out' stuff on the show sure felt staged, but he's been aggressive and nasty on the feeds as well. He's also been friendly and thoughtful, so who knows? I think he's just savoring his role as this year's Evel Dick, and trying to live up to his (apparent) directive from The Powers That Be to play it up. He seems to be in a good spot with most of them now - too bad he's paired & nominated with Jen, who's not.





NOMINATED
Jen's boyfriend/Paired with Allison

I think he's the one who was snoring like a freight train overnight and if Jen lives with that, she has some cause to be as whiney as she is. All you hamster hopefuls who apply year after year should target this guy on your dartboards: he didn't want to be here, and only came along to be Jen's partner.





Paired with Jacob (her ex)

She was gone without fanfare and came back just as suddenly. She dished out a load of dirt about things gone by as soon as she returned, but I have to wonder if she was watching feeds last night & today, reading sites, etc. Oh well, at least she made it onto our feeds and is an official hamster now.





Paired with Adam

See Joshuah about the fight I saw her in: she's a damn good actress. I'm not buying much of her Hate Adam campaign though, as it feels guided/led/edited for controversy rather than 100% genuine. She was quite happy with him during that ridiculous Newlywed Game-style HOH comp.





Paired with Joshuah

He left suddenly and mysteriously. Details to follow as/if they become known.





Paired with Sharon (his ex)

Gone before the feeds kicked in: he didn't even make an appearance. All that potential for rehashing their breakup and/or a jealous rage up in smoke. To make it worse, he & Sharon didn't even get an exit interview in Julie's boudoir - how rude!



Please do not repost any content from this site (or any other) without permission, and do not repost or hotlink to any images
!! THIS MEANS YOU !!

THE FEEDS ARE ON!
TWO WEEK FREE TRIAL

This year for the first time, you can sign up for monthly renewal
or save with a three month subscription
- and both come with a 14 day free trial!



LATEST TWITTER


posted :
""

direct URL to the pic

Get free Hamsterwatch updates to your cell phone! Text 'follow hamsterwatch' to 40404 to sign up (21212 in Canada). Click for more info






FOOD COMP ON THURSDAY?


Sometimes they put food comps on the feeds.. sometimes not.






POWER STATUS


Alex & Amanda are HOH
Allison & Ryan and Jen & Parker are nominated
Neil's gone - Sharon's back






RATINGS WATCH


Wednesday's show was third for its timeslot again with a 3.8 rating and 6 share, behind 'American Idol' on Fox with 14.2/22 and 'Deal or No Deal' on NBC with 7.1/11.







NEXT SHOW


Sunday, February 17 at 8pm: nominations & assorted dramas










LINKAGE


Click to see my full list of BB9 links. These are some of my favorites.

24/7 feeds - 14 day free trial
see everything that happens before it gets edited into something else for tv

No time-out feed links including set-up how-to, plus Real contact info

Hamsterwatch Chatroom

Hamsterwatch Forum

BB9 adult/explicit links

CBS Big Brother 9 the official site

DogDave BB9 by any name, still the first to find big news, all the edgy stuff & the best mini-recaps in town

Attw x's houseguest tributes all seasons fun & reference by BB's number one fan

BuddyTV - Big Brother 9 TV supersite with news, articles, discussions

Sir LinksALot Big Brother 9 all the links

Reality TV Links - Big Brother 9 emphasis on individual hamsters' sites










THANKS FOR VISITING


Donations are gratefully accepted through Paypal using the button below or direct by email. Please support other BB9 sites that you like, too. Many thanks!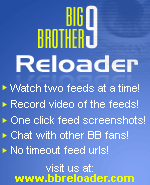 This site isn't necessarily thorough: it's what I catch and/or what interests me. It also isn't necessarily about who should win, who will win, who I'd be friends with or who is cute. It's about watching hamsters: which ones are doing what and why, which are fun and which are dull. If they aren't entertaining, get rid of 'em! Thanks for encouraging my behavior.