9/4/05 - Day 64



>> to the future >> to the past >> daily index
>> latest HamsterWatch episode >> linkage

>>

Ivette is Head of Household - Howie & Janelle are nominated - Janelle won veto

<<



BBQ 2005 Smackdown I: The Immolator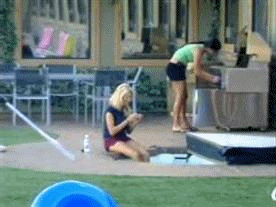 Score: BBQ 1, Ivette 0
It was just a matter of time - that leftover barbecue has no scores to settle, but it's begun is ruthless series of seasonal attacks to defend its championship as I predicted

Ivette wasn't injured but she was shaken up, obviously

Animated gif by G-I-Don't-Know at
BB Chatter

Before all that.. HOH room wakes up late and starts in on parannoying, nose-picking & bashing Janelle before they're even out of bed.. they decide they'll study tonight.. April reminds Maggie she was dreaming of Janelle - Maggie doesn't remember

Ivette & Howie discuss celebs, music & movies.. Janelle joins and they talk celebs & celeb babies - Howie seems a bit lost at this point - Janelle says she was voted Most Clueless and Best Dressed in high school.. when asked, she says she'd probably give most of the money to her family if she wins.. (later they claim that's another lie)






Maggie tells April that her boobies are too big for her body.. April leaves her to go outside but isn't pleased to see Ivette & Janelle getting along.. it gets worse when they compare varicose veins, spider veins, etc






April participates a bit when they move on to implants & plastic surgery.. Howie perks up too but April leaves when he stops at "Janey, you're so hot"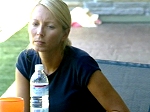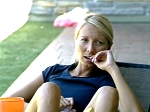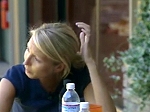 Bikini hour is odd too as Janelle's bordered by April & Maggie.. boobies are threatening to pop out all over.. April's do






More bonding as Janelle shows scars, arm hairs, etc to Maggie who keeps saying "Huh, I never noticed that before".. she sneezes a few times, waits a second - nothing from anyone - she says "Bless me?"







The girls continue to bond, kinda.. it's mostly Ivette asking questions, looking for ammo.. she gets some when Janelle says she sells stuff on Ebay.. Howie decides to swim a few hundred laps (each lap is about 4 strokes).. and then the barbecue incident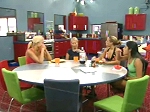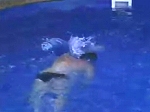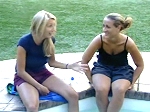 Ivette goes off to the bathroom, then to HOH, and finally(?) Diary - she's not injured but she came very close - Maggie & April commisserate about their misery, and that they're going to finish 3rd & 4th.. then Maggie sends a message to Julie.. uh oh

See this video Maggie: Fuck Julie! just kidding, kinda - her editing may finally shift a bit after this.. link will launch your RealPlayer - it may take a few seconds

Ivette describes the orange ball of flame that hit her - she isn't exaggerating - Maggie gets her some ointment.. Ivette describes it again to Howie who was out there too.. he says it sounded like a sonic boom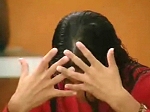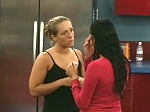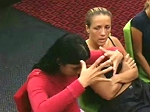 Say what you will, she's a trooper: she goes right back to cooking dinner, making pork chops - oven-baked, not barbecued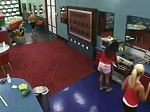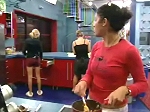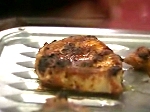 Practice well they do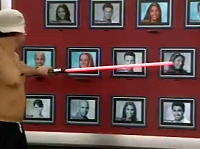 The coven made a study date upon waking for later tonight behind closed door, but Howie & Janelle are at it throughout the day along with ongoing physical workouts.. you can almost hear Yoda talking about "the student becoming the teacher" as Howie helps & encourages Janelle to carry on without him, to strive for victory.. I am seeing her as The Bride in Kill Bill - it fits our current scenario well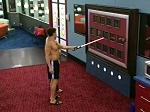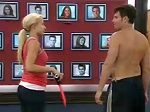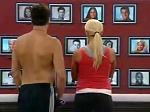 Maggie, Ivette & April attempt a study session at the hot tub but they keep going off on Janelle-trashing tangents, imagine that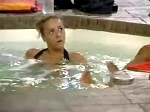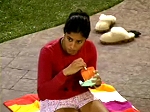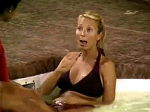 Then Maggie's massage parlor opens for business: Ivette's first, deservedly so after her harrowing ordeal, then April - it's like more of that soft porn thing they got going - surprisingly she also offers her services to Howie & Janelle.. Janelle declines but Howie accepts.. he gets his downstairs, not in HOH.. Maggie goes through what seems like 1½ bottles of lotion before she's done, and she doesn't tell a secret






Ivette (to April): Do you realize you're like 12" off the bed cuz of your tits?
....
Ivette (to Maggie): Did you ever finish answering me about your arm, or you don't want to talk about it?
Maggie: Not in the house
Ivette: Ok
Maggie: I'll totally tell you
Ivette: Can you say if it was an accident or not?
Maggie: No it wasn't

April & Ivette don team uniforms (intentionally or not) and set out to visit Janelle but she's in Diary - they're all getting very late Diary calls about the morph comp - when Ivette goes in, April decides to fly solo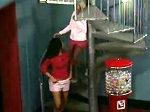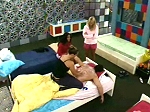 It's much of the same stuff but April always spins it a little more.. Howie agrees with her & encourages her to say more.. Janelle mostly listens, like she does.. April's almost frothing at the mouth, she's so hyper - stuttering & making it up as she goes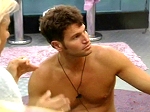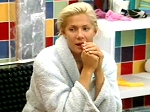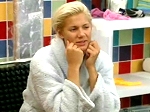 Along with a lot of past history rehash (that Howie & Janelle know the truth about) basically April's saying everyone should get along and love each other, and her usual "when it's your time to go, it's your time to go" etc.. Janelle finally throws a couple curve balls April wasn't expecting, making it clear she's not ready to lay down & play dead yet - it's good stuff - it all ends with hugs as usual, but April's whirling from it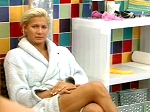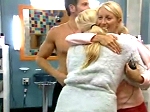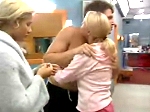 Howie: Janey, don't be sad
Janelle: I'm not sad, I'm vicious
April: Don't be vicious, just love
Janelle: Who?
April: Love everyone

Things go from bad to worse for April when she runs upstairs to report/spin back to Maggie and then Ivette.. she can barely keep her stories straight, and it shows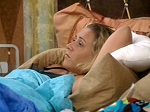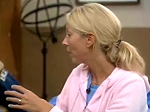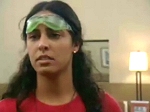 It gets a bit tense as innuendos are tossed like little grenades.. there's some levity (or not) when Ivette attacks April after something about "coochy juice" and/or boogers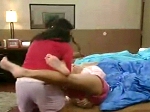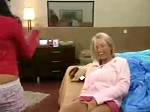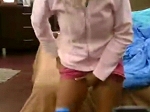 There's a lot of crotch grabbing (mostly April grabbing her own) and she finally gets pants'd.. is it more sexual harassment? hmmm probably not: April's laughing the whole time, Maggie's cackling and Jennifer's gone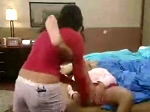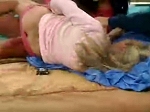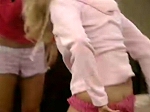 As the evening goes on, Ivette grills April about her past, her finances, her family - much like she does Janelle.. at one point when April goes out Maggie & Ivette exchange a few words that sound more definite than most we hear from them

Maggie: I don't think April's liaison rule can benefit us anymore
Ivette: Ok, so you think we should cut her?
Maggie: I do
Maggie: I already know where Janelle stands, and I don't care who she cuts out of us three.. we're together

In spite of all-day plans, they don't seem to get much studying done

Lots of videos today along with Maggie's message to Julie above it's far too many, but Monday's a holiday and there's no Housecalls.. hopefully I didn't get them mixed up or include any total junk - I'll be glad when April goes & simplifies my life.. these links will launch your RealPlayer - it may take a few seconds

Janelle's money April/Maggie's wake up convo is about Janelle
Buy them CDs More wake up convo: sharing with their pairs if they win
Maggie's dream about Janelle 2nd round, Maggie/April covered it at wake up too (see yesterday's link of the day for audio of Maggie having the dream)
Jedi Wakeup Howie/Janelle's wake up convo is all business
I Love Giving Maggie/April were interested when Janelle talked about Ebay earlier
Smegma Maggie's massage parlor
I Love Bobo! April looks for a safe direction in her meeting with Howie/Janelle
The evict Ivette plan again April dances this one again with the two who were there
April explains 1 April waffles to Maggie about her meeting with Howie/Janelle
April explains 2 More WTF is she saying? and shift to Howie & angry Janelle
Pantsing April Just what it sounds like
Awkward silence Ivette leaves April & Maggie on their own (this one's funny)
Not like us Coven talks about Diaries, April's told "you're not like us" and "stop picking"
Jedi perimeter Howie secures the premises safe for Oreos



Linkage




What really matters must-clicks: Survival of New Orleans blog - Live video feed
Do the right thing: Direct Relief International - American Red Cross
Katrina damage: Satellite images from NOAA

Today's must-click special: Endgame by the numbers by Aldav
Companion must-click special: BB6 Park for September 4 by TD
Rerun must-click specials: Star Wars light sabers like Howie's from Amazon.com:
Anakin - Darth Vader - Darth Maul - limited edition Anakin - limited edition Yoda

CBS Big Brother 6 the official site
House Calls weekdays live 10am BB/1pm ET on BB main page - show archives
Live feeds signup - No timeout feed links
BB6 Park by TD listed on Hamsterwatch daily index
Hamsterwatch on Youtube BB6 & BB7 videos off the feeds
Hamsterwatch Big Brother 8 here we go again
Hamsterwatch Big Brother 7 All-stars in the house - from me, that dingo person
Hamsterwatch Big Brother 5 Dailies, Cowboyisms & Hollyisms - also from me
Aldav has all of the edgier stuff & the best mini-recaps in town
BB Chatter feed updates, screencaps, and fun boards - easy to use and functional!
Screencaps refresh site is back, from bbfan
Reality TV Links - Big Brother 6 emphasis on individual hamsters' sites
Sir LinksALot Big Brother 6 all the links
Big Brother Link news, info, caps, forums, and links
Big Brother Fanatics chat, updates, caps, news, and links
Big Brother 6 Keyhole peruse various BB sites in the same window, feeds too
Joker's Updates Big Brother Grins can't do BB Park this year
2005 or 2006 Kaysar calendars by BBVoyeur - pdf format
C=Venus BB6 chops new site full of really great work
BB6 Houseguest Fun play Mr. Potato Head, mess up their faces, send cards
Destroy a houseguest fun for fishies times by johnbb
Patrick's Place one-man BB show - 15 streaming cams including his car, turn his lights on/off
YAYsports! snarky stuff for sports fans from the creator of Michael's Blog
another 2 cents quasi-intellectual sleaze & radical gumbo aka blog





Please read before linking to pics, 'borrowing' or stealing any content from this site - this means you

TV10 please come back to us

Please do what you can to help the true reality - Hamsterwatch recommends Direct Relief International 100% of Katrina-designated donations will go to hurricane relief, not administrators

CBS and/or producers really need to step up and donate the unwon $700k to hurricane relief

Kaysar will be on 'Young & Restless' October 5 (it's pre-empted Monday: that settles that debate)






Resounding downs for another 36 hour feeds shutdown, for no reason. The show itself was average with the only good tidbits being April crying in her Diary (remember back when she DID NOT CARE?) and Holly hosting the veto comp. I always liked Holly (and I realize I'm in the minority) but I can't think of a better person to rattle the coven's cage than another buxom blonde, especially one who's as ditzy as they think Janelle is. It seemed mutual too, with Holly giving everyone a cute intro (Beau-bonic Supersonic, April showers May flowers, Janelle my sweetness, and Howie beefcake) except Ivette & Maggie: go Holly! Editors are chipping away at April & Ivette, very slowly & kindly compared to all they really say, but I can't fathom why they continue to hold Maggie separate and portray her as something holy: she's as bad as her minions if not worse. What's up with that?






Nervousing more than ever and it's the same old stuff she's done since the start but I'd already forgotten how awful she goes on & on when possibly up for nomination since she was HOH last week and we missed Howie's weekend. She's upgraded to neutral cuz her teamies are considering sending her out instead of Howie, but she kept on with her usual spiels anyway, oblivious, and dug her potential grave a little deeper since they were listening to her from our point of view for a change. She disclosed far too much today, including her oversize boobies a couple of times, and a 27 year old jobless brother who lives with & off dad, plus she got pants'd by Ivette but it's still not enough to earn her ups. She's worn out her welcome and it's time we see her on the nomination block.






NOMINATED
He spent most of his day helping Janelle study for finals on the assumption that he's leaving but a late development indicates he might stick around: we'll see. We need him to provide the sportsmanship, the bridge between hostile enemy camps, a pal for Janelle, and most of all the laughs & the fun. He may choke when it counts, but he's still there in the habitat and that's what counts most. He swam his heart out today, continued his Jedi training, made his rounds, and helped Janelle ambush April on her spy mission gone bad: April still doesn't know what hit her.






HEAD of HOUSEHOLD
Game aside, she showed what she's made of today when a ball of propane fire hit her square in the face, and she was back cooking dinner within an hour, not even complaining and even cracking a few jokes about it: impressive by any standards. I'm glad she wasn't hurt and that she's left us with one of the more spectacular mishaps of BB history. It may not air in full cuz April was in the line of sight picking her nose but maybe they'll edit her out (or maybe not). Gamewise she did her usual thing today, alternately befriending Janelle and then bashing behind her back with all the new ammo gathered. It was nice to see her turn the tables and do that to April later - we'll see soon enough if that leads to a reprieve for Howie or not.






NOMINATED
HOLDS VETO
She continues to hold up incredibly well despite the ongoing hate campaign against her. Even though she's not aware of the extent of sewage they spew about her, she knows the gist and she once again had fun with it today, acting the ditz and supplying them all kinds of trivial stuff to rip her with behind their closed door. When it came to the crunch though - a visit from April and her usual April-for-April agenda, Janelle kept quiet for most of it and then said all the right things to send April into a nervousing tizzy that may have bought her an earlier than expected ticket to near-paradise.






Ups for uttering the last hope of accurate editing of her by CBS: 'Fuck Julie! Just kidding.. kinda'. Sure it's stressful in there and they're excused for a lot by the producers and by me, especially after a near bonfire of her teamie. But adding that 'kinda' may have been her downfall since she's talking about the wife of her current employers' boss.. I have to wonder if she knows that about the nice lady on the tv monitor every Thursday. Other than that she kept up her usual behavior and stream of cussing most of the day & night. Her dream about Janelle last night was fun to relive as was her talking about Janelle's trip: 'Is Bahamas in Mexico?'








As BB's double token he danced, he flashed, he puked and rode Ivette's jetstream. Not as fabulous as promised, and it doesn't seem right that he knows so many people that Janelle & Howie do, not to mention he's pals with BB2 Hardy. I thought he'd be this year's Cowboy at #2 but he won an HOH so he's gone.








He played a good game, saved himself too many times, and played both sides against each other instead of for himself. He wasn't a very nice boyfriend, and he was mostly dull with an excuse for everything. Arrogance was his undoing.








Half of the oddest pairing since Oscar & Felix, she did her best but went to bed too early to make it all happen. She's not the most fun hamster by a long shot, but she's one of the most decent and I wish her well.








She wanted to 'stir up the house like Kaysar did' but instead she stirred up everyone with a whopper of a lie to America's Choice, and she took out his partner with a huge lie of omission. So long Jenn and remember, roses really smell like poo poo.








America's Choice by 82% (at least) but he was out 4th and 6th. He turned the game on its ear, took out an emperor, and fell for Janelle overnights but was taken out by the cheerleader who took out his partner because she cried. He's a class act and did it all with brains, humor and integrity.








She was too young & too naive to be in there but held up well considering she played with the boyfriend from hell. I'm glad she got out early and alive.








Maybe the poorest loser in BB history but he gave us the best fight sequence. He said it nonstop but he never understood that 'it's just a game'.








Not blameless but not the villain they made him out to be either. He had funny voices, 'The Continental' and Janelle - plus the best hoax of the season.








There's never much to say about the first out except they're gone. She blabbed too much so she wouldn't have lasted long but she was fun while she was there.



I love keeping tabs on the feeds during summer, and wish I didn't have to do this.. but the reality is it takes a ton of time that I can't really afford to give away. If you like the site and would like to help support it, please visit my sponsor links by clicking on the banners, or make a Paypal donation here. Please support other BB6 fan sites that you like, too - many many thanks!



This site isn't necessarily about who should win, who will win, who I'd be friends with, or who is cute. It's about watching hamsters: which ones are doing what and why, which are fun and which are dull. If they aren't entertaining, get rid of 'em! Thanks for encouraging my behavior..

that dingo